LSU's BCS hopes pinned on others
Updated:
November 24, 2006, 10:11 PM ET
By
Pat Forde
| ESPN.com
LITTLE ROCK, Ark. -- Here's what LSU earned with its surprisingly wild, 31-26 victory over Arkansas here Friday afternoon: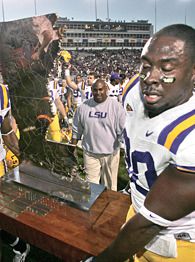 Jeff Mitchell/AP PhotoThe immediate prize for LSU is the trophy known as "The Boot."
• The Bronze Boot, a 175-pound trophy that goes to the annual winner of this rivalry. It took two Tigers to tote the thing off the War Memorial Stadium field, after it took a single play by a sprite who weighs 16 pounds less than the trophy to win the game.
• The malicious joy of knowing they terminated the 10-2 Razorbacks' national title hopes. Misery loves company, and LSU just gained some more of it.
• A full appreciation of the marvelous Darren McFadden, who won't win the Heisman Trophy this year but figures to enter 2007 as a co-favorite for the award alongside West Virginia's tandem of Steve Slaton and Pat White.
• The opportunity to enter the BCS Spin Zone, wherein the Tigers shamelessly politic for a bid to play in one of the big five bowl games.
• The chance to form new and twisted allegiances with any and every team that might help LSU's BCS cause.
"I am a Florida fan," LSU athletic director Skip Bertman said Friday evening on the War Memorial Stadium field. "Although not tomorrow. Tomorrow I'm a Florida State fan."
That's how it works in the strange college football creation known as BCS Land.
LSU can celebrate its first-ever back-to-back 10-win seasons, but still must spend the next nine days rooting for key losses and regretting its own defeats.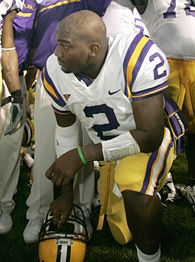 Jeff Mitchell/AP PhotoNow LSU quarterback JaMarcus Russell must watch other teams and hope for some losses.
The Tigers will pull for the Seminoles to upset SEC East champion Florida on Saturday in Tallahassee, lessening the Gators' appeal to the BCS bowls. Then they'll root for Florida to rebound and beat SEC West champ Arkansas in the league title game Dec. 2, which would almost guarantee LSU as the second SEC choice for a BCS bowl -- if the SEC gets two teams in. And, for good measure, they'll root for a Nevada upset of Boise State on Saturday and a random loss for Louisville and/or West Virginia as well.
If some or all of those things comes to pass, LSU has a great chance of finding itself in the Rose Bowl for the first time ever, or the Orange Bowl for the first time in 24 years, or some other elite January locale.
Arkansas still can control its destiny, landing a Sugar Bowl bid by beating the Gators, but the national title is no longer in the picture. The Razorbacks' unexpected 10-game winning streak has been book-ended by bitter losses on home turf.
"It feels very weird to lose," coach Houston Nutt said. "It's a bad feeling."
"We feel we're the best team in the SEC. We just fell a bit short in our first few games."
-- LSU return man Trindon Holliday
In the final analysis, this was not a team capable of competing with Ohio State anyway. The same flaw I saw Sept. 2 in Fayetteville, when the Hogs were blitzed by USC, was evident 11 weeks later in Little Rock: lack of playmaking ability at quarterback.
Likely SEC Coach of the Year Nutt has started three different QBs this year and played four, if you count the work McFadden has done at that position. Sophomore Casey Dick was the guy in charge of the passing game Friday, and his numbers were ghastly: 3-for-17 for 29 yards.
That left Arkansas like every other team in the SEC: flawed and ultimately beaten. Once again there are no undefeated teams in league play, and now we're left with the sneaking suspicion that the conference's best team didn't even win its own division.
"We feel we're the best team in the SEC," said 5-foot-5, 159-pound return midget Trindon Holliday, whose 92-yard kickoff return sealed the win for LSU. "We just fell a bit short in our first few games."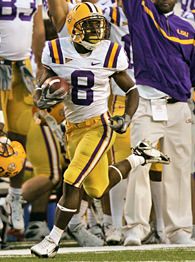 Jeff Mitchell/AP PhotoTrindon Holliday kickoff return for a touchdown was the answer the Tigers needed.
And that's why it's all out of LSU's hands now. The Tiger faithful will buy scads of tickets for any bowl -- they've already committed to buy 15,400 Rose Bowl tickets and 15,150 to the Orange Bowl, Bertman said -- but that doesn't guarantee anything. Bowl officials, pollsters and computers will decide the Tigers' fate.
"The system, unlike a playoff, leaves people to make choices," Bertman said. "Sometimes the choices don't work for you. But the system is the system, and we'll abide by it."
No bucking the screwy system, not now. The only thing LSU can do is hope for a chance at a big-time bowl victory that would put a bright bow on a season best described thusly:
Best talent. Worst schedule.
Most coaches in this hypercompetitive league would gladly have traded rosters with Les Miles, but none of them would be willing to trade his list of opponents. The Tigers faced four teams ranked in the top 10 at the time they played: Auburn was No. 3, Florida No. 5, Tennessee No. 8 and the Razorbacks No. 5.
They faced them all on the road.
"When the hell," asked Bertman, "in the history of football, did anybody ever play four teams on the road in the top nine?"
Probably never, Skip. But at least LSU's flotilla of future NFL guys earned a 2-2 split in those games -- not good enough to stay in the national title chase, but good enough to stay in the BCS chase.
"Of course there's regret, because you always play to win a championship. But we feel like we made a statement today. They're going to represent the West [in the title game], but we know the road to the West goes through Baton Rouge."
-- LSU defensive tackle Glenn Dorsey
The game that will haunt LSU was its 7-3 loss at Auburn on Sept. 16. The Tigers wound up with 119 more total yards but could never get in the end zone. Four lousy points is what separates LSU from an SEC West title, a rematch with Florida and a possible spot opposite Ohio State in the big enchilada in Glendale.
"Of course there's regret, because you always play to win a championship," said defensive tackle Glenn Dorsey. "But we feel like we made a statement today. They're going to represent the West [in the title game], but we know the road to the West goes through Baton Rouge."
McFadden and fellow running back Felix Jones nearly drove the Hogs through Baton Rouge and into the history books as Arkansas' first team to run the table in SEC regular-season play. Understand this: LSU entered the game with the nation's No. 1 defense, having never allowed a 100-yard rusher all season.
McFadden on Friday blew through the Tigers for 182 yards on the ground (plus 33 throwing and seven receiving), and Jones ran for 137.
"That guy can play in the NFL," Miles said of McFadden. "That tailback can turn right around and play in the NFL."
When he wasn't running the ball or handing off from the quarterback position, McFadden was gouging LSU from running back. His biggest play was a breathtaking 80-yard burst for a touchdown early in the fourth quarter, pulling Arkansas back within five at 24-19.
"Man," said Dorsey, "can he fly."
But LSU had a flier on reserve, and on the next play he effectively ended the game. Holliday, who might be the smallest player in the league, made one of the biggest plays of the year. He roared 92 yards into the end zone, and LSU had all the points it needed to win.
"To answer right then, to turn right around and say, 'OK, we'll play you,' that was huge," Miles said.
Hugeness is relative. The biggest plays left in this season will now be played elsewhere, with LSU left with nothing to do but root for losses and regret its place on the outside looking in.
Pat Forde is a senior writer for ESPN.com. He can be reached at ESPN4D@aol.com.
MOST SENT STORIES ON ESPN.COM