It's a win, but Williams wants more from Heels
Updated:
March 9, 2007, 7:26 PM ET
By
Pat Forde
| ESPN.com
TAMPA -- Mike Krzyzewski undoubtedly was pleased to see that Roy Williams had all his starters off the floor in the final minute of North Carolina's 73-58 victory over Florida State on Friday.
I figure K was watching, given his unexpected free time this week.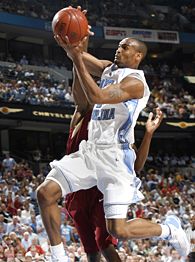 Bob Donnan-US PRESSWIREReyshawn Terry and North Carolina flew high enough to easily beat Florida State on Friday.
But here's what else Krzyzewski and anyone else viewing this game might have seen, if they looked closely:
Williams fuming after his team made its most spectacular play of the day.
With a little more than eight minutes left in the game and the Tar Heels up 17, backup Carolina guard Quentin Thomas led a 4-on-2 fast break. Thomas ended the play by flipping a one-hand alley-oop into the sky, whereupon it met the endlessly long arm of Brandan Wright, who gracefully tipped it in.
The Carolina blue portion of the crowd of 22,269 roared, and most everyone else in the St. Pete Times Forum at least ooooohed appreciatively.
On the Carolina bench, Ol' Roy was furious.
"It was stupid," Williams said bluntly when asked what put him off about the play. "If Brandan doesn't jump as high and have those arms, it's a turnover on a four-on-two. I told him (Thomas) that Brandan saved his life. ... I didn't choke Q, so that was good."
He did, however, wheel around while in a crouch and lecture his entire bench on the folly of Thomas' flashy pass.
"Make the easiest play you can make," Williams said. "Don't make the most difficult. I've watched a lot of basketball. I haven't seen them award extra points yet for degree of difficulty. That's in gymnastics."
Gymnastics is also a sport for the flexible, and Williams can be a bit rigid when it comes to showtime basketball. He loves to play fast and is happy to see his best shooters let fly whenever open -- but he has no tolerance for on-court flippancy.
"They're so young, they've already forgotten their mistakes," Williams said. "They think the old man has just gone wacko on them."
Judging from my visit to the Carolina locker room, that's an accurate description of the players' reaction to Roy's reaction to the infamous oop. They didn't seem to understand the umbrage.
"I had a lot of confidence in Brandan catching it," Thomas said.
"I thought it was a good pass," Wright said. "No one could get it but me."
Told that Williams called the pass stupid, Wright smiled.
"Stupid plays turn into good plays sometimes," he said.
This disconnect might be a matter of taste, a simple generation gap issue. But you get the feeling the real issue eating at Williams is this: He knows his young team is still short on the intangibles necessary to win a national title.
Not the talent. The other stuff.
Williams knows what a championship team looks like. The question is whether he can convince his players that they aren't one, and will not be one unless and until they shore up a few deficiencies.
This is a very good team at present. Possibly a No. 1 NCAA Tournament seed. But a national champion?
Hard to see it right now.
Carolina will not suddenly become a lavishly experienced team, which immediately puts it at a disadvantage in comparison to a few other national title contenders (notably Florida, UCLA and Wisconsin). But talent can overcome that, if accompanied by things like focus and mental toughness.
The Carolina team I've watched play its last 80 minutes, against Duke in Chapel Hill on Sunday and here against the Seminoles, had a tendency to drift for several minutes at a time. That's an excellent way to keep inferior opponents in the game.
Duke had no business being within two points of the Heels with 13½ minutes left in Chapel Hill, but there the Blue Devils were. A sloppy, scatter-shooting Florida State team had no business being within four points of the Heels in the final minute of the first half Friday, but there the Seminoles were.
Because Carolina allowed it with periods of lax defense and/or lapsed intensity.
Florida State recused itself from competition with a spectacularly silly final minute of the first half -- a veritable NIT audition tape for NCAA selection committee consideration. Casaan Breeden committed a dumb foul to award Ty Lawson two free throws. Then Isaiah Swann picked up his third foul on an utterly foolish charge. And then, after a Wayne Ellington jumper, Lawson stole the inbounds pass, missed the shot and had it put back for a basket by Alex Stepheson at the buzzer.
Just like that, a four-point lead morphed to 10. And it wasn't done there.
FSU coach Leonard Hamilton lost his mind with the officials and was banged for a technical before storming off the court. Ellington made the two free throws after halftime, Carolina scored three more quick baskets and the game was over at 44-26. Except the Heels allowed several mini-rallies that might have turned into a full-blown comeback by a more competent team.
The killer instinct has not been there this month with these Heels. And sooner or later in NCAA play, they'll run into a team fully capable of exploiting that.
Part of that could be Williams' player rotation, which might be the largest and most unwieldy in the country.
It certainly stands to reason that North Carolina will use its depth to its advantage here in this game-a-day format. But the fact is, Williams has shown no inclination to shorten his bench and keep his best players on the floor.
Williams has played 11 players at least seven minutes per game in ACC play. Ten played that many minutes against Florida State, which seems excessive.
One mitigating factor Friday against the Seminoles: Carolina's leading scorer and rebounder, Tyler Hansbrough, played far below his capabilities. Hansbrough produced just six points and four rebounds in his first game after Duke's Gerald Henderson broke his nose, and seemed about as comfortable wearing a Plexiglas face mask as Bob Huggins wearing a necktie.
"I told the coaches, 'Man, I can't wear this thing,' " Hansbrough said. "They said to just make it through the first half. It was difficult. I don't like it."
Yet Hansbrough said he will continue to obey doctors' orders and wear the mask here in Tampa. The question is whether all the Heels can obey Roy Williams' orders long enough to play a fully focused 40 minutes.
Then turn around and do it again and again and again, until a trip to Atlanta is attained.
Pat Forde is a senior writer for ESPN.com. He can be reached at ESPN4D@aol.com.