College game, players benefit; Schools? Maybe not
The new NBA draft rule seems to be good for the players and the game itself, even if it makes a mockery of the educational process, writes Pat Forde.
Originally Published:
March 29, 2007
By
Pat Forde
| ESPN.com
LOUISVILLE, Ky. -- The opinion from Generation Next is in, and it's darned near unanimous: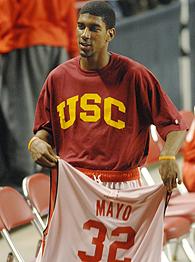 AP Photo/McDonald's, Henny Ray AbramsWithout the draft rule, O.J. Mayo's wares likely would be heading to the NBA instead of USC.
They're watching the NCAA Tournament, they're loving it, and they can't wait to be a part of it next year.
That's the view from the McDonald's All-American Game, which brought 24 of the nation's best high school players to Freedom Hall Wednesday night. Might be spin. Might be saying what they figure everyone wants to hear. But that's what the players all said.
Here in year two of the new hoops order, where going pro is no longer an option for the best of this bunch, nobody is complaining about restraint of trade. Everybody is singing the praises of college hoops.
"March Madness is going crazy right now," said power forward Kevin Love, ticketed to take his powerful outlet passing to UCLA in the fall. "With all the guys in there who would have gone pro, the NCAAs are a lot more fun to watch.
"I think players should have the right to choose. There should be freedom of choice. But the college game is a lot better because of it."
Said O.J. Mayo, who needs no introduction (but could use a conscience after going 4-for-17 and actually being booed for his shameless shot selection): "It's nice to have all the players end up going to college and playing collegiate basketball. Before, with the draft, it kind of watered down college basketball."
The souped-up version of college hoops had these kids talking about Greg Oden, Kevin Durant and all those freshmen at North Carolina and Kansas. It had USC-bound Mayo predicting a Georgetown-Florida championship game, and Love predicting a title for his future school.
That probably wouldn't be the topic in years past at this game. Especially with a group that scouts say includes six to eight elite players who likely would have gone pro if the rules permitted.
"He probably would have [turned pro]. But the rule has taken the pressure off him -- he doesn't have to make that decision right now. I think it's a good rule."
-- Michael Beasley's mother, Fatima Smith
(All of whom, for the record, looked like their games would benefit from a year in college.)
Under the old rules, the conversation would have centered on the number of NBA scouts attending this game and who was signing with which agent.
So the McDonald's game is at least a little bit less of a mercenary enterprise. The question is whether college basketball is now more mercenary than ever.
The quick-fix, one-year-at-a-time resurrection of the game is good for CBS, ESPN and everyone with a vested interest in the sport. The chance to watch Oden play in a Final Four or Durant dominate the Big 12 has been fascinating and fun. Ratings should be robust this weekend in Atlanta, in part because of the freshmen injection of interest.
Even if it makes a mockery of higher education.
Yeah, it's true that athletics has been making a mockery of higher ed since Teddy Roosevelt was president. That's not likely to change this millennium, either. But forced enrollment for guys who have no interest in college is a sham.
I suppose there is something to be gained intellectually, even if it's simply by osmosis, from spending most of a year on a college campus. But for the handful of players who have been killing time in school, eating up scholarships and walking around with an empty backpack, that year is mostly life in purgatory.
Several of the players I spoke with after the game (don't ask who won, it doesn't matter) said they welcomed college as a chance to develop. As basketball players, not as students.
Game MVP Michael Beasley did cause a bunch of eyebrows to arch when he announced that he planned to stay at Kansas State all four years. His 23 points and 12 rebounds were the work of a guy who doesn't need four years in school.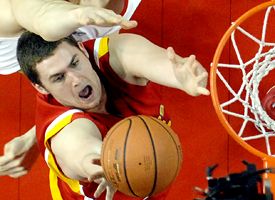 AP Photo/McDonald's, Henny Ray Abrams, HOKevin Love gives UCLA the dominant inside presence it has been sorely lacking in the last two Final Four runs.
Beasley's mother, Fatima Smith, was clutching the MVP trophy -- a replica of trophy namesake John Wooden's famed pyramid of success -- and posing for pictures when asked whether her son resents not having the chance to go pro right now.
"I would love to see him have the opportunity, but he's going to go to the best coach in the world for my son," Smith said.
That coach is Bob Huggins.
"He still needs some fine-tuning, and he's going to get it," Smith said. "Discipline, sportsmanship, character."
There might be a few (hundred) coaches I'd turn to before Bob Huggins for fine-tuning in those areas, but to each his own.
"He probably would have [turned pro]," Smith said. "But the rule has taken the pressure off him -- he doesn't have to make that decision right now. I think it's a good rule.
"If it takes him one year? Fine. Four years? Fine. Eight? I hope it doesn't, but whatever it takes."
It has taken one year to decide who won big with this new rule.
Ohio State, obviously, was the biggest winner with freshmen Oden, Mike Conley Jr. and Daequan Cook leading the Buckeyes to the Final Four. North Carolina would have been nothing special without Brandon Wright and Tywon Lawson, if they had jumped straight to the pros. Kansas might have been another first-round knockout victim if any of its freshmen skipped school. Louisville might never have had Derrick Caracter, who badly needed a college coach willing to kick his tail. And Texas would have been an NIT team (at best) without Durant.
Love said he is close friends with Durant, talked to him often during the season and last chatted with him this week.
"He doesn't know what he wants to do yet," Love said of Durant's pro decision. "I told him, 'The only thing you can do is go down or get hurt, so you might as well go.' But he hasn't decided yet."
If Durant makes any decision other than the one Love has counseled, he's nuts. He served his time, played well, probably had fun. But whatever higher education he got beyond a jab series and a more polished spin move is purely incidental.
Pat Forde is a senior writer for ESPN.com. He can be reached at ESPN4D@aol.com.
SPONSORED HEADLINES
ESPN TOP HEADLINES
MOST SENT STORIES ON ESPN.COM