Commentary
Coaches, players embracing trickeration trend
Originally Published:
August 9, 2007
By
Pat Forde
| ESPN.com
When Boise State perpetrated the Holy Trinity of Trickeration to win the Fiesta Bowl last Jan. 1 -- in the name of the hook and lateral, the halfback pass and the Statue of Liberty -- it wasn't just a divine ending to an epic game.
It was the crescendo to a steady buildup in boldness from college coaches in recent years. Gambling is in. No, not the Tim Donaghy kind of gambling -- I'm talking about high-risk, high-reward play calling. Coaches seem to be going for the gusto like never before. Trick plays are only part of it. Fake kicks. Onside kicks. Going for it on fourth down. Playing for the win instead of the tie. In the past two seasons, we've seen enough memorable instances of each to make you think this is a trend.
Welcome to Trickeration Nation.
"Football has always been a very conservative game," said USC's decidedly unconservative Pete Carroll. "Coaches didn't like to take risks. Punt the ball, play for field position, don't make mistakes. Now I think people don't see it as risky as they once did."
Oct. 15, 2005: USC 34, Notre Dame 31, a game for the Go-For-It Hall of Fame. Underdog Fighting Irish go for a fourth-and-1 from their own 29 in the first quarter. Top-ranked Trojans go for a fourth-and-1 from their own 19 in the third. USC throws deep on fourth-and-9 in the final minute, game on the line. And finally, USC puts its long winning streak on the line, saying screw the tie while down three and on the ND 1-yard line with seven seconds left. Matt Leinart sneaks in -- with assistance from Reggie Bush -- for the winning touchdown.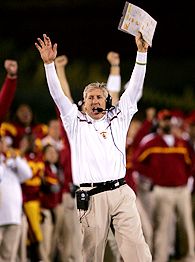 Stephen Dunn/Getty ImagesTaking risks is part of the success story for Pete Carroll and the Trojans.
More teams seem willing to gamble on gaining a few yards and scoring at game's end, as opposed to tying the score and giving the other team a shot in overtime. Especially on the road. Akron made it work last year, going for the TD instead of the field goal on the last play from the 3 against NC State in Raleigh, helping seal Chuck Amato's fate as coach of the Wolfpack. Air Force lost going for two at Tennessee, 31-30.
Dec. 29, 2006: Oregon State 39, Missouri 38, in the Sun Bowl. Down 38-24 with eight minutes to play, the Beavers pull off two clutch touchdown drives to win. Down 38-37 after the second touchdown with 22 seconds to play, Oregon State does not play for overtime and goes for two. Yvenson Bernard nudges in for the winning points.
"I've seen a lot more imagination in play calling and special teams and change-momentum plays," said Auburn's Tommy Tuberville, who earned the nickname "Riverboat Gambler" for his willingness to roll the dice. "A lot more -- even in the NFL. People are doing things to give them an edge. I think that has to do with parity, teams being equal. You're looking for an edge that can win the game."
Sept. 28, 2006: Auburn 24, South Carolina 17. The favored Tigers begin the second half with a grinding, 17-play field goal drive for a 17-10 lead -- then turn right around and try an onside kick. Auburn recovers, keeps the ball the entirety of the third quarter and into the fourth, and scores against an exhausted defense for an insurmountable 24-10 advantage.
That call was certainly par for the course with Tuberville, but it also reflected a trick-play reality: Sometimes you just can't stop the other team and need to try something extraordinary. "I told our team at halftime, 'I've seen enough of their quarterback,'" Tuberville recalled from that South Carolina game. "'I don't want to see him out there again. If we score, we're going to onside it.'" Or a coach might be trying to jump-start his own problematic offense, giving it a short field and deflating the opposition.
Dec. 30, 2006: Georgia 31, Virginia Tech 24, in the Peach Bowl. Normally it's the Hokies who specialize in momentum-swinging special-teams plays. Not this time. Down 21-3, the Bulldogs march for a field goal, then immediately onside kick and recover. Six plays later Georgia scores a touchdown that triggers a 28-point second-half explosion and an upset victory.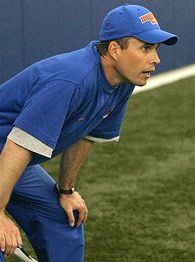 AP PhotoChris Petersen's philosopy is to be a risk-taker in an educated way.
Of course, fans would like to see 50 percent of the playbook comprised of gadgets and fakes and other gambles. Coaches say it's far more important to go to the trick bag only when (A) they can see an opening in the opposing team's alignments on film; (B) they've thoroughly practiced the trick plays; and (C) the timing is right and the players know what's coming. "We may have run five or six during the course of last year," Boise State's Chris Petersen said. "Guys think now we're all about trick plays. We're a standard, hard-nosed football team and 1 percent of the offense is trick plays. "But we will call them. If we practice them during the week, they're going to get called. When we practice them the players are not thinking, 'He'll never call that.' Because we will." And players love them. Carroll, Tuberville and Petersen all reported that players get fired up to practice trick plays, and get excited when they're called in a game. When "Statue" was called to win the game in the Fiesta Bowl, the Boise players all quietly rejoiced in the huddle, saying that the game was over. They'd practiced it the day before every game, all season. And after Ian Johnson took Jared Zabransky's behind-the-back handoff around left end after a fake throw, history was in the books. "At the time we didn't think we were taking a big risk there," Petersen said. "If you're running standard, quote, normal plays and they don't work, you're going to take heat. "Since coach [Dan] Hawkins was here, that's been our philosophy. We don't want kids to pucker. We want them to be risk takers. We want, as coaches, to be risk takers in an educated way."

Football has always been a very conservative game. Coaches didn't like to take risks. Punt the ball, play for field position, don't make mistakes. Now I think people don't see it as risky as they once did.
Pete Carroll
In 2005, four teams attempted fourth-down conversions 30 or more times. In 2006, seven teams went for it 30 or more times. (In both years, the runaway leader was New Mexico State. Aggies coach Hal Mumme would rather eat dirt than punt, a trait dating back to his wide-open days at Kentucky and beyond.) "The impact of converting a fourth-down situation is like creating a turnover," said Carroll, whose Trojans were fourth nationally last year in fourth-down conversion percentage, making 20 of 28. "They think they're getting the ball back, but you keep it and keep the momentum. You're only a couple of feet short, why not go for it if you have the right play and the guys who can execute it?" The ironic thing about this apparent surge in trickeration is that the godfather of the stuff, Bobby Bowden, is doing less of it than ever. Whether that's age or creeping conservatism, who knows? But part of the lore of building the Florida State program was a willingness to play anyone anywhere -- and to call anything.
Sept. 17, 1988: Florida State 24, Clemson 21. Puntrooskie: Tied at 21-21, FSU has a fourth-and-4 from its own 21 with 1:31 to play. Fullback Dayne Williams takes the snap and puts the ball between his legs. Leroy Butler pulls it out and goes 78 yards down the left sideline and is caught at the Clemson 1. FSU kicks a 19-yard FG to win. As Bowden said in one of his books: "I made the call, and there wasn't anybody around. One of the coaches was hiding under the bench, and two went inside. Can you imagine if the play doesn't work at our 21-yard line?"
"They'd fake punts, block punts, run reverses," Tuberville said of Bowden's earlier Seminoles teams. "But they've kind of changed over the years." Perhaps, with age, the risks begin to outweigh the rewards. And inevitably, the risky play calls will sometimes backfire. It takes a secure coach to call those plays, knowing that when they blow up it's you being ripped on talk radio for the next week. "I could care less about that [being criticized]," Carroll said. "I'm just doing what's right for us. If your philosophy is not to be scrutinized, you kick the ball deep and play defense." It was Carroll's decision not to kick the ball deep and play defense in the 2006 Rose Bowl that will live in infamy in some quarters. It was arguably the most famous and important failed gamble in college football history. USC was trying to hold on to a dwindling lead against Texas in the Rose Bowl when Carroll decided to go for a fourth-and-2 from the Longhorns' 45-yard line with 2:13 left. Get the first down, and a historic three-peat championship is in the books. Don't get it, and Vince Young has one more shot at a collapsing USC defense. When LenDale White was chopped down short of the sticks, Texas had the ball, had field position and had even more momentum. The rest is history: Young carved up the Trojans on a final drive to score the winning touchdown with 19 seconds left and capture the national championship. And Carroll would make the same call all over again. "We were playing in a championship game every weekend, so no game at the end of the year was different than the entire year," he said. "It fit perfectly. We just missed a cutoff block on the back side is all. If we make that, we're the all-time all-timers." If you miss it, well, you're second-best. But USC didn't put itself in the position to be the all-time all-timers by playing it safe. And the Trojans have more company these days on the wild side than ever.
Pat Forde is a national columnist for ESPN.com. He can be reached at ESPN4D@aol.com.
2007 College Football Preview
The long wait for the start of the 2007 college football season is finally over. Get ready for the season with an in-depth look at the teams, trends, players and coaches. Index

Features
• Forde: Arkansas' favorite son also rising
• Forde: Welcome to Trickeration Nation
• Albright: Glanville has Portland State all shook up
• Maisel: Boise State part of quiet revolution
• Edwards: BCS system needs update


• Forde: QBs face burden of proof in '07
• Schlabach: Biggest shoes to fill this season
• Maisel: (Southern) State of the Game
• Schlabach: Hot or Not for 2007
Awards Watch
•
Ivan Maisel's preseason All-America team
•
Heisman Watch: Voters go Hog wild
•
SportsNation: Rank the Heisman contenders
Fearless Forecasts
•
Experts: Conference title projections
•
Maisel/Schlabach: Bowl predictions
•
McShay: Don't sleep on these teams

•
Games to watch:
National
|
Conference
Campus Confidential
•
Forde: Woodson stepping out of the shadow
•
Schlabach: Shhhh! Uncovering 2007's secrets
•
McShay: Seven secrets from the film room

•
Feldman: Saturday's secret agents revealed
•
EA Sports: Trick play simulations
•
Arkansas: Wildhog formation
•
Boise State: Statue of Liberty
•
LSU: Flea flicker
•
Texas: Wide receiver pass
•
USC: Halfback pass
ACC Features
•
Schlabach: ACC needs quality Miami, FSU
•
Schlabach: Wright, Freeman still battling at Miami
•
Schlabach: Wake sets bar high for encore
•
Schlabach: Five ACC predictions
Big East Features
•
Maisel: What's next for the Big East?
•
Maisel: USF's QB exudes old school cool
•
Maisel: Five Big East predictions
Big Ten Features
•
Schlabach: Michigan seniors return on a mission
•
Schlabach: Downsized Hill means supersized play
•
Schlabach: Big Ten at the crossroads
•
Schlabach: Five Big Ten predictions
Pac-10 Features
•
Forde: Now is the time for UCLA
•
Forde: Five Pac-10 predictions
•
Maisel: After long wait, Turner ready for stardom
•
Maisel: Ten Little Trojans running backs
•
Feldman: DeSean Jackson's born identity

SEC Features
•
Maisel: Saban snapshot reveals double feature
•
Higgins: Spurrier, Gamecocks thinking big
•
Schlabach: SEC balance of power shifts East
•
Schlabach: Five SEC predictions
Coaching Corner
•
Schlabach: Coaches on the hot seat
•
Schlabach: Rise of the assistants
•
McShay: Assistant coaches on the rise

•
McShay: Position coaches who deliver

Rule Changes
•
Kickoffs, timing rules highlight changes
•
McShay: Changes put premium on specialists

•
College Football Live: Impact of kickoff rule

•
Joe Tiller: Kickoff changes raise safety issues

•
College Football Live: Matter of time

Campus Call
ESPN.com will hit eight practice sessions to get an early pulse on the season. Check out what's happening on campus.
•
Aug. 7:
Gators looking for bite on D
•
Aug. 6:
ND's Weis plays respect card
|
McKnight makes USC debut
•
Aug. 5: Brown resolute in face of Texas' troubles
•
Aug. 4: WVU has speed to burn
•
Aug. 3: Taylor made Jacket
•
Aug. 2: Hokies begin road back to normalcy
•
Aug. 1: Report day is still a thrill for Tuberville