Commentary
Southern passion propels SEC to top of conference ladder
Originally Published:
August 16, 2007
By
Pat Forde
| ESPN.com
Editor's note: ESPN.com is asking its experts and SportsNation to predict which conference will be the best in 2007. Follow our bracket-style tournament throughout the week to see which teams our experts picked and to vote in the SportsNation polls.
We don't need Les Miles lipping off to know the truth: The Southeastern Conference is better than the Pacific-10 in football.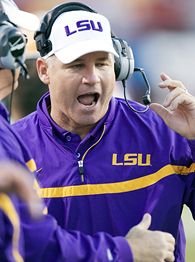 Wesley Hitt/Getty ImagesLes Miles might have underestimated the top of the Pac-10, but he's right that the SEC is the stronger conference.
This year and most years. The LSU coach appealed to his base in early July by taking shots at USC's league. This is what Miles reportedly said at a speaking engagement in New Orleans: "I would like nothing better than to play USC for the title. I can tell you this: They have a much easier road to travel. They're going to play real knock-down, drag-outs with UCLA and Washington, Cal-Berkeley, Stanford -- some real juggernauts -- and they're going to end up, it would be my guess, in some position so if they win a game or two, that they'll end up in the title [game]. "I would like that path for us. I think the SEC provides much stiffer competition." When I attended Pac-10 media days later that month, those comments were as popular as Bud Selig at a Bonds family picnic. "Come check us out," said UCLA defensive end Bruce Davis, sticking up for the league as a whole. "Watch a game or two. Ask teams how they feel after they play us. They think we're out here on surfboards, playing at the beach." It was Miles who came across dumber than Jeff Spicoli. Impugning UCLA and Cal, for one thing, is simply ignorant. Ignoring the fact that USC has trampled the last four SEC teams it has faced by a combined total of 119 points is worse. But there is an element of truth to Miles' barbs, no matter how bungled. The SEC is the winner of this cybertournament and is the preeminent conference in college football. Specific to this debate vis-à-vis the Pac-10, it is tougher in the middle and lower tiers. USC begins the season as the No. 1 team and deserves it, and the Trojans have some decent backup from UCLA, Cal and Oregon. But the overall pecking order tilts toward the SEC. If you were to steal an idea from college basketball and play an SEC/Pac-10 challenge this year, the boys from Dixie would win seven of 10 (matching their 10 best against the full membership from the West Coast).
Conference Call
Which conference will be the best in 2007? ESPN.com's experts gave the edge to the SEC over the Pac-10. In SportsNation's bracket, the Big Ten and the SEC are battling for supremacy. Bracket
Vote: Pac-10 v. SEC
Vote: Big Ten v. SEC

The reason is simple: The SEC
has
to be better than the Pac-10. It's nonnegotiable. The quality of life in the South is dependent upon good college football. Local economies, race relations and collective psychological health all would suffer without it. Sweet tea would not be as sweet. Fried chicken would not be as crispy. Country songs would be even sadder. If SEC football were mediocre, the South might as well be back in Reconstruction. On the West Coast, good college football is no more important to the commonweal than comfortable sandals and affordable microbrewed beer. It's a nice perk, but it falls far below vital. At least 10 SEC schools are crazily committed to football success. In the Pac-10, USC might be it. A few others care, but they stop well short of obsession. That's why the SEC averaged 75,706 fans per home game last year and the Pac-10 averaged 56,314. That's why Alabama shoved 92,000 people into its stadium for the spring football game. That's why SEC media days last three days and the Pac-10's session lasts five hours. The difference in passion can be summed up in two walks I took from press box to field level at the end of two games, one year and 3,000 miles apart.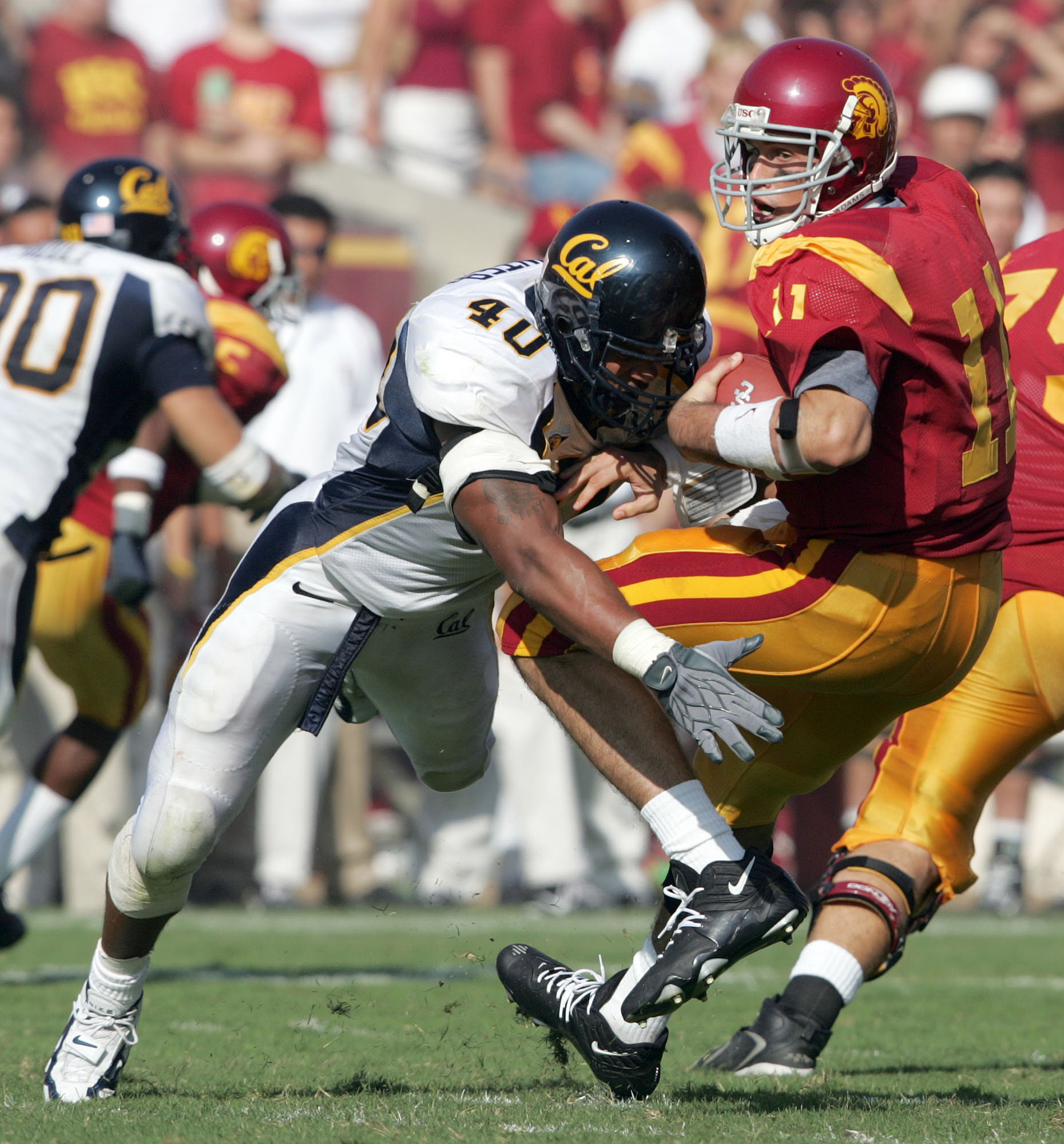 AP Photo/Chris CarlsonCal came close to stopping Matt Leinart & Co., but Bears fans weren't too shook up by the loss.
Oct. 9, 2004: No. 1 USC 23, No. 7 California 17, in Los Angeles. A great game that went down to the final play, with massive stakes. It would be the only game the Bears would lose in the regular season -- ultimately costing them a shot at the national title and their first BCS bowl appearance. It was the Trojans' narrowest escape on their way to pulverizing Oklahoma in the Orange Bowl and winning the national championship. While hustling to the field afterward at Memorial Coliseum, I brushed past dozens of Cal fans on their way out. Some looked upset, but some were smiling and remarking what a great game it had been. On the collective disappointment meter, they registered about a 4 -- roughly the same as if they'd gone to the movies and found out the show they wanted to see was sold out. You got the feeling that by the time they walked through the blissful SoCal sun to their cars, they'd pretty well put it behind them. Nov. 12, 2005: No. 15 Auburn 31, No. 9 Georgia 30, in Athens, Ga. Another great game that went down to the final play, with slightly smaller stakes. The loss prevented the Bulldogs from clinching the SEC Eastern Division (although they would win it later on). While hustling down between the hedges, I noticed that most Georgia fans were still in their seats. Devastated. When I caught up with the Auburn players prancing off the field, they were dodging projectiles from the stands. On paper, Georgia fans didn't lose nearly as much that day as California fans had lost the year before. But they lost a whole lot more in their guts. And that's why the SEC is the king of college football. Because the alternative is too traumatic for the South to handle.
Pat Forde is a national columnist for ESPN.com. He can be reached at ESPN4D@aol.com.
2007 College Football Preview
The long wait for the start of the 2007 college football season is finally over. Get ready for the season with an in-depth look at the teams, trends, players and coaches. Index

Features
• Forde: Arkansas' favorite son also rising
• Forde: Welcome to Trickeration Nation
• Albright: Glanville has Portland State all shook up
• Maisel: Boise State part of quiet revolution
• Edwards: BCS system needs update


• Forde: QBs face burden of proof in '07
• Schlabach: Biggest shoes to fill this season
• Maisel: (Southern) State of the Game
• Schlabach: Hot or Not for 2007
Awards Watch
•
Ivan Maisel's preseason All-America team
•
Heisman Watch: Voters go Hog wild
•
SportsNation: Rank the Heisman contenders
Fearless Forecasts
•
Experts: Conference title projections
•
Maisel/Schlabach: Bowl predictions
•
McShay: Don't sleep on these teams

•
Games to watch:
National
|
Conference
Campus Confidential
•
Forde: Woodson stepping out of the shadow
•
Schlabach: Shhhh! Uncovering 2007's secrets
•
McShay: Seven secrets from the film room

•
Feldman: Saturday's secret agents revealed
•
EA Sports: Trick play simulations
•
Arkansas: Wildhog formation
•
Boise State: Statue of Liberty
•
LSU: Flea flicker
•
Texas: Wide receiver pass
•
USC: Halfback pass
ACC Features
•
Schlabach: ACC needs quality Miami, FSU
•
Schlabach: Wright, Freeman still battling at Miami
•
Schlabach: Wake sets bar high for encore
•
Schlabach: Five ACC predictions
Big East Features
•
Maisel: What's next for the Big East?
•
Maisel: USF's QB exudes old school cool
•
Maisel: Five Big East predictions
Big Ten Features
•
Schlabach: Michigan seniors return on a mission
•
Schlabach: Downsized Hill means supersized play
•
Schlabach: Big Ten at the crossroads
•
Schlabach: Five Big Ten predictions
Pac-10 Features
•
Forde: Now is the time for UCLA
•
Forde: Five Pac-10 predictions
•
Maisel: After long wait, Turner ready for stardom
•
Maisel: Ten Little Trojans running backs
•
Feldman: DeSean Jackson's born identity

SEC Features
•
Maisel: Saban snapshot reveals double feature
•
Higgins: Spurrier, Gamecocks thinking big
•
Schlabach: SEC balance of power shifts East
•
Schlabach: Five SEC predictions
Coaching Corner
•
Schlabach: Coaches on the hot seat
•
Schlabach: Rise of the assistants
•
McShay: Assistant coaches on the rise

•
McShay: Position coaches who deliver

Rule Changes
•
Kickoffs, timing rules highlight changes
•
McShay: Changes put premium on specialists

•
College Football Live: Impact of kickoff rule

•
Joe Tiller: Kickoff changes raise safety issues

•
College Football Live: Matter of time

Campus Call
ESPN.com will hit eight practice sessions to get an early pulse on the season. Check out what's happening on campus.
•
Aug. 7:
Gators looking for bite on D
•
Aug. 6:
ND's Weis plays respect card
|
McKnight makes USC debut
•
Aug. 5: Brown resolute in face of Texas' troubles
•
Aug. 4: WVU has speed to burn
•
Aug. 3: Taylor made Jacket
•
Aug. 2: Hokies begin road back to normalcy
•
Aug. 1: Report day is still a thrill for Tuberville
MOST SENT STORIES ON ESPN.COM