Commentary
From football's penthouse to its depths, Vick sabotaged himself
Updated:
August 20, 2007, 6:03 PM ET
By
Pat Forde
| ESPN.com
From the desperately tight spot he now occupies, you wonder whether Michael Vick can grasp how far he's plummeted. How much he's lost. How much he's given away.
Once -- not long ago -- he was the most spectacular football athlete in the world. Now, thanks to agreeing to a plea bargain on Monday, he's the perpetrator of the most spectacular fall from athletic grace in recent times.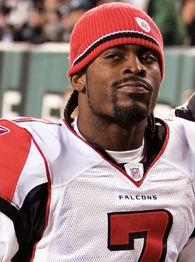 Jim McIsaac/Getty ImagesMichael Vick's future in the NFL -- let alone in Atlanta -- is very tenuous.
Yeah, a lot of sports stars have done worse things. (If there are two things we've learned this summer, it's that Americans adore pets and animal activists are phenomenally vocal.) But few fallen sports stars had so much to forfeit. This was to be his time. His era. On the night of Jan. 4, 2000, fresh into the new millennium, Florida State beat Virginia Tech for the national title. And in defeat, Michael Vick took over football in the 21st century. At least that's the way it seemed, watching it unfold in person in the Louisiana Superdome. The Hokies' redshirt freshman was a revelation -- the fastest quarterback anyone had ever seen, blowing away an ultra-fleet defense and possessing a preposterous arm. He threw for 225 yards and a touchdown and ran for 97 yards and another score, but the impact went beyond his numbers. Seminoles coach Bobby Bowden spoke with undisguised wonder about what Vick did to his defense. He was
sui generis
. He looked like a new evolution of the quarterback position. Fifteen months later he was the first player picked in the NFL draft, going to a city where he had the chance to play god: Atlanta, where they were starving for a marquee football star and an African-American athletic hero. In 2002 he led the Falcons to a playoff upset win in Green Bay, and in 2004 he led them to the NFC Championship Game. That winter he signed the richest contract in football history, for $130 million over 10 years. He'd pulled himself out of a Tidewater ghetto and become a bona fide American success story. The possibilities seemed limitless. The sporting world was his. Today, with a pile of dead dogs and criminal charges he has agreed to plead guilty to, Michael Vick has no ownership of the sporting world. Worse, he has no ownership of his future, having sold that and his reputation down the river in exchange for some low-class bloodsport thrills. He's all but helpless. His immediate future is now dependent upon a sentence and the judgment of a commissioner with a proclivity for sledgehammer suspensions. If Vick is in an NFL uniform before July 2008, it would be a stunning upset -- and even that potential comeback date is pure conjecture. But if he is in an NFL uniform in July 2008, don't expect it to be red and black. His long-term future will depend on the desperation level of some other franchise, away from the city that has adored him for six years. The Atlanta Falcons have many self-inflicted reasons for their relatively inglorious history, but this episode veers more toward bad luck than bad management. You can question the wisdom of building a franchise around a guy who had never grown into a star passer. You can question the wisdom of building a franchise around a guy who had never grown into a fully responsible adult. But Vick's immense talent made him worth the gamble. So the Falcons went and got a fourth head coach to try to make him into the millennial superstar he seemed destined to be. They paid quarterback savant Bobby Petrino (who follows Dan Reeves, interim Wade Phillips and Jim Mora) a jillion bucks to come in and tailor an offense around Vick. They committed so strongly to Vick, they sent their talented backup, Matt Schaub, to Houston. And then it all blew up. We started hearing about the black-painted buildings in rural Virginia where dogs dueled to the death, or were killed by their owners after losing. And the more we heard, the worse it got, as fans holding out hope for a good explanation became sickened by the developing story. My 10-year-old son's No. 7 Falcons jersey stopped coming out of the drawer months ago, and I'd imagine the reaction has been similar nationwide. Kids love athletes. But they love animals, too. There are plenty of other quarterbacks to root for who aren't facing the specter of prison time for dogfighting. And so a guy who could seemingly run himself out of any predicament on the football field has run himself out of decent options. A guy who built his fame and game on stunning elusiveness is now trapped. Supporters dwindling, teammates distancing, friends rolling for the feds, ownership seemingly ready to move on without him, league seemingly ready to exile him, justice system ready to incarcerate him -- it's been a stunning study in self-sabotage. Michael Vick will have a second athletic act -- eventually, somewhere, with somebody. But it will never be the same as the first act. Not with all the promise and potential and expectation left unfulfilled. His time has come and is now going, going …
Pat Forde is a national columnist for ESPN.com. He can be reached at ESPN4D@aol.com.
SPONSORED HEADLINES
ESPN TOP HEADLINES
MOST SENT STORIES ON ESPN.COM
VICK SENTENCED TO 23 MONTHS

Michael Vick was sentenced to 23 months in federal prison and three years' probation for his role in a dogfighting conspiracy. The suspended Falcons quarterback is looking at a scheduled release of July 2009. Story
Update
•
GM: Falcons will attempt to trade Vick
•
Lawyer: Vick might move to halfway house
•
Former Vick estate fails to sell again
•
Vick house fails to sell at auction
•
Vick files for bankruptcy protection
•
Prosecutor: Vick's Virginia trial can wait
•
Vick ordered to repay Canadian bank $2.4 million
•
Judge denies NFL motion to reverse Vick ruling
•
Report: Vick not playing organized football in jail
•
Report: Vick passes time with prison-yard football
•
Vick's state dogfighting trial to begin June 27
•
Munson: Vick yet to enter drug treatment
The sentence
•
Vick sent to Kansas to serve rest of sentence
•
Vick asked judge for leniency before sentencing
•
Vick sentenced to 23 months
|
Document (pdf)
•
Poll: What do you think?
|
What they're saying
•
Clayton: Sentence puts career in jeopardy
•
Munson: Tough sentence by displeased judge
•
Teammates show support at Falcons game
•
Can Vick return to playing in NFL?
•
Pasquarelli: No longer top of mind in Atlanta
•
Last Vick co-defendant sentenced
•
Podcasts

:
Cossack

|
Schlereth

|
Munson/Naqi

|
Pasquarelli

•
Chat wrap: David Cornwell
Post Plea
•
NFL wants court to reverse Vick bonus ruling
•
Victory for Vick: QB can keep $20 million bonus
•
Fifth defendant in Vick case receives probation
•
Vick's house for sale for $1.1M
•
Some Falcons to visit Vick in prison
•
PETA unveils new e-card
•
Former Virginia estate fails to sell at auction
•
Out of Falcons' sight, almost out of mind
•
Judge's casework offers look at possible sentence
•
Remaining dogs placed with rescue groups
•
Source: Feds may push judge to up sentence
•
NFLPA argues Vick should not lose roster bonus
•
Vick co-defendants get 18, 21 months in prison
•
Vick agrees to put up almost $1M for dogs' care
•
Vick given April trial date on state charges
•
Vick surrenders to begin serving sentence early
•
Home at center of Vick dogfighting scandal sold
•
Vick fires one of his lawyers in dogfighting case
•
Man who sold Vick pit bull pleads guilty
•
Man connected to Vick dogfight ring pleads guilty
•
Third bank sues Vick, claims he defaulted on loan
•
Arbiter: Falcons have right to reclaim bonuses
•
PETA: Vick had class on animal cruelty
•
Evaluations show 48 of Vick's dogs placeable
•
Vick tests positive for marijuana
•
Vick supporters turn out for town meeting
•
Vick's apology notes fetch $10.2K at auction
Vick's Plea/NFL Suspension
•
Vick pleads guilty to federal dogfighting charge
•
The plea
(PDF) |
Statement of facts
(PDF)
• Vick's statement:
Watch it

|
Read it
•
Roger Cossack explains plea deal
•
Poll: Vick should be banned
•
Va. Tech, Beamer continue to support Vick
•
Vick supporters drown out protesters
•
NFL suspends Vick indefinitely
|
Goodell
(PDF)
•
Chris Mortensen on Vick's suspension
•
Vick files plea agreement admitting to dogfighting
Indictment
•
Marbury's about-face: Vick 'is 100 percent wrong'
•
National NAACP: Vick 'not a victim'
|
Audio

•
Atlanta NAACP: Vick should be allowed to return
•
Falcons come to terms with 'ex-teammate'
•
Vick timeline
|
What they're saying
•
Helyar: Even Atlanta turns against Vick
•
Goodell: Vick not overshadowing season
•
Vick co-defendant pleads guilty to charges
• Tony Taylor:
Summary of Facts
|
Plea agreement
•
Hometown residents stand by Vick
•
Falcons had planned to suspend Vick
•
Commish tells Vick to avoid camp
•
Vick indicted
|
The indictment (pdf)
|
Civil arrest warrant (pdf)
Town Hall meeting
•
Town Hall chat wrap: Chadiha
Previous columns/analysis
•
Munson: Q&A on Vick reporting to prison early
•
Munson: Looking at Judge Hudson
•
Vick's high school learning lessons
•
Bryant: Confounded by race issue
•
Munson: Q&A about local indictment
•
Munson: Next focus for Vick is length of sentence
•
Schlabach: Vick an afterthought on VT campus
•
Chadiha: Vick not running from truth
•
Hill: Coverage means bigger issues ignored
•
Wojciechowski: Pay attention to the fallen star
•
Bryant: Vick's plea deal comes with baggage
•
Bryant: In failing Vick, NFLPA fails itself
•
Munson: Vick plea means surrender
•
Forde: Vick's epic fall
•
Pasquarelli: Major blow for Falcons
•
Chadiha: Lots of lessons to be learned
•
Wojciechowski: Punishment with teeth
•
Easterbrook: Little sympathy?
•
Clayton: Vick's NFL future might be bleak
•
E-Ticket: A history of mistrust
•
Chadiha: Vick's bad choices
Nike Boys' Home Game Jersey Philadelphia Eagles Michael Vick #7 Shop »