Commentary
UCLA poised to move out of USC's shadow
Updated:
August 20, 2007, 12:30 PM ET
By
Pat Forde
| ESPN.com
LOS ANGELES -- UCLA football coach Karl Dorrell took his family to Maui this summer for vacation. To his chagrin, he was beaten one day on the golf course by his 12-year-old son, Chandler.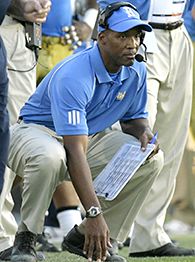 AP Photo/Danny MoloshokKarl Dorrell's up and down ride at UCLA needs to hit its highest peak this season.
According to his dad, Chandler Dorrell is quite a player for his age. But if Karl's golf game is anything like his head-coaching career to date, he cards a bogey for every birdie.
Dorrell's first four years with the Bruins were characterized by a step back for nearly every stride forward. The record went from 6-7 to 6-6 to 10-2, then backslid to 7-6 last season.
An eye-opening thumping of lordly Oklahoma keyed a kismet-kissed 8-0 start in 2005, but that was followed by a 38-point loss to lowly Arizona and a 47-point atomizing at USC. Last year UCLA scored a liberating December upset of the Trojans, knocking their hated rival out of national title competition, then followed it with a miserable 17-point bowl loss to Florida State. That left UCLA 1-3 in bowl games under Dorrell, despite being favored in all four.
These powder-blue peaks and valleys are why Dorrell's .580 winning percentage ranks as the lowest for any Bruins coach since 1964. Combine that with the obnoxious 48-4 record at USC since Dorrell arrived, and tepid improvement almost feels like regression. Now comes a season in which progress is expected to be measured in miles, not inches. With 20 returning starters and a bunch of winnable road games, the time is now for UCLA to win back a share of Los Angeles and make a push into the national elite. The Bruins begin the season ranked 14th in the AP poll, highest they've been in August since 1998. "It's a great place to be on paper," Dorrell said. "Because it's on paper, there's an expectation. That's pressure. Can we handle that pressure? I believe this team has the maturity to do that."
There is a surplus of maturity at UCLA, from the 25 seniors on the roster to married, 24-year-old junior quarterback Ben Olson. Even with a new offensive coordinator (Jay Norvell, who came over from Nebraska), the learning curve should be no steeper than an anthill this August.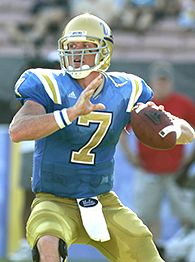 AP Photo/Danny MoloshokUCLA's Ben Olson won the job quarterback job in the spring.
"We're more mature," All-America defensive end Bruce Davis said. "We know what it takes to win football games. There's nothing in college football we haven't seen." Oh, there is one thing, at least. These Bruins have never seen a Pac-10 title up-close and personal. And everyone knows who they have to go through to get there.
Living with USC towering over their city and their conference has not been easy for the current Bruins. Even when UCLA had that 10-2 year, USC was going 13-0. The Trojans get the championship rings, the Heismans, the Rose Bowl bids, the pub and the love. UCLA gets asked what it's like in their shadow.
"The mind-set outside the conference is that there's one program and then there's everybody else," Dorrell said. "If you ask the coaches, we don't like that impression."
That's why beating USC 13-9 last year was such a huge deal in Westwood. It ended a seven-year losing streak in the rivalry, and first-year defensive coordinator DeWayne Walker made a name for himself by blitzing the pants off USC quarterback John David Booty. Breaking the Trojans' NCAA-record streak of 63 straight games scoring at least 20 points was great therapy for a program with an inferiority complex.
"It's a great win for us and does a lot for our program," Davis said. "It's a great feeling to beat them when they're supposed to be on their way to the national championship and they're the juggernaut. Now we don't have to listen to reporters sliding in comments or taking shots at us [for always losing to USC].
"But it doesn't mean we're arrogant and complacent."
Perhaps that complacency lesson was learned from the post-USC flop in the bowl game -- which, as Davis pointed out, cost UCLA offseason momentum and a few spots in the preseason polls. But losing to Florida State was not the only unexpected pratfall for the Bruins last year.
"I just expect us to be a lot more consistent and not overlook certain games," Davis said. "We did lose to [5-7] Washington last year, and I think that was the case in that game."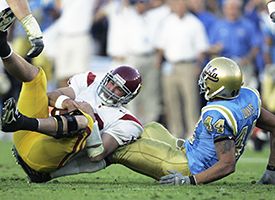 AP Photo/Chris CarlsonUCLA defensive end Bruce Davis leads what could be a very potent defense.
Beyond complacency, there were issues last season with quarterback play. Former national No. 1 high school recruit Olson began the year as the starter and lasted five games before being injured and giving way to Patrick Cowan. But even when both were healthy there was significant debate over who was UCLA's better QB. The team produced just 200 passing yards per game last year, 56th in the nation and its lowest average in at least a decade.
Both quarterbacks are back this year, but Olson won the spot in the spring. Period. For the time being.
"We don't have a quarterback controversy," Dorrell said. "It's just competition now.
"I see a difference in Ben. It's like a little level of maturity he's at right now. I noticed the difference as soon as he got married [in May]. It's almost like he reformed, reorganized his priorities. Like he's really sure of himself. I just think he's really focused on having a great season."
The support system is certainly in place for Olson. He'll have a veteran line in front of him and a multitude of weapons at his disposal, from running back Chris Markey (1,107 yards rushing, 35 receptions) to receivers Marcus Everett, Joe Cowan, Brandon Breazell and Logan Paulsen.
The defense has a chance to be tremendous -- something not often said in Westwood. Last year was the first time since 1997 that UCLA didn't allow a single regular-season opponent to score 40 points in a game, and this year it should only get better. Walker's all-pressure, all-the-time scheme produced 40 sacks in 2006, tied for sixth nationally, and 10 starters return.
In terms of working in new personnel, replacing standout kicker Justin Medlock will be the biggest challenge. In terms of schedule, this season sets up nicely.
The Bruins' first five road games -- Stanford, Utah, Oregon State, Washington State, Arizona -- are against teams with an un-threatening 2006 average Sagarin rating of 50th. If UCLA takes care of business in the Rose Bowl and is ready to live up to its ranking, it could be 11-0 when bussing across town to play USC on Dec. 1.
"That would be a dream come true if it came down to that," Davis said.
There are three months of games before then, of course. Plenty of birdie opportunities for the Bruins -- but plenty of potential bogeys, too.
Pat Forde is a national columnist for ESPN.com. He can be reached at ESPN4D@aol.com.
2007 College Football Preview
The long wait for the start of the 2007 college football season is finally over. Get ready for the season with an in-depth look at the teams, trends, players and coaches. Index

Features
• Forde: Arkansas' favorite son also rising
• Forde: Welcome to Trickeration Nation
• Albright: Glanville has Portland State all shook up
• Maisel: Boise State part of quiet revolution
• Edwards: BCS system needs update


• Forde: QBs face burden of proof in '07
• Schlabach: Biggest shoes to fill this season
• Maisel: (Southern) State of the Game
• Schlabach: Hot or Not for 2007
Awards Watch
•
Ivan Maisel's preseason All-America team
•
Heisman Watch: Voters go Hog wild
•
SportsNation: Rank the Heisman contenders
Fearless Forecasts
•
Experts: Conference title projections
•
Maisel/Schlabach: Bowl predictions
•
McShay: Don't sleep on these teams

•
Games to watch:
National
|
Conference
Campus Confidential
•
Forde: Woodson stepping out of the shadow
•
Schlabach: Shhhh! Uncovering 2007's secrets
•
McShay: Seven secrets from the film room

•
Feldman: Saturday's secret agents revealed
•
EA Sports: Trick play simulations
•
Arkansas: Wildhog formation
•
Boise State: Statue of Liberty
•
LSU: Flea flicker
•
Texas: Wide receiver pass
•
USC: Halfback pass
ACC Features
•
Schlabach: ACC needs quality Miami, FSU
•
Schlabach: Wright, Freeman still battling at Miami
•
Schlabach: Wake sets bar high for encore
•
Schlabach: Five ACC predictions
Big East Features
•
Maisel: What's next for the Big East?
•
Maisel: USF's QB exudes old school cool
•
Maisel: Five Big East predictions
Big Ten Features
•
Schlabach: Michigan seniors return on a mission
•
Schlabach: Downsized Hill means supersized play
•
Schlabach: Big Ten at the crossroads
•
Schlabach: Five Big Ten predictions
Pac-10 Features
•
Forde: Now is the time for UCLA
•
Forde: Five Pac-10 predictions
•
Maisel: After long wait, Turner ready for stardom
•
Maisel: Ten Little Trojans running backs
•
Feldman: DeSean Jackson's born identity

SEC Features
•
Maisel: Saban snapshot reveals double feature
•
Higgins: Spurrier, Gamecocks thinking big
•
Schlabach: SEC balance of power shifts East
•
Schlabach: Five SEC predictions
Coaching Corner
•
Schlabach: Coaches on the hot seat
•
Schlabach: Rise of the assistants
•
McShay: Assistant coaches on the rise

•
McShay: Position coaches who deliver

Rule Changes
•
Kickoffs, timing rules highlight changes
•
McShay: Changes put premium on specialists

•
College Football Live: Impact of kickoff rule

•
Joe Tiller: Kickoff changes raise safety issues

•
College Football Live: Matter of time

Campus Call
ESPN.com will hit eight practice sessions to get an early pulse on the season. Check out what's happening on campus.
•
Aug. 7:
Gators looking for bite on D
•
Aug. 6:
ND's Weis plays respect card
|
McKnight makes USC debut
•
Aug. 5: Brown resolute in face of Texas' troubles
•
Aug. 4: WVU has speed to burn
•
Aug. 3: Taylor made Jacket
•
Aug. 2: Hokies begin road back to normalcy
•
Aug. 1: Report day is still a thrill for Tuberville
MOST SENT STORIES ON ESPN.COM