Commentary
Karma kisses Woodson, Kentucky in 40-34 stunner
Originally Published:
September 15, 2007
By
Pat Forde
| ESPN.com
LEXINGTON, Ky. -- For the exceptionally tortured souls who are longtime Kentucky football fans, this was a familiar sight:
Game on the line in Commonwealth Stadium, and a receiver suddenly, shockingly in the clear and catching the ball for the winning touchdown. Coverage breakdown. System failure. Victory dropping out of the sky where defeat had seemed inevitable. But the familiar sight came with a startling, intoxicating, rush-the-field twist: The receiver in the clear, the one catching the winning touchdown, was wearing a blue jersey. On this night, one of the best nights in the largely miserable history of Kentucky football, the heroic receiver making the jaw-dropping play was one
Steve Johnson
. The mostly nondescript senior streaked unbothered down the sideline and corralled a 57-yard thunderbolt from
Andre' Woodson
with 28 seconds left that delivered the Wildcats a 40-34 upset of the defensively deficient Cardinals. What visitors have done unto the luckless Wildcats so many times, the Wildcats finally have done unto somebody else. And not just anybody else: the ninth-ranked team in the country and their bitter rival.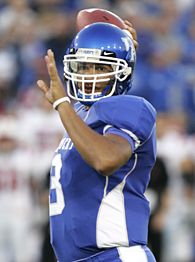 James Crisp/AP PhotoAndre' Woodson finally beat Brian Brohm in his last chance in a Kentucky uniform.
Finally, gridiron karma kissed Kentucky. On the mouth. Five years ago, the receiver making the backbreaking score on this very bluegrass field was LSU's Devery Henderson. He grabbed a twice-deflected pass in stride for a 75-yard touchdown on the final play, giving the Tigers a 33-30 victory as Kentucky fans literally hung from the goalposts, celebrating a victory that disappeared on the final snap. Fourteen years ago, the receiver was Florida's Chris Doering. He cradled a touchdown bomb from freshman Danny Wuerffel with 7 seconds left in a game that saw the Wildcats collect seven interceptions and still lose, 24-20. Fifteen years ago, an otherwise forgettable Mississippi State quarterback named Greg Plump led the Bulldogs to two fourth-quarter touchdowns and two two-point conversions, turning a 36-21 deficit into a 37-36 win. Sixteen years ago, another relative no-name -- LSU QB Chad Loup -- threw a late touchdown to beat Kentucky 29-26. Nineteen years ago, a third-string Alabama quarterback (I was there, but the name is now forgotten in the roll call of otherwise anonymous Cats killers) led the Crimson Tide back from 17 down in the fourth quarter to win in the final seconds, 31-27. That's why some of the delirious fans who flooded the field were pulling up chunks of grass, to commemorate the night it finally ended right for the home team. That's why a guy ran up to me on the field and gushed, "Hey, write this down: This is the highlight of my life!" Hopefully, there will be better nights to come for that fella. But this clearly was the Kentucky highlight of coach Rich Brooks' four-plus seasons on the job in Lexington, and also the Kentucky highlight for athletic director Mitch Barnhart, who stuck by Brooks amid immense criticism of both his hiring and retention after three losing seasons. (Quite a bit of the criticism originating from yours truly.) "I couldn't be more happy for a guy who stood tall in the storm and took a lot of bullets," Barnhart said. "He never flinched. There were some people who didn't think he'd win any games, much less a big game. He has methodically, consistently stuck his nose to the grindstone." Methodical and consistent pretty well describe Brooks, a grinder who came out of retirement in 2003 to coach a program hit with major sanctions after a recruiting scandal under former coach Hal Mumme. Brooks only got the job after half of coaching America turned it down, and he then proceeded to go 4-8 after inheriting a strong nucleus of a team that had been 7-5 the year before. When Brooks followed that disappointment with 2-9 and 3-8 seasons amid scholarship reductions, much of the commonwealth wanted him gone. Barnhart brought him back for a make-or-break season, and Brooks delivered an 8-5 surprise last year, topped by an upset of Clemson in the Gaylord Hotels Music City Bowl.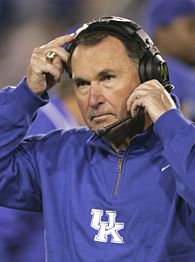 James Crisp/AP PhotoMuch-maligned coach Rich Brooks finally got a signature win.
Even with most of the key performers from that team back this year -- starting with Woodson, who continues to improve his NFL stock with every touchdown toss -- Kentucky was snubbed by the preseason polls. The Wildcats received one vote in the preseason AP poll -- or six fewer than Virginia, which had gone 5-7. They also received one vote in the USA Today coaches' poll -- or four fewer than Memphis, which had gone 2-10. Even after a 2-0 start, Kentucky lost the one vote it had gotten in August's AP poll. Heading into this game, the Cats were universally unloved. As usual. "If we're not [ranked this week], then somebody's crazy," Brooks said. "If we beat the No. 8 or No. 9 team in the country and we're not ranked, somebody's smokin' something." The pollsters, presumably, will make amends. And Louisville must concede the state spotlight it has hogged for years. "We've gotten slapped in the head a few times in a row in this rivalry," Brooks said. "I think now the rivalry is back. I think it's truly back." Bobby Petrino whipped Rich Brooks four straight seasons, by a combined margin of 82 points. Petrino moved on to the NFL, but Louisville greeted new coach Steve Kragthorpe with enough talent to earn a preseason top-10 ranking that it retained even after starting the season horrendously on defense. Now Kentucky has beaten a top-10 team for the first time in 30 years. And now Louisville can recuse itself from contention for a national title and -- if the same defense continues to show up week after week -- from contention for a Big East title. On the game-changing play, the Cardinals basically pulled a Kentucky: They let a receiver run uncovered deep downfield at the precise time when you cannot let a receiver run uncovered deep downfield. Playing a deep zone while clinging to a 34-33 lead, safety Richard Raglin and cornerback Woodny Turenne -- a junior college All-American brought in to stabilize a shaky secondary -- combined to completely ignore Johnson streaking down the sideline. Kentucky sent four receivers deep on the play. It had run the same play four snaps earlier and Woodson overthrew a seam route to tight end
Jacob Tamme
-- but offensive coordinator Joe "Joker" Phillips noticed Raglin jumping that route and ignoring Johnson on the outside, so he called it again. This time, Turenne cheated inside from the boundary. Raglin jumped toward Tamme again in the slot. Johnson was open by yards. "I was shocked I was open," Johnson admitted enthusiastically. It was doubly shocking because the
exact same thing
had happened at the end of the first half. Same four-deep route. Same butchered coverage. Same open guy. Only that time Woodson's pass was a tad long and bounced off Johnson's outstretched hands. "It seemed like they slipped up twice," Johnson said. "With a team like that, ninth in the nation, you don't think they'd slip up like that. But they did."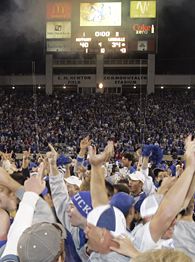 James Crisp/AP PhotoTortured Kentucky fans finally have a reason to celebrate.
Woodson's pass hit the mark the second time. Johnson cradled it in and broke Raglin's tackle attempt at the 5, skipping in and igniting bedlam in the bluegrass. This was validation for Woodson, who has toiled in the shadow of Louisville counterpart
Brian Brohm
for years. He's an Radcliff, Ky., kid whose high school was flattened by Brohm's every year, and he'd never beaten Brohm in college, either. Now, he had made the heroic play and turned the tables. "It feels great, but this ain't between me and him," Woodson said. "It feels even more great to say we beat Louisville. They're just 70 miles from us, and we hear it all the time, how we don't even belong in the same stadium with them. … Words can't explain how it feels." But to get to that final feeling, Kentucky had to endure a few more seconds. As long as there is time on the clock in this cursed stadium, the visitors have a chance. Sure enough, Brohm completed a 23-yard pass to the Louisville 43, setting up one final heave. The senior sent it deep and high into the crisp September air, and Kentucky cornerback Trevard Lindley batted it away -- right into the hands of Louisville receiver
Harry Douglas
at about the Kentucky 15. Suddenly, spasmodic flashbacks to the Devery Henderson play exploded. "I thought, 'Oh my God, don't let this happen again to us,'" said Kentucky receiver
Keenan Burton
, who grew up in Louisville and remembered the Bluegrass Miracle. It didn't. Safety Marcus McClinton chopped down Douglas at the 11 and the gun went off. Fireworks shot in the sky; fans poured on the field; and karma locked lips with a Kentucky program it had slapped in the mouth so many times before.
Pat Forde is a senior writer for ESPN.com. He can be reached at ESPN4D@aol.com.
SPONSORED HEADLINES
ESPN TOP HEADLINES
MOST SENT STORIES ON ESPN.COM
Nike Kentucky Wildcats Mini Rubber Football Shop »