Commentary
Gardner-Webb matches nearby App State for upset supremacy
Originally Published:
November 8, 2007
By
Pat Forde
| ESPN.com
It's a 110-mile drive from Boone, N.C., home of the Appalachian State Mountaineers, to Boiling Springs, N.C., home of the Gardner-Webb Bulldogs.
Unfortunately, no major roadway directly links the two. Perhaps it's time to build one and name it Giant Killer Highway.
Rural North Carolina has become the cradle of upsets in the most unnatural college sports year of 2007. App State and Gardner-Webb have become the twin towers of small-school power.
[+] Enlarge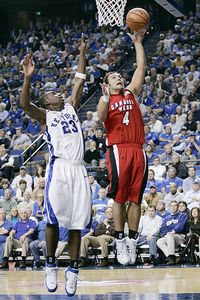 Mark Zerof/US PresswireGrayson Flittner's 22 points against Kentucky put Gardner-Webb on the map early.
In September, the Mountaineers traipsed into 110,000-seat Michigan Stadium and stunned the lordly Wolverines in football. A little over two months later, the Runnin' Bulldogs have sauntered into 23,000 seat Rupp Arena and taken down almighty Kentucky in basketball.
Meet the shockers, the perpetrators of historic upsets, in the cathedrals of the winningest programs in their respective sports.
This kind of thing rarely happens once in a season. Twice is just crazy.
Sure, college basketball already has been hit with early tremors indicating a turbulent season ahead. Michigan State and Ohio State lost exhibition games to Division II schools. Connecticut barely beat Morgan State on Wednesday night, and Memphis struggled on Tuesday with Richmond.
But for the Wildcats to be routed 84-68, to never lead, to rarely be close, to offer their ardent fans no tangible hope of winning what was supposed to be a walkover on the way to New York for the semifinals of the 2K Sports College Hoops Classic … that is borderline fictional. It is absolutely outrageous.
So now we'll see how long it takes new Cat coach Billy Gillispie to get the Lloyd Carr treatment for an unconscionable, unforeseeable but absolutely unmistakable loss.
At least Carr lost close, 34-32, with a game-winning field goal attempt blocked on the final play. Gillispie's Kentucky team was never in the game. They trailed 14-0 out of the gates and only briefly got the deficit into single digits.
(Thread on Catspause.com message board, shortly after the game: "Did it bother anyone else that Billy G remained so calm?")
Meanwhile, tucked away in the relative sanity of Minneapolis, a Mr. Orlando Smith is smirking and saying, "How ya like me now?"
(Not very well, of course. Another Catspause.com thread: "Tubby left us in worse condition than I thought." That will be the predictable fan exercise in the coming days -- deciding how much of this is Smith's fault for lousy recruiting and how much is Gillispie's fault for lousy work with the players he inherited. Kind of like Notre Dame South, only after two games instead of 2½ years.)
For Gillispie, a lusty offseason honeymoon lasted only 60 minutes of game action. Forty minutes Tuesday night, through an unspectacular 67-40 win over Central Arkansas, and then until the first-half horn against Gardner-Webb.
When it blew and the Cats trailed by 11, the boos were audible.
It was, by any measure, a performance more worthy of booing than Michigan's unprecedented pratfall in September. And not just because of the margin of defeat.
Appalachian State was the defending I-AA football champ. Gardner-Webb? Merely 9-21 last season, including a 53-point loss to North Carolina and a 58-point annihilation from Wisconsin.
[+] Enlarge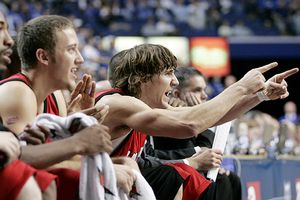 Mark Zerof/US PresswireGardner-Webb toppled a Goliath on Wednesday.
The Bulldogs were picked to finish eighth in the Atlantic Sun this season by both the media and coaches. They've had three 20-loss seasons this decade alone. They have less business beating Kentucky in Rupp than Dennis Kucinich would have winning the New Hampshire primary.
It's that bad a loss.
Since my home is about 70 miles from Rupp Arena, I opened the door around midnight Wednesday and scanned the east sky for flames. There were none. The looting and burning apparently will wait for at least one more game.
But while we're skewering Goliath, it's also important to celebrate David for slingin' the historic rock.
You absolutely must love a group that resembles the Beta Theta Pi intramural team but then backdoors a bully to death, as Gardner-Webb did to the befuddled Wildcats. This was a layup clinic performed without anesthetic.
You must admire coach Rick Scruggs, now in his 13th year at the school. He never seemed to change expression during the game, never seemed to waver in an outward countenance that said, "We've got these guys." A man who once coached at NAIA Pikeville (Ky.) College in the hardscrabble Appalachian Mountains east of Lexington must have never dreamed he'd come back to the state and whip the Wildcats.
And you must adore the star of this show, sophomore guard Grayson Flittner, a former walk-on from Sharpsville, Ind., (pop. 611). All Flittner did was torture Kentucky with 22 points and five assists, repeatedly making rally-killing baskets whenever the Wildcats even hinted at a comeback.
Flittner looks like a fine player. But if Kentucky cannot handle him, what will it do with Chris Lofton, Ty Lawson, Eric Gordon and Terrence Williams -- all on the schedule in the coming weeks? If Gardner-Webb can blitz the Cats for 84 points, is there any way Tennessee, North Carolina, Indiana and Louisville don't score 100?
That's the grim outlook Gillispie has to deal with in Kentucky's suddenly yawning two-week break before the next game.
He's smart enough to know it wasn't going to be easy appeasing the masses. But there's no way he could have guessed that the job would get this hard, this fast.
The only thing Billy Clyde has going for him right now is the fact that it's a long season. He can hope is that, like Michigan's football team, this earth-shaking loss is eventually counter-balanced by a long winning streak that allows his fan base to forgive. But they'll never forget.
Pat Forde is a senior writer for ESPN.com. He can be reached at ESPN4D@aol.com.
SPONSORED HEADLINES
ESPN TOP HEADLINES
MOST SENT STORIES ON ESPN.COM