Commentary
FAU's bowl run adds to Schnellenberger's legacy
Originally Published:
December 21, 2007
By
Pat Forde
| ESPN.com
NEW ORLEANS -- Howard Schnellenberger invites a visitor into his penthouse suite at the Sheraton Hotel on Canal Street and waves a weathered hand at the panorama below.
[+] Enlarge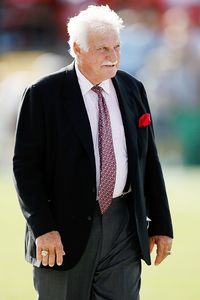 J. Meric/Getty ImagesHoward Schnellenberger built Florida Atlantic's program from its inception to its first bowl game.
"Quite a view of the bend in the Mississippi River," the old man says in his distinctive gravelly baritone. "These are the perks you get for being a 73-year-old Division I-A football coach."
It's been a long time between bowl perks for Schnellenberger -- 14 years since his last one and 24 years since he changed the course of the sport on a New Year's night in South Florida. This is a man talented enough to have a penthouse suite in this town 17 days from now, when the national championship is at stake -- he has, after all, been there before. Instead the coach and his fledgling Florida Atlantic Owls are here for the R+L Carriers New Orleans Bowl (ESPN2, 8 ET), an affair low on the 32-game bowl undercard.
But this is the quixotic career path Howard Schnellenberger has chosen. He ascended to the college football throne once and walked away -- then built another program to the verge of greatness and walked away again. He worked for legendary names at prestigious locales -- for Bear Bryant at Alabama, for George Allen with the Los Angeles Rams, for Don Shula with the Miami Dolphins -- but has done his finest work in semi-obscurity. His inevitable induction into the college football Hall of Fame has been delayed by two of the worst career decisions imaginable, at least in terms of wins and losses.
There has never been a football life quite like Howard's.
He's given up hard jobs at Miami and Louisville just when they got easy. Given up drinking. Given up smoking his trademark pipe. But he's never given up the dreamer's gleam in his eye, or the flair for rhetorical bombast, or his commander-in-chief coaching persona. He's carved a unique niche in football annals, and in the process brought himself closer to his dying son.
"God," Schnellenberger rumbles, in a voice that could be mistaken for the Almighty's, "has a better direction for us than we have for ourselves."
---
Stephen Schnellenberger suffers from brain damage that occurred during surgery four years ago. The 47-year-old has a tracheotomy and is left without a colon. He is, in the words of his father, "hooked up to every damn tube you can be hooked up to and still live."
Someday he will live no longer. Until that day comes, Stephen survives on a feeding tube, his doctors' skill and his parents' will. He stays with Howard and his mom, Beverlee, at their home in Boca Raton, Fla. Beverlee helps tend to him and arranges his doctor schedule.
He was diagnosed as an infant with a rare form of endocrine cancer but lived a normal childhood and became an insurance broker in South Florida. However, during colon surgery in 2003, Stephen's heart stopped and he went without oxygen for nine minutes. The brain damage suffered from that left him in a semi-comatose state.
He remained hospitalized in downtown Miami -- close to an hour's drive from Boca. Howard would make the drive daily after practice, and Beverlee was there during the day. One of them would read to him, and Howard has continually coaxed and coached his son to say simple words -- words that have stopped coming as his condition has deteriorated in recent months.
It has been heartbreaking duty for the Schnellenbergers. It is also the kind of thing parents will do for one of their three children, at any age.
"My wife is an absolute saint," Schnellenberger says. "I'm lucky. I get to go to the office and work.
"This football [at Florida Atlantic] has been such a God-given gift for us. It's given us a new challenge, a new reason to be alive and think about the positive things in life. If I'd been at Oklahoma when this terrible thing happened to Steve, he'd be dead."
It is, according to Schnellenberger, part of God's direction. His career path makes others wonder what could have been, but it makes the coach appreciate what has been done.
"If you look at the big picture and what it meant for me to leave Miami, what a great thing it was for me and Louisville," he says. "I got to build a program in my hometown. Then leaving Oklahoma, what it did for me and [FAU].
"I don't know what I would do if I were still selling bonds to old men on golf courses."
[+] Enlarge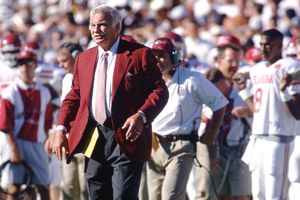 Robert Seale/Getty ImagesSchnellenberger's stay in Oklahoma was short-lived and filled with issues.
That's what Schnellenberger was doing when the opportunity to play Creator came at Florida Atlantic. He'd been forced out at Oklahoma in 1995 after just one season, a 5-5-1 debacle rife with off-field issues. Among those were rumors circulated by those within the school that Schnellenberger had a drinking problem that was adversely affecting his performance.
It was not the first time stories about Schnellenberger's drinking percolated. There was talk about it at Louisville, too -- but the coach was a hero at the program he raised from the ashes, not an outsider with a .500 record at a football giant.
When the criticisms strayed from on-field performance to personal innuendo, Schnellenberger quit the job at Oklahoma. And, shortly thereafter, quit drinking.
"I quit drinking to make damn sure I was never put in that situation again," Howard says. "If you do drink, it can be construed as anything."
Schnellenberger didn't go through a 12-step program because, he says, "there wasn't any reason to 12-step. It was no problem."
Stopping smoking came next.
"I quit the pipe with a lot more difficulty than the drink," he says.
Other than gimping around on an artificial knee, he looks great -- looks the same today as he did 15 years ago.
"I should look better," Schnellenberger gruffly responds. "I'm healthier."
---
What should Howard Schnellenberger's legacy be?
The question is big-picture enough that it usually takes time to answer. Kirk Hoza needs about a second to respond emphatically.
"Greatest football coach ever to walk the sideline," says the FAU defensive coordinator, a longtime Schnellenberger assistant. "He'll tell you never look back, and he's probably right. But if he doesn't leave Miami, what are we looking at? Ten national championships?"
[+] Enlarge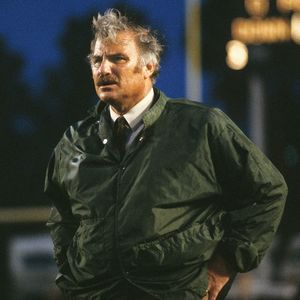 Ronald C. Modra/Sports Imagery/Getty ImagesSchnellenberger took a downtrodden Miami program and put it on the national map.
The Hurricanes have won half that many without Schnellenberger, but never would have won any if he hadn't taken what appeared to be a dead-end job in 1979. This was a floundering program that was mulling giving up football when it extended an offer to a mustachioed Dolphins assistant.
By that time, Schnellenberger already had been fired as a head coach of the Baltimore Colts after 17 games on the job. He went 4-10 his first year and 0-3 his second, when, he says, owner Robert Irsay stormed in at halftime and demanded a quarterback change.
Schnellenberger told him to go back upstairs. Irsay told him he was fired.
"You've got to wait until after the game to fire me," Schnellenberger said. "Now go upstairs."
After the game he was gone, eventually moving on to a third stint as a Shula assistant and then the Miami job. Schnellenberger inherited some talent, including a quarterback named Jim Kelly. But this was a program that had run through five coaches in the 1970s alone before calling on Schnellenberger in '79.
After a 5-6 first year, the Hurricanes flourished. They went 36-10 the next four seasons, capped by a 1983 season that marks a sea change in the sport.
Miami won the national title by shocking what many people considered the greatest team they'd ever seen: undefeated Nebraska, led by Heisman Trophy winner Mike Rozier. Nobody but Schnellenberger gave his team a shot in that game.
He swaggered into the Orange Bowl with a modern game plan the Cornhuskers could not contain. Before the game Schnellenberger told his quarterback, Bernie Kosar, that they were going to pass on first down. Every single first down. Until he threw an incompletion.
"By then," Schnellenberger says, eyes twinkling, "it was 17-0."
Miami had to survive a Nebraska two-point attempt to win 31-30. Just like that, the German kid who grew up in the hardscrabble Shively neighborhood in Louisville was the king of college football.
Naturally, he left shortly thereafter.
Destination: The United States Football League and a South Florida franchise that wound up never playing a game. From prince to pauper, nearly overnight.
While Jimmy Johnson was capitalizing on Schnellenberger's momentum at Miami, the builder was relocating to another school that had recently discussed dropping football: Louisville. When he took over in 1985, the Cardinals had had 10 losing seasons in the last 12 and played games before high school-sized crowds in a minor-league baseball stadium. Tickets were given away at convenience stores for filling a tank of gas.
After a painful start -- 8-24-1 his first three years -- Schnellenberger finally got traction and turned the program around. The Cardinals went 24-9-1 the next three seasons, capped by the previously inconceivable: a Fiesta Bowl rout of Alabama to finish 10-1-1 and 12th in the nation.
That game is the wellspring for a Louisville football program that went on to play in nine consecutive bowl games from 1998 to 2006. Not only did Schnellenberger build a winner, he built a stadium -- at times almost single-handedly keeping the project alive.
Without a sparkling new stadium that opened in 1998, the school would not have attracted Tom Jurich as its athletic director. And without Tom Jurich it would not have hired John L. Smith and Bobby Petrino, the two coaches who extended Schnellenberger's vision toward its ultimate fulfillment.
Long ago, they stopped snickering in Louisville at Schnellenberger's 1980s proclamation: "We're on a collision course with the national championship. The only variable is time."
But for Schnellenberger, there wouldn't be enough time.
---
He left for Oklahoma, lured by the tradition and what seemed like a shorter course to that national title. One humbling year later, Schnellenberger was taking his bond salesman's exam three times and tepidly entering the financial world.
"I realized I didn't know crap about the market," Schnellenberger says. "I could not in good conscience advise anybody of anything."

People have been asking me when I'm going to write my book. I've always said it won't be written until the last chapter is done. The last chapter is being written right now.
--Howard Schnellenberger
Then, in 1998, at age 64 -- what would seem a perfectly acceptable retirement age to most people -- Schnellenberger jumped at the chance to help start a football program from scratch at FAU. He was named director of football operations, charged with coming up with a strategic plan, raising funds and selecting a coach.
After wheedling $13 million in pledges and pitching the state legislature for assistance, the idea began to take shape. And when then-school president Anthony Catanese asked him to search for a coach, Howard humbly selected himself in 1999 as the right man for the job.
He did have experience building from the ground up. But this was different.
"This one is so different," he says. "The others, we were working with adopted kids. These were our kids.
"We went from foreplay -- I think I can use that term these days and not get in trouble -- to conception to birth. It's been a great romance and it's produced, I think, a wonderful child."
They began practice in 2000 with 160 walk-ons and 22 scholarship players. They didn't play a game until 2001, getting stomped by Slippery Rock 40-7 after the FAU administration failed to certify 13 Owls starters in time to play.
By Game 2, the fruits of Schnellenberger's labor already could be seen. The Owls upset the No. 22 team in I-AA, Bethune-Cookman. They finished that first season 4-6, backslid to 2-9 the next year, then went 11-3 and made the I-AA semifinals.
But Howard Schnellenberger doesn't dream of I-AA championships. He dreams the big dreams, and in Year 4, FAU was a transitional member of I-A. With a 9-3 record the Owls could not go to a bowl game, but the message had been sent: They were here to stay.
"I can see it coming, exactly the way the Louisville program did," says offensive coordinator Gary Nord, a 16-year Schnellenberger assistant.
After two losing seasons in the Sun Belt, this year's team won the league and went 7-5. The Owls upset Troy on the road to win the conference title and advance to their first bowl game -- against Memphis in the Superdome.
The Tigers have a modest football heritage but still are the more established program. As is everyone the Owls face.
"Wherever you are with him, you're always trying to do something with nothing," Nord says. "You're playing teams with all this stuff. We don't have any stuff where we're at now."
Florida Atlantic has one thing. It has a 73-year-old coach with adequate fire and bottomless acumen, a man ready to enter into a contract extension and see the Owls do what he never saw Louisville do: play in their own campus stadium, another project spearheaded by Schnellenberger. The 30,000-seat facility is set to open in 2010.
FAU has the ultimate builder, the ultimate dreamer; the guy who looks at a pile of junk and sees diamonds and gold. Strange twists and turns have brought Howard Schnellenberger here, but it's a journey he's grown to appreciate.
"People have been asking me when I'm going to write my book," he says. "I've always said it won't be written until the last chapter is done. The last chapter is being written right now.
"Life has been so good, and we've been able to look ahead and not back. The rewards have come to us."
Pat Forde is a senior writer for ESPN.com. He can be reached at ESPN4D@aol.com.
SPONSORED HEADLINES
ESPN TOP HEADLINES
MOST SENT STORIES ON ESPN.COM
2007 Bowl Season
College football's bowl season ended with the crowning of the LSU Tigers in the Allstate BCS National Championship Game, but not before Georgia and USC made convincing arguments on the field that they deserved to be the top team in the land. The good news? The 2008 season is mere months away.
BCS Title Game
Features
•
Maisel: What a way to geaux
•
Wojciechowski: Miles deserves a wa-hooooo
•
Forde: Ohio St. buckles under BCS pressure
•
Schlabach: Game analysis
Video
•
GameDay: Big Ten weak?

•
Forde/Schlabach: BCS analysis

•
Forde/Schlabach: Keys to the game

•
McShay: BCS breakdown

•
Postgame quotes: Jim Tressel

•
Postgame quotes: Glenn Dorsey

•
Postgame quotes: Les Miles

•
LSU celebrates win over Ohio State

BCS Title Game Preview
Features
•
Forde/Maisel: 10 reasons Ohio State/LSU will win
•
Forde: BCS title game important for more than football to New Orleans
•
Maisel: OSU's children of the scorn
•
Forde: Destiny's Team tag fits Tigers well
•
Wojciechowski: Don't believe the hype
•
Forde: Tale of the tape
•
Maisel: BCS QBs not stars, but leaders
•
Schlabach: 'Ironhead' Heyward's memory alive in son
•
Beanie carries the load for Bucks
•
Maisel: Healthy Dorsey ready to roll
•
Wojciechowski: Ohio State's motivational DVD
•
Maisel: Face of the Ohio State
•
Wojciechowski: Les is more
•
Schlabach: BCS notebook
•
Low: Steltz family ties
•
Low: Early bowls offer BCS game clues
•
Scouts' edge: LSU or Ohio State?

Video
•
Forde/Maisel: Breaking down the title game

•
Forde/Maisel: Hester, Laurinaitis define teams

•
Forde/Schlabach: X-Factors

•
Schlabach: Bucks' WRs key

•
Players expect electric atmosphere

•
GameDay: Which defense will prevail?

•
Forde/Maisel: LSU's D-Line vs. Ohio State's O-Line

•
Maisel/Schlabach: Title game intangibles

•
Forde/Schlabach: Pelini's impeding departure a factor?

•
McShay: BCS Championship preview

Fiesta Bowl
•
Forde: Stewart nails on-the-job interview
•
Forde: Scene of the crime
•
Forde: Mo' money, mo' problems
•
Forde: Picture worth 1,000 words
Rose Bowl
•
Schlabach: USC looks like nation's best team
•
Feldman: McKnight's impressive coming-out party
•
Schlabach: Illinois' offense as easy as 1-2-3
•
Feldman: USC defense starts, finishes up front
•
Schlabach: Rose coaches have similar stories
•
Feldman: Patience helps Booty weather storm
•
Schlabach: Leman's success mirrors Illini's rise
•
Feldman: USC still up despite 'down' year
•
Schlabach: Third year a charm for Zook, Illini
Sugar Bowl
•
Maisel: Seems like old times
•
Low: Howard hosts sack party
•
Maisel: Sweet smell of success
•
Schlabach: Richt takes a walk on the wild side
•
Dinich: Jones finds ohana in Hawaii
•
Low: Growth spurt helps Georgia come of age
•
Nielsen: 'Dread-Heads' Hawaii's unsung stars
Orange Bowl
•
Dinich: Kansas proved it belonged
•
Dinich: Kansas time share
•
Dinich: Virginia Tech makes two work
Other Bowl Coverage
•
Adelson: A final spin in the old Carr
•
Dinich: Texas Tech steals a bit of luck
•
Low: Liberty Bowl win caps MSU's season
•
Low: Croom's breakthrough season
•
Low: UCF's Smith running into record books
•
Feldman: Motivated Horns stampede Sun Devils
•
Maisel: Lone Star State QBs shining on bowls
•
Schlabach: Coaching transition game
•
Forde: Schnellenberger takes road less traveled
What To Watch
•
Pat Forde: Bowl-der Dash
•

Feldman's picks:
December
|
January
•
Flash Gallery: Chris Low's impact players
•
Heather Dinich: Bowling for the best gifts
BCS Selection Sunday
•
Pat Forde: The grateful duo
•
Ivan Maisel: Tigers, Bucks survive, advance
•
Gene Wojciechowski: Theater of the absurd
More Bowl Coverage
•
BCS:
Rose
|
Sugar
|
Fiesta
|
Orange
•
BCS National Championship Game
•
Bowl Overview
|
Bowl Schedule
|
Bowl Index