Commentary
Slaton's impact has transitioned from scary to scarce
Originally Published:
December 31, 2007
By
Pat Forde
| ESPN.com
SCOTTSDALE, Ariz. -- Steve Slaton sat at a podium Sunday answering questions about the Tostitos Fiesta Bowl. At his left elbow was a copy of West Virginia's bowl media guide.
His picture wasn't on the cover.
Slaton was on the school's preseason guide, alongside quarterback Pat White. But the postseason? Five Mountaineers grace that cover, and none is wearing No. 10.
[+] Enlarge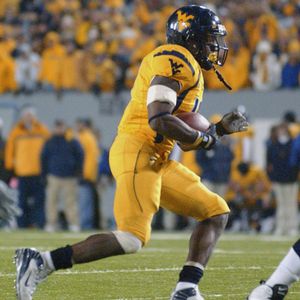 AP Photo/Jeff GentnerSteve Slaton's rushing total, all-purpose yards and total carries have dropped this season.
For the third straight season, Steve Slaton was worth 1,000 yards to West Virginia. But that cover picture is worth 1,000 words about the slippery running back's disappearing act.
In a season of coast-to-coast surprises, Slaton's dwindling impact has been one of the biggest individual eyebrow raisers. He went from scary to scarce almost as swiftly as he once hit an open crease in a defense.
In 2006, Slaton finished fourth in the Heisman Trophy voting. In 2007, he didn't even earn first-team all-Big East honors.
So what's the deal?
"I don't know," White said tartly. "I'll have to go back to watch film throughout the year to answer your question."
Since we don't have time for White to study a season's worth of film and report back, let's consult the stat sheet. It tells the story of what happened, if not why. Slaton's rushing total is down 691 yards from last season. His all-purpose yards are down 656. His yards per carry are down from 7 to 5. And his total carries are down 38, as the offense gradually but irrevocably shifted from the Steve & Pat Show to a Pat White Production, Period. White got more carries than Slaton in each of WVU's final five games.
West Virginia's opponent Wednesday night, Oklahoma, certainly hasn't forgotten who Slaton is. But he's not the focus of the Sooners' defensive game plan.
"They go as [White] goes," said linebacker Curtis Lofton. "We definitely scheme around him and we're trying to stop him."
If anyone stopped Slaton at the end of the year, it was the Mountaineers themselves. He was all but expunged from the game plan in the two climactic games of West Virginia's season.
With the Big East championship on the line Nov. 24 against Connecticut, he ran it just 10 times for 54 yards. Turned out it didn't matter, as the Mountaineers rolled 66-21.
With a berth in the Allstate BCS National Championship Game on the line the following Saturday against archrival Pittsburgh, he got nine carries for 11 yards. Turned out it mattered a whole lot.
[+] Enlarge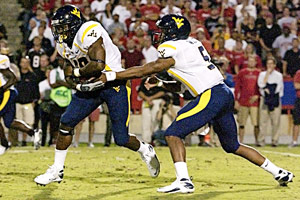 Bill Vaughan/Icon SMISteve Slaton's runs of 33 yards or longer are down from 15 in 2006 to three this season.
In that game, with White suffering a dislocated thumb and the Mountaineers desperate for someone to make a big play, Slaton got just two carries in 20 second-half West Virginia snaps. While WVU was epically choking, Slaton barely got a chance to perform the Heimlich maneuver on his team.
From the time Slaton exploded onto the scene midway through his freshman season in 2005 until that infamous night in Morgantown, he averaged 21 carries per game. To get only nine in the biggest game of his career begged the question I asked him Sunday: why?
"I don't know," Slaton said.
Were you upset?
"Yeah," he said. "In a loss you're always wanting to figure out what you could do more."
Did you bring it up to the coaches?
"No," Slaton responded. "It's already a frustrating loss. For me to add fuel to the fire wouldn't help."
That, say the Mountaineers, is Steve Slaton. A true team player who shares the spotlight willingly. A guy who became true freshman Noel Devine's de facto big brother, even though Devine's 60 carries bit into Slaton's productivity. One of the last men in the locker room who would rock a smooth-sailing boat.
"The biggest myth is everyone saying Steve is not playing well," offensive coordinator Calvin Magee said. "He's probably the most unselfish kid I've been around in my life. He's had to read this all year, too.
"As a matter of fact, I'd go and say, 'Steve, don't worry about it.' He'd say, 'Coach, I'm not worrying about it as long as we're winning.' It's great having those kind of people on your team."
Slaton said he's had a good year individually because he's showcased his versatility and his character -- as he said, "by having less carries and not complaining about it." But even in the carries he's gotten, the explosiveness that made him the most feared breakaway threat in the country has been missing.
His runs of 33 yards or longer are down from 15 in '06 to three in '07. He hasn't had a run of 40 or more yards since September, when he peeled off a 58-yarder against Western Michigan in the opener and a 41-yarder against East Carolina in Week 4.
The lack of long runs cannot be attributed to injury, according to Slaton. He says he's 100 percent and has been healthy all year (unlike last year, when injuries finally slowed him to a halt in a Gator Bowl victory over Georgia Tech).
Part of the problem could be attributed to an offensive line that's simply not as powerful as the Dan Mozes-led units of the past two years. Fewer gaping holes mean fewer chances to blow through the second and third levels of a defense.
Some speculate that the junior is slower now because he's put on weight -- probably with an eye on the NFL and the durability questions about a back of his size. Last season he said he played at 187 pounds. Right now he says he's 194.
"I think it's helped me," Slaton said of the added heft.
The question is whether the weight has helped Slaton in the eyes of NFL scouts. He said he'll make his decision on whether to turn pro or return for his senior season after this game. Among those he will consult is Magee, who already has given his two cents.
"I told him to come back, told him to graduate from college, finish up strong," said Magee, who has nothing to gain from Slaton returning to school since he'll be coaching with Rich Rodriguez at Michigan in 2008. "I'm going to tell him the same thing after the bowl game." Unless the Steve Slaton of old shows up and blows up on Oklahoma Wednesday night, he probably won't have much of a choice.
Pat Forde is a senior writer for ESPN.com. He can be reached at ESPN4D@aol.com.
2007 Bowl Season
College football's bowl season ended with the crowning of the LSU Tigers in the Allstate BCS National Championship Game, but not before Georgia and USC made convincing arguments on the field that they deserved to be the top team in the land. The good news? The 2008 season is mere months away.
BCS Title Game
Features
•
Maisel: What a way to geaux
•
Wojciechowski: Miles deserves a wa-hooooo
•
Forde: Ohio St. buckles under BCS pressure
•
Schlabach: Game analysis
Video
•
GameDay: Big Ten weak?

•
Forde/Schlabach: BCS analysis

•
Forde/Schlabach: Keys to the game

•
McShay: BCS breakdown

•
Postgame quotes: Jim Tressel

•
Postgame quotes: Glenn Dorsey

•
Postgame quotes: Les Miles

•
LSU celebrates win over Ohio State

BCS Title Game Preview
Features
•
Forde/Maisel: 10 reasons Ohio State/LSU will win
•
Forde: BCS title game important for more than football to New Orleans
•
Maisel: OSU's children of the scorn
•
Forde: Destiny's Team tag fits Tigers well
•
Wojciechowski: Don't believe the hype
•
Forde: Tale of the tape
•
Maisel: BCS QBs not stars, but leaders
•
Schlabach: 'Ironhead' Heyward's memory alive in son
•
Beanie carries the load for Bucks
•
Maisel: Healthy Dorsey ready to roll
•
Wojciechowski: Ohio State's motivational DVD
•
Maisel: Face of the Ohio State
•
Wojciechowski: Les is more
•
Schlabach: BCS notebook
•
Low: Steltz family ties
•
Low: Early bowls offer BCS game clues
•
Scouts' edge: LSU or Ohio State?

Video
•
Forde/Maisel: Breaking down the title game

•
Forde/Maisel: Hester, Laurinaitis define teams

•
Forde/Schlabach: X-Factors

•
Schlabach: Bucks' WRs key

•
Players expect electric atmosphere

•
GameDay: Which defense will prevail?

•
Forde/Maisel: LSU's D-Line vs. Ohio State's O-Line

•
Maisel/Schlabach: Title game intangibles

•
Forde/Schlabach: Pelini's impeding departure a factor?

•
McShay: BCS Championship preview

Fiesta Bowl
•
Forde: Stewart nails on-the-job interview
•
Forde: Scene of the crime
•
Forde: Mo' money, mo' problems
•
Forde: Picture worth 1,000 words
Rose Bowl
•
Schlabach: USC looks like nation's best team
•
Feldman: McKnight's impressive coming-out party
•
Schlabach: Illinois' offense as easy as 1-2-3
•
Feldman: USC defense starts, finishes up front
•
Schlabach: Rose coaches have similar stories
•
Feldman: Patience helps Booty weather storm
•
Schlabach: Leman's success mirrors Illini's rise
•
Feldman: USC still up despite 'down' year
•
Schlabach: Third year a charm for Zook, Illini
Sugar Bowl
•
Maisel: Seems like old times
•
Low: Howard hosts sack party
•
Maisel: Sweet smell of success
•
Schlabach: Richt takes a walk on the wild side
•
Dinich: Jones finds ohana in Hawaii
•
Low: Growth spurt helps Georgia come of age
•
Nielsen: 'Dread-Heads' Hawaii's unsung stars
Orange Bowl
•
Dinich: Kansas proved it belonged
•
Dinich: Kansas time share
•
Dinich: Virginia Tech makes two work
Other Bowl Coverage
•
Adelson: A final spin in the old Carr
•
Dinich: Texas Tech steals a bit of luck
•
Low: Liberty Bowl win caps MSU's season
•
Low: Croom's breakthrough season
•
Low: UCF's Smith running into record books
•
Feldman: Motivated Horns stampede Sun Devils
•
Maisel: Lone Star State QBs shining on bowls
•
Schlabach: Coaching transition game
•
Forde: Schnellenberger takes road less traveled
What To Watch
•
Pat Forde: Bowl-der Dash
•

Feldman's picks:
December
|
January
•
Flash Gallery: Chris Low's impact players
•
Heather Dinich: Bowling for the best gifts
BCS Selection Sunday
•
Pat Forde: The grateful duo
•
Ivan Maisel: Tigers, Bucks survive, advance
•
Gene Wojciechowski: Theater of the absurd
More Bowl Coverage
•
BCS:
Rose
|
Sugar
|
Fiesta
|
Orange
•
BCS National Championship Game
•
Bowl Overview
|
Bowl Schedule
|
Bowl Index
Nike Men's Oklahoma Sooners Crimson Football Champions Local Attribute T-shirt Shop »
MOST SENT STORIES ON ESPN.COM