Commentary
Sooners not interested in playing the Fiesta foil role again
Originally Published:
January 2, 2008
By
Pat Forde
| ESPN.com
GLENDALE, Ariz. -- On the last day of 2007, the Oklahoma Sooners walked back into the place where they spent the first day of 2007.
University of Phoenix Stadium.
Scene of the crime.
Actually, scene of the sublime would be more accurate. There was nothing criminal about what Boise State did in winning the 2007 Tostitos Fiesta Bowl -- just nothing terribly enjoyable, either, if you're a Sooner.
[+] Enlarge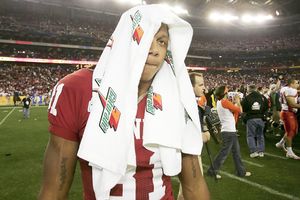 Jonathan Ferrey/Getty ImagesThe Sooners walked off the field as stunned losers in the 2007 Fiesta Bowl.
The Sooners' involvement in one of the most extraordinary games in the history of the sport landed them a spot in football lore. The loser's spot, by a single point, after a desperate flurry of gadgetry and gambling earned the Broncos a 43-42 overtime victory.
Oklahoma wide receiver Malcolm Kelly described the feeling with fractured grammar but unerring wisdom: "Don't nobody care about playing in one of the greatest games ever when you lose."
For the rest of their lives, Oklahoma players and coaches will see themselves being outwitted and out-executed in highlights of the hook-and-lateral, the halfback pass, the Statue of Liberty.
"How can you not [see the highlights]?" said free safety Nic Harris. "They played 'em all year."
They'll know how Craig Ehlo feels when he watches TV and sees Michael Jordan make that jump shot. How John Pelphrey feels when he watches Grant Hill wind up and throw that pass to Christian Laettner. How the Miami defensive backs feel when they see Doug Flutie's bomb drop like a stone into the hands of Gerard Phelan. How Everson Walls feels when he watches Joe Montana's high pass being snared by Dwight Clark.
Foils. For all time.
It's a role nobody dreams of playing in the backyard.
"It's still in our memories," strong safety D.J. Wolfe said. "It seems like it was yesterday."
It had to seem that way walking back into the cavernous dome Monday, for the first time in 364 days. The surprising chilliness of the place came back, as did the unique smell of indoor grass.
Hard to believe ghosts of Ian Johnson and Jared Zabransky and Gerard Rabb didn't flit through the minds of more than a few Sooners, too, even if they didn't want to admit it.
"Doesn't bother me much walking back in here again," said coach Bob Stoops, who isn't going to give the media an eyedrop of true emotion on that subject. "We played a heck of a game last year."
That is the small comfort Oklahoma can take in looking back: It staged a steely comeback against Boise, scoring 25 consecutive points to take a seven-point lead into the final seconds. The problem is, that only set the stage for the Broncos to work their miracle.
The 50-yard hook-and-lateral touchdown with seven seconds left in regulation? Perfect execution. The fourth-down halfback pass for Boise's overtime touchdown? Perfect execution. The behind-the-back Statue of Liberty handoff from Zabransky to Johnson? Perfect execution.
Sometimes, even a really good defense isn't good enough to stop an offense that does everything right.
"We were in pretty decent position on a lot of 'em; they just executed pretty well," said Sooners defensive coordinator Brent Venables.
Then he rubbed a hand across his head.
"I say that, I don't know. You look at the percentages, those are hard plays to execute really well."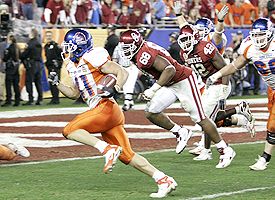 AP Photo/Matt YorkBoise State's Ian Johnson scored the game-winner on a two-point conversion in OT.
It wasn't like Oklahoma was unprepared. Venables saw Boise run the Statue of Liberty play while poring over film from the regular season -- liked the behind-the-back thing so much that he showed it to the Sooners' offensive staff. He even showed it to legendary former OU coach Barry Switzer. And, of course, he showed it to his defensive players.
They just couldn't stop the perfect execution of the perfect call at the perfect moment.
"I don't sit there laying in bed at night thinking about it," Venables said. "I'm thinking about the veer option."
That would be the offense of this year's Fiesta Bowl opponent, West Virginia. The Mountaineers might also have a quarterback who wears No. 5 and might also be underdogs from a lesser league, but the Boise similarities end right there.
West Virginia is not a BCS bowl newbie, having shocked Georgia in the Sugar Bowl two seasons ago. It has been part of the national championship discussion deep into each of the past two seasons. It has more skill-position speed than anyone the Sooners have faced all season.
But this also is a better Oklahoma team than the one posterized by Boise. This is a top-10 team nationally in scoring offense (43.4 ppg) and scoring defense (18.2). If there is a significant weakness -- beyond the absence of three defensive starters for a variety of reasons -- you need a microscope to find it.
So don't expect these Sooners to give up 43 points Wednesday night. Not going to happen.
"We play harder," Venables said of this defense, compared to last season's defense. "We're more physical. No question we're more physical in the front seven."
That front seven now gets the chance to lay licks on Patrick White, Steve Slaton, Noel Devine and the rest of the Mountaineers. They're fast but not big, and it will be a test to see how they handle the cumulative effect of repeated pounding from a defense that's nearly as swift as they are.
"They try to make you tackle in space," linebacker Curtis Lofton said. "We have to have extreme technique."
Someone asked Lofton about the challenge of stopping a quarterback who can break off a 40-yard run at any time. He sounded confident that the Sooners could handle it.
"Us playing Oklahoma football, we'll take 38 yards from that 40 yards, make it a two-yard run," Lofton said.
Someone else asked Lofton if he'll be wary of trick plays, after what happened a year ago.
"I'm gonna keep my eye out for them," he said.
Good idea. Just in case. Those who forget history are doomed to repeat it, as the saying goes, and that's one historical moment Oklahoma never wants to see again.
Pat Forde is a senior writer for ESPN.com. He can be reached at ESPN4D@aol.com.
2007 Bowl Season
College football's bowl season ended with the crowning of the LSU Tigers in the Allstate BCS National Championship Game, but not before Georgia and USC made convincing arguments on the field that they deserved to be the top team in the land. The good news? The 2008 season is mere months away.
BCS Title Game
Features
•
Maisel: What a way to geaux
•
Wojciechowski: Miles deserves a wa-hooooo
•
Forde: Ohio St. buckles under BCS pressure
•
Schlabach: Game analysis
Video
•
GameDay: Big Ten weak?

•
Forde/Schlabach: BCS analysis

•
Forde/Schlabach: Keys to the game

•
McShay: BCS breakdown

•
Postgame quotes: Jim Tressel

•
Postgame quotes: Glenn Dorsey

•
Postgame quotes: Les Miles

•
LSU celebrates win over Ohio State

BCS Title Game Preview
Features
•
Forde/Maisel: 10 reasons Ohio State/LSU will win
•
Forde: BCS title game important for more than football to New Orleans
•
Maisel: OSU's children of the scorn
•
Forde: Destiny's Team tag fits Tigers well
•
Wojciechowski: Don't believe the hype
•
Forde: Tale of the tape
•
Maisel: BCS QBs not stars, but leaders
•
Schlabach: 'Ironhead' Heyward's memory alive in son
•
Beanie carries the load for Bucks
•
Maisel: Healthy Dorsey ready to roll
•
Wojciechowski: Ohio State's motivational DVD
•
Maisel: Face of the Ohio State
•
Wojciechowski: Les is more
•
Schlabach: BCS notebook
•
Low: Steltz family ties
•
Low: Early bowls offer BCS game clues
•
Scouts' edge: LSU or Ohio State?

Video
•
Forde/Maisel: Breaking down the title game

•
Forde/Maisel: Hester, Laurinaitis define teams

•
Forde/Schlabach: X-Factors

•
Schlabach: Bucks' WRs key

•
Players expect electric atmosphere

•
GameDay: Which defense will prevail?

•
Forde/Maisel: LSU's D-Line vs. Ohio State's O-Line

•
Maisel/Schlabach: Title game intangibles

•
Forde/Schlabach: Pelini's impeding departure a factor?

•
McShay: BCS Championship preview

Fiesta Bowl
•
Forde: Stewart nails on-the-job interview
•
Forde: Scene of the crime
•
Forde: Mo' money, mo' problems
•
Forde: Picture worth 1,000 words
Rose Bowl
•
Schlabach: USC looks like nation's best team
•
Feldman: McKnight's impressive coming-out party
•
Schlabach: Illinois' offense as easy as 1-2-3
•
Feldman: USC defense starts, finishes up front
•
Schlabach: Rose coaches have similar stories
•
Feldman: Patience helps Booty weather storm
•
Schlabach: Leman's success mirrors Illini's rise
•
Feldman: USC still up despite 'down' year
•
Schlabach: Third year a charm for Zook, Illini
Sugar Bowl
•
Maisel: Seems like old times
•
Low: Howard hosts sack party
•
Maisel: Sweet smell of success
•
Schlabach: Richt takes a walk on the wild side
•
Dinich: Jones finds ohana in Hawaii
•
Low: Growth spurt helps Georgia come of age
•
Nielsen: 'Dread-Heads' Hawaii's unsung stars
Orange Bowl
•
Dinich: Kansas proved it belonged
•
Dinich: Kansas time share
•
Dinich: Virginia Tech makes two work
Other Bowl Coverage
•
Adelson: A final spin in the old Carr
•
Dinich: Texas Tech steals a bit of luck
•
Low: Liberty Bowl win caps MSU's season
•
Low: Croom's breakthrough season
•
Low: UCF's Smith running into record books
•
Feldman: Motivated Horns stampede Sun Devils
•
Maisel: Lone Star State QBs shining on bowls
•
Schlabach: Coaching transition game
•
Forde: Schnellenberger takes road less traveled
What To Watch
•
Pat Forde: Bowl-der Dash
•

Feldman's picks:
December
|
January
•
Flash Gallery: Chris Low's impact players
•
Heather Dinich: Bowling for the best gifts
BCS Selection Sunday
•
Pat Forde: The grateful duo
•
Ivan Maisel: Tigers, Bucks survive, advance
•
Gene Wojciechowski: Theater of the absurd
More Bowl Coverage
•
BCS:
Rose
|
Sugar
|
Fiesta
|
Orange
•
BCS National Championship Game
•
Bowl Overview
|
Bowl Schedule
|
Bowl Index
Nike Youth Oklahoma Sooners White #10 Football Game Jersey Shop »
MOST SENT STORIES ON ESPN.COM