Commentary
BCS title game 'worthy diversion' for still-recovering New Orleans
Updated:
January 6, 2008, 7:08 PM ET
By
Pat Forde
| ESPN.com
NEW ORLEANS -- If you want to know why the Allstate BCS National Championship Game is important beyond football in this regrouping city, consider:
Tuesday morning might be the first time since August 2005 that the New Orleans Times-Picayune publishes a front page that doesn't contain the words "Hurricane Katrina."
[+] Enlarge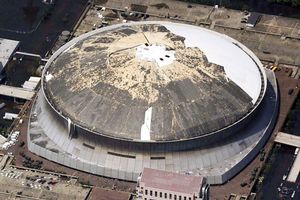 Dave Einsel/Getty ImagesThe rebuilt Superdome will host the title game on Monday night.
"It's a very, very worthy diversion," said David Meeks, city editor of the Times-Picayune.
Ohio State versus LSU is a football game that symbolizes much more. The BCS game, along with the NBA All-Star Game next month, are evidence that one of the world's greatest big-event cities can get back in the big-event business. And that there can be celebratory life after Katrina.
That's why there was no debate inside New Orleans about the importance of rebuilding the ruined Superdome, which will house the game Monday night. The people needed the building and the sports played within it. What once was an icon of the despair and desperation of a city is again a football mecca.
"It seems like nothing ever gets completely finished," Meeks said. "When the Superdome reopened, it was a symbol that something finally got finished."
Meeks said this while leading a bus tour of ESPN journalists through the other New Orleans, beyond the bustling French Quarter, trendy Warehouse District and vibrant Uptown. Those places have recovered from the most devastating American nature-spawned disaster of our time. So much of the rest of the city has not.
In the Lakeview neighborhood, and Gentilly, and especially the Lower Ninth Ward, they still are digging out. Still piecing themselves and their homes together. Still waiting to see if there will be a neighborhood worth living in.
As our bus rolled through one neighborhood, a group of people working on a house gave us sarcastic parade waves. Another woman shouted from her porch. The anger over having their misfortune serve as a sideshow for others was evident.
But the Times-Picayune bus tours for media members aren't to satisfy voyeuristic tendencies. They have been an important public service in educating people on the outside.
"[New Orleanians] just want people to understand what they're going through," Meeks said. "The places where the game is being played and the hotels and restaurants are, they're fine. It's the neighborhoods where people live that the fight and the struggle continues."

Don't think of Florida after Andrew. Think of Berlin after World War II.
--David Meeks, city editor of the Times-Picayune
The nation's news cycle moved on months ago to other pressing topics, like the pregnancy of the teenage sister of a collapsing pop star. But on the ground in New Orleans -- especially the lowest ground -- the Katrina aftereffects remain a daily reality.
Even after nearly 2½ years. And it still will be that way in another 2½ years.
It's hard to get your head around that until you actually see the scope of the damage. Entire blocks of houses with broken windows still stand ghostly empty, with military "X"s on their fronts, from the days when national guardsmen went door to door, looking for the living and the dead. White FEMA trailers still are a common sight. Sewer pipes still are being dug up and replaced on a daily basis.
Meeks said some people have tried to compare New Orleans' creeping recovery to South Florida's rebuilding after Hurricane Andrew and have wondered why the timetables are so different.
"Don't think of Florida after Andrew," he tells them. "Think of Berlin after World War II."
This was, of course, far more than a hurricane. It was a hurricane that triggered a massive breakdown of the man-made safeguards against flooding this low-lying city. It killed more than 1,500 people in greater New Orleans.
Everyone who was here has their own Katrina stories. Some of the most riveting are from the journalists at the Times-Pic who stayed in their building through the storm, then went out into the chaos to report on it.
Everyone in my business wants to work on the big story -- but first, the reporters in New Orleans had to survive the story to report it. They worked through stifling heat and in appalling conditions to tell the story of the devastated city. They won a Pulitzer Prize for their efforts, and it was well-earned.
My friend Jeff Duncan covers the NFL for the paper, but like everyone else, he was a news reporter after the storm. He and several other reporters lived in a co-worker's house for weeks, searching for clean backyard swimming pools to bathe in, since there was no running water. At one point, they were given guns in case they needed protection from roving gangs.
[+] Enlarge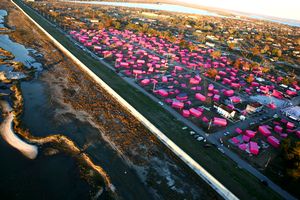 Brent Stirton/Getty ImagesThe Make It Right foundation launched its primary initiative in December.
Jim Varney now covers LSU for the paper. But 2½ years ago, he was asked by a desperate woman on the street to help deliver her baby. Varney considered going into a looted corner store to get a bottle of rum to sanitize his hands, but he located emergency medical personnel and brought them to her aid instead.
Meeks recalls kayaking from the newspaper to his almost completely submerged house, tying the boat to the gutter and swimming through the house to rescue his dog. He says people broke into his Ford Explorer -- not to steal the stereo, but to lie down and sleep.
"The No. 1 thing I saw after Katrina wasn't people stealing stuff," he said. "It was people helping each other out."
Today, the help continues. There is no more hopeful sight in New Orleans than the large boxes covered by pink tarps that now dot the moonscape of the Lower Ninth Ward. Each represents a house that will be built on that spot, thanks to the philanthropy of actor Brad Pitt and the Make It Right Foundation.
The group has raised millions of dollars, with a goal of building 150 houses. Pitt and his family now live in New Orleans, and Meeks said he has been a regular presence at the site.
Not far away is Musician's Village, an area funded by Habitat For Humanity to provide affordable housing for musicians and artists -- a demographic that is part of New Orleans' lifeblood. Dozens of brightly colored houses have sprung up there.
In both cases, the private sector is moving much more quickly than the public sector. Individuals and charitable groups are accomplishing what the bureaucracy is not.
"The people have clearly led the recovery over the government," Meeks said.
The daunting reality is how much recovery remains ahead. But first, New Orleans will pause Monday night to celebrate its return as a big-event sports city. We should celebrate with it.
Pat Forde is a senior writer for ESPN.com. He can be reached at ESPN4D@aol.com.
2007 Bowl Season
College football's bowl season ended with the crowning of the LSU Tigers in the Allstate BCS National Championship Game, but not before Georgia and USC made convincing arguments on the field that they deserved to be the top team in the land. The good news? The 2008 season is mere months away.
BCS Title Game
Features
•
Maisel: What a way to geaux
•
Wojciechowski: Miles deserves a wa-hooooo
•
Forde: Ohio St. buckles under BCS pressure
•
Schlabach: Game analysis
Video
•
GameDay: Big Ten weak?

•
Forde/Schlabach: BCS analysis

•
Forde/Schlabach: Keys to the game

•
McShay: BCS breakdown

•
Postgame quotes: Jim Tressel

•
Postgame quotes: Glenn Dorsey

•
Postgame quotes: Les Miles

•
LSU celebrates win over Ohio State

BCS Title Game Preview
Features
•
Forde/Maisel: 10 reasons Ohio State/LSU will win
•
Forde: BCS title game important for more than football to New Orleans
•
Maisel: OSU's children of the scorn
•
Forde: Destiny's Team tag fits Tigers well
•
Wojciechowski: Don't believe the hype
•
Forde: Tale of the tape
•
Maisel: BCS QBs not stars, but leaders
•
Schlabach: 'Ironhead' Heyward's memory alive in son
•
Beanie carries the load for Bucks
•
Maisel: Healthy Dorsey ready to roll
•
Wojciechowski: Ohio State's motivational DVD
•
Maisel: Face of the Ohio State
•
Wojciechowski: Les is more
•
Schlabach: BCS notebook
•
Low: Steltz family ties
•
Low: Early bowls offer BCS game clues
•
Scouts' edge: LSU or Ohio State?

Video
•
Forde/Maisel: Breaking down the title game

•
Forde/Maisel: Hester, Laurinaitis define teams

•
Forde/Schlabach: X-Factors

•
Schlabach: Bucks' WRs key

•
Players expect electric atmosphere

•
GameDay: Which defense will prevail?

•
Forde/Maisel: LSU's D-Line vs. Ohio State's O-Line

•
Maisel/Schlabach: Title game intangibles

•
Forde/Schlabach: Pelini's impeding departure a factor?

•
McShay: BCS Championship preview

Fiesta Bowl
•
Forde: Stewart nails on-the-job interview
•
Forde: Scene of the crime
•
Forde: Mo' money, mo' problems
•
Forde: Picture worth 1,000 words
Rose Bowl
•
Schlabach: USC looks like nation's best team
•
Feldman: McKnight's impressive coming-out party
•
Schlabach: Illinois' offense as easy as 1-2-3
•
Feldman: USC defense starts, finishes up front
•
Schlabach: Rose coaches have similar stories
•
Feldman: Patience helps Booty weather storm
•
Schlabach: Leman's success mirrors Illini's rise
•
Feldman: USC still up despite 'down' year
•
Schlabach: Third year a charm for Zook, Illini
Sugar Bowl
•
Maisel: Seems like old times
•
Low: Howard hosts sack party
•
Maisel: Sweet smell of success
•
Schlabach: Richt takes a walk on the wild side
•
Dinich: Jones finds ohana in Hawaii
•
Low: Growth spurt helps Georgia come of age
•
Nielsen: 'Dread-Heads' Hawaii's unsung stars
Orange Bowl
•
Dinich: Kansas proved it belonged
•
Dinich: Kansas time share
•
Dinich: Virginia Tech makes two work
Other Bowl Coverage
•
Adelson: A final spin in the old Carr
•
Dinich: Texas Tech steals a bit of luck
•
Low: Liberty Bowl win caps MSU's season
•
Low: Croom's breakthrough season
•
Low: UCF's Smith running into record books
•
Feldman: Motivated Horns stampede Sun Devils
•
Maisel: Lone Star State QBs shining on bowls
•
Schlabach: Coaching transition game
•
Forde: Schnellenberger takes road less traveled
What To Watch
•
Pat Forde: Bowl-der Dash
•

Feldman's picks:
December
|
January
•
Flash Gallery: Chris Low's impact players
•
Heather Dinich: Bowling for the best gifts
BCS Selection Sunday
•
Pat Forde: The grateful duo
•
Ivan Maisel: Tigers, Bucks survive, advance
•
Gene Wojciechowski: Theater of the absurd
More Bowl Coverage
•
BCS:
Rose
|
Sugar
|
Fiesta
|
Orange
•
BCS National Championship Game
•
Bowl Overview
|
Bowl Schedule
|
Bowl Index
MOST SENT STORIES ON ESPN.COM