Commentary
IU's best action might be to suspend Sampson immediately
Originally Published:
February 13, 2008
By
Pat Forde
| ESPN.com
BLOOMINGTON, Ind. -- Most games, Kelvin Sampson wears his suit coat on the sideline for just a minute or two before shucking it off and handing it to a manager.
Wednesday night against Wisconsin, Sampson's black blazer remained on his back for four minutes and 47 seconds. That's a record, according to Inside Indiana, a fan magazine that has been tracking the coach's suit coat for all 56 games of his tenure at IU.
[+] Enlarge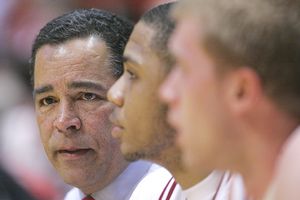 AP Photo/Darron CummingsKelvin Sampson's future is in serious doubt after this week's announcement of major violation allegations against him and members of his coaching staff.
Maybe it was the chill in the Assembly Hall air that caused him to keep it on so long.
There were light boos audible in the crowd of 17,320 when Sampson was introduced before tipoff. They mingled with subdued applause.
"I didn't notice it," Sampson said afterward, when his thoroughly rotten day ended with the Badgers' Brian Butch banking in a 3-pointer to beat the Hoosiers 68-66.
Before introductions, when Sampson and the entire Indiana staff emerged onto the court for the first time, the greeting was unnaturally neutral: no boos, almost no cheers. One fan said, "We love you, Kelvin!" and the coach responded with a wave of his right hand. And that was about it.
It wasn't hostile. But neither was it the kind of warm greeting the coach of a 20-3 team normally would receive.
That's what you get when you have landed in the icy predicament Sampson now is in.
The serial phone dialer might have cheated his way out of one of the premier jobs in college basketball. Once NCAA Enforcement sent its official letter of inquiry last Friday charging Indiana with five major rules violations on Sampson's watch -- adding to the rap sheet he earned previously at Oklahoma -- his dismissal/resignation became a very real possibility.
Perhaps sooner rather than later.
Sampson read a statement after Wednesday's game that refuted some of the NCAA allegations and indicated the coach would rather fight than quit.
"The allegation that I knowingly acted contrary to the sanctions imposed on me for violations that occurred while I was at Oklahoma is not true," Sampson said. "I have never intentionally provided false and misleading information to the NCAA. I intend to work within the NCAA process on this matter, and I look forward to my opportunity to do so."
Sampson answered no questions on the matter before exiting a crowded media room with his wife, Karen, and two children, Kellen and Lauren. Behind the scenes, he has been working on a public-relations campaign aimed at burnishing his reputation, but that campaign faces tougher odds than Mike Huckabee's.
Athletic director Rick Greenspan -- whose own job would seem to be on the line, after he took a chance and hired Sampson -- said Wednesday afternoon that he expected his man to coach against Wisconsin. He offered no ironclad assurances beyond that, saying Sampson would coach "for the foreseeable future."
"What that means to me," Greenspan said, "is that we have work to do."
That work will center on how to address these very serious allegations, and how vigorously to defend the coach and his assistants who are accused of them. The coach and his program have arrived at a high-stakes crossroads. How they go forward from here likely will affect Indiana basketball for years to come.
Right now, IU seems to have three bad choices.
1. Fire Sampson now.
That would be based on the following cause-and-effect logic:
Indiana doesn't cheat.
Indiana hired a cheater who promised to behave.
The cheater allegedly cheated again.
At a school with a long and strong history of winning fair and square, this would seem to be a fireable offense. A dismissal would seem like the right thing to do. But even beyond propriety comes utility.
The NCAA Committee on Infractions, which will hear Indiana's case in June, has a track record of taking into account "swift, corrective action" by an offending university when it comes to doling out penalties. If the school sanctions itself, it might catch a break.
IU already withheld a $500,000 bonus Sampson was slated to get, but that didn't remove the problem element. Taking out Sampson would do just that, and there is language in his contract that seemingly would pave the way for a dismissal. A big move like that could prevent a postseason ban or other major penalty.
The hitch: It could completely undercut this season, but that's only part of the potential problem. What if Sampson is fired before he gets his day in NCAA court? Indiana can ask Big Ten neighbor Ohio State how costly it can be to fire a coach accused of rule-breaking before he gets a chance to try to exonerate himself. Former OSU coach Jim O'Brien won a lawsuit against the school for wrongful termination.
2. A pre-emptive postseason ban.
Indiana could bench this team for the NCAA Tournament, just as the Buckeyes did with O'Brien's team in 2004-05. That, too, would qualify as swift, corrective action, and it could preserve postseason play in future years.
The hitch: The NCAA Enforcement report redacted only one name, which would indicate only one current player was named in an alleged recruiting violation. So the players on the nation's 12th-ranked team are largely blameless. Would it be fair to punish them for the coaches' alleged transgressions?
[+] Enlarge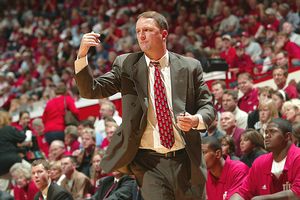 Icon SMINew IU interim coach Dan Dakich will have to try to minimize the distractions for the team to be successful.
And then there is this: A Hoosiers team with senior D.J. White and likely NBA early entry guard Eric Gordon seems much more likely to do something memorable this NCAA Tournament than a 2008-09 team that will be lacking both.
3. Do nothing, and fight the power.
Indiana can circle the wagons, play out the season and then mount a vigorous defense of its scofflaw coach in June. Maybe the Committee on Infractions will see it IU's way and decide against adding significant penalties to those that already have been imposed by the school.
The hitch: Indiana already acknowledged most of the infractions. Indeed, it uncovered most of them itself with a meticulous compliance system that did its job (a seeming rarity these days in big-time college athletics).
Then there is this: If the Committee on Infractions doesn't buy IU's argument for leniency, it seemingly would have the authority to crush the program into jelly. Postseason ban, scholarship reductions, recruiting restrictions, banning Sampson from coaching in the NCAA -- all those things conceivably could be in play. In other words, the Hoosiers would have to think they had a very good chance of winning in order to take such a risk.
There is a fourth option, and it might be Indiana's best option right now:
Suspend Sampson, effective immediately. Don't let him coach Saturday against Michigan State. Don't let him coach another minute this season.
Turn the team over to assistant coach and former IU player Dan Dakich, who previously was the head coach at Bowling Green and whose name is nowhere to be found in the NCAA letter. Play in the postseason.
Allow Sampson to state his case to the school for why he shouldn't be fired. Decide whether that case is strong enough to argue before the NCAA. If it is, do it. If not, fire him, and remove Greenspan as well. His gamble on a convicted cheater will have blown up in his face.
Doing nothing is not an intelligent option.
The scandal already has had a noticeably chilling effect on Sampson's popularity. And it has done even more damage to Indiana's once-pristine reputation.
Pat Forde is a senior writer for ESPN.com. He can be reached at ESPN4D@aol.com.
KELVIN SAMPSON/INDIANA SCANDAL

An NCAA report states head coach Kelvin Sampson and Indiana committed five "major" violations. The allegations stem from a phone call scandal that occurred while Sampson was still under recruiting restrictions.
News
•
NCAA downgrades one charge against Hoosiers
•
Report: IU paid $203K in legal fees for NCAA case
•
Indiana says its sanctions are enough
•
Sources: IU agrees with NCAA on violations
•
Committee created to find next Hoosiers coach
•
Sampson must cooperate with NCAA probe
•
IU moves on behind Dakich
•
IU, Sampson reach $750K termination settlement
•
Status unresolved, Sampson preps for game
•
Source: IU likely to suspend, fire Sampson
•
IU tops Purdue, awaits word on Sampson's fate
•
IU to conduct own investigation into allegations
•
Ex-Indiana assistant coach: 'I was not untruthful'
•
Source: Sampson status as coach game-by-game
•
Sampson, Indiana face 5 major NCAA violations
•
Wisconsin takes advantage of distracted Indiana
•
Sources: IU faces major violations over calls
Analysis
•
O'Neil: IU, Sampson to face NCAA in hearing
•
Wojciechowski: IU should penalize itself too
•
Forde: Dark day ends black saga at Indiana
•
O'Neil: Fisher lived what Dakich will experience
•
Forde: Coaches to consider to replace Sampson
•
Vitale: Time for Indiana to move on
•
Forde: Hoosier Nation ready for Sampson's exit
•
Katz: IU beats MSU as Sampson drama continues
•
Schlabach: IU investigation is a moot point
•
Schlabach: Lying attracts harshest punishments
•
Schlabach: Former Hoosiers react to Sampson
•
Forde: Weighing IU's best options
Documents (pdf)
•
Indiana's response to NCAA allegations
•
NCAA details Indiana violations
•
Sampson responds to allegations
•
Agreement between Sampson, Indiana
Audio
•
Bilas: IU might need to fire Sampson


•
Katz on Indiana's coaching options


Video
•
Indiana's recovery starts at Northwestern

•
The search for next Indiana coach is on

•
Indiana news conference with Rick Greenspan

•
Kelvin Sampson out at Indiana

•
Sampson and the Hoosiers top Purdue

•
Sampson enjoys emotional win over MSU

•
GameDay thoughts on Kelvin Sampson

•
What Sampson, Indiana players are saying

•
Michael McRobbie announces investigation

•
Violations put Sampson's future in question

•
Sampson denies NCAA's allegations

SportsNation
•
Vote: Your thoughts on Sampson's resignation?