Commentary
Manufactured in Detroit, CDR's unique game is made for the big stage
Originally Published:
March 27, 2008
By
Pat Forde
| ESPN.com
DETROIT -- Every day after school, Chris Douglas-Roberts would walk the short distance from his home in crumbling southwestern Detroit to Kronk Gym.
Kronk was a famous training ground for boxers, producing world champion Thomas "Hit Man" Hearns and dozens of other great fighters. Sometimes Douglas-Roberts would hit the speed bag or pound the heavy bag, but never for long. He always gravitated upstairs from the spartan boxing gym to the basketball court. That section of Kronk became a training ground, too. It helped produce the most exotic and eccentric game of any player still balling in this NCAA tournament.
[+] Enlarge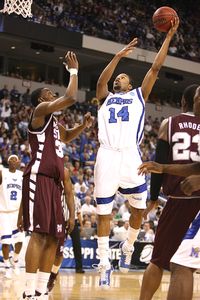 Andy Lyons/Getty ImagesChris Douglas-Roberts can score in a variety of ways, a skill he learned while playing in his hometown of Detroit.
The Kronk court was where Douglas-Roberts honed the unconventional shots that give him what Memphis teammate
Antonio Anderson
calls "a weird game." That's where he perfected the moves fellow teammate
Derrick Rose
calls "little old man tricks." "There's no explaining it," Anderson said. "He just finds a way to score."
That much is true. There are drop-dead shooters such as Stephen Curry and Chris Lofton in this Sweet 16, but there is nobody with quite the same squirrelly knack for spinning the ball into the basket as Douglas-Roberts. He has to lead the country in how'd-he-do-that points.
He shoots leaners. He shoots floaters. He shoots off one foot. He flips shots under arms, lofts them over hands, smooches them off the glass with extra English. He twists around defenders, dribbles past them, shoots over them, goes left, goes right, reverse-pivots and scores the opposite way. He scores off contact, scores off rebounds, scores off-balance. You think you have him stopped, and next thing you know he has found some funky formula for dropping two points on your head.
"It's real tough to stick him, I'll have to say," Rose said. "I'm happy I'm on his team." Douglas-Roberts' flat-trajectory jumper will never make it into an instructional video. But if you want to see an expert of manufacturing points from every conceivable angle and style, this is your guy.
When it comes to offense, CDR stands for Completely Different Repertoire.
"I never worked on it," Douglas-Roberts said last week in North Little Rock, Ark. "I just have an unorthodox kind of game from Detroit that everybody from Detroit has. We like to create our own shot and shoot a lot of scoop shots and in-between shots."

I just have an unorthodox kind of game from Detroit that everybody from Detroit has. We like to create our own shot and shoot a lot of scoop shots and in-between shots.
--Chris-Douglas-Roberts
He works on his unique technique now. CDR said he's been spending a little extra time lately on the floater, a midrange shot that keeps him out of danger of charging by driving too far to the hole.
Who, he was presciently asked, works on a floater nowadays? And why? "I feel all guards should have an in-between game," Douglas-Roberts said, sounding like an old man with old-man tricks.
The 6-foot-7 junior is, in fact, happy to be considered something of a throwback. He'll cite some fairly ancient role models.
He watched old tapes of Earl "The Pearl" Monroe, who attained legend status in part because of his spin move. "My father was a fan," Douglas-Roberts said. "I got ahold of some old tapes. That was my first little glimpse of basketball."
He also dug the finger-rolling ways of fellow Detroiter George Gervin, one of the all-time great unconventional scorers.
Mostly, though, Douglas-Roberts was just looking for a way to stay on the court at Kronk. He started playing there when he was 8 years old -- every day until it was dinner time. "I lived in there," he said. "My mother gave me a lot of freedom to play ball. I played one-on-one with Tommy Hearns, seen Mike Tyson. I've seen 'em all. They'd come up and try to play a little ball. They think they can play. They were terrible." Not everyone was. The hoops competition was fierce, and the wait to play again if your team lost could get long. Whatever it took to keep playing -- and to get the ball in the hole.
"I never played with my age group," CDR said. "Never. I always played with my brother [Jason, now 30] and older players. It just instills the toughness in you. That's all they cared about, being tough. I worked on skill. I was blessed with a different type of game."
[+] Enlarge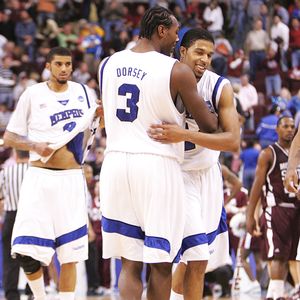 Nelson Chenault/US PresswireAside from his offensive bag of tricks, CDR also serves as Memphis' honorary prankster, with Joey Dorsey a prime target.
CDR's game wasn't universally hailed when he was coming out of Detroit Northwestern High. He was rated the No. 26 shooting guard in the Class of 2005 by one recruiting service and in the 70s overall. That's well behind a number of 2-guards who never have made first-team All-American, as Douglas-Roberts did this year. (
Lewis Clinch
,
Bryan Harvey
,
Martynas Pocius
and Marcus Johnson, who transferred from UConn to USC, to name a few). But he has blossomed at Memphis, turning into the leading scorer and most reliable player on a 35-1 team. He's also the team's leading prankster. On Saturday in North Little Rock, Douglas-Roberts covertly dumped an orange Powerade on center
Joey Dorsey
, bringing him out from his hiding place beneath a table in the Memphis locker room. Dorsey vowed revenge, but CDR was unfazed. "Nobody is better at these type of games than me," Douglas-Roberts said. "I'm the prankster on the team. I'm the clever one. I can always find ways of getting them." Just as he can always find clever ways of putting the ball in the basket.
Pat Forde is a senior writer for ESPN.com. He can be reached at ESPN4D@aol.com.
SPONSORED HEADLINES
ESPN TOP HEADLINES
MOST SENT STORIES ON ESPN.COM
NCAA Tournament 2008

Get caught up with all the news, notes, insights and analysis from the 2008 NCAA tournament.
Tournament Index

Bracket
•
Updated Bracket
Analysis
•
ATR: Memphis makes freebies, four No. 1 seeds
•
Katz: Four unique stories shape Final Four
•
Forde: Kansas ends Davidson's feel-good story
•
Griffin: Memphis' athletes overwhelm Texas
•
ATR: L'ville's missed chances; how to stop Curry
•
Katz: Hansbrough carries UNC to Final Four
•
Gene Woj: Bruins have their flaws
•
O'Neil: Love is the difference for the Bruins
•
Whelliston: Curry deflects the Madness' glory
•
Griffin: Rose, Augustin battle for spot in Final Four
•
Forde: Pressure all on Kansas, Self vs. Davidson
•
ATR: Texas clamps down on Stanford
•
Griffin: Memphis dishes out big 'I told you so'
•
Forde: Witness the brilliance of Curry, Davidson
•
Katz: Roy, Rick CEOS of their powerhouses
•
O'Neil: UCLA OK with all the drama
•
ATR: Western Kentucky's Cinderella run ends
•
Gene Woj: Enjoy Kevin Love while you can
•
Low: Cards beat Vols at their own game
•
O'Neil: Xavier's "Fresh Prince" leads way
•
Katz: UNC one step closer to Final Four
•
Griffin: The free-throw woes of Memphis, Texas
•
Forde: CDR has an effective, old-man game
•
Forde: Life is beautiful for Davidson, McKillop
•
Experts: Sixteen questions for the Sweet 16
•
Katz: Washington State's unlikely duo
•
Katz: Padgett becomes unlikely vocal leader
•
O'Neil: Xavier determined to keep it Miller time
•
Gene Woj: UCLA's Howland among the best
•
Griffin: Ryan keeps on winning at Wisconsin
•
Glockner: What's in store for the Sweet 16?
•
Forde: Texas' All-American
•
O'Neil: WVU's Alexander learns post-up game
•
The Mag: Green overcomes family adversity
•
Bilas: First weekend was a thriller

•
Dinich: Thomas gives UNC another point
•
Katz: Sneak peek at Sweet 16
Video
•
Vitale: Breaking down Hansbrough's game

•
Analysis: Knight and Vitale on UNC's win

•
Analysis: Knight and Vitale on Xavier's win

•
Johnny Gilbert's Perfect Sweet 16

•
Lunardi breaks down Sweet 16

•
Bob Knight's impressions of Sweet 16

Audio
•
Podcast: Bilas breaks down Sweet 16 action

•
Knight: Sweet 16 preparation thoughts


•
Podcast: Bilas previews Thursday games

•
Podcast: Valvano on Louisville's chances

•
Podcast: Who has helped their draft stock?

•
Podcast: Katz predicts a big upset

•
Podcast: Gottlieb on first two rounds

Photos
•
Elite Eight Day 2 photo gallery
•
Elight Eight Day 1 photo gallery
•
Sweet 16 Day 2 photo gallery
•
Sweet 16 Day 1 photo gallery
•
Day 4 photo gallery
•
Day 3 photo gallery
•
Day 2 photo gallery
•
Day 1 photo gallery
More
•
Tournament Challenge
|
Bracket Master
•
Insider tourney guide

|
BracketCaster