Commentary
Even LeBron has to salute the brilliance of Curry, Davidson
Originally Published:
March 28, 2008
By
Pat Forde
| ESPN.com
DETROIT -- Jason Richards was leading the Davidson break one more time, driving the ball straight down Wisconsin's throat, when he saw The Man spot up on the left wing.
Richards fired a pass to Stephen Curry, who caught it, squared up …
… and froze.
Badgers defender Joe Krabbenhoft, sprinting back to get a hand up on the deadliest shooter in college basketball, flew past, halfway back to Madison.
Psych.
Then swish.
Wide open, Curry flicked his right wrist, and everyone knew what was coming. Including the big fella in the brown T-shirt sitting in the front row behind the Davidson bench. He rose from his seat and stuck both arms in the air, three fingers aloft on each hand, as Curry's shot snapped the Ford Field net.
Can I get a witness, LeBron James?
Can I get one of the two best players on the planet to verify the truth unfolding before our star-struck eyes? Can we all agree that Curry is doing something not seen in March since Larry Bird did it 29 years ago -- a special talent carrying a team from nowhere to dizzying heights?
You know Hoopsworld has tilted on its axis when The Chosen One has chosen a kid from Davidson College as his favorite collegian -- and travels from Cleveland into hostile NBA territory to see him shoot the rock. Make no mistake, James was here to see Curry -- he asked the school for tickets, after watching the peach-fuzzed assassin blow up Gonzaga and Georgetown for 70 points in the first two rounds.
[+] Enlarge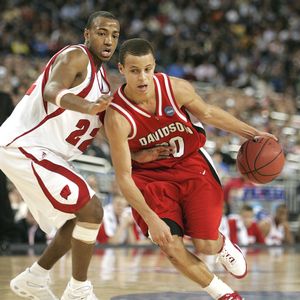 AP Photo/Michael ConroyWisconsin's Michael Flowers is one of the best perimeter defenders in the nation. Davidson's Stephen Curry lit him up for 33 points.
Curry responded by bringing James to his feet not once but twice, doing it again just three minutes after the 3 with a startlingly athletic reverse layup and a free throw. After the layup, Curry looked at the scoreboard and spied James exulting on the big screen.
That had to be a surreal moment for a guy who grew up in the ACC footprint without a single ACC scholarship offer.
"It's very cool for him to be here," Curry said, after insisting to interviewers that James got to see the Wildcats, plural, not just one Wildcat.
After watching Curry do it again -- shredding the Badgers' allegedly impenetrable defense for 33 points in a 73-56 smackdown -- you have to say James has a good eye for talent.
We are all witnesses, to use one of Nike's LeBronisms. The shirts in the Davidson cheering section said as much -- red with the word "Witness" on the front and "Wildcats" on the back. A box of them appeared in the team hotel Friday afternoon, and all the players got one.
Curry might need to go into witness protection, because the adulation is nationwide now. But before I jump into the lovefest with both feet, it's time to salute the brilliance of the Davidson team.
This was a basketball lecture rapped into Wisconsin's knuckles. The Badgers played most of the game a man down after an injury to guard Trevon Hughes, but that's no excuse. They were the inferior team.
All the Wildcats made key contributions while confidently executing coach Bob McKillop's superior game plan. Richards was flawless, racking up 13 assists and no turnovers. Post men Thomas Sander and Andrew Lovedale were a combined 7-of-7 from the field. Max Paulhus Gosselin had a team-high six rebounds and was voracious defensively.
Piling Up The Points
Davidson's Stephen Curry has scored the most points in one tournament since Glenn Robinson helped Purdue to the Elite Eight in 1994. Here's a breakdown of the NCAA's biggest scorers:
Most Pts Single Tournament*

| | | | |
| --- | --- | --- | --- |
| Year | Player | School | Points |
| 1994 | Glenn Robinson | Purdue | 108 |
| 2008 | Stephen Curry | Davidson | 103 |
| 1990 | Bo Kimble | Loyola Marymount | 101 |
| 1994 | Gary Collier | Tulsa | 94 |
| 1989 | Glen Rice | Michigan | 93 |
| 1990 | Travis Mays | Texas | 92 |
"I could not be more pleased, because so many guys contributed in so many ways to make this a very special victory for Davidson College," McKillop said.
It also was a very embarrassing undressing for the impostor Badgers, who were beaten into submission with 12 minutes left to play.
These were your Big Ten champions, ladies and gentlemen, being absolutely punked by the champs of the Southern Conference. Wisconsin fans enjoy railing at the perceived lack of respect accorded coach Bo Ryan, but let's examine his body of work in the NCAA tournament, where reputations are really made: His nine Big Dance victories have come over teams seeded 9th, 12th, 13th, 11th, 14th, 10th, 15th, 14th and 11th.
And now, he's been run off the floor by a No. 10 seed. The key word being "run."
In Big Ten slogball, where scoring 70 points apparently is against the rules, there's no need to get back quickly on defense, because nobody pushes the ball upcourt. Especially after made baskets. That fact jumped out to Davidson on film.
"We like to speed up the game, and we knew they didn't get back on defense as well as some other teams we've played," Richards said.
So the Wildcats force-fed Bucky transition baskets all night. Then, in the second half, they carved up Wisconsin in the half court, as Curry subtly cut the Badgers' defense to ribbons.
Michael Flowers is considered one of the finest defensive guards in America, but as the game wore on, he was literally defenseless against Curry -- who has become the ultimate closer. Curry is averaging 25.7 points in the second half of NCAA games, and he's done it against Gonzaga, Georgetown and Wisconsin.
[+] Enlarge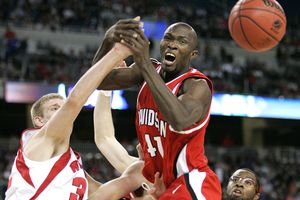 AP Photo/Michael ConroyMake no mistake about it -- Davidson is more than just Stephen Curry. Andrew Lovedale contributed 12 points on 5-for-5 shooting.
The savvy sophomore lulled Flowers to sleep at times, standing still in the corner, then exploding to life and slithering around screens until he popped free.
"What I do best is run around like a little kid off screens," Curry said. "… I try not to force anything. It's hard for a defense to sustain themselves for a whole 40 minutes. Eventually, you'll find yourself open. If you're patient, stick to the system that we've worked all year -- when guys slip up, you find yourself open."
For Curry, "open" is a relative term. When you can squeeze off a shot in a trice, six inches of clear air might as well be six feet.
"I think they did a good job of running him off of double screens, sometimes even triple screens," Flowers said. "… He doesn't need that much time to catch the ball and release it."
He hasn't needed much time to become a national phenomenon, either. Some of us have been clued into the kid's talent since last year, but nothing puts a collegian on the map like starring in March.
Now, with 103 points in three games, Curry will see his name on a list with guys like Glen Robinson (109 points), Bo Kimble (101) and Glen Rice (93). And his team will see its name on the list of No. 10 seeds to reach a regional final.
Davidson is the ninth school to do it and the first in six years. Only three of the previous eight beat a No. 3 seed to get to the final eight. And absolutely none of the previous eight won a Sweet 16 game by 17 whopping points.
"I hope they'll drop that Cinderella tag," Curry said. "We've shown we can play."
Especially No. 30, who showed it to LeBron James in the flesh.
Pat Forde is a senior writer for ESPN.com. He can be reached at ESPN4D@aol.com.
NCAA Tournament 2008

Get caught up with all the news, notes, insights and analysis from the 2008 NCAA tournament.
Tournament Index

Bracket
•
Updated Bracket
Analysis
•
ATR: Memphis makes freebies, four No. 1 seeds
•
Katz: Four unique stories shape Final Four
•
Forde: Kansas ends Davidson's feel-good story
•
Griffin: Memphis' athletes overwhelm Texas
•
ATR: L'ville's missed chances; how to stop Curry
•
Katz: Hansbrough carries UNC to Final Four
•
Gene Woj: Bruins have their flaws
•
O'Neil: Love is the difference for the Bruins
•
Whelliston: Curry deflects the Madness' glory
•
Griffin: Rose, Augustin battle for spot in Final Four
•
Forde: Pressure all on Kansas, Self vs. Davidson
•
ATR: Texas clamps down on Stanford
•
Griffin: Memphis dishes out big 'I told you so'
•
Forde: Witness the brilliance of Curry, Davidson
•
Katz: Roy, Rick CEOS of their powerhouses
•
O'Neil: UCLA OK with all the drama
•
ATR: Western Kentucky's Cinderella run ends
•
Gene Woj: Enjoy Kevin Love while you can
•
Low: Cards beat Vols at their own game
•
O'Neil: Xavier's "Fresh Prince" leads way
•
Katz: UNC one step closer to Final Four
•
Griffin: The free-throw woes of Memphis, Texas
•
Forde: CDR has an effective, old-man game
•
Forde: Life is beautiful for Davidson, McKillop
•
Experts: Sixteen questions for the Sweet 16
•
Katz: Washington State's unlikely duo
•
Katz: Padgett becomes unlikely vocal leader
•
O'Neil: Xavier determined to keep it Miller time
•
Gene Woj: UCLA's Howland among the best
•
Griffin: Ryan keeps on winning at Wisconsin
•
Glockner: What's in store for the Sweet 16?
•
Forde: Texas' All-American
•
O'Neil: WVU's Alexander learns post-up game
•
The Mag: Green overcomes family adversity
•
Bilas: First weekend was a thriller

•
Dinich: Thomas gives UNC another point
•
Katz: Sneak peek at Sweet 16
Video
•
Vitale: Breaking down Hansbrough's game

•
Analysis: Knight and Vitale on UNC's win

•
Analysis: Knight and Vitale on Xavier's win

•
Johnny Gilbert's Perfect Sweet 16

•
Lunardi breaks down Sweet 16

•
Bob Knight's impressions of Sweet 16

Audio
•
Podcast: Bilas breaks down Sweet 16 action

•
Knight: Sweet 16 preparation thoughts


•
Podcast: Bilas previews Thursday games

•
Podcast: Valvano on Louisville's chances

•
Podcast: Who has helped their draft stock?

•
Podcast: Katz predicts a big upset

•
Podcast: Gottlieb on first two rounds

Photos
•
Elite Eight Day 2 photo gallery
•
Elight Eight Day 1 photo gallery
•
Sweet 16 Day 2 photo gallery
•
Sweet 16 Day 1 photo gallery
•
Day 4 photo gallery
•
Day 3 photo gallery
•
Day 2 photo gallery
•
Day 1 photo gallery
More
•
Tournament Challenge
|
Bracket Master
•
Insider tourney guide

|
BracketCaster
MOST SENT STORIES ON ESPN.COM