Commentary
Can Self lead KU to the promised land against America's darlings?
Originally Published:
March 29, 2008
By
Pat Forde
| ESPN.com
DETROIT -- Bill Self was standing remarkably erect in a Ford Field hallway Saturday, given the weight of the world on his shoulders.
[+] Enlarge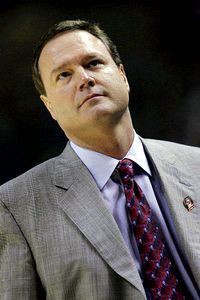 AP Photo/Paul SakumaBill Self has taken Kansas to two Elite Eights but never the Final Four. The pressure is on vs. 10th-seeded Davidson.
The Kansas coach isn't going to come right out and acknowledge it -- no coach would before the game is played. But the pressure on him and his team not to screw up this regional final against America's darling Davidson is as immense as any college basketball coach has faced in years.
If ever a game were held at the crossroads of must-win and no-win, this is it.
This is Self's time. This is his golden opportunity to finally make a Final Four, against a major underdog. Victory is expected. Defeat would be ghastly.
This is Roy Williams with four first-round draft picks playing in the 2005 national title game. This is Gary Williams with a flush hand, playing overmatched Indiana for the '02 title. Gene Keady in the '94 regional final, with Big Dog Robinson against a Duke team riding Grant Hill.
Williams and Williams captured their must-win games. Keady did not.
Self does not want to stay in the Keady category of Final Four futility any longer than he has to. Right now he's there, with four regional final losses with three different schools -- one at Tulsa, one at Illinois and two at Kansas.
"I don't know, other than losing in the championship game, if one could hurt as much as losing in the Elite Eight," Self said. "Because all season long, there's a buildup in your players' minds -- 'The road to the Final Four.' And this obviously is the last step.
"That's something that doesn't sit well with us. But I've told our guys this in the past: I'd much rather be in the game than not in the game."
This year, there is only one alternative: Win the game. The guy has coached 483 Division I games and won 346 of them, but he's never seen the season's last weekend.

If it is close, look out. There will be no fear factor for Davidson, and I am sure Kansas would have preferred Wisconsin. No one likes to play the role of Goliath.
-- George Mason coach Jim Larranaga
"I'm disappointed personally we haven't been there yet," Self said. "It's something that I think about all the time. I mean, I think about it every day in some form or fashion. And a lot of times, many times a day."
From Midnight Madness on, this figured to be the year. Kansas lived up to expectations, sharing the Big 12 regular-season title with Texas, winning the conference tournament and racking up a 34-3 record, good enough to lock up a No. 1 NCAA seed. Since then, the path to the Final Four has opened wide: a No. 16 seed (Portland State) followed by a No. 8 seed (UNLV) followed by a No. 12 seed (Villanova).
Now, all that stands between Self and a cathartic trip to San Antonio are 40 minutes against a No. 10 seed from the Southern Conference. Since the NCAA expanded the tournament field in 1985, only three teams have faced easier four-game paths to the Final Four: Michigan State in 2001, North Carolina in 1991 and UNLV in '90.
On paper, this a 2-foot putt. Factor in Stephen Curry, and it becomes a downhill 2-footer with 6 inches of break and the stimpmeter rolling at 12.
But still.
Every other No. 1 seed would trade places with the Jayhawks. They're all facing regional finals against teams seeded third or better.
Kansas is playing a team that cannot match its height, cannot match its depth, cannot match its athleticism. It is a cast of thousands against an army of one.
Yet superior manpower and talent have not guaranteed success in the past for the Jayhawks under Self. There have been stunning first-round upsets to 14th-seeded Bucknell and 13th-seeded Bradley. There was an overtime regional final loss to Georgia Tech. And there was the regional final meltdown last year against UCLA, a 13-point loss in which you could almost see the pressure squeezing Kansas tighter and tighter as the game went on.
But if Kansas thought the burden was heavy in those games, that's nothing like what it will play beneath Sunday (5:05 p.m. ET).
[+] Enlarge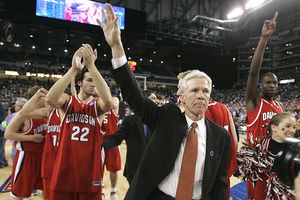 AP Photo/Michael ConroyDavidson coach Bob McKillop used some creative, wide-spread recruiting to find players like Max Paulhus Gosselin and Andrew Lovedale.
"The pressure is all on the Jayhawks," said the coach of the last Cinderella to reach the Final Four, George Mason's Jim Larranaga. "If it is close, look out. There will be no fear factor for Davidson, and I am sure Kansas would have preferred Wisconsin. No one likes to play the role of Goliath."
That's the role for the Jayhawks, like it or not. They have four McDonald's All-Americans on the roster and five other players who were ranked among the top 55 prospects nationally by one recruiting service or another as high school seniors.
Davidson? Not so much. The roster coach Bob McKillop has cobbled together from Africa to Canada to all parts of America is a triumph of creative and incisive recruiting.
By now most of you know that Curry, the shooting savant who has become the face of this tournament, went without an ACC scholarship offer despite growing up in Charlotte. At his current rate of production, "One Shining Moment" is going to be a one-man highlight video, which is amazing for a kid who couldn't make a Cadillac program want him.
But in terms of rep and recruiting profile, he still looks like Sebastian Telfair compared to his fellow Davidson starters.
Point guard Jason Richards may lead the nation in assists today, but four years ago he was just another low-major prospect in Barrington, Ill. His list of schools: Lehigh, Ohio, Furman, Colgate and a few from the Ivy League. Then McKillop came to watch him perform in an open gym setting, taking notes the whole time. Richards was invited on a campus visit to Davidson and was sold.
After Richards committed, McKillop sent him a three-page e-mail detailing the notes he took on his game.
"Everything he said, he pretty much nailed it," Richards said.
Center Thomas Sander played high school ball in Cincinnati but couldn't sniff a scholarship offer from most of the area schools. His list: Ball State, Indiana State, Wisconsin-Green Bay, Wright State and Ivy League schools.
[+] Enlarge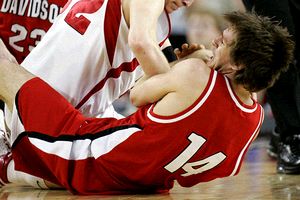 AP Photo/Duane BurlesonIf Bob McKillop hadn't seen Canada native Max Paulhus Gosselin, the senior might have been starring at Stetson instead of playing in the Elite Eight with Davidson.
Unswayed by any of those offers, Sander had just about resigned himself to giving up hoops and being a regular student, probably enrolling at Cincinnati. Then Davidson got involved late in his senior year and Sander said he "fell in love" with McKillop. He took a visit to the campus in March and committed in April.
Then there's Andrew Lovedale, the Nigerian post player Davidson discovered in London. Until age 16, his sports of choice were soccer and table tennis. But his size made him a raw prospect, so he moved in with his brother in London and began training with a coach who is friends with McKillop.
When McKillop walked into the basketball center to see Lovedale, the kid was cleaning the court. He was working kids' basketball camps to pay his way. At that point, Lovedale had been in some contact with Penn State, "but immediately when Coach McKillop came, I didn't look at other schools."
Now Lovedale's challenge is explaining the game to his mother and three siblings back in Nigeria.
"I try to talk to my mom about basketball and she says, 'How's your studies going?'" Lovedale said.
And there is defensive specialist Max Paulhus Gosselin, from Carignan, Quebec. When McKillop first set eyes on him at the Mid-American All-Star Camp at Benedictine College in Kansas, the kid was diving on the floor for a loose ball.
"So Lovedale was sweeping and I was diving," Paulhus Gosselin said with a smile. "It all comes down to the floor."
And it all came down to Davidson for him. He had an offer from Stetson and "a couple other offers" from American schools he can't remember. But he committed the next morning after visiting Davidson.
"I just jumped at it," Paulhus Gosselin said.
Kansas would never have looked twice at a single Davidson Wildcat, yet somehow this ragtag collection has beaten the champions of the Big East and Big Ten in successive games to reach this stage. Sunday, the Big 12 champions must beat them to reach the Final Four.
And no excuse would be good enough in defeat.
In that hallway by the Kansas locker room, someone asked Self whether a victory Sunday would produce more joy or relief.
"I would say joy," he responded. "Yeah, I'd say joy."
Pause.
"And probably a little relief."
Pat Forde is a senior writer for ESPN.com. He can be reached at ESPN4D@aol.com. ESPN.com senior writer Andy Katz contributed to this article.
NCAA Tournament 2008

Get caught up with all the news, notes, insights and analysis from the 2008 NCAA tournament.
Tournament Index

Bracket
•
Updated Bracket
Analysis
•
ATR: Memphis makes freebies, four No. 1 seeds
•
Katz: Four unique stories shape Final Four
•
Forde: Kansas ends Davidson's feel-good story
•
Griffin: Memphis' athletes overwhelm Texas
•
ATR: L'ville's missed chances; how to stop Curry
•
Katz: Hansbrough carries UNC to Final Four
•
Gene Woj: Bruins have their flaws
•
O'Neil: Love is the difference for the Bruins
•
Whelliston: Curry deflects the Madness' glory
•
Griffin: Rose, Augustin battle for spot in Final Four
•
Forde: Pressure all on Kansas, Self vs. Davidson
•
ATR: Texas clamps down on Stanford
•
Griffin: Memphis dishes out big 'I told you so'
•
Forde: Witness the brilliance of Curry, Davidson
•
Katz: Roy, Rick CEOS of their powerhouses
•
O'Neil: UCLA OK with all the drama
•
ATR: Western Kentucky's Cinderella run ends
•
Gene Woj: Enjoy Kevin Love while you can
•
Low: Cards beat Vols at their own game
•
O'Neil: Xavier's "Fresh Prince" leads way
•
Katz: UNC one step closer to Final Four
•
Griffin: The free-throw woes of Memphis, Texas
•
Forde: CDR has an effective, old-man game
•
Forde: Life is beautiful for Davidson, McKillop
•
Experts: Sixteen questions for the Sweet 16
•
Katz: Washington State's unlikely duo
•
Katz: Padgett becomes unlikely vocal leader
•
O'Neil: Xavier determined to keep it Miller time
•
Gene Woj: UCLA's Howland among the best
•
Griffin: Ryan keeps on winning at Wisconsin
•
Glockner: What's in store for the Sweet 16?
•
Forde: Texas' All-American
•
O'Neil: WVU's Alexander learns post-up game
•
The Mag: Green overcomes family adversity
•
Bilas: First weekend was a thriller

•
Dinich: Thomas gives UNC another point
•
Katz: Sneak peek at Sweet 16
Video
•
Vitale: Breaking down Hansbrough's game

•
Analysis: Knight and Vitale on UNC's win

•
Analysis: Knight and Vitale on Xavier's win

•
Johnny Gilbert's Perfect Sweet 16

•
Lunardi breaks down Sweet 16

•
Bob Knight's impressions of Sweet 16

Audio
•
Podcast: Bilas breaks down Sweet 16 action

•
Knight: Sweet 16 preparation thoughts


•
Podcast: Bilas previews Thursday games

•
Podcast: Valvano on Louisville's chances

•
Podcast: Who has helped their draft stock?

•
Podcast: Katz predicts a big upset

•
Podcast: Gottlieb on first two rounds

Photos
•
Elite Eight Day 2 photo gallery
•
Elight Eight Day 1 photo gallery
•
Sweet 16 Day 2 photo gallery
•
Sweet 16 Day 1 photo gallery
•
Day 4 photo gallery
•
Day 3 photo gallery
•
Day 2 photo gallery
•
Day 1 photo gallery
More
•
Tournament Challenge
|
Bracket Master
•
Insider tourney guide

|
BracketCaster