Commentary
Power prevails as Elite becomes Four
Originally Published:
March 31, 2008
By
Pat Forde
| ESPN.com
Drive around the South, and you'll see hundreds of barn roofs advertising for a tourist trap in Tennessee.
"See Rock City," they say.
On the road to this Final Four, all barn roofs should read, "See Chalk City."
Rock? Chalk? No, I'm not here to proclaim this the Year of the Jayhawk. I'm here to say that the bracket could not be busted this time. Selection committee wins. Form holds. Power prevails.
[+] Enlarge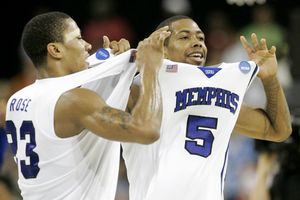 AP Photo/Eric GayIt's jersey-popping time for four powerhouse programs.
The unpredictability that always adds spice to college basketball has been replaced in the last week of this NCAA tournament by Grade A meat and potatoes. There are no quirky side dishes as the feast moves to its final course.
In North Carolina, Kansas, Memphis and UCLA, San Antonio is welcoming a quartet with unprecedented clout.
Four top seeds, for the first time.
Four conference champions, regular season AND tournament, for the first time. Everyone is riding a double-digit winning streak into town -- Memphis and Kansas 11 straight, UCLA 14, North Carolina 15.
Four teams that have been at the forefront all season; they were the top four in the preseason AP and ESPN/USA Today polls. Even ESPN.com's preseason panel of analysts saw this coming in November: Nine out of 10 picked one of the remaining four to win the national title.
Four teams that have barely bobbled along the way. None of them has had so much as a two-game losing streak.
Four basketball schools -- something that hasn't happened in forever, either. These aren't programs that are piggy-backing on football success (and football revenue) to the forefront. They've been known for their hoops -- and their hoop-centric fans -- for decades. (There probably will be a temptation to undersell Memphis in comparison to the other three, given its lack of title hardware. But the Tigers are in their third Final Four with three different coaches in three different decades.)
Hear from Final Four coaches
Hear reactions and insight from Roy Williams, John Calipari, Bill Self, and Ben Howland on SportsCenter Monday at 6 p.m. ET airing on ESPNews.
There are a dozen McDonald's All-Americans in this Final Four, and almost as many future NBA players.
There are four really rich coaches, too.
Nobody is happy just to be here. No team will be in over its head, as you sometimes see come semifinal Saturday. Ever since Midnight Madness, national title aspirations have been alive and well and completely realistic for all four teams. There was never any cause to doubt.
The story line of the week will be "Roy Williams, This Is Your Life." Nineteen years at Kansas, now five at North Carolina. A melodramatic exit from Lawrence, with lingering resentment from those he left. A ring with the Tar Heels, none with the Jayhawks. Bill Self is an innocent bystander to this one; he can sit back and watch Williams squirm in the spotlight.
Despite that, the other three coaches all need this title more than Ol' Roy. He's got his. They don't.
Ben Howland probably gets the edge. This is his third straight Final Four trip, and the last two ended very badly. At least he doesn't have to see Joakim Noah this time around. It would be a shock if he has Kevin Love on his roster after this weekend as well.
But John Calipari has to feel some urgency, too. Memphis has never won a national title, and Derrick Rose and Chris Douglas-Roberts are probably goners.
It's true that Self got a huge weight off his shoulders just getting here -- but now he has to play The Old Kansas Coach. And the only way to get Kansas fans completely over The Old Kansas Coach is by beating him now.
Some more thoughts, looking forward to the Four and back on the 16:
• Already tired story line of the week: Memphis' "nobody expected us to be here" line. Try again.
• Best frontcourt matchup in San Antonio: Love versus Joey Dorsey. Skill and savvy versus sheer force.
• Best perimeter matchup: Ty Lawson, Wayne Ellington and Danny Green versus Russell Robinson, Mario Chalmers and Brandon Rush. Some serious athleticism there.
• Best senior still playing: Darnell Jackson, Kansas. Slim pickings here. Averaging 11.2 points and 6.7 rebounds, but he has to play better against Carolina than he did against Davidson for the Jayhawks to advance.
• Best junior: Tyler Hansbrough, North Carolina. He was at his best when he had to be against Louisville, making several huge jump shots.
[+] Enlarge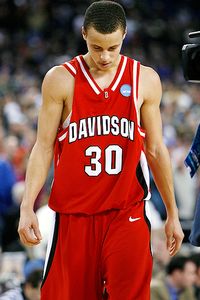 Gregory Shamus/Getty ImagesStephen Curry has no reason to hang his head. He had a spectacular tournament.
• Best sophomore: Ty Lawson, North Carolina. Sixty-three points, 20 assists and just six turnovers in four tournament games so far.
• Best freshman: Love. As the stakes rise, so does he. Keeps doing more at both ends of the floor. Seemed like he blocked every other shot in Phoenix.
• Cockiest fan base: Can we have a four-way tie? There won't be a surplus of humility on the Riverwalk, put it that way.
• All-tournament team so far: Stephen Curry, Davidson; Rose; Love; Hansbrough; Douglas-Roberts.
• MOP to date: Curry.
• Conference that had the best weekend: Conference USA. Memphis is the league, and Memphis proved there is life left in the league after the Big East poached Louisville, Cincinnati, Marquette, DePaul and South Florida. Steamrolling through everyone else wasn't a hindrance to making the Final Four after all.
• Conference that had the worst weekend: Big Ten. Michigan State and Wisconsin both were crushed in the regional semifinals. (The Big 12 barely escaped a similarly disastrous day Sunday. Texas was routed, and Kansas had to sweat out a last-second Davidson 3 to avoid ignominy.)
• Most insane fact: Greg Oden and Curry are the same age. Both 20. It's just that one looks 40 and the other looks 12.
• Standing tall: Western Kentucky's comeback to within four points of UCLA was a more tenacious effort than several other teams turned in. Notably …
• Barely there: Did Stanford, Tennessee, Wisconsin, Villanova and Michigan State even play in the Sweet 16?
• Most surreal moment: LeBron James as the halftime guest on Davidson's radio broadcast Friday night.
Pat Forde is a senior writer for ESPN.com. He can be reached at ESPN4D@aol.com.
NCAA Tournament 2008

Get caught up with all the news, notes, insights and analysis from the 2008 NCAA tournament.
Tournament Index

Bracket
•
Updated Bracket
|
Tourney Challenge
Championship Analysis
•
Forde: Chalmers fulfills promise
•
Wojciechowski: Self's big-bucks decision on OSU
•
Katz: Memphis pays for free throws
•
O'Neil: Collins makes heroics possible
•
ATR: Quite a collection of talent in title game
Final Four Analysis
•
Experts: Who has the edge in the title game?

•
Forde: Self on a wild ride, and it's just starting
•
Wojciechowski: A quieter Joey Dorsey reflects
•
Griffin: Rush thrives after knee injury
•
O'Neil: CDR, Rose fuel Tigers' machine
•
Katz: Calipari has chance for vindication
•
Wojciechowski: Final Four duds
•
ATR: End of the road for Love, Hansbrough?
•
Forde: Good Kansas throttles UNC
•
Katz: Williams takes blame for stunning UNC loss
•
O'Neil: Rose leads Memphis to title game
•
Wojciechowski: Power-packed Final Four
•
Forde: One-and-dones hardly an academic issue
•
O'Neil: Not Memphis vs. the world? Yeah, right
•
Katz: KU ready for Arthur's breakout game
•
Low: Don't forget about UNC's "other" guys
•
Griffin: UCLA needs Shipp to shoot straight
•
Forde: Williams torn between KU and UNC
•
Expert picks: Who wins it all?
•
Gottlieb: Rose vs. Collison matchup pivotal

•
Fraschilla: Breaking down Kansas-UNC

•
Glockner: Which Kansas team shows up?
•
Griffin: Calipari battles for repsect
•
Glockner: Memphis can win slowdown games, too
•
Schlabach: Recent Final Four flameouts
•
O'Neil: Collison a key point for the Bruins
•
Glockner: Can UCLA's offense be more efficient?
•
Katz: Lawson's injury may have helped UNC
•
Glockner: Can UNC's defense hold up?
•
Forde: Power prevails as Elite becomes Four
•
Bilas: Tourney has "Wowed" so far

•
Katz: Four unique stories shape Final Four
Video
•
Bill Self among KU coaching greats

•
Kansas on being national champions

•
Calipari: Costly mistakes down the stretch

•
Chris Douglas-Roberts on Memphis' loss

•
Bob Knight on Memphis' loss to KU

•
Memphis gearing up to face Kansas

•
Memphis, KU to meet for title

•
Analysis: Kansas' win over North Carolina

•
Analysis: Memphis' win over UCLA

•
All the coaches talk Final Four

•
Davidson's McKillop previews Final Four

•
Who Are These Guys: Memphis

•
Final Four Sitdown: Roy Williams

•
Final Four Sitdown: Bill Self

•
Final Four Sitdown: John Calipari


•
Final Four Sitdown: Ben Howland

•
Katz: Small window for UCLA, Memphis

•
Vitale: Previews Final Four matchups

•
Bilas: Likes the look of the Final Four

•
Gottlieb: All No. 1 seeds reach Final Four

Audio
•
Bill Self on the title and Oklahoma State


•
Podcast: Gottlieb on Kansas' national title

•
Podcast: Gottlieb on title game X factors

•
Roy Williams on Final Four return


•
Podcast: Katz on Final Four coaches

•
Bill Self talks Davidson game, Final Four


•
Podcast: Gottlieb talks Final Four, Davidson

Photos
•
Championship game photo gallery
•
Final Four photo gallery
•
Elite Eight Day 2 photo gallery
•
Elite Eight Day 1 photo gallery
•
Sweet 16 Day 2 photo gallery
•
Sweet 16 Day 1 photo gallery
•
Day 4 photo gallery
•
Day 3 photo gallery
•
Day 2 photo gallery
•
Day 1 photo gallery
NC State's 25th anniversary
•
Dinich: From star to one minute in title game
•
Dinich: Kay Yow still fighting Valvano's fight
•
Bob Valvano remembers brother's team


More
•
Rank the last 10 national champions
•
Rank Chalmers' 3 vs. other big-time shots
•
Vote: Memphis vs. Kansas for the title
•
Vote: Which team will win it all?
•
Vote: Test your Final Four team knowledge
•
Tournament Challenge
|
Bracket Master
•
Insider tourney guide

|
BracketCaster