Commentary
Kansas plays the good and the bad in the rout of UNC
Originally Published:
April 6, 2008
By
Pat Forde
| ESPN.com
SAN ANTONIO -- Danny Green's 3 was on its way through the rim. And somehow, preposterously, the national semifinal had gone from game over to game on.
There were 8 minutes and 14 seconds left in a national semifinal of wild mood swings. A shocking 28-point lead had dwindled to five, seemingly in record time.
[+] Enlarge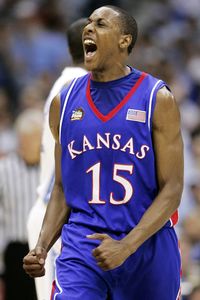 AP Photo/Mark HumphreyGood Kansas buried North Carolina with an early, stunning spurt as it made shots from everywhere on the court.
North Carolina was surging. Kansas was collapsing. A Final Four fold-up of epic proportions was in the air. Jayhawk Nation was facing a scenario so nightmarish it would make Bucknell a minor disappointment: Roy Williams was going to come back from a four-touchdown deficit to beat the school he jilted. Bill Self was going to be on his way to Stillwater under cover of darkness.
As soon as Green's shot dropped through the net, this would be a one-possession game. The pressure on the Jayhawks was about to spike.
Except Green's shot never did drop. It went as far in as any shot I've ever seen without going in, then it spun off.
"Went all the way in and came back out," Williams said.
The rebound dropped softly, almost straight down, into the hands of Carolina freshman Will Graves. Why was Graves in the game at a critical juncture of the Final Four? I have no idea, other than that the Dean Smith Coaching Bible says you play a million players, sometimes at the oddest moments.
Graves played one minute in Carolina's Sweet 16 victory over Washington State. He took a DNP in the regional final against Louisville. But here he was, getting clock in the first half and the second half against Kansas, and with the ball in his hands.
Then Will Graves did what Will Graves would be expected to do under the basket against a Kansas front line that had mauled Carolina's all night. He turned the ball over.
And then Cole Aldrich (?) made two free throws, and Sasha Kaun (!) dunked a lob, and everyone in Kansas could stand down from DEFCON 1. Carolina never again got a shot at reducing the game to a single possession. The Jayhawks closed the game on a 26-13 run. Kansas went back to being awesome, went on to beat the Tar Heels 84-66 and now moves on to the national title game against Memphis on Monday.
If Good Kansas shows up to play the Tigers, the River Walk will belong to Rock Chalk. Good Kansas made a 23-minute appearance at the Alamodome on Saturday night -- the first 15 minutes and the last eight -- looking like the Celtics. Good Kansas outscored Carolina by the staggering sum of 66-25. Good Kansas took the No. 1 team in the nation and slapped it silly.
Good Kansas is Brandon Rush slashing to the basket over and over, on his way to 25 points and seven rebounds. Good Kansas gets 10 steals. Good Kansas bludgeons the nation's best rebounding team by nine on the glass. Good Kansas holds the nation's No. 2 scoring team to 23 points below its average.
[+] Enlarge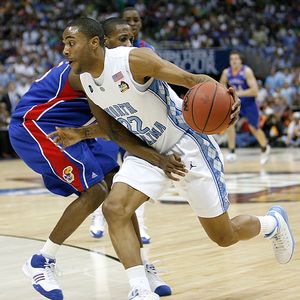 Streeter Lecka/Getty ImagesBad Kansas allowed Wayne Ellington to shoot the Tar Heels back into the game late in the first half and early in the second half.
Good Kansas was so good out of the gate that it looked like fiction. Good Kansas led 40-12, overwhelming the tournament's overall No. 1 seed. Good Kansas treated the lordly Heels as if they were Nebraska.
"To start the game, it didn't feel like we had 10 hands out there," coach Self said. "It felt like we had 14 or 15."
Bad Kansas played the middle 17 minutes, at times bearing a marked resemblance to the shaky team that had staggered past outmanned Davidson in the regional final the previous Sunday. Bad Kansas turned the ball over. Bad Kansas jacked up bad perimeter shots as soon as possible, lengthening a game it should have been ending. Bad Kansas was outscored 41-18.
"We went brain-dead for a little bit," Jayhawks big man Darnell Jackson said.
If Bad Kansas shows up for an extended period Monday night, Memphis will win its first national title. Bad Kansas is backup point guard Sherron Collins committing seven turnovers. Bad Kansas is Rush missing five 3-pointers. Bad Kansas is 6-foot-11 Aldrich missing a dunk.
"He tried to get crazy with the dunk," Self said. "He would have finished that if he just tried to dunk it normal, but he tried to get cute with that."
The freshman played a long and remarkable stretch for Good Kansas, though. The fourth man in Self's post rotation was pressed into extended first-half minutes because of foul trouble, and he responded with a "Psycho C" performance that outdid the national player of the year, Tyler "Psycho T" Hansbrough.
"He was the best player on the floor for three or four minutes," Self said.
In the first half, Aldrich had six points, six rebounds and three blocked shots -- all of which more than doubled his season averages -- for Good Kansas. He made a turnaround jumper. He followed a miss. He made free throws. He ripped rebounds away from Hansbrough, which happens approximately never.
[+] Enlarge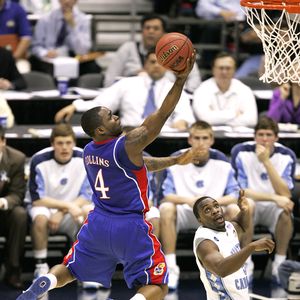 AP Photo/Matt YorkSherron Collins was the epitome of Kansas -- the good and the bad. He had 11 points and seven turnovers.
"Cole was unbelievable," Self said. "He was as good an inside performer as we had tonight."
That's part of what makes Good Kansas so good. Good Kansas has an endless supply of guys who can play.
And Good Kansas has a guy in charge who can really coach. Williams was inducted into the Hall of Fame last year, but Self owned their matchup Saturday night.
His team was so much better prepared to start the game that it was almost laughable. The Jayhawks' offensive execution was nearly perfect; they hit 13 of their first 17 shots from nearly every spot on the court. And if possible, their defense was better, aggressively doubling Hansbrough without fouling him.
Big picture, bottom line: This game should have ended the Roy Envy in Lawrence and across the state of Kansas. Self earned himself this moment in the sun, sans the shadow of his predecessor.
"There is no jealousy, no animosity between Coach Williams and myself, at least on this end," Self said.
His constituency should be over its hard feelings toward Ol' Roy now, too. It can move on magnanimously now that the team has moved on while Williams has gone home.
But if Green's 3 had dropped, the story line might have veered from celebration to devastation.
Pat Forde is a senior writer for ESPN.com. He can be reached at ESPN4D@aol.com.
SPONSORED HEADLINES
ESPN TOP HEADLINES
MOST SENT STORIES ON ESPN.COM
NCAA Tournament 2008

Get caught up with all the news, notes, insights and analysis from the 2008 NCAA tournament.
Tournament Index

Bracket
•
Updated Bracket
|
Tourney Challenge
Championship Analysis
•
Forde: Chalmers fulfills promise
•
Wojciechowski: Self's big-bucks decision on OSU
•
Katz: Memphis pays for free throws
•
O'Neil: Collins makes heroics possible
•
ATR: Quite a collection of talent in title game
Final Four Analysis
•
Experts: Who has the edge in the title game?

•
Forde: Self on a wild ride, and it's just starting
•
Wojciechowski: A quieter Joey Dorsey reflects
•
Griffin: Rush thrives after knee injury
•
O'Neil: CDR, Rose fuel Tigers' machine
•
Katz: Calipari has chance for vindication
•
Wojciechowski: Final Four duds
•
ATR: End of the road for Love, Hansbrough?
•
Forde: Good Kansas throttles UNC
•
Katz: Williams takes blame for stunning UNC loss
•
O'Neil: Rose leads Memphis to title game
•
Wojciechowski: Power-packed Final Four
•
Forde: One-and-dones hardly an academic issue
•
O'Neil: Not Memphis vs. the world? Yeah, right
•
Katz: KU ready for Arthur's breakout game
•
Low: Don't forget about UNC's "other" guys
•
Griffin: UCLA needs Shipp to shoot straight
•
Forde: Williams torn between KU and UNC
•
Expert picks: Who wins it all?
•
Gottlieb: Rose vs. Collison matchup pivotal

•
Fraschilla: Breaking down Kansas-UNC

•
Glockner: Which Kansas team shows up?
•
Griffin: Calipari battles for repsect
•
Glockner: Memphis can win slowdown games, too
•
Schlabach: Recent Final Four flameouts
•
O'Neil: Collison a key point for the Bruins
•
Glockner: Can UCLA's offense be more efficient?
•
Katz: Lawson's injury may have helped UNC
•
Glockner: Can UNC's defense hold up?
•
Forde: Power prevails as Elite becomes Four
•
Bilas: Tourney has "Wowed" so far

•
Katz: Four unique stories shape Final Four
Video
•
Bill Self among KU coaching greats

•
Kansas on being national champions

•
Calipari: Costly mistakes down the stretch

•
Chris Douglas-Roberts on Memphis' loss

•
Bob Knight on Memphis' loss to KU

•
Memphis gearing up to face Kansas

•
Memphis, KU to meet for title

•
Analysis: Kansas' win over North Carolina

•
Analysis: Memphis' win over UCLA

•
All the coaches talk Final Four

•
Davidson's McKillop previews Final Four

•
Who Are These Guys: Memphis

•
Final Four Sitdown: Roy Williams

•
Final Four Sitdown: Bill Self

•
Final Four Sitdown: John Calipari


•
Final Four Sitdown: Ben Howland

•
Katz: Small window for UCLA, Memphis

•
Vitale: Previews Final Four matchups

•
Bilas: Likes the look of the Final Four

•
Gottlieb: All No. 1 seeds reach Final Four

Audio
•
Bill Self on the title and Oklahoma State


•
Podcast: Gottlieb on Kansas' national title

•
Podcast: Gottlieb on title game X factors

•
Roy Williams on Final Four return


•
Podcast: Katz on Final Four coaches

•
Bill Self talks Davidson game, Final Four


•
Podcast: Gottlieb talks Final Four, Davidson

Photos
•
Championship game photo gallery
•
Final Four photo gallery
•
Elite Eight Day 2 photo gallery
•
Elite Eight Day 1 photo gallery
•
Sweet 16 Day 2 photo gallery
•
Sweet 16 Day 1 photo gallery
•
Day 4 photo gallery
•
Day 3 photo gallery
•
Day 2 photo gallery
•
Day 1 photo gallery
NC State's 25th anniversary
•
Dinich: From star to one minute in title game
•
Dinich: Kay Yow still fighting Valvano's fight
•
Bob Valvano remembers brother's team


More
•
Rank the last 10 national champions
•
Rank Chalmers' 3 vs. other big-time shots
•
Vote: Memphis vs. Kansas for the title
•
Vote: Which team will win it all?
•
Vote: Test your Final Four team knowledge
•
Tournament Challenge
|
Bracket Master
•
Insider tourney guide

|
BracketCaster