Commentary
Racing must examine itself in wake of another on-track death
Updated:
May 5, 2008, 2:53 PM ET
By
Pat Forde
| ESPN.com
A bad step.
That's the most common explanation given in thoroughbred racing when a horse breaks down: It was just a bad step. A sad thing, but a fluke thing. An unpredictable thing, they say. An unpreventable thing, they insist. There is some truth to that. Sometimes, even the greatest of care cannot prevent a tragedy. The physics of race horses leaves their very existences fraught with peril: large, muscular animals running very fast on very thin legs. Bad steps do happen, and when they do, they can be lethal. But racing is taking its own bad steps if it thinks it can continue dismissing the fatal breakdowns of star animals with shoulder shrugs and some sympathetic words. If racing wants to act as though it is powerless to prevent -- or at least significantly limit -- these gruesome occurrences, it will run itself right out of business as a legitimate American sport.
Force on the horse
According to a May 2006 article in Science Daily about the physiology of a race horse, thoroughbreds -- who usually weigh upwards of 1,200 pounds -- put a remarkable amount of force on their legs.
"Anatomically speaking, they run on their toes," said Lawrence R. Soma, professor of anesthesia and clinical pharmacology at the University of Pennsylvania School of Veterinary Medicine. "That makes them very fragile." According to the Science Daily article, a human would have to put all his weight on his middle finger to duplicate the proportion of weight a horse's hoof supports as it hits the ground.
In 2005, Steve Wood, superintendent of Del Mar's dirt track, told the San Diego Union-Tribune that a hoof strikes the ground with 5,000 pounds of pressure on a bone the size of a person's wrist. Del Mar has since changed to a synthetic track.
-- Pat Forde
Amid the fallout from Eight Belles' fatal breakdown after the Kentucky Derby on Saturday, the National Thoroughbred Racing Association pumped out some protective spin. Part of the information it passed on was a statistic attributed to the American Association of Equine Practitioners, stating American racing suffers approximately 1.6 fatalities for every 1,000 horses that start a race. That's an illuminative stat. But here's the only stat that matters to most casual racing fans: Too many horses are dying on the sport's biggest days. Millions of people tune into horse racing no more than four days a year: the three Triple Crown races (the Kentucky Derby, the Preakness and the Belmont), plus the Breeders' Cup. If you watched the past 13 of those Saturdays, dating to the 2005 Breeders' Cup, you had a 38.5 percent chance of witnessing a fatal breakdown. In '05 at Belmont, Funfair broke a hind leg in the Breeders' Cup Mile and was euthanized that day. (That race was on turf, not dirt.) In '06, we had the Barbaro disaster at the Preakness, followed by the long and ultimately unsuccessful attempt to save the Derby champion's life. While that was still ongoing, we saw Pine Island's fatal breakdown in the Breeders' Cup Distaff that fall at Churchill Downs. In a savage bit of irony, the Distaff race was won by Round Pond, who was trained by Michael Matz -- the same man who conditioned Barbaro. In '07, two-time European champion George Washington broke down in the Breeders' Cup Classic at Monmouth Park and was euthanized on the scene. George Washington had been retired to stud, then brought back to racing after fertility problems arose. And now we have the Eight Belles breakdown, the first fatality at the Kentucky Derby anyone can remember.
[+] Enlarge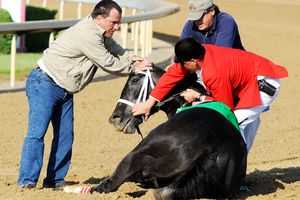 AP Photo/Brian BohannonFilly Eight Belles broke both front ankles after the wire in the Kentucky Derby. She was euthanized on the track while Big Brown's victory was celebrated.
Yeah, athletes can die in other sports, too. Auto racing and boxing come to mind. But fans of those sports haven't seen five deaths in the past 13 runnings of the Daytona 500 or the Indy 500, or the past 13 championship prize fights. When a horse is being put down on the track, it's customary to unfurl a screen to keep the public from viewing the lethal injection. But how many times can racing keep trotting out the screen before there are no eyes left to shield from the grim truth? A balkanized industry needs to coalesce and put every conceivable solution on the table. It took some steps after the Barbaro breakdown two years ago, but more are needed. Among the items that should be up for serious discussion: • Racing surface. Within the past couple of years, several tracks have switched from dirt to a synthetic surface that theoretically is more consistent and less punitive on horses' joints. Among the major ones: Keeneland in Lexington, Ky., Arlington Park in Chicago and several tracks in California. Opponents of synthetic surfaces recently cited a study showing virtually no difference between the injury rates on fake dirt and real dirt. But the Louisville Courier-Journal on Monday quoted Rick Arthur, equine director of the California Horse Racing Board, as saying he has seen a "30 to 40 percent decline" in fatalities on synthetic surfaces as compared to dirt. Several California trainers also have insisted their racing now is safer.
Synthetic versus Dirt
A recent study showed that fatality rates for horses are nearly identical on synthetic and dirt tracks.

The report, released in March at the Welfare and Safety of the Racehorse Summit at Keeneland Race Course in Lexington, Ky., showed a fatality rate of 1.96 deaths per 1,000 starts on dirt tracks and 1.95 deaths per 1,000 starts on synthetic surfaces since the survey began.

The survey included data from regulatory veterinarians representing 42 racetracks.

However, the survey also indicated that the number of injuries is significantly reduced on synthetic surfaces. The survey showed a ratio of one injury per 215 starts on synthetic tracks and one every 136 starts on dirt.

Dr. Jeff Blea, president of the Southern California Equine Foundation, said, according to the Thoroughbred Times, that reports of arthroscopic surgeries and condylar fracture repairs decreased by 15.8 percent and 19.6 percent, respectively, in Southern California in 2007. That covered the first full year of a synthetic track at Hollywood Park and the first meet with a synthetic track at Del Mar and the Oak Tree meet at Santa Anita.

Veteran trainer Nick Zito isn't convinced. In April, he told the New York Daily News: "I don't want to run on anything made from my attic."

Zito told the Daily News he thinks synthetic tracks yield fewer severe injuries but more tendon and soft-tissue injuries. Regardless, he prefers dirt to man-made tracks.

"I've been in this game since I was 15," Zito, 60, told the Daily News. "God made dirt and God made grass. I'm very upset about this business right now."
-- ESPN.com
• The demands of the Triple Crown on the modern race horse. As recently as 10 years ago, Derby champion Real Quiet ran nine times as a 2-year-old and six more times at age 3. This year's Derby champion, Big Brown, ran once at age 2 and ran just his fourth career race Saturday in winning the roses. Now his trainer, Rick Dutrow, is openly concerned about running him in the Preakness, just two weeks after the Derby. And if Big Brown wins that race (it should be a virtual walkover), he'll contest the 1½-mile Belmont three weeks after that. Three long and demanding races in five weeks is unheard of these days -- but racing seemingly would rather entertain the idea of running camels than change its ancient calendar. Moving the Preakness to the first Saturday in June and the Belmont to the first Saturday in July would seem a much better fit with the current abilities of the athletes. As it stands now, only one other Derby horse is even thinking about the Preakness -- fifth-place finisher Recapturetheglory. That's partly because nobody thinks they can beat Big Brown, but also partly because racing again in two weeks is more than most of their animals can handle. • The current state of American breeding. This is the big one. American race horses are bred (and inbred) for speed racing on dirt tracks, not for durability. The collective gene pool has been reduced, and physical infirmities are being passed along like hair color in humans. Take a look at Eight Belles' pedigree. Her grandsire is Unbridled, winner of the 1990 Kentucky Derby and a formidable stallion. But his offspring have been both precocious and often brittle. He sired Grindstone, who won the '96 Derby but never raced again after being injured shortly after the Derby. He also sired '96 Derby favorite Unbridled's Song, whose chances in that race were compromised by foot problems. Unbridled's Song then sired Eight Belles. Does that mean Eight Belles was doomed by pedigree to meet her tragic demise Saturday at Churchill Downs? Not necessarily. It really might have been just a bad step. But racing has been plagued by so many high-profile "bad steps" lately that it must examine the trend and do whatever it can to reverse it.
Pat Forde is a senior writer for ESPN.com. He can be reached at ESPN4D@aol.com.
THE TRIPLE CROWN
BELMONT STAKES 140
June 7 • Belmont Park
News
• Big Brown trainer Dutrow feeling 'like a loser'
• Big Brown appears OK day after stunning loss
• Da' Tara spoils Big Brown's bid for Triple Crown
• U.S. return likely for Casino Drive
• Triple Crown successes and failures
• Big Brown bids for history in Belmont
• Casino Drive scratched from Belmont Stakes
• Big Brown has patch applied Friday
• Prosecutors can't investigate Eight Belles' death
• Big Brown-Curlin matchup could be worth $5M
• Report: Big Brown to run without steroids
• Big Brown draws rail for Belmont Stakes
• Triple Crown spoilers since 1978
• Big Brown to stand at Three Chimneys

Features
• Paulick: A humbling game
• Forde: Dutrow's Big Brown busts at Belmont
• Moran: New York roar stays pent up
• Cronley: Hard to understand a loser
• Cronley: Mopping up
• Moran: Stranger things have happened
• Paulick: Big Brown vs. Greatness
• Forde: Gangs of New York
• Plonk: Sign of the times
• Finley: Un-American
• Finley: Big Brown not great, yet
• Plonk: The Dutrow Projects
• Paulick: We've been here before

Kentucky Derby 134
• Big Brown dusts Derby field | Gallery | Video
Preakness Stakes 133
• Big Brown dominates Preakness | Gallery | Video
Belmont Stakes 140
• Big Brown loses Belmont | Gallery | Video