Commentary
Sunday script at U.S. Open might finally produce some drama
Updated:
June 15, 2008, 10:12 PM ET
By
Pat Forde
| ESPN.com
SAN DIEGO -- The U.S. Open is a wonderful sporting event with one chronic flaw.
It rarely ends well. Or at least nobly. It's more often lost than won, more often survived than conquered, more often closed with a whimper than with a bang. "There's no excitement,"
Robert Allenby
said of the general Open anticlimax. Well, there certainly was some excitement engendered by the
Phil Mickelson
-
Colin Montgomerie
tandem gag in 2006 at Winged Foot. I love a good golf train wreck as much as anyone, but how about altering the same old Open script? How about enhancing the endgame beyond last-hole carnage to include the possibility of last-hole heroics? Maybe this year. Maybe here. For that reason, I love the 18th hole at Torrey Pines. Love the fact that a U.S. Open will finish with a reachable par-5 instead of the stereotypical no-frills, severe par-4. Love the wide array of possibilities this hole offers for a dramatic finish. An Open could be won by a single stroke with a birdie on the final hole for the first time since -- are you ready for this? -- 1926. That's when Bobby Jones did it at Scioto Country Club in Columbus, Ohio. Once every 82 years isn't too much to ask, is it? Or it could be blown with a spectacular dunking of a second or third shot in the pond that guards the left front of the hole.
[+] Enlarge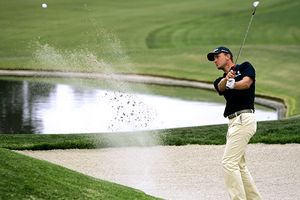 AP Photo/Charlie RiedelRobert Karlsson found the bunker, not the pond, on the 18th hole Friday. Come Sunday, many players might wish they were playing from the sand.
Or we could have the true Hollywood finish: an eagle on the 72nd.
"We want players to get out and have a choice," said Mike Davis, the USGA senior director of rules and competitions. "Sit back there saying, 'Am I going to try to fly the pond, can I keep it on the green, give myself a realistic chance for birdie, maybe even eagle, but at the same time knock it in the water and maybe make bogey or double-bogey?' Those things are very appealing to us." They're appealing to the fans, as well. The cheers and groans were nearly constant at 18 Friday in response to the varying fortunes of the players. "It's great drama for the tournament,"
John Rollins
said. In a span of an hour Friday morning, the fans at 18 got to see just about every conceivable outcome. They got to see
Michael Letzig
hit his tee shot into a bunker, fan his second shot into the rough, slap his third into the drink, card a 7 and walk into the tunnel behind the hole to drop an F-bomb in private. They got to see
Brandt Jobe
lay up, then throw an overjuiced wedge 40 feet onto the green and have it backspin all the way into the pond. They got to see
Jay Choi
put his second in the water, then 4-putt his way to a snowman. And they got to see
Jon Turcott
flush a second-shot 3-wood about 250 yards, landing it like a parachute on the back left of the green. After a brief roll, the ball came to rest four feet from the cup. Probably the shot of the day at 18. Turcott missed the eagle putt that wound up being the difference between his making the cut or going home, but the point was made: If an anonymous, 5-foot-8 fireplug from the Nationwide Tour can give himself a makeable eagle putt, so can the guys at the top of the leaderboard on Saturday and Sunday. "It's great," Turcott said of the 18th. "I love these kind of holes. It's a risk-reward hole." The risks were both obvious (the water) and subtle (
Joe Ogilvie
hit an approach one foot off the green and the ball flat disappeared into a hole, forcing him to try to gouge it out with the toe of his putter -- a rotten-luck disaster that resulted in a 7). Even some big names have doubled No. 18,
Retief Goosen
and
Justin Rose
included. The rewards have been plentiful, as well.
Rocco Mediate
is in the final group Saturday in large part because of going birdie-birdie on 18.
Ernie Els
,
Robert Karlsson
,
Miguel Angel Jimenez
and
Lee Westwood
are in the hunt for the same reason.
Sergio Garcia
remains in the tournament in no small thanks to two birdies at 18. Through two rounds, No. 18 has played easier than any hole on the par-71 course, with a stroke average of 4.8. "It's nice to play a reachable par-5," Els said. "It's definitely a hole where you can pick one up." That's great news to players hankering for red-number opportunities in a championship that traditionally affords very few. And at Torrey Pines, those opportunities can be manipulated easily. "You can change this course so much by where you put the tees and pins," 2006 champion
Geoff Ogilvy
said. "The set-up man has complete say over what we shoot." The set-up man loved 18 just the way it was Friday. Executive committee vice president Jim Hyler guaranteed the tee would be in the same place through the weekend. That's two spots up, making the hole play nearly 40 yards shorter than its 573-yard max length. "We loved it where it was today, 535," Hyler said. "We want more players going for the green." What the USGA has done with this move is to bring a little slice of Augusta to the Open. One of the great aspects of the Masters is the two back-nine par-5s, Nos. 13 and 15, that so dramatically shape the outcome of that tournament. Green jackets have been won and lost with decisions on whether to lay up or go for the gusto on those holes, and on the execution of those plans. Now the stodgy U.S. Open has a chance for some of that drama. This is the first time an Open course has ended on a par-5 in eight years, the last time being at Pebble Beach. Thing is,
Tiger Woods
sucked the drama out of that closing hole, winning by a preposterous 15 strokes. Tiger could be the winner here, too -- if he finds the range on No. 18. The greatest par-5 player ever somehow has failed to birdie the easiest hole at Torrey Pines. For now.
Pat Forde is a senior writer for ESPN.com. He can be reached at ESPN4D@aol.com.
108th U.S. OPEN CHAMPIONSHIP
18-hole playoff
•
Tiger wins 3rd Open in playoff
|
Watch
|
Scores
•
Forde: Tiger's win was greatest Open ever
•
Harig: Haney puts Open No. 1 on Tiger's win list
•
Wojciechowski: Tiger, Rocco save sports
•
Watch:
North's analysis
|
Reilly's take on Mediate
•
Watch:
On The Tee: Woods had to grind for win
•
Watch:
Woods, Mediate discuss epic playoff
•
Watch:
PTI's Wilbon, Kornheiser talk Tiger
•
Photos:
The playoff
|
Tiger's 14 major wins
•
Sobel, Harig recap Tiger's victory

•
Sobel's U.S. Open blog
|
Harig chat wrap

•
Vote:
Can Tiger overtake Nicklaus?
•
Top performances of athletes play in pain
|
Rank
Fourth round
•
Tiger forces Open playoff
|
Watch
|
Photos
•
Forde: Tiger's mind vs. his knee to decide Open
•
Harig: Mediate finally 'back' on track
•
Westwood odd man out of U.S. Open playoff
•
Watch highlights:
Tiger
|
Mediate
|
Westwood
•
Jason Sobel's round 4 U.S. Open blog
Third round
•
Woods surges into U.S. Open lead
|
Photo gallery
•
Forde: As others faltered, Woods held it together
•
Harig: Uphill battle for Westwood, Mediate
•
Sobel:
A plan for contenders
|
U.S. Open blog
•
Watch:
Rd. 3 analysis
...
Highlights
|
Tiger
•
Watch:
Reilly's take
|
Sunday predictions
•
Watch:
Westwood
|
Mediate
|
Ogilvy
|
Lefty
•
Chip Shots: Floundering Phil cards a quad
•
Bell: Strong mind helps Woods overcome pain
Second round
•
Harig: In a blink, Woods changed everything
•
Appleby up 1
|
Watch: Tiger, Phil highlights
•
Harig: Love has 'major' plans
|
Watch
•
Forde: No. 18 presents risks, rewards
• Watch:
Highlights
|
Best of Rd. 2
|
Rd. 3 preview
•
Watch: Reilly's ode to the Open
|
Photo gallery
• Watch:
On The Tee's second round recap
• Watch interviews:
Phil Mickelson
|
D.J. Trahan
•
3 Up, 3 Down: First-round leaders fade fast
•
Chip Shots: Cabrera makes early exit
•
Sobel: Blog jinx working OT in round 2
• On The Tee:
Is U.S. Open Tiger's to lose?

First round
•
Forde: Circus came to town for opening round
•
Watch: North, Ravech look ahead to 2nd round
•
Watch: Forde, Sobel, Harig on round 1 leaders
•
Watch: Reilly on who's cooler ... Tiger or Phil?
•
Harig: Hicks (68) wants to extend his 15 minutes
•
Opening-round recap
|
Highlights
|
Photos
•
Harig: Red numbers not endangered Thursday
•
Chip Shots: Who needs a driver, right Lefty?
•
3UP, 3DN:
Cabrera on wrong side of the list
•
Jason Sobel's blog: Who got Romo'd?
•
Sobel/Harig discuss unlikely Open leaders

Latest News
•
Heckler tangles with Scott's caddie at No. 9
•
Fans outside ropes to face first smoke-free Open
•
Woods says knee is sore, but he's 'good to go'
•
Woods plays nine, shows no limp
•
Report: Scott nurses broken finger, will play
•
Tiger, Phil paired in star-studded groupings
•
Tiger plays first round since Masters
•
As Open nears, rehabbing Tiger hasn't gone 18
•
Four players win playoffs to make U.S. Open field
•
Round 1, Round 2 tee times
Podcasts
•
On The Tee: Sobel talks to Imada

•
On The Tee: Sobel talks to Okla.. St.'s Fowler

Golf Digest
•
'Philip' Mickelson knows Torrey Pines well
•
6 things to know about Torrey Pines
•
Torrey Pines course map
|
More coverage
USOpen.com
•
Spectator info
|
U.S. Open championship history
•
Player bios
|
USOpen.com
|
Golf blogs
MOST SENT STORIES ON ESPN.COM