Commentary
Money, fame, pressure come with the territory for SEC's coaches
Originally Published:
August 6, 2008
By
Pat Forde
| ESPN.com
HOOVER, Ala. -- When the 12 alpha males who coach football in the Southeastern Conference came together at the league's annual spring meetings in Destin, Fla., Urban Meyer surveyed the room and reacted almost like a fan.
"I'm not one to be in awe," the Florida coach said, "but I was then." Here's what Meyer saw:
[+] Enlarge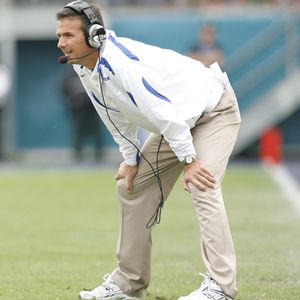 Tom Hauck/Getty ImagesAlready with five in tow, Urban Meyer will look to add a few more ESPNU 150 commits after the Miami game.
• Five coaches who own national championship rings. They are Steve Spurrier of South Carolina, Phillip Fulmer of Tennessee, Nick Saban of Alabama, Les Miles of LSU and Meyer himself. • A sixth, Auburn's Tommy Tuberville, whose team went 13-0 in 2004 but did not get a chance to play for the title. • Two more -- Mark Richt of Georgia and Bobby Petrino of Arkansas -- who have had 12-win seasons capped off by BCS bowl victories. Then there is Houston Nutt of Mississippi, who won 10 games two years ago at Arkansas. And Rich Brooks of Kentucky, who took Oregon to its first Rose Bowl in 37 years and became the first Wildcats coach to win consecutive bowls in 56 years. And Mississippi State's Sylvester Croom, who is merely the reigning SEC Coach of the Year after leading the Bulldogs to their first bowl game since 2000. And Vanderbilt's Bobby Johnson, who led Furman to the Division I-AA championship game. One-third of the coaches once won big at another SEC school (Tuberville at Ole Miss, Spurrier at Florida, Saban at LSU and Nutt at Arkansas). One-third of the coaches once ran NFL teams (Brooks, Spurrier, Saban and Petrino). All 12 come with an ego. At this time last year, the SEC already had America's most accomplished collection of coaches. Then Miles won the national title at LSU and the league swapped out Ed Orgeron (10-25 as a college head coach) for Petrino (41-9).
[+] Enlarge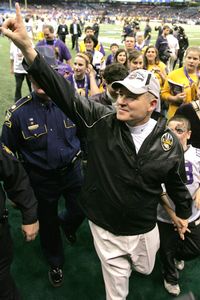 AP Photo/Rob Carr)Like many of his peers, LSU coach Les Miles has to deal with high expectations every year.
That means the best just got better and the toughest just got tougher. The SEC '08 coaching colony ranks among the most accomplished of all time. "It's a Who's Who," Nutt said. "The strategy, the X's and O's, all that stuff is top of the line." So is the compensation and adulation these men receive. There is more of everything -- money, fame, pressure -- in the SEC than anywhere else. Combined, they are scheduled to make nearly $30 million in 2008 alone, outside income not included. Six SEC coaches are believed to rank among the 11 highest-paid members of their profession. All 12 schools have built (or are building) lavish facilities to meet every conceivable recruiting need. "Some people anted up," Meyer said. The coaches will command the aggregate attention, admiration and, in some cases, outright fealty - of roughly 930,000 fans during home games. Millions more will watch and listen from the outside. Now here's the hard reality: Some of these superstars are going to lose. "I just hope it's not us," said Miles, who could have been speaking for every school in the league. Disappointment will not be handled gracefully in some quarters. Given the financial commitments made across the conference, almost everyone in the SEC is investing in winning big.
SEC Coaches By The Numbers
Here's a breakdown of the 12 SEC coaches heading into the 2008 season. Note: The salaries came from various media reports.
| | | | | | | |
| --- | --- | --- | --- | --- | --- | --- |
| Coach | Media Guide Bio | On The Cover? | Record | Pct. | Bowl Record | 2008 Salary |
| Rich Brooks, Kentucky | 3 pages | Yes | 116-144-4 | .447 | 3-3 | $1.1M |
| Sylvester Croom, Miss. State | 6 pages | Yes | 17-30 | .362 | 1-0 | $1.7M |
| Phillip Fulmer, Tennessee | 4 pages | Yes | 147-45 | .766 | 8-7 | $2.6M |
| Bobby Johnson, Vanderbilt | 5 pages | No | 20-50 | .286 | 0-0 | $1M |
| Urban Meyer, Florida | 11 pages | No | 70-16 | .814 | 4-1 | $3.4M |
| Les Miles, LSU | 6 pages | No | 62-27 | .697 | 4-2 | $3.751M |
| Houston Nutt, Mississippi | 6 pages | Yes | 80-54 | .597 | 2-5 | $1.7M |
| Bobby Petrino, Arkansas | 4 pages | Yes | 41-9 | .820 | 2-2 | $2.85M |
| Mark Richt, Georgia | 3 pages | No | 72-19 | .809 | 5-2 | $2.8M |
| Nick Saban, Alabama | 8 pages | No | 98-48-1 | .670 | 5-5 | $3.75M |
| Steve Spurrier, S. Carolina | 6 pages | Yes | 163-56-2 | .742 | 7-7 | $1.75M |
| Tommy Tuberville, Auburn | 7 pages | Yes | 105-53 | .666 | 6-3 | $2.8M |
"I counted right off the top of my head nine programs that think they're going to win the conference championship," Meyer said. "Nine right now. … I don't know if you see that anywhere else in America." Fact is, only two teams can claim the division crowns and go to Atlanta to play for the SEC title. Only six schools have played in that championship game this decade: LSU (four appearances), Tennessee (three), Georgia (three), Florida (two), Auburn (two) and Arkansas (two). And only four of those have won it: LSU (three times), Florida (twice), Georgia (twice) and Auburn (once). "At the end of the day," said Croom, "a couple guys are going to be real happy and the rest are not going to be quite as happy. That's what makes it so intense and intriguing and exciting." The SEC coaching fraternity has not been this strong since the 1960s and '70s, when Bear Bryant ruled but Johnny Vaught, Vince Dooley, Shug Jordan, Charlie McClendon, Doug Dickey and Bill Battle made him work for the throne. Those coaches won a lot of games, but they also worked in an era when most of them were afforded a virtual lifetime contract.
[+] Enlarge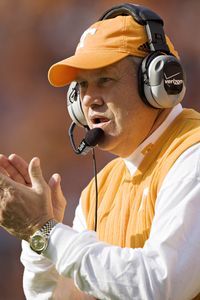 Wesley Hitt/Getty ImagesTennessee's Phillip Fulmer is the dean of SEC coaches. He begins his 16th full season with the Vols.
Bryant coached 25 years at Alabama, Vaught 24 at Ole Miss, Dooley 25 at Georgia, Jordan 26 at Auburn, McClendon 18 at LSU, and the Dickey/Battle tandem spanned 13 years at Tennessee. Fulmer is the current dean of the SEC, entering his 16th full season in charge. The average tenure for the rest of the coaches at their current schools is less than four years. "You're not going to be there [in the championship game] all the time," Croom said. "The guys like Phillip and Steve that perform that well year in and year out, I don't know how they do it." Doing it repeatedly over time is the hardest part. Especially when the competition keeps getting stronger. You could argue that only Miles and Brooks could backslide this season without significant disappointment from the fan base. Expectations for more, more, more permeate the rest of the conference. In the East, Georgia fans believe their time is now to win the school's first national title since 1980. Florida fans believe the same thing with returning Heisman Trophy winner
Tim Tebow
. Tennessee fans want a return to a BCS bowl for the first time since the 1999 season. South Carolina fans want the Spurrier magic from Florida to finally be sprinkled on their perpetually average program. Eternally suffering Vanderbilt fans want a payoff after narrowly missing bowl bids two of the past three years.
[+] Enlarge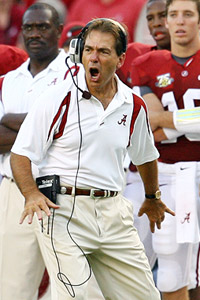 Marvin Gentry/US PresswireNick Saban is one of four coaches to switch programs within the SEC (from LSU to Alabama).
In the West, Auburn fans believe coordinator Tony Franklin's new no-huddle spread offense will produce their first division title since the '04 unbeaten season. Alabama fans believe Year 2 with Saint Nick will be the breakthrough they've been waiting for since last decade. Mississippi State fans note their upsets of Auburn and Alabama last year, plus the quarterback quandary at LSU, and wonder, "Why not us? Why not now?" Ole Miss fans believe the combination of improved coaching and improved experience will result in their first-ever West title. Arkansas fans are so giddy about the arrival of offensive savant Petrino that they've nearly forgotten about the departure of Darren McFadden and Felix Jones. So, yeah, there's pressure across the South. But it's good to be king, and successful football coaches can wield something close to absolute power in the SEC. That's part of the reason why Saban and Petrino voluntarily bailed on the NFL within the past two years to coach here. "The venues you play in, the places you go, the passion that the fans have … I don't know how it could get any better," Saban said. "And sometimes you have to go someplace else to fully understand and realize that." Now all the alpha males who have concentrated in the SEC must realize one more thing: Some of them have to lose.
Pat Forde is a senior writer for ESPN.com. He can be reached at ESPN4D@aol.com.
SPONSORED HEADLINES
ESPN TOP HEADLINES
MOST SENT STORIES ON ESPN.COM
2008 College Football Preview
The long wait for the start of the 2008 college football season is finally over. Get ready for the season with an in-depth look at the teams, trends, players and coaches. Index
Blog Network
Get the latest updates from your favorite conference and around the country.
ACC | Big 12 | Big East | Big Ten | Pac-10
SEC | Others | College Football Nation
National Features
• Maisel: Let the campaign '08 debate begin
• Bloggers: State of each conference
• Schlabach: Hot and not for 2008
• Maisel: Full speed ahead for offenses
• Maisel: Defending the fast-tempo spread
• Maisel: Nation's fastest teams
• Forde: SEC coaches in a league of their own
• Forde: Johnson stuck as SEC's roadie
• Schlabach: The nation's alpha-male coaches
• Schlabach: Coaches on the hot seat
• Maisel: Road left to travel for black coaches
• Schlabach: Critical mass await Ohio State
• Edwards: Are BCS voter tired of the Buckeyes?
• Edwards: Parity puts BCS at crossroads
• Feldman: Ten best-kept secrets
2008 Preseason All-America team
• Maisel: Preseason All-America team
What to watch
• Eighth annual Herbie Awards
• ESPN's experts' predictions
• Schlabach: Games to watch
• Schlabach: Intriguing games
• Bloggers: Preseason conference predictions
• Bloggers: Games to watch

Conference call
ACC
• Schlabach: Clemson craving title
• Dinich: In the Wake of success
• Dinich: Coast toast for Hokies?
• ACC needs Canes, Noles to win

Big Ten
• Rittenberg: Innovation not new to Big Ten
• Rittenberg: UM QBs adapt to offense
• Schlabach: Pryor's role with Ohio State

Big 12
• Maisel: Big 12 QBs face burden of proof
• Griffin: Where have the Big 12 runners gone?
• Griffin: Northern exposure
• Feldman: Is Crabtree the best college WR ever?

Big East
• Schlabach: Stewart's challenge at West Virginia
• Bennett: Knight moves focused on Teel

C-USA
• Tulsa building foundation for success
• Pirates sailing toward uncharted waters

Independents
• Watson: Are the Irish coming of age?
• Watson: Tenuta's tenacious D
• Maisel: Army exploring its options

MAC
• Watson: MAC QBs hope to share the spotlight
• Dinich: Golden touch working at Temple
• Watson: NIU's Kill found new perspective

Mountain West
• Watson: BYU-Utah going national?
• Watson: TCU looks to regroup

Pac-10
• Maisel: Son also rises at UCLA
• Miller: Stable is the USC Way
• Miller: Huskies counting on Locker

SEC
• Low: SEC's uncertain QB landscape
• Low: Tebow still learning
• Maisel: Richt knows expectations

Sun Belt
• Schlabach: Coach, QB to keep Owls soaring

Western Athletic
• Watson: Will tough schedule propel Fresno State?
• Watson: QB battle has Nevada thinking big

Rankings
• Georgia tops preseason power rankings
• Preseason Bottom 10: Lollapaloozers
• Conference preseason power rankings
• Bloggers: Ranking the coaches | Hot seat

Podcasts
• Podcast: Ivan, Mark discuss '08 season


• Podcast: Beano, Ivan talk coaches

SportsNation
• Chat wrap: Kicking off the season


• Rank 'em: ESPNU Fan Poll
• Rank 'em: How tough is each team's schedule?
Fantasy
• Predict the college football upsets each week.
Play College Pick 'Em