Commentary
In a conference of rock stars, Johnson is SEC's roadie
Originally Published:
August 6, 2008
By
Pat Forde
| ESPN.com
HOOVER, Ala. -- Southeastern Conference media days are here, and once again Bobby Johnson is not in demand.
[+] Enlarge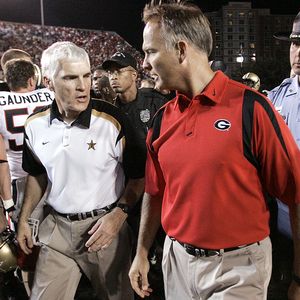 AP Photo/Mark HumphreyBobby Johnson has always played second fiddle to coaches like Georgia's Mark Richt.
When Johnson strides between ballrooms on the second floor of the Wynfrey Hotel, he is uninterrupted. The television cameras, print reporters and glad-handers who stalked Les Miles from place to place earlier in the day are nowhere to be seen.
When Johnson is led through the door into the largest ballroom, the one containing several hundred print and Internet media members, about one-fourth of the seats are vacant. The next morning, an overflow crowd would fill the seats and line the walls of the same room to hear Nick Saban.
In a league rife with rock-star coaches, someone has to be the roadie. Someone has to be 12th out of 12.
That someone is Bobby Johnson, coach of the Vanderbilt Commodores.
It's inherently unfair, of course. Johnson is saddled with the systemic inequity of coaching the one private, academics-first school in a league of cutthroat football factories. If he could switch rosters (and entrance requirements) with other coaches around the SEC, maybe he would be a rock star, too. Maybe he would be a $3 million man instead of scraping by on a mere million per.
But he's not, and his record in six seasons at Vandy makes him the unavoidable choice for Worst Coach in the SEC. Johnson is 20-50 overall, 8-40 in league play. He is the only coach without at least one winning Division I-A season on his résumé. He is the only coach without at least one bowl bid and one bowl victory.
By Vandy standards, he has done pretty well. After going 2-22 in SEC games his first three years while digging the program out of the depths reached in the Woody Widenhofer era, Johnson has gone 6-18 since. The Commodores have won at least four games each of the past three years, the first time that's happened since 1992-94. They won at Arkansas and at Tennessee in 2005, at Georgia in '06 and at South Carolina in '07 -- the latter two marking Vandy's only victories over ranked opponents since 1992.
For all those reasons, plus the fact that Johnson's grounded approach fits well with the university's athletic philosophy, he is on the verge of becoming Vanderbilt's longest-tenured head coach since George McIntyre, who served from 1979 to 1985. If Johnson is still at the helm for an eighth season in 2009, he'll be alone in third place for the longest tenure in school history. With Johnson, Vandy wisely has opted to get out of the hiring/firing spin cycle after having five head coaches from 1985 to 2001.
When told about the milestone he has reached this season, Johnson jokingly pumped a fist and clapped his hands.
"I knew what I was getting into when I came to Vanderbilt [from Division I-AA Furman]," Johnson said. "I knew it was going to be a long project. I think we made a lot of strides since we've been here. …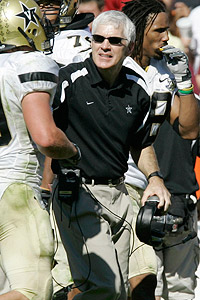 AP Photo/Mary Ann ChastainBobby Johnson has a unique situation to deal with at Vanderbilt.
"I remember in my first press conference, I think the very first day I was at Vanderbilt, some guy said, 'How long do you think you've got before they fire you?' Really, he did. …
"We're hoping we can get it done. I think we made strides toward that. I think we were extremely close last year. A couple games go either way, we're in a bowl."
That, of course, is the great missing achievement -- not just in the Johnson era but in the past 25 years of Vanderbilt football. In an age when as many as nine SEC teams go bowling every year, Vandy continues to miss the party. It's understandable to a point -- but we're past that point now.
All the other egghead "exception" schools in BCS conferences -- Stanford, Northwestern, Duke and Baylor -- have been to bowls in the past 14 years. Stanford and Northwestern have been to the Rose Bowl, in fact. The fact that those four schools have gotten it done (however rarely) only makes Vanderbilt's ongoing futility more glaring.
The obvious difference is the level of competition. It's tougher top to bottom in the SEC than the Big Ten, the ACC or even the Big 12. Given that, I asked Johnson how many times in 48 SEC games he has had the better talent.
"I really don't look at it that way," he said. "Probably not many times. But, you know, we don't talk to our players about that. We don't really even discuss it as coaches.
"Sometimes you can be a better football team, even though you don't have the better athletes. And that's what we're banking on every time we go out. … Sometimes early in my career here I thought we got overwhelmed in some games, but it didn't discourage our coaches, didn't discourage our players, and we came bouncing back.
"I've never really felt like our players quit in a game since I've been at Vanderbilt. That's something I really appreciate from our players. And that means a lot to a coach."
It would mean a lot to everyone at Vanderbilt to produce the first winning season and bowl trip since Reagan's first term. Until that happens, Bobby Johnson (or whoever coaches the Commodores) is doomed to being the roadie at the SEC's rock-star convention.
Pat Forde is a senior writer for ESPN.com. He can be reached at ESPN4D@aol.com.
2008 College Football Preview
The long wait for the start of the 2008 college football season is finally over. Get ready for the season with an in-depth look at the teams, trends, players and coaches. Index
Blog Network
Get the latest updates from your favorite conference and around the country.
ACC | Big 12 | Big East | Big Ten | Pac-10
SEC | Others | College Football Nation
National Features
• Maisel: Let the campaign '08 debate begin
• Bloggers: State of each conference
• Schlabach: Hot and not for 2008
• Maisel: Full speed ahead for offenses
• Maisel: Defending the fast-tempo spread
• Maisel: Nation's fastest teams
• Forde: SEC coaches in a league of their own
• Forde: Johnson stuck as SEC's roadie
• Schlabach: The nation's alpha-male coaches
• Schlabach: Coaches on the hot seat
• Maisel: Road left to travel for black coaches
• Schlabach: Critical mass await Ohio State
• Edwards: Are BCS voter tired of the Buckeyes?
• Edwards: Parity puts BCS at crossroads
• Feldman: Ten best-kept secrets
2008 Preseason All-America team
• Maisel: Preseason All-America team
What to watch
• Eighth annual Herbie Awards
• ESPN's experts' predictions
• Schlabach: Games to watch
• Schlabach: Intriguing games
• Bloggers: Preseason conference predictions
• Bloggers: Games to watch

Conference call
ACC
• Schlabach: Clemson craving title
• Dinich: In the Wake of success
• Dinich: Coast toast for Hokies?
• ACC needs Canes, Noles to win

Big Ten
• Rittenberg: Innovation not new to Big Ten
• Rittenberg: UM QBs adapt to offense
• Schlabach: Pryor's role with Ohio State

Big 12
• Maisel: Big 12 QBs face burden of proof
• Griffin: Where have the Big 12 runners gone?
• Griffin: Northern exposure
• Feldman: Is Crabtree the best college WR ever?

Big East
• Schlabach: Stewart's challenge at West Virginia
• Bennett: Knight moves focused on Teel

C-USA
• Tulsa building foundation for success
• Pirates sailing toward uncharted waters

Independents
• Watson: Are the Irish coming of age?
• Watson: Tenuta's tenacious D
• Maisel: Army exploring its options

MAC
• Watson: MAC QBs hope to share the spotlight
• Dinich: Golden touch working at Temple
• Watson: NIU's Kill found new perspective

Mountain West
• Watson: BYU-Utah going national?
• Watson: TCU looks to regroup

Pac-10
• Maisel: Son also rises at UCLA
• Miller: Stable is the USC Way
• Miller: Huskies counting on Locker

SEC
• Low: SEC's uncertain QB landscape
• Low: Tebow still learning
• Maisel: Richt knows expectations

Sun Belt
• Schlabach: Coach, QB to keep Owls soaring

Western Athletic
• Watson: Will tough schedule propel Fresno State?
• Watson: QB battle has Nevada thinking big

Rankings
• Georgia tops preseason power rankings
• Preseason Bottom 10: Lollapaloozers
• Conference preseason power rankings
• Bloggers: Ranking the coaches | Hot seat

Podcasts
• Podcast: Ivan, Mark discuss '08 season


• Podcast: Beano, Ivan talk coaches

SportsNation
• Chat wrap: Kicking off the season


• Rank 'em: ESPNU Fan Poll
• Rank 'em: How tough is each team's schedule?
Fantasy
• Predict the college football upsets each week.
Play College Pick 'Em
MOST SENT STORIES ON ESPN.COM