Commentary
Dreams and nightmares for 64 teams
Originally Published:
March 18, 2009
By
Pat Forde
| ESPN.com
The fourth annual dream and nightmare NCAA tournament scenarios for all 64 teams:
EAST REGIONAL

Pitt (1)
Best Case: Sam Young is making jumpers and slamming alley-oops. DeJuan Blair is scattering bodies in the paint. Levance Fields is caring for the ball like a newborn. Pitt shatters the Sweet 16 ceiling and doesn't stop there, rolling into Detroit and into the national championship game. Once there, the Panthers win the title, cutting down the nets in the same building where the Steelers won the Super Bowl a few years back. Pittsburgh becomes the only city in America that absolutely adores Detroit.
Worst Case: Taken out of the full-contact Big East and subjected to different officiating, Blair gets one foul in the layup line and a second on the jump ball. Pitt falls behind by 12 points at halftime, and its offense goes into a familiar NCAA shell. Jamie Dixon's brow furrows deeper. Panthers are out in the second round. Sweet 16 ceiling now made of reinforced titanium. Dixon leaves for Arizona.

East Tennessee State (16)
Best Case: High-octane Buccaneers, who have averaged 89.4 points per game on their current five-game winning streak, run Pitt into the danger zone. Enough ETSU shots fall to keep the game high scoring and tight into the final four minutes. Coach Murry Bartow, cleverly hidden from view for years in Johnson City, is accorded renewed respect.
Worst Case: Bartow calls his first timeout three minutes into the game, and the bleeding never stops. Defense-optional Bucs give up 102 points to the Panthers. Blair goes for 20 and 20. Bartow returns to obscurity in Johnson City.

Oklahoma State (8)
Best Case: James Anderson is making 3s and getting to the line. Byron Eaton is barging into the lane. The Committee, as Travis Ford calls his interior players, is holding its own. The pace is wreaking havoc. And the Cowboys are stunning Pittsburgh in the second round and Xavier in the third to force a regional showdown with Duke -- which they lose, but everyone loves the run. Meanwhile, Oklahoma is upset in the second round and T. Boone Pickens' stock portfolio takes a turn for the better.
Worst Case: Team that surrendered 94 to Michigan State, 98 to Baylor, 97 to Missouri and 99 to Texas waves at the Volunteers as they rush unimpeded to the basket as well. Tennessee scores in triple digits in a first-round whomping of the Cowboys, who lose five seniors and have Anderson turn pro as well. Oklahoma wins it all. Ford leaves after a year to replace Billy Gillispie at Kentucky. T. Boone's stocks continue to swoon.

Tennessee (9)
Best Case: Volunteers share the ball and get better-than-usual guard play. Wayne Chism plays his headband off. Tyler Smith is all over the court. Scotty Hopson starts playing smarter. Orange-blazered Bruce Pearl is forcing the issue with full-court pressure. Tennessee is advancing to the regional final, carrying the drooping SEC banner and reminding everyone why the Vols were in the preseason top 10. Fans stop hugging each other over the Bryce Brown football signing and actually watch for a while. Over on the other side of the bracket, Memphis is taken down in the second round.
Worst Case: The occasionally selfish, guard-poor, half-hearted defensive team that lost five games to opponents that didn't make the NCAAs resurfaces against Oklahoma State. Proving Jodie Meeks' 54 was no fluke, Tennessee surrenders 55 to OSU's Anderson. Pearl coaches the second half shirtless to no avail. Fans go back to discussing whether Bryce Brown will win two or three Heisman Trophies. Memphis wins it all.

Florida State (5)
Best Case: Totally stoked for their first NCAA appearance since 1998, Seminoles continue their ACC tournament roll by smashing Wisconsin and Xavier, then upset Pittsburgh in the Sweet 16 and beat Duke for the first time since February 2007 in the regional final. They then crash the Final Four for the first time since 1972. Once there, the Noles beat North Carolina again and lose in the national title game to Louisville, but even Bobby Bowden shows up for the dadgum game after someone explains to him that this is a big deal. Toney Douglas earns himself some NBA cash along the way. Leonard Hamilton goes from iffy to coaching oracle.
Worst Case: Wisconsin has Florida State so well scouted, it's as if the Badgers were given the answers to a final exam. They shut down Douglas' creativity off the dribble and don't give him room to shoot from the perimeter, and the Seminoles are helpless without a heroic performance from their only double-digit-scoring performer. Hamilton goes back to being an iffy coach. Athletic department attempts to get some of his victories switched to Bowden's career records.

Wisconsin (12)
Best Case: Badgers throw the slow-down mojo at Florida State. They confuse Xavier with the swing offense. Marcus Landry scores in the paint, Jason Bohannon and Trevon Hughes score from the perimeter and Joe Krabbenhoft sets screens that take days to get around. The Badgers stroll unexpectedly into the Sweet 16 and give Pittsburgh fits before finally submitting in a 56-54 tussle. Big Ten fans pronounce the Badgers' run good for American values. Marquette loses in the first round.
Worst Case: Bo Ryan's lifetime streak of never beating a team seeded in the top half of the NCAA bracket continues when the Badgers are hosed by Florida State in the opening round. Lopsided loss calls into question the wisdom of giving a bid to a team that went 4-10 against the NCAA field, with exactly one of those wins away from home (at Michigan, Dec. 31). While Big Ten grieves, rest of the nation rejoices at the dismissal of unwatchable Wisconsin style. Marquette goes to the Elite Eight.

Xavier (4)
Best Case: Wearing warm-up shirts that say, "We Ain't No Stinkin' Mid-Major," Musketeers rediscover their pre-February mojo and blast through the bracket to the Final Four. They handle Portland State and Florida State, shoot the lights out to shock Pitt and then avenge a 2004 regional final loss to Duke. Somewhere, Romain Sato is smiling. Loss in Final Four to North Carolina is no shame. Big East, which clearly isn't tough enough, is so impressed it pulls a Catholic school switcheroo, dropping DePaul and adding Xavier. Sean Miller signs another contract extension.
Worst Case: Xavier team that refuses to be called a mid-major loses to a mid-major, upset in Round 1 by Portland State after traveling west into a geographically disadvantageous draw. Musketeers team that wobbled to a 5-5 finish once again cannot close out a close game, losing its last four decided by five points or less. Miller hops the first thing smokin' out of Boise to take the Virginia job.

Portland State (13)
Best Case: Jeremiah Dominguez, all 5-foot-6 and 160 pounds of him, becomes the cherished cherub of March when he leads the Vikings to the Sweet 16. The dangerous squad that upset Gonzaga and brings a six-game winning streak into the Dance stuns Xavier in the first round and then gets past No. 12 seed Wisconsin in Round 2. The Vikings are blasted in Beantown by Pittsburgh in the Sweet 16, but who cares?
Worst Case: Dominguez and his undersized teammates realize this isn't the Big Sky Conference anymore when athletic Xavier starts dropping alley-oop slams on their heads. Vikings are posted up, pounded down and picked apart in a game that's over by halftime. But at least it's a short trip home.

UCLA (6)
Best Case: Experienced Bruins find their tournament swagger at just the right time. Not even being shipped three time zones away to play a succession of teams closer to home can deter UCLA's defense from handcuffing VCU guard Eric Maynor, Villanova guard Scottie Reynolds and Duke wing Gerald Henderson. Bruins lose in the regional final to Ben Howland's old team, Pittsburgh, but that's a positive: It keeps them from being blown out in a fourth straight Final Four. Meanwhile, USC goes down in the first round.
Worst Case: UCLA team that is nowhere near as good as the previous three editions is inconvenienced by trip to Philadelphia, and even more inconvenienced by the athletic presence of VCU guard Maynor and center Larry Sanders. Bruins struggle to score inside and are dismissed in a single game, then watch USC unexpectedly vault into the second round. Despite a moderately underwhelming freshman season, guard Jrue Holiday goes pro.

Virginia Commonwealth (11)
Best Case: Guard Maynor tries on the Steph Curry Superman cape and finds out it fits for two games. Maynor lights up UCLA and Villanova before running out of gas against the team he eliminated two years ago, Duke. After taking the Rams to the Sweet 16, coach Anthony Grant says no to multiple job offers and signs a new contract to stay put.
Worst Case: Maynor cannot get untracked against sticky Bruins defense, and a team that was 6-6 in games decided by five points or less can't make the winning plays at crunch time against an experienced March opponent. Anthony Grant vacates Richmond within 12 hours of the Rams' return to town after a first-round ouster.

Villanova (3)
Best Case: Under-the-radar Big East power flexes its muscles, pounding American and VCU while taking advantage of absurdly friendly Philadelphia draw. The Wildcats wear down Duke and then beat Pitt for the second time this season to reach their first Final Four since winning the whole thing with the Perfect Game in 1985. Dante Cunningham finishes off NBA audition by averaging 20 and 10 on the way to Detroit, where Jay Wright looks flawless as the Wildcats beat North Carolina and then lose to Louisville for the third time this season in the final.
Worst Case: Nova is slowed down and taken out in the second round by UCLA, but that's only the beginning. Turns out Wright was doing his own NBA audition and takes a job in The Association. Guard Reynolds bugs out after his junior season for the pros as well. Rollie Massimino agitates to get his old job back. Even worse, so does Steve Lappas.

American (14)
Best Case: Deliberate, veteran team that has lost only once since Christmas refuses to rattle while playing Villanova in its hometown. Eagles ride the poise and mettle of point guard and Patriot League Player of the Year Derrick Mercer into the final minute against the Wildcats before falling.
Worst Case: American team that averaged just 51 points per game in three meetings (all losses) with teams from BCS conferences runs into similar brick wall against Villanova. Eagles score 16 points in the first half, 45 in the game and lose by 20.

Texas (7)
Best Case: Longhorns find some long-missing consistency. Forward Connor Atchley relocates his game. Dogus Balbay pushes the tempo. A.J. Abrams bombs away. The big men flex. Horns hook their way to the regional final before losing to Pittsburgh.
Worst Case: Team that hasn't won more than three in a row since the first half of December isn't going on any run now. Longhorns were just 7-7 down the stretch. They can't exploit Tubby Smith's tight defense and are taken down by the Gophers in the first round, their earliest exit from the NCAAs in four years. Texas A&M goes on unexpected run to the Sweet 16.

Minnesota (10)
Best Case: Tubby Smith has won 11 straight first-round games and that streak isn't going to stop now. With the customary TubbyBall defense, Gophers beat Texas and then shock Duke in the second round behind a big performance by freshman center Ralph Sampson III. Guard Lawrence Westbrook plays with improved decision-making. Smith turns down other jobs offers to stay in the Twin Cities.
Worst Case: Tubby's streak is toast. Gophers, who have won only four of their past 11 games, look like a team that's finished shortly after the opening tip, falling behind Texas by double digits and never threatening to win. Westbrook commits seven turnovers and shoots 4-for-15. Tired of shoveling snow, Tubby jets for Virginia or Georgia.

Duke (2)
Best Case: Mike Krzyzewski signs 12 new endorsement deals after capping off a pretty solid nine months with a gold medal and national title. Jon Scheyer, the third starting point guard of the season, sure-handedly pilots the Blue Devils past three teams to reach a regional final against Pittsburgh. Gerald Henderson outleaps Sam Young to send Duke to the Final Four, where it finds Syracuse instead of archrival North Carolina -- the Tar Heels lost when Tyler Hansbrough was called for traveling on the potential winning shot. Devils beat Orange, then take down Louisville in payback for 1986 title loss. Duke wins final over Rick Pitino with three-quarter-court pass and game-winning turnaround jumper by Kyle Singler.
Worst Case: Corporate sponsors gets a new pitchman after Devils lose to Texas in the second round, their fifth straight NCAA tournament of failing to live up to their seed. Greg Paulus gets dunked on by Damion James and Duke gets pushed around inside. Krzyzewski says he loves his kids, but later attempts to get loss charged to assistant coach Chris Collins' record. Carolina wins it all when Hansbrough makes hook shot after changing pivot foot three times. Henderson and Singler go pro.

Binghamton (15)
Best Case: Bearcats celebrate their first NCAA appearance by not fainting dead away against Duke. They stay in the game long enough that alum Tony Kornheiser writes a fat donation check at halftime, but the bandwagon breaks down in the final eight minutes. Guard D.J. Rivera, blackballed for postseason America East awards, makes an impression. Top-spinning announcers don't even mention recent New York Times story suggesting the school has sold its integrity for basketball glory.
Worst Case: Team that hasn't faced an NCAA tournament squad all season doesn't like the looks of this one and is overrun by Duke's pressure defense and transition offense. Pro-Duke crowd in Greensboro (shocking to see Duke playing in North Carolina) professes mock sympathy for Bearcats as the lead spirals. America East coaches all exchange celebratory text messages over the demise of their nemesis.
Pat Forde is a senior writer for ESPN.com. He can be reached at ESPN4D@aol.com.
NCAA TOURNAMENT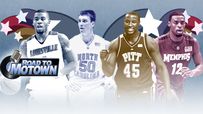 STORIES
INSIDER TOURNEY TIPS
SELECTION SUNDAY
VIDEOS
TOURNEY TOOLS
MOST SENT STORIES ON ESPN.COM