Commentary
Wildcats show they belong
Originally Published:
March 20, 2009
By
Pat Forde
| ESPN.com
MIAMI -- Before leaving the team hotel Friday, Russ Pennell climbed out of coaching tunnel vision and allowed himself a moment of context.
"This is pretty cool," he told his wife, Julie. "I'm going to an NBA arena to coach the Arizona Wildcats in the NCAA tournament."
[+] Enlarge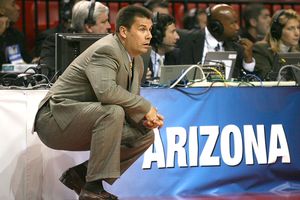 Marc Serota/Getty ImagesRuss Pennell couldn't have dreamed of this scenario five months ago.
It got cooler. Pennell related that anecdote in the winning locker room, stat sheet and a half-eaten chocolate-chip cookie in his hand.
He looked like the happiest guy in Bracketville.
Impossible to imagine five tumultuous months ago and improbable as recently as five days ago, Pennell had just earned his first Big Dance victory as a head coach. His Arizona Wildcats -- his Arizona Wildcats? -- rolled Utah 84-71.
Nice work for the backup interim coach who used to be the radio analyst for Arizona's archrival and was out of coaching a year ago. Pennell was hired as an Arizona assistant in May 2008, then fell into the head-coaching job when Lute Olson suddenly retired just as practice was starting in October and top assistant Mike Dunlap turned down the interim job.
Salvaging a season on the verge of disintegrating before it started was the first job. Arizona went 19-13 against an excellent schedule as Pennell and Dunlap coexisted well on the bench and in practice. (If you check most in-game huddles, Dunlap is doing as much talking as Pennell.)
But 19-13 looked as if it might not be good enough to get into this tournament, especially after the Cats lost five of their last six. Squeaking into the NCAAs as perhaps the final at-large team chosen was an unexpected bonus on Selection Sunday.
"We thought we were going to the NIT," guard Zane Johnson said.
"

Everyone says we didn't deserve to be in, but we proved we deserved it.

"

-- Arizona's Zane Johnson
Given a shot at the big tournament, Arizona shut up its critics in resounding fashion. They got this game in hand quickly and never surrendered control, leading for the final 37 minutes and 15 seconds.
"Everyone says we didn't deserve to be in, but we proved we deserved it," Johnson said. "We knew all along that if we got in, we could win."
Now the critics have no choice. The time has come for praising Arizona.
Said point guard Nic Wise, who scorched slower Utah for 29 points, to the Arizona doubters: "Thank you. It fueled us. … Hopefully, they filled out their brackets right."
Fact is, Vegas disregarded seeding and made this game pretty much a toss-up. But it really wasn't even that close. Arizona unleashed its pressure, trapping defense and knocked Utah back on its heels right away.
"We came out and hit them right in the mouth with our press," Johnson said. "We were flying around."
Pennell got his players flying with a little motivational tactic before leaving the locker room. Usually, the Wildcats go over the fine details of the scouting report after warm-ups -- but this time, they returned to the locker room and found that Pennell had wiped the board clean.
"You got it all in your minds," Pennell told his team. "Let's just go play."
Actually, that's what Arizona did. Looking completely unburdened by any expectation or pressure, the Wildcats broomed the last remaining representative of the Mountain West Conference out of the Dance.
[+] Enlarge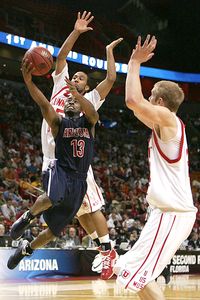 Marc Serota/Getty ImagesNic Wise was too much for the Utes to handle on Friday.
"We came into this game like we had nothing to lose," said Chase Budinger, who added 20 athletic points. "We're going to fly around, try to trap and kind of play chaotic."
It worked. And now Arizona becomes a dangerous second-round team, with three big-time talents (center Jordan Hill joins Wise and Budinger) and zero stress. Players who have careened through three coaches in three years -- Olson to Kevin O'Neill last year to Pennell -- are just riding the wave as far as it will take them.
"We want to make some noise," Johnson said.
The more noise they make, the more the background noise will reverberate with calls to make Pennell the full-time coach. That's a difficult call for athletic director Jim Livengood, who is trying to replace a legend at a place that has become accustomed to winning big.
Some of the names in the rumor mill during the season are huge ones: Tom Izzo, Tubby Smith, Rick Pitino among coaches with championship rings; Jamie Dixon and Mark Few among coaches who have become Top 25 fixtures at nontraditional locales.
Pennell? He has tried his best to keep his head down, keep working and not listen.
"That's probably been the biggest blessing of the year," Pennell said. "I really have not thought beyond game to game all year. With all the things going on around us, we had to stay focused.
"That's why we're all enjoying the fact that we don't have to think about it. Because when it ends, we do have to think about it."
The longer Pennell can go without thinking about it, the happier he'll be on his improbable trip to Bracketville.
Pat Forde is a senior writer for ESPN.com. He can be reached at ESPN4D@aol.com.
SPONSORED HEADLINES
ESPN TOP HEADLINES
MOST SENT STORIES ON ESPN.COM
NCAA TOURNAMENT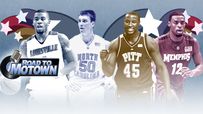 STORIES
INSIDER TOURNEY TIPS
VIDEOS
TOURNEY TOOLS