Commentary
Strange season has Cats in Sweet 16
While speculation on his replacement continues, Pennell keeps winning
Originally Published:
March 25, 2009
By
Pat Forde
| ESPN.com
From a coaching standpoint, the Midwest Regional has become the Sesame Street bracket.
One of these guys is not like the others. One of these guys just doesn't belong.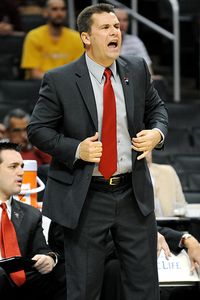 Chris Williams/Icon SMIRuss Pennell is surrounded by coaching legends in the Midwest Regional.
We have Louisville's Rick Pitino, who has taken five teams to the Final Four and won the national title in 1996. We have Michigan State's Tom Izzo, who has taken four teams to the Final Four and won the national title in 2000. We have Kansas' Bill Self, who took the Jayhawks to the Final Four last year and won the thing.
And then we have Arizona's Russ Pennell, who, ummmmm, well -- put it this way: If Pennell has been to a Final Four game in his life, it's with a ticket. And the closest he has come to a national championship would have been walking past the 1997 hardware in the Wildcats' trophy case.
Pennell has won 21 games as a college head coach -- 530 fewer than Pitino, 312 fewer than Izzo, 355 fewer than Self. In fact, every coach in this year's 65-team NCAA tournament field has won more games than Russ Pennell.
The comparisons get only more lopsided. On Friday night, Pennell will coach his first Sweet 16 game against Pitino, who is 8-0 in such contests.
Asked Tuesday whether he knew his adversary at all, Pitino politely and succinctly said, "No, I don't." That's because, until a chain reaction of bizarre circumstances, Pennell was every bit as well known as your average valet parking attendant.
Until May 2008, he had been out of coaching for four years -- working as a radio analyst and directing a basketball academy in Phoenix. Prior to that, he had worked under Rob Evans until he was fired at Arizona State and previously at Mississippi. And there was a two-year stint at Oklahoma State under Eddie Sutton.
Yet here he is in the Sweet 16, a man whose de facto job title is Coach Until He Loses. Now the trick is to beat a couple of coaching legends and remain employed as long as he can.
No matter what, that tenure doesn't figure to last past April 6. This isn't a Steve Fisher story, or a Steve Lavin story, or a Mike Davis story. No matter how well he has done in a difficult spot, the interim guy won't be rewarded with the full-time job.
Forde: Who Will Replace Russ?
A look at some of the names being tossed around to become the next coach of the Arizona Wildcats -- and not on an interim basis:
Dream names:
Rick Pitino, Louisville.
There were some back-channel inquiries to gauge his interest, and Pitino has been known to listen. But salary and facility limitations, plus family considerations, make it an extreme long shot that he'd leave Louisville for Tucson.
Tom Izzo, Michigan State.
He might finally be feeling some wanderlust after so much time in East Lansing. But it would take a lot to lure the Michigan native away from his home state, and the above-mentioned limitations might be a deal-breaker for him as well. Especially if Izzo could have his change of scenery
and
all the money and facilities he needs at, say, Kentucky.
Other big names:
Jamie Dixon, Pittsburgh.
He has roots out west, but that's not the only reason this job might appeal to him. Arizona is in an easier conference than the Big East, and the Wildcats are less obscured by the nearest NFL team.
Mark Few, Gonzaga.
It has been a great run, but it might be time to finally hit the eject button in Spokane. Time to see how the Cadillac programs live.
Tubby Smith, Minnesota.
His name has been out there way too much to believe he's completely happy and satisfied in the Twin Cities. And in a league that has become steadily more defense-oriented, Smith's style would work.
Next tier:
Mark Fox, Nevada.
Very good young coach who missed the tournament this season but has done an impressive job following Trent Johnson's footsteps.
Bill Grier, San Diego.
Former Few assistant whose team shocked Connecticut in the first round of the NCAA tournament last season, in addition to beating Kentucky in Rupp Arena. Not as much to brag about this season, but most basketball people are sold on his coaching ability.
Sean Miller, Xavier
. Operating on the premise that there's no way he'll stay in the Atlantic-10 forever, why not ask?
"I think we can win it all, and he still won't get it," said Pennell's dad, Dewey, who is his son's director of basketball operations. "That's not sour grapes or anything; that's just the way it is. He was told from the get-go they were going to conduct a national search."
(Ironically, two of the names who have popped up in speculation about that national search share the Indianapolis bracket with Pennell. One is Pitino; the other is Izzo. It's reasonable to assume some communication has been made with representatives of both coaches, but it's also believed that Arizona cannot pay either of them the break-the-bank salary it would take for them to leave their current positions.)
And while that search continues, the stopgap coach and his inherited players will continue enjoying and elongating the moment. An Arizona season that began in chaos has become one of the better feel-good stories of the year.
"You couldn't turn it into a miniseries because nobody would believe it," Wildcats athletic director Jim Livengood said.
This run does defy belief. The plotline that brought us here:

• Legendary coach Lute Olson takes a leave of absence in 2007-08, turning over the team to top assistant and former longtime head coach Kevin O'Neill.
• Toward the end of the season, Olson reasserts himself, making it clear he will come back and that O'Neill -- and the rest of his former staff -- will not.
• Olson hires an all-new staff, with Mike Dunlap as his top assistant. In May '08 he also hires Pennell, who at that time was operating a basketball academy in Phoenix and also was the radio analyst for rival Arizona State.
• On the eve of practice in October, Olson unexpectedly retires. Recruits begin diving overboard for other schools.
• Arizona reaches out to Dunlap, a former NBA assistant and title-winning coach at Division II Metro State, to take over as interim coach. He declines, basically telling the school to hire him full time or forget it. Arizona forgets it, but Dunlap remains on staff.
• Arizona turns to Pennell and says, surprise, you're in charge of our powerhouse program and Top 25-caliber team.
• After an up-and-down season that finished with five losses in the Wildcats' last six games, they are controversially awarded what is generally considered the last at-large berth in the field. Widespread criticism follows. Then Arizona silences the critics by winning two games and advancing to Indy.
"It's very unique," Dewey Pennell said. "None of us asked for it."
That has been the echoed refrain from players and coaches alike all season, and it was the line the coaches used to try to keep the team from fracturing: We all were thrown into this together, so let's make the best of it.
Nobody has made better use of this opportunity than Pennell. He has leaned heavily on Dunlap, whose presence in huddles and along the sideline is prominent, but he also has carried himself superbly as the front man for the program.
"Russ is doing a great job," Livengood said. "He's handled it all very well."
You could say he was born for a job he got only by accident.
[+] Enlarge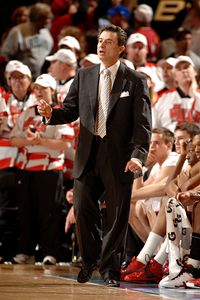 Mitchell Layton/Getty ImagesRick Pitino to Arizona? It would be a dream scenario for Wildcats fans.
Dewey Pennell coached high school basketball for 40 years in Kansas, Missouri and Arkansas. He also was head coach for a year at a small college and headed an exhibition team that traveled around playing colleges. He began dragging Russ to the gym with him when he was old enough to walk.
"He's been a gym rat, I guess you could say, all his life," Dewey said. "He would always play against bigger guys. He was a little bit chubby in middle school, and I worried whether he'd ever be a player, but then he slimmed down and became a pretty good one."
Russ played one year at Arkansas under Eddie Sutton, then transferred to Central Arkansas and played with Scottie Pippen. When it was time to get into coaching, he reunited with Sutton at Oklahoma State and then began working for Rob Evans -- first at Mississippi, then at Arizona State.
"He has been learning his whole life," Dewey Pennell said.
Much of what he learned came from his dad, which is why Russ hired him. So even if Russ Pennell never becomes a head coach again, he can at least say he went through his only season as the boss with his dad alongside as director of basketball operations.
At many schools, the "ops guy" is a twentysomething hustler trying to break into the profession and tasked with everything from travel logistics to the head coach's dry cleaning. At age 70, that's clearly not Dewey's role.
He watches practice but cannot coach on the floor. Yet that hasn't stopped him from occasionally barking at a player when he comes to the bench, or offering his opinion in coaches meetings.
One of those opinions proved prescient. During Arizona's late-season slide, Dewey Pennell said, somewhat out of the blue, that the Wildcats looked like a Sweet 16 team to him.
As Russ said later, "I looked at him and thought, 'Man, are you crazy or what?' But it wasn't a bold prediction. It wasn't a flippant deal. He's been around basketball a long, long time, and he just saw the potential and what this team is capable of."
Potential is now reality. After an endless succession of plot twists, Arizona and its coach of the moment are still playing.
As Russ Pennell said after the Wildcats beat Cleveland State in the second round to advance to this game, "The only thing that's negative about today is we're one day closer to the end of the season."
Pat Forde is a senior writer for ESPN.com. He can be reached at ESPN4D@aol.com.

MOST SENT STORIES ON ESPN.COM