Commentary
Numbers don't lie for Big Ten
Originally Published:
August 28, 2009
By
Pat Forde
| ESPN.com
On the January night in 2003 when Ohio State stunned Miami and won the national title, the Big Ten seemed poised for a renaissance.
[+] Enlarge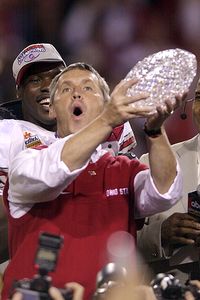 AP Photo/Lenny Ignelzi Ohio State's title in 2002 was supposed to the be start of great things for the Big Ten.
The Buckeyes were back under Jim Tressel, and that wasn't all. Michigan and Penn State were their usual selves, rolling up 10 and nine victories, respectively. Iowa went 11-2 that season. Wisconsin and Minnesota each won eight games.
Surely, those schools and others in the league would rise to meet the Buckeyes at or near the summit.
Six humbling seasons later, Ohio State is still waiting for backup.
Yes, there have been high points for the rest of the conference: Iowa's 20 victories in 2003 and '04 combined; Penn State's 11-1 mark in 2005; Michigan's 11-2 and Wisconsin's 12-1 records in '06; Illinois' 2008 Rose Bowl berth; Northwestern and Michigan State each winning nine games last year.
But beyond the Buckeyes, every single program in the Big Ten has had at least one big bust of a season.
Ohio State has not ranked lower than No. 21 in the Sagarin computer ratings in any of the past six seasons. The other 10 teams in the league have ranked in the lower half of the FBS nationally at least once during that time.
Michigan had its 3-9 train wreck last year, finishing 95th. Wisconsin threw in a 7-6 clunker last season against a soft schedule to finish 61st. Iowa was 79th in 2007. Penn State was 71st in 2003 and 63rd in '04. Purdue slid in its final years under Joe Tiller, finishing 62nd in 2006 and 78th last year. Michigan State had a couple of rough seasons under John L. Smith, ranking 66th in 2004 and 80th in '06. Minnesota cratered in 2007, winning one game and finishing 123rd. Northwestern is justifiably proud of earning three Big Ten titles since 1995, but it was No. 93 in the Sagarin ratings in 2006 and No. 86 in '07. Illinois has been higher than 68th only once in the past six years. And Indiana -- where they're now selling league home games to the highest bidder -- has failed to crack the top 70.
Compare that to the other leagues, and you'll see a consistency problem.
Five schools in the Big Ten's nemesis league, the Southeastern Conference, have ranked in the top half of the FBS nationally all six years: Florida, LSU, Georgia, Tennessee and South Carolina. Three of them -- Florida, LSU and Georgia -- have done what the Buckeyes have done, ranking in the top 30 every season.
[+] Enlarge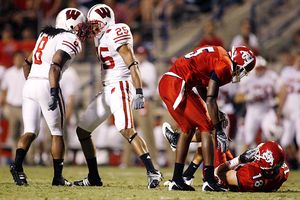 Cary Edmondson/US PresswireWisconsin's three-point win over Fresno State was the highlight of the nonconference season.
But it's not just the SEC. The Big 12 has had three teams permanently in the upper half since 2002: Oklahoma, Texas and Texas Tech. The Pac-10 has had four: USC, California, Oregon and Oregon State. The Atlantic Coast Conference, the Lake Woebegon of college football (where everyone is above average), has six: Florida State, Maryland, Clemson, Georgia Tech, Virginia Tech and Boston College. (The Hokies and Eagles spent part of that period in the Big East.) And even the trod-upon Big East can match the Big Ten with one team perennially in the national top half in West Virginia.
Tressel is not the type of guy to throw the rest of his league under the bus, of course.
"I don't know that anyone in our conference has an inferiority complex," he said. "We line up toe-to-toe with anybody in the country."
But then the conference goes toes up against the big boys.
The Big Ten has had only three teams finish in the Sagarin top five in the past six seasons -- and none since 2006. That has been doubled by the Pac-10 (six -- all USC) and more than doubled by the SEC (seven) and Big 12 (seven).
Similar results when you expand it to the top 10: The Big Ten has eight top-10 finishes, while the SEC and Big 12 have 12 and the Pac-10 has 10.
And then there is the league's bowl record: 1-6 last year, 3-5 the year before that. This is the one place where Ohio State has not done the league any favors, losing its past three bowl games and past four nonconference regular-season and postseason games against ranked opponents by a combined 76 points.
"Until we win the bowl games and out-of-conference games," said Illinois coach Ron Zook, "there's not much we can say. … There's no question that Ohio State can play with any team in the country, and any league in the country. But standing up and saying it is different than going out and doing it."
The other problem is that the Big Ten has played few marquee nonconference opponents in recent years. That makes the rare heavyweight games all the more magnified -- such as Ohio State's 35-3 mauling from USC last season in Los Angeles.
[+] Enlarge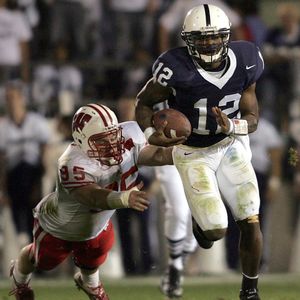 Brad Smith/US PresswireMichael Robinson and Penn State finished No. 4 in the Sagarin ratings in 2005.
Last season, nobody in the Big Ten played a top-40 schedule, according to Sagarin -- nobody. There were four games against ranked nonconference opponents during the regular season, and the league went 1-3, with the lone high point being Wisconsin's 13-10 victory over a Fresno State team that would finish the season 7-6.
Factor in the bowl games, and its record against ranked nonleague opponents shrank to 1-7.
Part of the bowl problem the past two seasons is the fact that the Big Ten really didn't deserve the two BCS bowl berths it got. No way Illinois should have played in the 2008 Rose Bowl, where it was summarily trampled by USC. And although Ohio State played nobly in defeat against Texas in the 2009 Fiesta Bowl, the Buckeyes were not a great team last season.
Getting a second BCS slot effectively bumped everyone else in the league up one level in the bowl pecking order, producing multiple underdog scenarios -- and, ultimately, multiple defeats. The extra money and exposure of playing BCS bowls is nice, but it can be hard on the win-loss record.
"All the negative perception of the Big Ten regarding bowl wins, all it's going to take is one or two big wins and that will go away," Michigan coach Rich Rodriguez said. And he should know. When his West Virginia Mountaineers upset Georgia in the Sugar Bowl in 2006, it gave the Big East an immediate credibility injection.
There will be opportunities for the Big Ten to get its credibility boosts this season -- and not just at bowl time. An inexperienced USC team will go to Columbus on Sept. 12. Notre Dame should be ranked when it plays Michigan in Ann Arbor the same day -- and could offer up a ranked target to both Michigan State (Sept. 19) and Purdue (Sept. 26). Minnesota will welcome what should be a highly ranked California team to its new campus stadium Sept. 19 as well.
But until some of those opportunities turn into victories, the Big Ten isn't offering its flagship Buckeyes much support.
Pat Forde is a senior writer for ESPN.com. He can be reached at ESPN4D@aol.com.
2009 College Football Preview

Will Florida repeat as BCS champion? Which teams will surprise? Who'll walk away with the major awards? ESPN.com's 2009 college football preview has the answers.
The National Scene
Big 12 Preview
ACC Preview
Notre Dame, MAC & Sun Belt Preview
SEC East
SEC West
Pac-10
Big East
C-USA, MWC and WAC Preview
Big Ten Preview
MOST SENT STORIES ON ESPN.COM