Commentary
Risk not worth the reward for Florida
With or without Tebow, win or lose versus LSU, the Gators will stay in the title hunt
Updated:
October 9, 2009, 12:36 PM ET
By
Pat Forde
| ESPN.com
As a nation of armchair neurologists anxiously follows Noggin Watch toward its dramatic Saturday conclusion, my own gray matter keeps recycling the same thought:
[+] Enlarge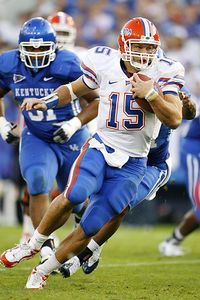 Andy Lyons/Getty ImagesRunning could be safer for Tim Tebow than staying in the pocket.
Florida doesn't have to play Tim Tebow against LSU.
If he's got a 100 percent clean bill of health and the phalanx of involved parties agrees he's fine (coach Urban Meyer said there were 12 people in the room Monday to discuss Tebow's concussion recovery), do it. No more interested party than Bob Tebow, Tim's father, said that if his son were cleared to play -- and he stressed Thursday afternoon that the decision has not been made -- he would not spend Saturday wincing at Tim's high-impact playing style.
"I'm not worried," Bob Tebow said.
But if there's even a hint of doubt, hide the guy's helmet and hold him out.
To ESPN analyst Merrill Hoge, who had four diagnosed concussions during his career as an NFL running back, including one so severe he said it took two years to fully recover, the biggest mistake he made was coming back too soon.
"That's the greatest danger," Hoge said. "I would have absolutely no concern whatsoever as long as he's been cognitively asymptomatic, at rest and under exertion, for seven consecutive days -- underline consecutive. If everything's back to normal, go get 'em. But if on day six he looks bad in practice or forgets things in the huddle, it would be foolish. Foolish.
"If there's the slightest hesitation, don't do it."
Tebow's game plan
Florida quarterback Tim Tebow should not forsake his wrecking-ball running style for fear of future concussions. That's the opinion of a former NFL star running back with a history of concussions and Tebow's dad.
"Being aggressive is safer than being passive," said ESPN analyst and former Pittsburgh Steeler Merrill Hoge. "You're more likely to get injured when you're passive."
Bob Tebow said doctors told him that a quarterback is more likely to take a concussion-inducing hit in the pocket than on the run.
"As the doctor explained to me, if he's running and he braces for a hit, there's less chance of being injured because he knows it's coming and he's braced for it," Bob Tebow said. "It's when you don't see it and you're not braced for it, that's when you can get a concussion. In the pocket, I think that's where quarterbacks take their most licks."
Hoge said he doesn't expect the 6-foot-3, 240-pound Tebow to become a feet-first slider when running the ball, but that coach Urban Meyer might counsel him "that it's OK to surrender sometimes."
"If it's second and 10 and you run for five yards, it might be better to go down and play the next down instead of fighting for two more yards and taking more hits," Hoge said.
-- Pat Forde
That would be the right thing to do morally, and it's hard to imagine Meyer's not acting in the best interests of a player he absolutely adores. Hopefully he would act in the best interests of Florida players he doesn't adore, too.
Erring on the side of caution also would be the right thing to do strategically, looking at the season as a whole. Because as big as this game is, the national championship will not be won Saturday night in Tiger Stadium. Nor, most likely, will it be lost there.
Nobody knows better than Meyer that a midseason loss is not fatal to national title aspirations. Last year the Gators lost the fourth game of the year, to Mississippi, and won it all. In 2006 they lost the seventh game of the year, to Auburn, and won it all.
A loss in Baton Rouge would ratchet up the pressure for the rest of the year to maximum levels, but Florida has been there and survived that. It likely also would strip the Gators of complete control of their own destiny, but that's a familiar storyline in Gainesville as well.
If Florida were to lose respectably on the road to the No. 4 team in the country without the 2007 Heisman Trophy winner and 2009 Heisman Trophy front-runner, the penalty in the polls would be minimal. The bigger problem could be the computers.
They don't love the Gators much at this point -- Florida is 10th in the version of the Sagarin Ratings used by the BCS, for example. And given the relatively uninspiring schedule to come (average Sagarin rank of their remaining seven opponents is No. 46) the love might not grow much between now and Thanksgiving.
But the make-good moment could be the SEC title game, perhaps against a No. 1-ranked Alabama or LSU. If Florida were to win that game to finish 12-1, with its only loss coming against a quality opponent without the player some say is the best in college football history, it would be hard to keep the Gators out of the BCS title game.
Some supposition on a one-loss Florida's potential competition for the two most coveted spots in college football:
An undefeated Texas would probably be a shoo-in BCS championship game choice -- if the Longhorns can accomplish the feat. Beyond that it gets iffy.
I have a hard time seeing either of the two Big Ten unbeatens, Iowa and Wisconsin, remaining that way. And Florida would win any beauty contest with a one-loss Big Ten champ.
It probably also would win a beauty contest with the champion of the Big East -- even an undefeated champion. That would leave, as theoretical challengers, the Pac-10 and ACC champs -- say, USC and Virginia Tech. (Apologies to Boise and TCU, but even unbeaten you wouldn't get in ahead of one-loss Florida.)
If the Gators were to beat Alabama for the SEC title in the very building where the Crimson Tide beat the Hokies to start the season, it's advantage Florida.
Southern Specials

The SEC is the place to be in Week 6. From No. 3 Alabama at No. 20 Ole Miss to No. 1 Florida at No. 4 LSU, Chris Low's keeping up with it all. SEC blog

• Crimson Tide-Rebels | Gators-Tigers

A compare/contrast with USC might be what it comes down to. If the Trojans win out, they would have road victories over Ohio State, Notre Dame, Oregon and California. And like Florida, they'd have a compelling injury excuse for the one loss, after quarterback Matt Barkley and All-America safety Taylor Mays did not play at Washington.
Then again … nobody said the Gators cannot win Saturday without Tebow.
His replacement would be John Brantley, and he's not exactly Rudy Ruettiger. He was a hotly recruited high school stud who some think will be the next Florida great at that position once Tebow ascends to a higher calling and/or higher pay scale.
The question is whether Florida can remake its offense on the fly for this game. A bye week certainly helped Brantley get adjusted to practice with the first team, but he's a wholly different quarterback from Tebow -- more pocket passer, less battering-ram freelancer.
Personally, I think Florida stands a pretty good chance of beating LSU without Tim Tebow and a very good chance of winning with him.
But there is no reason to take a chance. Not for Tebow's health and not for the quest to repeat as national champion.
Pat Forde is a senior writer for ESPN.com. He can be reached at ESPN4D@aol.com.
SPONSORED HEADLINES
ESPN TOP HEADLINES
MOST SENT STORIES ON ESPN.COM