Commentary
Collins comes through for KU late
Originally Published:
January 30, 2010
By
Pat Forde
| ESPN.com
MANHATTAN, Kan. -- On a tense and terrific night that reinforced why the college basketball regular season really is must-see TV, it all came down to big onions in the Little Apple.
[+] Enlarge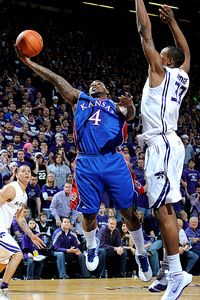 Peter G. Aiken/Getty Images Sherron Collins scored the layup in overtime that handed Kansas an overtime victory at Kansas State.
They belonged to Sherron Collins, the Kansas guard who scoffs in the face of fear and thinks pressure tickles.
Legs cramped and ears ringing from the Bramlage Coliseum audio assault, Collins shrugged it off and banked in a driving hoop with 9.2 seconds left in an 81-79 overtime win against bitter in-state rival Kansas State. The fact that it went through the net as he was being knocked to the ground by K-State's
Wally Judge
only adds to the squatty senior's rep as the team's Mr. Big Shot. He's not the best player in America, but he might be the most fearless. "I want Sherron taking the shot," said
Cole Aldrich
, who was large in his own right with 18 points and 11 rebounds. "I love Sherron. I've got all the confidence in the world in him." In moments that send other players scurrying to the periphery, just give Collins the ball. Whatever happens, he can handle the fallout. You might remember his role as a sophomore in the Jayhawks' endgame heroics in the 2008 national championship game. Their comeback from seven points down to Memphis in the final two minutes started when Collins made a steal and a 3-pointer. And he was the guy who advanced the ball and dished it to Chalmers for his 3. Last year in March he didn't make the big play when the Jayhawks were playing Michigan State in the Sweet 16. In the final 81 seconds of a tie game, Collins missed a field goal and a front-end free throw, committed a key foul and made two turnovers. The Spartans won and went on to the Final Four, while Kansas went home. He struggled at the end of regulation Saturday night, too, falling and being fleeced of the ball as Kansas worked for a potential game-winning shot. Collins sat out for 1:44 of overtime after hobbling off with leg cramps. You think those moments dented Collins' confidence? Please. Coach Bill Self told his team all week this was a "man's game," and he had the guy who was man enough to ice it at the end.
[+] Enlarge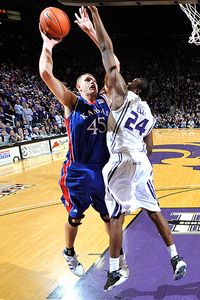 Peter G. Aiken/Getty Images Cole Aldrich scored 18 points and grabbed 11 rebounds in the Jayhawks' win.
With his team clinging to a one-point lead at the end of OT, Collins went to work. He turned the corner off a high screen, drove down the right side of the lane and shot-putted the ball from his shoulder, arching it high over Judge and off the window.
Collins missed the ensuing free throw, but Aldrich grabbed the rebound and Morningstar made the clinching free throws with 4.3 seconds left. "Sherron can play poorly, can play great," said Self, "but regardless of the situation he can usually make a positive play when it matters most." Collins did it when it mattered earlier in the second half as well. The Wildcats had gone on a 15-3 run to take a 49-45 lead that would be their largest of the game. The Octagon of Doom -- which had gotten more hype recently than Octomom -- was deafening. That's when Collins swished a deep 3. On KU's next possession he drove for a layup that returned the lead to the Jayhawks and returned the K-State fans to their seats. Just like that, the Octagon was no more annoying than a stop sign.
In the first half, Collins was just 2-of-7 from the field. Second half and OT: 5-of-7. Aldrich, Tyshawn Taylor and Brady Morningstar all made key plays -- many of them while Self was burying touted freshman Xavier Henry on the bench -- but Collins was the go-to guy.
"Not too many other guards would the coach give the keys and just say, 'Go with it,'" said Kansas State's Jacob Pullen.
With 22 points and five assists, Pullen did his best to upstage his fellow Chicago-area guard. Those numbers are even more impressive when you consider that Pullen had to "drop lunch," in K-State coach Frank Martin's words, on the bench early in the game.
[+] Enlarge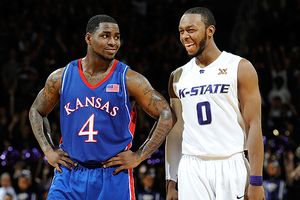 Peter G. Aiken/Getty Images Jacob Pullen did his best to upstage fellow Chicago-area guard Collins, finishing with 22 points for Kansas State.
"I had to throw up a little," Pullen acknowledged. "But I can't sit there and complain. This is the type of game I probably could've broken something and I'd still try to play." It was the essence of a big regular-season game. And yes, there are such things in college hoops. Too many fans want to tune out the regular season and suddenly discover the sport in March. If they do, they miss classic games in classic environments like this. "Toughest atmosphere I've played in," Collins said. Stoked to host ESPN's GameDay for the first time and enthused by the spreading rep of their home-court advantage after upsetting Texas, the Kansas State crowd was crazed. After putting 8,000 fans in the stands in the morning for the GameDay broadcast, virtually all of the students ran back outside the gym and lined up seven hours prior to tipoff to get in again. But despite the noise and the spirited effort of an impressively athletic K-State team, Kansas could not be beaten. Texas has swooned and Kentucky was beaten by a one-man team and Syracuse barely survived at DePaul -- but the Jayhawks have stayed unbeaten through six Big 12 games. Next up: A return engagement at No. 1. But that doesn't excite the Jayhawks as much as a two-game cushion in the Big 12 standings -- or as much as walking out of the Octagon of Doom with an overtime victory. "You're going to get done playing basketball, and you're going to look back and say, 'I loved playing that game,'" Aldrich said. And he loved having Sherron Collins and his onions alongside at winning time.
Pat Forde is a senior writer for ESPN.com. He can be reached at ESPN4D@aol.com.

MOST SENT STORIES ON ESPN.COM