Dead even with two to play ...
BOSTON -- Robert Redford, his familiar face etched with more lines than Fenway's just-cut outfield grass, approached me as I stood only a few feet away from the dugout steps. The first pitch of Friday evening's Yankees-Red Sox series was 77 minutes away.
"Magical, isn't it?" said Redford, surveying the pregame scene at baseball's oldest ballpark. He tugged at the bill of his wool tam-o'-shanter. "Utterly magical."
I nodded, not wanting words to ruin the moment. Then I couldn't help myself. I had to ask.
"What was the deal with you and that movie, 'Legal Eagles?' That flick was Purina Dog Chow."
No, not really.
Redford was here, but he didn't stick around to chat. Instead, the 68-year-old actor posed for a photo with Yankees center fielder Bernie Williams and then left the field. Wallflower Bill O'Reilly (much taller in person) was here too, schmoozing with someone in Yankees road gray. And Wade Boggs, whose Hall of Fame plaque in Cooperstown features a Red Sox cap, was here to throw out the first pitch. Of course, he did so wearing the World Series ring he won as a member of ... the 1996 Yankees.
Everyone was here, and if they weren't, they were outside this perfect senior citizen of a ballpark happily peeling Benjamins from their money clips. Can you blame them? After all, this is a three-game series where tradition, drama, and the final weekend of a season have intersected to create something beyond special.
You didn't need a newspaper agate page to do the pregame math. Near the left-corner base of the Green Monster were the easy-to-read numbers: New York 94-65, Boston 93-66. Six months and 159 games ... and only one game separated the rivals.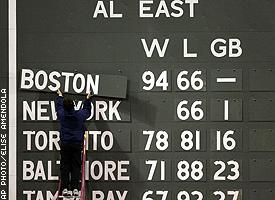 AP photoAlphabetical adjustment: The AL East can't get any tighter.
No longer. Boston's 5-3 victory was barely five minutes old when a member of the grounds crew appeared with a red metal ladder, climbed up the steps, and quickly adjusted the standings. Even though the two teams are tied, the guy from the grounds crew made sure to flop the names in the standings.
"After all these games we've played, we've played ourselves into a situation where it comes down to two games," Red Sox manager Terry Francona said afterward. "That's just the way it is."
Never mind what the schedule says, this is a playoff series. The only thing missing is stadium bunting. Otherwise, all the usual postseason items are in place: a Fenway Park so crammed with fans that it had stretch marks (consecutive sellout No. 224), a media horde so large that officials roped off the area around the batting cage, and, of course, a return to Boston's favorite October pastime -- hotel price gouging.
It wasn't always like this. Boggs, who played here for 11 seasons, from 1982 to 1992, recalls a time when the Red Sox's fiercest rival was the Toronto Blue Jays. And the Yankees?
"They weren't even a blip on the radar screen," said Boggs, who wore a Red Sox home jersey over a sweater so ugly that it deserved entry into the garment protection program.
The Yankees now have a $200-million-plus payroll that blackens the Doppler. But Boston knows how to use its wallet too, which simply adds to the intrigue. That, and Bucky Dent, Pedro and Zim, A-Rod and Varitek.
Boggs walked onto the field Friday evening and had to be treated for goose bumps. He picked up three stones near third base and tossed them over the foul line. Habit, from his playing days. Hand him a piece of chicken and he would have eaten it.
Boggs has his Hall of Fame ring, his 3,000-plus hits, his World Series championship, but he would have given anything to be part of this series. Even in street clothes he knew what the Yankees and Red Sox were feeling.
"There is no hype," he said. "You don't have to hype it up. You feel it. You walk into the clubhouse. You get into your car to drive to the ballpark. You get the paper in the morning. As a player you feel it. It singes you up a little bit. You come to the ballpark and know, 'Hey, in three days we either go home or go to the next step. Hey, this is big time right here. The next three days, big time.'"
Friday night's game won't earn a shelving unit in Cooperstown. The Yankees committed two errors, squandered assorted scoring chances and could only nick Red Sox starter (and former George Steinbrenner employee) David Wells for three runs. Meanwhile, Boston could only manage four hits and had some interesting base-running experiences.
But when it mattered most, Wells did what he was brought to Boston to do: win oversized games -- with an assist from the much-maligned Red Sox bullpen, which put the glove on New York in the eighth and ninth innings.
"The stage isn't too big," said Francona, when asked to describe Wells in must-win games.
Asked if the Red Sox were concerned at the season's beginning about Wells', uh, conditioning, Francona said, "We didn't bring him in to run a marathon."
But that's what the Red Sox and Yankees are in, a 162-game race where the finish line could conceivably be moved to Monday or even Tuesday. That's because the playoff scenarios are the stuff of cluster headaches.
All Wells knows for sure is that the Red Sox are tied for first, and that Steinbrenner's likely reaction to Wells' 15th victory of the season was, "Son of a bitch!"
"If we lose tonight," Wells said, "then it's not going to look good."
The Series To Remember resumes Saturday, with Boston's Tim Wakefield facing Randy Johnson. No word if Redford will attend. Not that it matters to Francona.
"How does dead-even feel with two to go?" said Francona. Short pause. "Dead even."
The way it should be.
Gene Wojciechowski is the senior national columnist for ESPN.com. You can contact him at gene.wojciechowski@espn3.com.
Columnist / College Football reporter
ESPN.com senior national columnist
Joined ESPN in 1998
Author of "The Last Great Game"
MOST SENT STORIES ON ESPN.COM