Bush to depart one game too late for Horns fans
After USC puts, oh, a 31-24 branding iron on Bevo's rear end Wednesday night in the Granddaddy, the next time we'll see Reggie Bush in football attire will be at an early May NFL minicamp. And if we don't, that means one of two things happened: Bush did a Willis McGahee in the Rose Bowl and spaghetti-strained his knee, or Bush did a Matt Leinart and announced he's returning to USC for his senior season.
Injuries, of course, are an occupational hazard. ACLs happen. But if Bush decides to run for USC reelection in '06, then coach Pete Carroll ought to personally paper shred the kid's scholarship, demote him to the scout team and make him wear a long-sleeve Song Girl sweater around campus -- anything to force the junior running back to turn pro.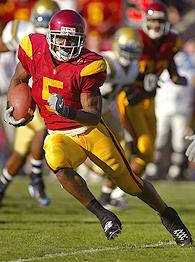 Christian Petersen/Getty ImagesReggie Bush will make a living carrying the ball next season.
Bush doesn't belong in Division I-A anymore. He belongs in the AFC South Division, where he can energize the Houston Roadkill much like he energized the Trojans this season. Sure, he can come back and probably earn another Heisman Trophy, but how many door stops do you really need in life? As it is, he'll spend the rest of his days being introduced by his new first and middle name:
Heisman Winner
No, Bush is gone after the Rose Bowl. That's a given. This silliness about wanting to focus on the national championship game is somebody's lame-o idea of spin control. Just once I'd like to hear a player deep-six the prebowl speech about not having decided to turn pro yet, and say what's really on his mind.
"I love my teammates, but me and my letterman's jacket are out of here. I've eaten my last postgame boxed meal, attended my last class and watched the campus bookstore jack up the prices on my replica jerseys for the final time. Time to play for pay."
Instead, we get this stuff about concentrating on the Rose Bowl, which is fine. But make no mistake: Bush's situation bears no resemblance to Leinart's of a year ago. Bush is a guaranteed No. 1 or 2 pick in the NFL draft. Leinart, who couldn't throw last winter because of an injured elbow, was less assured of an early draft day handshake with commish Paul Tagliabue. It's a lot easier to be Joe College when you can't complete a long down and out.
I've covered college football long enough to know I can count on one hand the number of players who made my eyes bug out. Barry Sanders gets a finger. So does Bo Jackson, Rocket Ismail, Michael Vick. And Bush. If I'm a Longhorns linebacker, I'd rather cry on "Oprah," marry an Aggie or wet my pants than try to tackle Bush in the open field.
No matter what happens in the BCS Championship, spend at least 10 plays watching Bush, and only Bush. Years from now you can tell your grandchildren about it.
Cedric Benson, a former Longhorn tailback who finished sixth in the 2004 Heisman balloting (just behind Bush), has been watching. Benson picks -- surprise! -- Texas to upset USC ("I got to ride with my boys," he says. "I gotta represent."), but he can't argue with the 2005 Heisman results.
With all due respect to UT quarterback Vince Young, says the Chicago Bears rookie running back, "I think they picked the right guy."
Benson doesn't know Bush, but he knows what he's thinking these days. Benson thought about turning pro after his junior year. "But really in my heart … I wasn't ready for the game," he says. "I wasn't ready."
So Benson stayed put, rushed for more than 1,800 yards, finished sixth in the Heisman, was drafted fourth overall by the Bears, held out 36 days, played eight games, started one, got hurt, and is iffy for the playoffs. So he knows stuff. Running back stuff. He knows Bush will play his last collegiate game Wednesday night.
"What more is there for him to do?" asks Benson, whose last varsity game was at the Rose Bowl, too. "I think it's time for him to move on. I'm sure he feels the same way. You feel it. It's like a light comes on, or something."
As a professional courtesy, Benson offered Bush some advice about the next level. His top five tips (in honor of Bush's jersey number):
• On NFL bottom lines:
"No. 1, first and foremost, it's a business. You're answering the business world. You're no longer in college where you have support that is offered for free, that is offered willingly. You're answering the real world as it really is. Nobody is there to pick you up when you slip."
• On competition:
"The game doesn't change. Not at all. It's still football out there. Just because it's the NFL, the game doesn't change. It's a little faster."
• On first impressions:
"Always remain the way you've always been. You're going to be around new people. Try your best to stay humble."
• On holding out, if necessary:
"I'd definitely tell him it's worth it. Don't hinder yourself, but don't take what's handed over, either. He's got a long career. This is going to be your life for a while."
• On predraft interviews with prospective teams:
"Be yourself, man. Be businesslike about yourself. That's the way I handled it. Put everything on the table. Be up-front."
But first comes the most anticipated game of the year/decade/epoch. Which is why Longhorn followers have a simple request of Bush:
Any way you could declare before kickoff?
Gene Wojciechowski is the senior national columnist for ESPN.com. You can contact him at gene.wojciechowski@espn3.com.
Columnist / College Football reporter
ESPN.com senior national columnist
Joined ESPN in 1998
Author of "The Last Great Game"
SPONSORED HEADLINES
ESPN TOP HEADLINES
MOST SENT STORIES ON ESPN.COM