Seeking answers in a world full of questions
Questions that must be asked:
Why was Michelle Kwan at the Olympics in the first place?
Nothing against Kwan, who simply followed the petition rules of the U.S. Figure Skating Assn., but unless she was buying a Fiat direct from the Torino plant, she shouldn't have been in Italy.
Suffer an injury before the U.S. Olympic Trials in, say, swimming, and you're watching the Games on NBC. Chris Thompson, a bronze medalist in the 1500 freestyle at the 2000 Sydney Games, fractured his elbow 10 weeks before the '04 trials. He gutted his way to the finals, but finished seventh. Only the top two advance to the Summer Games.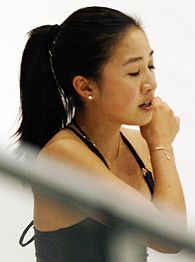 AP Photo/Kevork DjansezianMichelle Kwan pulled out of the Olympics and left Torino because of an injury.
That's how it goes. At least, that's how it ought to go. Injuries are part of the sports equation.
But based on her résumé and a "monitored" skate where she was deemed fit and fabulous, U.S. Ice Skating gave Kwan a trials mulligan. The federation and Kwan meant well, but it is a loophole that ought to be sewn tightly shut.
---
If Sammy Sosa signs a non-guaranteed contract with the Nationals, will he remember how to speak English?
The last time Sosa was in Washington -- at a congressional hearing on steroid use -- the formerly bilingual outfielder suffered a severe bout of English amnesia and had his lawyer read his opening statement.
Now comes an ESPNdeportes.com report that His Samminess is considering retirement rather than "humiliate" (not my word, but the word used by a source close to Sosa) himself by accepting a non-guaranteed $500,000 contract stuffed with incentives.
Memo to Sosa: You didn't seem too humiliated last season when you pulled down $17 million-plus, missed 60 games, hit .221, and had just 14 home runs, 45 RBI and 39 runs -- the fourth consecutive year your games played, homers, RBI, runs, hits and slugging average all took a plunge. In short, you're not exactly dealing from a position of strength here, especially since the Nationals are the only team nutty enough to take a flyer on you.
---
Who has a better mustache: your aunt with the hairy lip, or Gonzaga's Adam Morrison?
Forget about your aunt. "Got Milk?" staches look thicker than those wisps of whiskers under Morrison's nose.
---
Did members of Gonzaga's Kennel Club really yell, "Brokeback Mountain," at opposing players?
Yes, but here's how you handle that: Find the homophobes and enroll them in Coach Bob's "Knight School," where they'll learn firsthand what it's like to have someone hurling insults at you.
---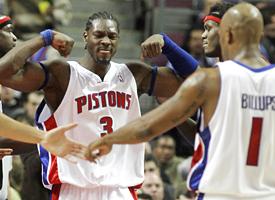 (AP Photo/Duane BurlesonBen Wallace and his Pistons teammates would make a strong All-Star showing.
Would the Detroit Pistons beat the NBA West All-Stars?
Yes, for three reasons: The Pistons play defense, the Pistons play as a team, the Pistons are intimidated by no one. In fact, if you want boffo ratings and an All-Star Game that is, you know, interesting, I'd play all four Pistons on the East roster (Chauncey Billups, Rip Hamilton, Rasheed Wallace, Ben Wallace) and fellow reserve Paul Pierce or Vince Carter during the entire second quarter and see what happens. I'll Janet-Jones-you that the Detroit Four and Pierce/Carter outscore the West stars.
---
What would be worse: pooper scooper at this week's 130th Westminster Dog Show, or Dick Cheney's hunting partner?
Veeps with weapons of mass destruction-always a bad combo.
---
Should new U.S. citizen Ozzie Guillen apologize for not attending the White House ceremony honoring the World Series champion Chicago White Sox?
Well, I know I'd be there stealing White House ashtrays and asking W for a tax exemption on my fantasy baseball losses. And how could you not be overwhelmed by the history of the East Room, which is where seven presidents have lain in state, including Abraham Lincoln and John F. Kennedy?
But here's the great thing about being an American (cue, "Battle Hymn of the Republic"): freedom of choice.
---
Is it true that NHL commissioner Gary Bettman said of the Rick Tocchet-Wayne Gretzky-Janet "The Vig" Jones controversy: "You can't buy this kind of publicity!"
No, but he should have.
The NHL was the Arena Football League on ice before the New Jersey State Police went public with their "Operation Slap Shot" gambling investigation. Now Tocchet is on indefinite leave, The Great One is in Italy, and The Gambling One is, I don't know, taking the over-under on Thursday's Team Canada vs. Germany game.
If Tocchet did indeed help finance a gambling ring, he deserves whatever book is thrown at him. As for Gretzky, so far the only thing he's guilty of is stupidity (His, "Oh, really? You'd have to ask her that," response about his wife's alleged involvement in the ring was a bit too precious, especially given the circumstances). And someone needs to remind Jones that (A) her husband is really famous and (B) Las Vegas is less than an hour flight from Phoenix.
---
Right here, right now: Who's going to the Final Four?
Out of an Elite Eight pool of Ohio State, Texas, Memphis, Villanova, UConn, Duke, UCLA and SEC designate (coin flip between LSU, Florida and Tennessee), my pre-bracket office pool F4 entry would feature the Coach Ks, Buckeyes, Nova and Huskies.
---
Let me get this straight: Sean Payton happily grabs the worst job in the NFL -- coaching the New Orleans Saints -- but Steelers offensive coordinator Ken Whisenhut and Louisville's Bobby Petrino (last seen getting Riverdanced by Marcus Vick and Virginia Tech) both tell Al Davis, "Just no, baby?" What has happened to the Raiders mystique?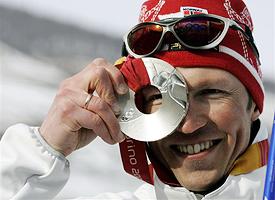 AP PhotoNorway's Frode Estil has a close-up look at Torino's unique medals.
Uh, what mystique?
Mr. Members Only jacket has pink-slipped six different coaches since 1994, including the one he just re-hired, Art Shell. During that same span, the Raiders have advanced to the postseason exactly three times.
---
Is it just me, or do the Olympic medals being awarded in Torino look like defective CDs from Sam Goody's?
There is no truth to the rumor that The Flying Tomato tried to download his halfpipe gold onto his iPod.
---
Who had the best quote of the week?
A tie:
"I'm impressed Tiger Woods decided to do this when he was 30 instead of when he was 60."
-- Former president Bill Clinton during the unveiling ceremony of the $25-million Tiger Woods Learning Center (or, as the Angels would call it, "The Los Angeles Tiger Woods Learning Center of Anaheim").
And ...
"But I've learned it's not about the gold, it's about the spirit of it, and about the sport itself."
-- Michelle Kwan, after withdrawing from the Olympics.
And ...
"Duck!!!!!"
-- Dick Cheney.
Gene Wojciechowski is the senior national columnist for ESPN.com. You can contact him at gene.wojciechowski@espn3.com.
Columnist / College Football reporter
ESPN.com senior national columnist
Joined ESPN in 1998
Author of "The Last Great Game"
SPONSORED HEADLINES
ESPN TOP HEADLINES
MOST SENT STORIES ON ESPN.COM