Even Selig isn't sure if WBC will be hit or error
SCOTTSDALE, Ariz. -- Like tens of other Americans, I'm eagerly awaiting the first pitch of Team USA's World Baseball Classic debut against Mexico on Tuesday. And I can't wait until Friday's Pool B matchup against South Africa, when Roger Clemens records his first-ever victory by throwing underhand.
Has there ever been an event with more hype, more questions and more detractors (led by Generalissimo George Steinbrenner) than the WBC? We don't know if we're about to witness the dawning of Bud Selig-inspired baseball "internationalization,'' (as the Commish calls it), or a sports footnote-in-waiting, such as the XFL or, worse yet, Nike's Join Bode ad campaign.
Whatever it is, whatever it is going to be, the WBC arrives at Chase Field in Phoenix early Tuesday afternoon. Team USA's Jake Peavy faces Mexico's Rodrigo Lopez. After that, who knows?
"Whatever happens, happens,'' said Selig, who attended Sunday's 12-7 Team USA victory against a San Francisco Giants split-squad.
Some part of Selig's baseball legacy is at stake here, and he knows it. He and his infant WBC have been ripped for inventing a tournament that supposedly is neither convenient nor necessary. If it flops, Selig is going to be the guy wiping pie filling from his eyes.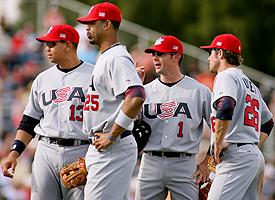 Rick Scuteri/US PRESSWIRE Alex Rodriguez, Derrek Lee, Michael Young and Chase Utley are all taking a close look at the WBC.
For example, did you know baseball was played in South Africa? You didn't? That's OK. Most South Africans didn't know it, either. And as it turns out, there really are about 1.3 billion Chinese who don't give a damn about something -- in this case, baseball (China lost its three WBC games by a combined 40-6).
Selig doesn't hide his exasperation with those who criticize the WBC. Check that. At first he tries to disguise his disgust with the non-believers, but Selig can't help himself. The WBC is his baby, and you know how parents protect their young.
Want to see Selig's forehead become a George Foreman Grill? Start peppering him with questions about the risk of injuries to WBC players, about the big-league players who ditched the WBC, about the timing of the tournament. He falls for it every time.
Steinbrenner, the condescending owner of the New York Yankees, is sticking it to Selig and the Commish's beloved WBC whenever possible. But The Boss crossed Selig's imaginary line when a sign was posted Saturday at the Yankees spring training ticket office instructing customers to complain to Major League Baseball for the absence of such New York stars such as Alex Rodriguez, Derek Jeter and Johnny Damon. Never mind that A-Rod, Jeter, and Damon are wearing Team USA unis because they want to, because they're honored to be part of the roster. Or that Steinbrenner has been affiliated with the U.S. Olympic effort.
Selig was informed of the Yankees sign while taking a walk Saturday, "minding my own business.''
Would he like to comment?
"No, I don't have any comment on it,'' Selig said.
Pause. "The sign is gone,'' he said. "I will just tell you that I'm going to ... any comment that I have will be for the club.''
Did he tell the Yankees to remove it? Pause.
"Well, it didn't disappear by itself,'' said Selig.
Steinbrenner has a jones against the WBC. Then again, Steinbrenner probably has a jones against joneses. He's already publicly proclaimed that the Yankees are going to win the World Series, so anything that might disrupt that quest -- such as the WBC -- drives him nuts. Of course, I'm for anything that drives Steinbrenner, the hyprocrite that he is, into a rage.
So at least until Tuesday's Team USA opener, the best games being played are between Team Bud and Team Boss. Steinbrenner took an early-inning lead with the sign thing, but Selig tripled to the gap with Sunday's response. He didn't name names, but he didn't have to.
| | | |
| --- | --- | --- |
| | " | ...If this sport is to go on to do the heights that we're [anticipating], then you can't, you can't let your own myopic interests guide you. You gotta say ... 'If I can do something that makes this sport bigger and better for the next generation of players, is two or three weeks in spring training one year worth it?' " |
| | | — Bud Selig |
"At some point in life you got to rise above your own selfish interests,'' said Selig. "If this sport is to go on to do the heights that we're [anticipating], then you can't, you can't let your own myopic interests guide you. You gotta say ... 'If I can do something that makes this sport bigger and better for the next generation of players, is two or three weeks in spring training one year worth it?' "
Selig is convinced the WBC is going to be the baseball equivalent of the microchip. It will revolutionize the international growth of baseball. It will make the sport stronger. It will, I don't know, cure the chest cold.
WBC skeptics say it will do a Maurice Clarett -- one and done. Selig says the first WBC won't be the last. And he says so almost defiantly, as if anyone who doesn't get the WBC isn't a baseball visionary.
"Everything I've ever done new has been picked at, except that after it succeeds, the pickers have gone away,'' he said. "It's fascinating for me to watch.''
And later: "I had a lot of people back in '93 tell me the wild card would ruin the game.'' Ah, the wild card: another Bud innovation.
I don't know if the WBC is going to crash and burn. I do know Clemens, who pitched two scoreless innings against the Barry Bond-less Giants, said Sunday that he wouldn't have been at spring training if not for the WBC and Team USA. So if it's good enough for perhaps the best pitcher of our generation ...
I know that Chipper Jones told Team USA manager Buck Martinez, "I've been waiting my whole life to play for my country.''
I know that Damon has no problem switching from center to left for the WBC and Junior Griffey, or that Michael Young has no problem switching from shortstop to second for Derek Jeter.
And I know that South Africa might lose its game against Team USA, 30-0 -- and that's with a five-inning mercy rule.
After that, your guess is as good as mine. And in a weird, Selig-colored-glasses way, that's the beauty of the WBC.
Gene Wojciechowski is the senior national columnist for ESPN.com. You can contact him at gene.wojciechowski@espn3.com.
Columnist / College Football reporter
ESPN.com senior national columnist
Joined ESPN in 1998
Author of "The Last Great Game"
SPONSORED HEADLINES
ESPN TOP HEADLINES
MOST SENT STORIES ON ESPN.COM