Tillman's legacy remains remarkably powerful
TEMPE, Ariz. -- The glass-enclosed case just off the southeast lobby of Arizona State's Sun Devil Stadium contains everything you need to know about Pat Tillman, except, of course, how he really died.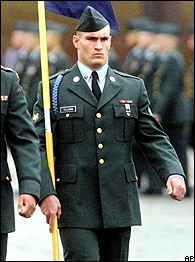 Says Tillman friend Doug Tammaro: "When you met him you knew he was different."
Nearly two years after he returned from the "other" war -- the one in Afghanistan -- in a flag-draped coffin, the Tillman family still doesn't know the exact circumstances involving the death of then-U.S. Army Specialist Patrick Daniel Tillman, 2nd Battalion, 75th Ranger Regiment. "I don't know if we ever will," says Doug Tammaro, a close Tillman friend whose office in the ASU media relations department features a poster-sized photo of the former Sun Devil star linebacker on one wall, as well as a Tillman memorial mouse pad and a black-and-white mug shot of Tillman as an ASU freshman, complete with mullet.
Four separate Army-conducted reviews have said Tillman was killed by "friendly fire," an oxymoron, if there ever was one, on April 22, 2004. But that was before Gen. Peter Pace, the chairman of the Joint Chiefs of Staff, announced Sunday on NBC's "Meet The Press" that Army criminal investigators are completing another inquiry into Tillman's death.
On Monday, the Defense Department announced it will investigate allegations of an Army cover-up.
Who knows what version of the truth the Tillmans will receive this time. This is the same Army that at first said Tillman had died during a firefight against Taliban forces. Five weeks later it said Tillman had died from shots fired by members of his own Rangers unit. Whatever happened, a family and university still grieve. And wonder.
"I'm almost numb to it now," says Tammaro.
The news of a fifth investigation prompted no influx of visitors to that glass case honoring Tillman's legacy at the Bill and Judy Schaefer Sports Hall of Fame. With the exception of an ASU rep who asked if I'd like to join a tour of Sun Devil athletic department facilities, no one else stopped by the Tillman exhibit during my 40-minute visit.
Tillman, say those who knew him, wouldn't have cared. One of his most endearing qualities was his lack of pretension. It wasn't uncommon for Tillman, the 1997 Pac-10 defensive player of the year and a three-time all-conference selection, to stop by unannounced in the media relations office and ask the staff how they were doing, what was going on in their lives, what could he do to help them.
He arrived at his first ASU training camp wearing flip-flops and sporting the mullet. But Tillman, the last member of the recruiting Class of '97 to receive a scholarship offer, played linebacker as if his hair had been doused with lighter fluid and then introduced to a pack of matches.
"When you met him you knew he was different," says Tammaro. "When you got to know him, he was special."
The glass case contains, among other things, Tillman's ASU football equipment bag, a game-action photo, and his complete academic transcript. The transcript was discovered by accident when an ASU maintenance worker, who was cleaning out a fourth-floor file room at Sun Devil Stadium, noticed a single folder fall to the ground during the job. It was Tillman's transcript, the one with the 3.84 GPA.
The maintenance man stopped by Tammaro's office.
"I don't know if you might need this or anything," he said.
Need it? Tammaro couldn't get the sheet of paper in the Tillman exhibit fast enough. People remember Tillman the person, Tillman the player, Tillman the soldier. But Tammaro wanted them to remember Tillman the summa cum laude, the guy who earned his marketing degree in 3½ years.
Tillman's death still resonates at ASU, with the Arizona Cardinals, for whom he played before enlisting in the Army, and beyond. Last April about 6,000 people took part in the first-ever Pat's Run, a 4.2-mile run/walk that raised money for the Pat Tillman Foundation. And, of course, the finish line ended exactly at the 42-yard line of Sun Devil Stadium. After all, Tillman's ASU jersey number, now retired, was No. 42.
The 2nd Annual Pat's Run (www.patsrun.com) is April 15, a date already circled on the calendar of Steve Case, who e-mailed race director Perry Edinger a few days ago.
Wrote Case, who used to live near the ASU campus: "I will be traveling from Stuart, Florida, to Tempe to participate in your 4.2 Mile Walk. This is a very significant event for me. Due to a serious back injury in February 2005, I spent the month of March in the hospital and when I was discharged (without back surgery) I was told that I would never be able to walk again without a walker. I have not used a walker since that day and this will be my second 'Walk' since herniating L3, 4 and 5.
"Pat's story has been an inspiration to legions."
Tillman walked away from a $3.6 million contract offer from the Cardinals to join the Army not long after the terrorist attacks of 9/11. Tammaro last saw him in January 2004, when ASU's basketball team traveled to Seattle for a game against Washington. Tillman, who had already been in Iraq, was stationed temporarily in the Seattle area. Four months later he would be deployed to Afghanistan.
Just outside the Sun Devils football locker room is a hallway that leads to the now-named Tillman Tunnel, which leads to the stadium field. A Tillman-inspired mural by noted artist Mike Sullivan hangs on one hallway wall. On the other side is a bronze plaque commemorating Tillman's life. This is the same hallway and tunnel that Ohio State's players asked to see during a Fiesta Bowl visit to the stadium.
Meanwhile, Arizona State's players still wear PT 42 on the fronts of their jerseys -- and want to keep it there. They asked that PT 42 be inscribed on their Insight Bowl rings . And before they take the field during a home game, the Sun Devils now touch or tap the Tillman mural on the wall.
No ASU coach or official asked them to do any of this. "Most of these guys never met Pat," says Tammaro.
But that's the point, isn't it? The trickle-down effect of Tillman's 27 years transcends time. The concept of honor, duty and country is eternal, which has to be why people remain more moved by his story than by the Silver Star and Purple Heart awarded to him posthumously by the Army.
Maybe Tammaro is right. Perhaps we'll never know how or why Tillman died. Instead, we should remember what truly matters.
How he lived.
Gene Wojciechowski is the senior national columnist for ESPN.com. You can contact him at gene.wojciechowski@espn3.com.
Columnist / College Football reporter
ESPN.com senior national columnist
Joined ESPN in 1998
Author of "The Last Great Game"
SPONSORED HEADLINES
ESPN TOP HEADLINES
MOST SENT STORIES ON ESPN.COM