Nothing went right in Woods' worst pro major
MAMARONECK, N.Y. -- By the time Tiger Woods reached the final hole of the briefest and -- well, let's call a shank a shank -- the worst majors performance of his professional life, the Winged Foot galleries were reduced to giving him something he'd never heard before.
Mercy applause.
U.S. Open mercy applause is generally reserved for amateurs trying to break 90, club pros trying to break 80, and Sergio Garcia when he reaches for a putter. But Woods? Since when has anyone felt sorry for Woods when he had a golf club in his hand? Since Friday, that's when.
Watching Woods deliver a pair of bouncing baby 76s to the scoreboard during his first and second rounds had a surreal quality to it. His two-day total of 152 not only put him 12 over par, but it also put him out of the U.S. Open. He wasn't within wife Elin's waist size of the cut.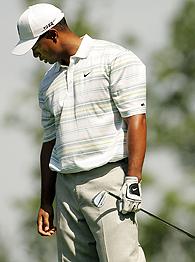 Nick Laham/Getty ImagesWith a pair of 6-over 76s, Woods missed the U.S. Open cut by three strokes.
Since he turned pro in 1996, Woods hasn't missed a cut in a major since, well, ever. That's 37 weekends of playing for green jackets, championship cups, claret jugs and Wanamakers. So when Woods needs a ralph bag after his latest and last round of the 2006 Open, it's big news. It's like Christmas without Douglas firs.
"I'm pissed," he said. "That pretty much sums it up right there."
You'd be pissed, too, if you spent most of your day plucking marker flags out of Winged Foot's shin-high rough. Woods couldn't have hit the Hudson River if he were standing on the Tappan Zee Bridge. He missed 10 of 14 fairways Friday, 21 of 28 for the tournament.
It didn't get any better when Woods aimed at a green. He hit only eight of 18 in regulation Friday. And once he reached Winged Foot's confounding and confusing greens, Woods made like Sergio and hockey-sticked it around the place. He needed 30 putts to finish his second round, which scarily enough, was three less than his first round.
When he made the turn for his final nine holes a growing posse of media was waiting for his threesome -- and they weren't there to watch Italy's Edoardo Molinari. They were there to see if Woods could figure out how to open his parachute in time. He couldn't.
"---dammit!" Woods yelled, as one of his drives veered left. "Fore!"
Woods visited all three levels of Winged Foot's rough. He spent time under tree branches. He had enough bunker sand in his shoes to coat a beach. And yet -- and this is why I'll always respect him as a pro's pro -- he didn't Daly it and phone in the rest of his round. He grinded. He treated each shot as if the winner's check was at stake.
Yeah, he finished 12 over. But just think if he hadn't hit that did-you-see-that? flop shot on the 18th to save par (he started on the back nine). Or another flopper from a circus stance to five feet on No. 1 to save another par. Or the low hook under a tree to reach the par-4 second in two. Or the greenside bunker shot to one foot to save par on the fifth hole. Or the iron he hit out of the far right junk to reach the green on the sixth.
His tournament probably ended with a three-putt bogey on the fourth. That pushed him to double digits, 10 over. Then came bogeys on his last two holes. At round's end, when he shook hands with Molinari and defending U.S. Open champion Michael Campbell, Woods looked like he needed a hug. Or a punching bag.
"I didn't execute properly today," he said. "I didn't drive the ball all that great, didn't hit my irons well, and didn't have the [green] speed again. So, not a good combo."
Of course, it didn't help that some well-meaning knucklehead kept yelling, "God bless your dad, Tiger," during parts of the round. Earl Woods died about six weeks ago, and let's not kid ourselves, his absence played a part in how Tiger played.
"He's pretty focused, but the intensity wasn't there as it normally is," said Campbell.
"I still think he's the best player out there, by far," said Molinari.
But?
"Probably his mind was somewhere else."
If it was, Earl is going to be pissed, too. Eye of a tiger, and all that.
Woods cut somebody off when asked afterward if he should have competed in a tournament before coming to Winged Foot.
"No, I was not ready to play golf," he said.
Woods thought he was ready for this place, this Open, this latest Phil vs. Tiger challenge. But grief can play tricks with your mind. Even if he fails to admit it, the memory of his father was as close to his heart as a tap-in putt. That isn't an excuse, it's reality.
Winged Foot's greens fooled Woods and his swing betrayed him. The same player who had finished in the top four in each of the last five majors couldn't make it to Saturday. Shocking, but only because Woods had made it look so simple in the past.
Woods' post-Open plans weren't much of a surprise. "Practice," he said.
This isn't good news for the field in the next major, the British Open. Molinari, who also played with Woods at The Masters, said Tiger will win at Royal Liverpool "by a lot of shots, I think."
By a lot? Anything is possible with Tiger at the British Open, with the exception of mercy applause. Here's guessing he won't need it there … or anywhere soon.
Gene Wojciechowski is the senior national columnist for ESPN.com. You can contact him at gene.wojciechowski@espn3.com.
Columnist / College Football reporter
ESPN.com senior national columnist
Joined ESPN in 1998
Author of "The Last Great Game"
106th U.S. Open Championship
When:
Thursday-Sunday, June 15-18
Where:
Winged Foot Golf Club (West)
Yardage/Par:
7,264 yards; par 70
2006 champion:
Geoff Ogilvy
Purse:
$6.8 million (Winner: $1.225 million)
Final-round coverage
• Mickelson's collapse leads to Ogilvy's first major victory
• Wojciechowski: Phil's Phailure will hurt for a while
• Maisel: Open will be remembered for Mickelson's collapse
• Sobel: Ogilvy defies destiny to become champion
• Harig: Final hole played a cruel role for leaders
• Sirak: Winged Foot was the real winner
• Rudy: USGA setup spawns another train wreck
• Final-round podcast

• ESPN.com photo gallery: Mickelson's collapse

Third-round coverage
• Recap: Mickelson, Ferrie tied at 2-over
• Maisel/Wojciechowski: E-mail chats from the Open
• Sobel: Cream rises to top of U.S. Open leaderboard
• Harig: Open rookie searching for a Ferrie tale ending
• Sirak: Dealing with final-round pressure
• ESPN.com photo gallery
• After missed cut, Svoboda makes mark


Second-round coverage
• Recap: Stricker leads by one
• Wojciechowski: Mercifully, Woods' Open ended
• Harig: Lefty celebrates birthday with a patient 73
• Sobel: Woods, Duval head in opposite directions
• Maisel: Stricker, like Monty and Duval, finds an old spark
• ESPN.com photo gallery
• ESPN.com breaks down Round 2

• Round 2 podcast

• Tiger misses the cut

• Goosen among those who missed cut
• Rovell: Tiger missing cut affects Nike
First-round coverage
• Wojciechowski: Phil shoots even-par ... and loves it
• Maisel: Woods returns to similar frustration
• Harig: Expectations lowered, Monty finds his rhythm
• Sobel: Scores soar on first day at Winged Foot
• Montgomerie captures early lead
• Hawkins/Sobel: Round 1 podcast

• ESPN.com photo gallery
• Mickelson Mania at Winged Foot

• ESPN.com breaks down Round 1

• Phil Mickelson ShotPack

• Tiger Woods ShotPack

• More Day 1 highlights


Scores
• Real-Time Scoring from USOpen.com

Preview coverage
• Sobel: Ranking the U.S. Open field, 1 through 156
• Maisel: USGA's New York state of mind
• Fact or Fiction: Will par win the Open?
• Picking a U.S. Open champion, by the numbers
• In the Crosshairs: Tiger, Phil, Vijay, Retief
• Maisel: Mentally tough Tiger briefly lets us in
• Hawkins: The reinvention of Philly Mick
• Harig: Three decades later, the Massacre lingers on
• Huggan: Campbell's view from the mountain top
• Verdi: Davis Love III makes the rainbow connection
• Weekly 18: Major story lines abound entering Open
• Rosaforte: U.S. Open is back where it belongs
• On The Hot Seat: Peter Jacobsen
• Antonini: Winged Foot has always been a crowd pleaser
• Johnson: Why Winged Foot is special
• Herrington: Winged Foot will be rough and ready
• Whitten: Is Winged Foot still fit for a fight?
• Owen: Where real New Yorkers play golf
• McCleery: The Massacre of '74 still lingers

Facts
• U.S. Open field
• U.S. Open past champions
• Winged Foot course map
• Merion to host 2013 U.S. Open

U.S. Open qualifying
• Sobel: Is U.S. Open qualifying an outdated process?
• Harig: Wie's bid to make history drew believers
• Sirak: Wie growing before our eyes
• Wojciechowski: Wie belongs, even if she didn't qualify
• Wojnarowski: What's Wie's rush?