Phil's Phailure will hurt for a while
MAMARONECK, N.Y. -- Phil Mickelson should be the U.S. Open champion. He should be a major, an engraved trophy, and $1,225,000 richer. He should be three legs into the Tiger Slam and two legs into the actual Grand Slam.
Mickelson should reek of champagne. He should have bruise marks from the hugs his three kids gave him for winning the Open by a single shot over Geoff Ogilvy. There should be lipstick stains on his cheek from all those kisses from wife Amy.
He should have been able to float home, rather than take the private jet back to San Diego. That goofy grin of his should have been soldered on his face. His voice should have been hoarse from all the post-championship speeches and interviews.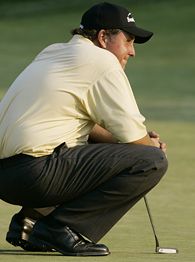 AP Photo/Morry GashVisions of Van de Velde: Mickelson's double-bogey 6 on the 18th at Winged Foot will forever be remembered in U.S. Open lore.
Instead, the world's best golfer (sorry, Tiger) is now a golf punch line, an AFLAC trivia question, a cautionary tale. There should be a chalk outline around Mickelson's Open scorecard and yellow police tape around the 18th hole at Winged Foot. That's where the Phil Phailure took place, where bizarre, mind-boggling history was made.
"I am such an idiot," Mickelson said.
He was talking about his tee shot on the final hole of Sunday's round, but why stop there? Why not include just about everything that happened during the longest 20 or so minutes of Mickelson's golfing life, beginning with the nanosecond his Callaway driver face struck ball on Winged Foot's 450-yard, par-4 18th?
For years ... decades, Mickelson had imagined what it would feel like to win a U.S. Open. He had come tantalizingly close, finishing second in 1999, 2002, and 2004. But this was different. This time Mickelson stepped onto the final tee box with a one-stroke lead and a swagger of sorts. He was Phil Freakin' Mickelson, winner of the 2005 PGA Championship and the 2006 Masters. He didn't even need a last name, having moved to elite one-word territory: Lefty.
And then, in the time it took him to swing that driver, a boyhood dream became a Wes Craven film festival. Trying to hit what he called "my bread-and-butter shot, a baby-carve slice," Mickelson watched in horror as the ball kept drifting left. And left. And left.
Mickelson couldn't hit a house (or the fairways -- 2 of 14, 14.3 percent) with that driver, but he did hit the side of a hospitality tent. His tee ball appeared to bounce off the side of the white tent adjacent to the 18th fairway and onto a grass-dirt path worn down by spectators. A tree stood directly between the ball and the green.
This is the exact point in the round somebody -- his caddie Jim Mackay ... Amy ... a beer vendor -- should have mentioned that a bogey guaranteed him no worse than a noon starting time for an 18-hole Monday playoff. A double bogey guaranteed him a lifetime exemption on the Gagger's Tour.
It was bad enough Mickelson had to hit driver in the first place. The club and Mickelson were headed for divorce court anyway, but without a 3-wood in his bag, Lefty had no choice. If, said Mickelson later, he hit a 4-wood into the rough (that was the only fairway wood in his bag), he wouldn't be able to reach the well-protected 18th green. OK, I'll buy that. Sort of. Then again, if he drops the easier-to-hit 4-wood into the fairway, the Mickelson family isn't in mourning today.
His second shot is where he officially lost the tournament. Mackay should have tackled him the moment he asked for a 3-iron. "I just thought, 'I can slice this,' " Mickelson said. "I had 185 to the front; 201, I think, to the hole. I thought I'd just put the 3-iron on the green, or if not, around it and get up and down."
Or here's a thought: PLAY IT SAFE AND PUNCH OUT INTO THE FAIRWAY!
Nope, New and Improved Phil became Old and Fearless Phil. His second shot hit a tree branch and caromed back toward him. He was a grand total of 25 yards closer to the hole.
His third shot landed in a greenside bunker. The fried egg lie looked like it belonged on a Denny's breakfast menu.
His fourth shot, for par and the win, landed hard on the brownish granite top known as the 18th green and rolled into the fringe/rough.
His fifth shot, for the playoff with Ogilvy, rolled about 10 feet past the cup.
His sixth shot, for a three-way tie for second place, dropped in.
Mickelson looked as if he needed to be treated for shock. He shook hands with playing partner Kenneth Ferrie and then made his way to the scorer's area to sign his card. NBC's cameras showed him sitting with Amy, his body language screaming, "What have I just done?"
Good question. The U.S. Open, which has eluded him now in 16 tries, was his. And then it wasn't.
"It was right there and I let it go," Mickelson said. "I just cannot believe I did that."
Mickelson didn't even bother to try to hide the agony. The memories of the most important and, as it turns out, painful tournament of his career won't fade quickly or quietly. He'll hear the questions and the whispers when he arrives next month at Royal Liverpool for the British Open.
"This one is going to take a little while to get over," he said.
So Mickelson goes home and into seclusion. Asked if this was one of those times when he spends three days in bed, Mickelson didn't hesitate.
"Oh, yeah," he said.
There will be no sweet dreams.
Gene Wojciechowski is the senior national columnist for ESPN.com. You can contact him at gene.wojciechowski@espn3.com.
Columnist / College Football reporter
ESPN.com senior national columnist
Joined ESPN in 1998
Author of "The Last Great Game"
106th U.S. Open Championship
When:
Thursday-Sunday, June 15-18
Where:
Winged Foot Golf Club (West)
Yardage/Par:
7,264 yards; par 70
2006 champion:
Geoff Ogilvy
Purse:
$6.8 million (Winner: $1.225 million)
Final-round coverage
• Mickelson's collapse leads to Ogilvy's first major victory
• Wojciechowski: Phil's Phailure will hurt for a while
• Maisel: Open will be remembered for Mickelson's collapse
• Sobel: Ogilvy defies destiny to become champion
• Harig: Final hole played a cruel role for leaders
• Sirak: Winged Foot was the real winner
• Rudy: USGA setup spawns another train wreck
• Final-round podcast

• ESPN.com photo gallery: Mickelson's collapse

Third-round coverage
• Recap: Mickelson, Ferrie tied at 2-over
• Maisel/Wojciechowski: E-mail chats from the Open
• Sobel: Cream rises to top of U.S. Open leaderboard
• Harig: Open rookie searching for a Ferrie tale ending
• Sirak: Dealing with final-round pressure
• ESPN.com photo gallery
• After missed cut, Svoboda makes mark


Second-round coverage
• Recap: Stricker leads by one
• Wojciechowski: Mercifully, Woods' Open ended
• Harig: Lefty celebrates birthday with a patient 73
• Sobel: Woods, Duval head in opposite directions
• Maisel: Stricker, like Monty and Duval, finds an old spark
• ESPN.com photo gallery
• ESPN.com breaks down Round 2

• Round 2 podcast

• Tiger misses the cut

• Goosen among those who missed cut
• Rovell: Tiger missing cut affects Nike
First-round coverage
• Wojciechowski: Phil shoots even-par ... and loves it
• Maisel: Woods returns to similar frustration
• Harig: Expectations lowered, Monty finds his rhythm
• Sobel: Scores soar on first day at Winged Foot
• Montgomerie captures early lead
• Hawkins/Sobel: Round 1 podcast

• ESPN.com photo gallery
• Mickelson Mania at Winged Foot

• ESPN.com breaks down Round 1

• Phil Mickelson ShotPack

• Tiger Woods ShotPack

• More Day 1 highlights


Scores
• Real-Time Scoring from USOpen.com

Preview coverage
• Sobel: Ranking the U.S. Open field, 1 through 156
• Maisel: USGA's New York state of mind
• Fact or Fiction: Will par win the Open?
• Picking a U.S. Open champion, by the numbers
• In the Crosshairs: Tiger, Phil, Vijay, Retief
• Maisel: Mentally tough Tiger briefly lets us in
• Hawkins: The reinvention of Philly Mick
• Harig: Three decades later, the Massacre lingers on
• Huggan: Campbell's view from the mountain top
• Verdi: Davis Love III makes the rainbow connection
• Weekly 18: Major story lines abound entering Open
• Rosaforte: U.S. Open is back where it belongs
• On The Hot Seat: Peter Jacobsen
• Antonini: Winged Foot has always been a crowd pleaser
• Johnson: Why Winged Foot is special
• Herrington: Winged Foot will be rough and ready
• Whitten: Is Winged Foot still fit for a fight?
• Owen: Where real New Yorkers play golf
• McCleery: The Massacre of '74 still lingers

Facts
• U.S. Open field
• U.S. Open past champions
• Winged Foot course map
• Merion to host 2013 U.S. Open

U.S. Open qualifying
• Sobel: Is U.S. Open qualifying an outdated process?
• Harig: Wie's bid to make history drew believers
• Sirak: Wie growing before our eyes
• Wojciechowski: Wie belongs, even if she didn't qualify
• Wojnarowski: What's Wie's rush?
MOST SENT STORIES ON ESPN.COM