Diving headfirst into sports after a short sabbatical
SOMEWHERE OVER THE ATLANTIC OCEAN -- Turn off the plasma. Leave the morning newspaper on the driveway. Forget about your recommended daily dosage of Mike & Mike.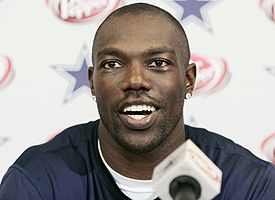 AP Photo/Tony GutierrezDream world: For Gene, Terrell Owens' last nine days never happened.
While you're at it, log off ESPN.com (wait -- not yet!). Put your ESPN The Magazine back on the coffee table. And absolutely no phone calls, e-mails or water-cooler talk about the greatest six-letter word in America: s-p-o-r-t-s.
Now go cold turkey for not one, not two ... but nine days. That means no NFL, MLB or NASCAR. No ND, UT or FSU. No PGA, NBA or NHL. No fantasy football. No nothing. I'll bet you (*) a John Anderson one-liner, a two-minute private waiver-wire strategy session with Eric Karabell, and a 30-second appearance in an ESPN commercial that you won't even make it through the weekend. (* Not eligible: prisoners in solitary confinement, monks, Space Shuttle astronauts.)
Only a madman would attempt such insanity. Or me.
On Sunday evening, Sept. 24, I packed away the company ThinkPad and didn't open it again until, well, a few minutes ago. I haven't watched any meaningful sports TV since sitting in the Ryder Cup media work tent as the European team gave itself champagne showers on The K Club clubhouse balcony. Now I'm on American Airlines Flight 93 from Dublin to Chicago and I still don't know who won the AL Central.
I'd clean O'Hare Airport's Terminal 1 with a worn Oral B for just a half-hour of Wi-Fi time. I'd sing, "Yea, Alabama," for a wadded issue of a two-day-old USA Today sports section. And I'd seriously consider selling one of my daughters (preferably the youngest) for a six-minute clip of Jaws breaking down the Baltimore Ravens' zone blitz.
This is what happens when the Ball & Chain decides she wants to visit Ireland. Her family is from Clonmel in County Tipperary, which is located in the Southeast region of the country. She left Chicago Sept. 25 and arrived the morning of the 26th.
Except for the part where I sort of forgot our wedding anniversary on the 25th because I was playing Old Head Golf Links with the fellas, and then kind of kept her waiting at our Dublin hotel until late on the 26th because the boys and I were drinking post-round Guinnesses with the owner of the European Club (the esteemed Irish golf writer, Pat Ruddy), and then ducked out the next morning to play Portmarnock Golf Club in rain and winds so strong that the flagsticks looked like they suffered from osteoporosis (we saw one get blown completely out of the cup), I think she really enjoyed the early part of the trip.
In an effort to save the marriage, I went all "My Name Is Earl" and tried to do the right thing. Fear can do that, which is why I vowed not to watch, read or listen to sports for the remainder of the trip. Now I'm suffering from sports withdrawal-induced tremors. Last night I lingered in front of a Dublin Internet café -- just to watch people type. And a day earlier, while sitting in The Black Bird pub in the tiny fishing village of Ballycotton, I actually sneaked long peaks at a Tottenham vs. Port-somebody-or-other soccer game. Soccer usually puts me in a coma, but that was before I started losing my mind.
I've gone one Saturday and two Sundays and Mondays without knowing who's won what college or NFL games. The last time that happened was never.
I'm the guy who can't remember my own wedding anniversary, but can remember the ceremony cost me a chance to cover the 1994 Colorado-Michigan game -- the one when Kordell Stewart threw about a 190-yard Hail Mary (and Joseph, too) pass to beat the Wolverines as time and hearts expired in the Big House. I'm the guy who wrote a college football notes column in our Drake Hotel room less than 16 hours after the "I do's." In retrospect, that was a mistake.
I can recite the weekly ESPN GamePlan schedule by heart. I know the DIRECTV satellite coordinates for every NFL broadcast. Until now.
Now I would crawl shirtless over shards of windshield glass for a Wofford-Vandy game. I'd do the same to watch the two worst teams in the NFL -- if only I knew who the two worst teams were.
I haven't seen someone in NFL attire since I saw a Ryder Cup spectator wearing a Cincinnati Bengals jersey. And when the Sky Sports feed in the press tent flashed its two-game Sunday night schedule of American football, the contingent of U.S. sportswriters erupted in cheers. Tragically, the media hotel didn't carry the satellite feed.
And thus the nightmare began.
Have the Packers won a game? Is Barry Bonds still the only one not being charged with contempt? Did the Cubs wave goodbye to Dusty Baker?
Is Ohio State No. 1? Are Pac-10 officials now covered by a company vision plan? Does Oklahoma's Adrian Peterson have 1,000 yards yet?
Is George Mitchell alive? Will Chicago get an NHL franchise soon? Has anyone nominated Ivan Maisel's drawl for the Southern Accent Hall of Fame?
Forget about getting any answers in Europe. Everyone there is so busy micro-analyzing George Bush that you can't find a decent box score. And if you really don't want to know about American sports, read the Irish Times. Or watch the BBC, which is about as exciting as watching toenails grow. One of the commentators during the Ryder Cup broadcast mentioned that Magic Johnson was in the gallery. Instead, it was what's-his-face, Michael Jordan. But at least they got Bill Clinton right.
Look, I tried to stay true to the no-sports promise. I really did. But as we were standing next to a tomb in Dublin's 900-plus-year-old Christ Church Cathedral, a single, profound thought entered my mind: Do the Mets have enough starting pitching to win it all?
It's time to come home. There's only so many pints you can drink, Irish ballads you can sing, 15th century castles you can sleep in. I adore the Irish, their golf courses and their Jameson, but I need my Green Bay fix. I need my baseball playoffs. I need to impose my will on Karabell and the other members of the John Elway Barcalounger Fantasy Football League.
Today I will do what I haven't done since Sept. 24: I'm smothering myself in all things American sports.
Happy anniversary, Geno.
Gene Wojciechowski is the senior national columnist for ESPN.com. You can contact him at gene.wojciechowski@espn3.com.
Columnist / College Football reporter
ESPN.com senior national columnist
Joined ESPN in 1998
Author of "The Last Great Game"