Bonds has quiet weekend, but that'll change next week
SAN FRANCISCO -- It was about two hours before Sunday's game, and Barry Bonds leaned back in his dusty black office chair, cupped his hands behind his head and pretended there weren't 21 reporters stationed in front of his two lockers.
Bonds watched the New York Yankees pregame show on his 42-inch plasma, occasionally deposited some Copenhagen spittle in an empty water bottle and, when the mood struck him, offered a few comments. All in all, it was like hanging out with your father-in-law -- the one who wishes you'd get a real job.
"We're all here together," he said to a San Francisco Giants team official. "We're having a slumber party."
There wasn't much to write down. Then again, Bonds wasn't treating this like an interview session.
He made a cryptic remark about the focus being "on the team," which was his way of sticking it to Giants owner Peter Magowan, the same Magowan who had said a few days earlier that the team would be better off when Bonds' home run chase was complete. When someone tried to get him to clarify the remark, Bonds stared silently for a full 10, 15 seconds. He had made his point: How dare Magowan suggest that Bonds, who fills AT&T Park on a regular basis, is part of the problem.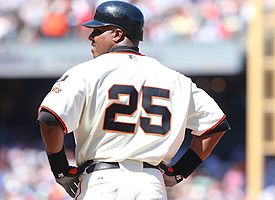 Kyle Terada/US PresswireBarry Bonds will have to turn his back to plenty of boos in Los Angeles and San Diego.
Bonds yawned. He nudged his son, Nikolai, who sat next to him. He said nothing as -- and this is an absolute first -- Christmas music filled a major league clubhouse in late July.
Bonds was polite enough. He said he was happy for the Chicago Cubs. Said he's a Dontrelle Willis fan. Said Matt Holliday has serious baseball skills. Said Pedro Martinez knows how to pitch. Said the St. Louis Cardinals were going to have a difficult time without injured starter Chris Carpenter. Said Johnny Damon's batting mechanics aren't the same.
Like I said, nothing earth-shattering.
But there was a moment when his ego flared. Bonds was asked about his recent homer-less streak against the likes of pitchers John Smoltz, Tim Hudson and Willis.
"There's a lot of hardware all around my house," Bonds said. "They can come and visit anytime. There's a lot more in my house than there is any of theirs."
It wasn't said in a mean-spirited way. Bonds was simply stating fact. And he was right, of course. But it's the kind of thing that rubs people, including other players, the wrong way. Not that he gives a damn.
Bonds then went out and took a 1-for-4 against the Marlins, the one hit being an official scorer's charity single on a botched popup to the catcher in the bottom of the eighth inning. Otherwise, he grounded to second in the second, flew out to right in the fourth and grounded out to second in the sixth. And the Giants lost, 8-5.
Now the Bonds Home Run Tour moves down the coast to Los Angeles, then San Diego. Bonds still needs one dinger to tie Henry Aaron, two to claim the record as his very own. Don't expect the same type of group hug he got here Sunday from Giants fans.


This is going to be a test, whether they're going to show their knowledge, appreciation and love for the game -- like they are passionate for the game -- or are they going to go the other way?

Dave Roberts, Bonds' teammate
"This is going to be a test," said Giants outfielder Dave Roberts, who spent about 2½ seasons with the Dodgers, "whether they're going to show their knowledge, appreciation and love for the game -- like they are passionate for the game -- or are they going to go the other way?"
I'm guessing Bonds and Dodger Stadium security personnel had better be prepared for "the other way." Dodgers fans aren't real fond of the Giants, with or without Bonds. The home run quest only adds 10 more layers of tension to the rivalry.
"Be a part of history, but make it the great moment it is and don't tarnish it by acts of cruelty, or however you want to word it -- you know what I'm saying -- by throwing things, whatever they want to do, if they choose to go that way," said Roberts, sounding like a public service announcement. "Be above that. [The home run record is] bigger than being a Dodger fan. It's bigger than rooting against a divisional rival. It's the game of baseball. It's the history of baseball, so be above that. That's what I would do."
That's what Roberts the teammate, Roberts the friend and Roberts the professional peer would do. But that's not what a lot of people at Chavez Ravine are going to do Tuesday, Wednesday and Thursday nights. Too many cynics. Too many skeptical fans who consider Aaron's record their record too.
Maybe Bonds doesn't understand this, but Roberts does. He doesn't criticize those who doubt the legitimacy of Bonds' home run numbers. How could he? "But you can't take away the fact that he's one of the greatest players ever to put on a baseball uniform," Roberts said. "He's had a 20-year career which is a Hall of Fame career and ... when I see kids in the stands booing and holding signs, and [they] really have no idea what they're booing or holding signs for, it breaks my heart. As a father, I would never bring that upon my kids. I would say, 'Son, watch this guy. He's one of the best players of all time.'
"But people are going to have their opinions, that's for sure, and everyone's entitled to that. But I'm more of the thing that you should really appreciate what a great player he is, what a great career he's had, and when he's gone, he's gone."
A few months ago, Roberts had a dream. He dreamed he was on base when Bonds hit career home run No. 756. When Bonds reached home plate, Roberts jumped in Bonds' arms "and gave him a big hug." This is the baseball fairy-tale world of a glass-half-full guy.
But the reality is that Bonds is going to take some heat wherever he goes but especially at Dodger Stadium. Giants manager Bruce Bochy said Sunday that Major League Baseball will make sure there's enough security in place for the upcoming series, "but sure, there's always a concern."
MLB will do what it can, but it can't confiscate every sign or stick a rosin bag in every mouth. There will be hecklers.
This is partly Bonds' doing. No one forced him to become the lab rat for BALCO's Victor Conte. But nobody, not even Bonds, deserves the worst-case scenario from opposing fans.
"It's easy to be against him," Roberts said. "I hope that people go above that. I don't know. In my perfect world, that's the way it is."
But in Bonds' imperfect world, most everybody in L.A., and San Diego, and every place he travels, will be against him. And that's the way it is.
Gene Wojciechowski is the senior national columnist for ESPN.com. You can contact him at gene.wojciechowski@espn3.com.
Columnist / College Football reporter
ESPN.com senior national columnist
Joined ESPN in 1998
Author of "The Last Great Game"
MOST SENT STORIES ON ESPN.COM