Commentary
Now that Cubs are in, anything can happen
CINCINNATI -- At exactly 9:15 p.m. local time, with the Chicago Cubs leading the Cincinnati Reds 4-0 in the top of the eighth inning, a roar moved across the Great American Ball Park stands Friday evening.
Reds rookie
Norris Hopper
stood in center field and began to look around nervously. Cubs first baseman
Derrek Lee
, who was in the middle of an at-bat, must have wondered why all the sudden noise. And then the reason became obvious. Just left of the 379-foot marker on the outfield wall scoreboard was the latest update from Milwaukee:
San Diego Padres
3,
Brewers
2. It didn't matter that the game was only in the fourth inning. To the predominantly pro-Cubs crowd at Wrigley Field East, it was another piece of welcome magic-number news. But it wasn't until an hour and 49 minutes later, when the only people left in the stadium were the grounds crew, a clean-up crew, media members, and -- camped in front of the visitors clubhouse TVs -- the Cubs, that the National League Central at last had a winner. It took 160 games (and a Brewers collapse), but the Cubs are going to the playoffs. A 6-0 win against the Reds, combined with the Padres' 6-3 win against the Brewers, reduced Chicago's magic number (and heart rate) to zero. They're in, and will open the divisional playoffs on the road Wednesday, likely in Arizona against the Diamondbacks. It will be their first postseason appearance in four years. "Seems like 15 years ago," reliever
Kerry Wood
said, happily soaked in Korbel and beer. Only three active players -- Wood,
Carlos Zambrano
and
Aramis Ramirez
-- remain from the 2003 Cubs playoff roster, a team that came within five tantalizing outs of reaching the World Series. (OK, four, if you count Derrek Lee, who played for the team that beat the Cubs that year, the
Florida Marlins
.) And not one starting position player for the '03 Cubs Opening Day lineup was part of Friday night's celebratory champagne showers.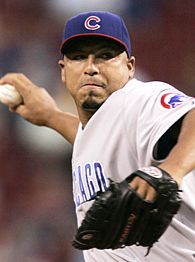 Al Behrman/AP PhotoCarlos Zambrano shut out the Reds over seven innings to pick up his 18th victory. He's now won four of his last five starts.
These Cubs are better. And worse. They are capable of the bizarre (Zambrano using soon-to-be-traded catcher
Michael Barrett
as a punching bag), the financially perplexing (nine games below .500 in early June, 8½ games back in late June -- all with a near-$100 million payroll), and the impressive (the NL's best record since June 23). They are exactly as their record indicates: a team with flaws, but not enough of them to gag away the division lead like the Brewers did. "You get in the playoffs and anything can happen," Wood said. This is true. Just ask the
St. Louis Cardinals
, who were afterthoughts as the 2006 playoffs began. They ended up winning the World Series. Are the Cubs good enough to do the same? It depends if you believe in lineup cards or fate. The Cubs won't be the best team in the playoffs, but they'll be a tough out, if for no other reason than they survived a difficult race. "It's been … a long summer; it really has," said Cubs manager Lou Piniella, shortly before the Padres' victory became final. "We've been at it hot and heavy for a long, long time. You get off to a bad start. Then you got to fight like heck to get to .500. Then you got to fight to get above .500. Then we've been in a pennant race since about the middle of August that's really been separated by a couple of games one way or another the whole summer. It's a long experience." Piniella was talking about 2007, but he could have just as easily been describing the Cubs' franchise futility. You'll know the numbers by heart in the next week or so; the Cubs do. Repeat after the billy goat: The Cubs last played in a World Series in 1945 and haven't won one since 1908. There are shorter glacial ages than that. But late Friday evening, in a clubhouse protected by taped-up plastic sheets, the Cubs weren't interested in history. Piniella walked around with an open bottle of bubbly. A Cubs coach wore a pair of swim goggles to protect himself from the sting of champagne. Players hugged, guzzled and screamed. "We had good stretches, we had bad stretches," Wood said before someone popped a cork nearby and sprayed away. Bad stretch: Arriving in Cincinnati after being swept on the road by the NL East last-place Marlins. Good stretch: Does Friday night's game count? The Brewers had to face
Greg Maddux
and the Padres, who were locked in their own playoff cage match in the West. Meanwhile, the Cubs played the Louisville Bats. One-third of the Reds' lineup was from the team's Triple-A affiliate. The Reds were without right fielder
Ken Griffey Jr.
, left fielder
Adam Dunn
, center fielder
Josh Hamilton
, shortstop
Alex Gonzalez
and first baseman
Scott Hatteberg
. That leaves a bruise mark on anybody's lineup card. So the Cubs needed to take advantage of the situation, and they did. Only a few minutes into the game,
Alfonso Soriano
fell behind 0-2 to
Bronson Arroyo
and then sent the next pitch into the right-center-field seats for his 11th leadoff home run of the season. The Cubs added an unearned run in the second and then, in the bottom of the fourth, watched almost with bemusement as Reds third-base coach Mark Berry waved
Joey Votto
around on a single to left by
Edwin Encarnacion
. Soriano fielded the hit and threw a one-hopper to catcher
Jason Kendall
for his 19th outfield assist this season. Two words to Berry: scouting report. Soriano's 19 assists are the most by a Cubs outfielder since 1951. Soriano led off with a double in the fifth, followed a few minutes later by a Lee home run to left. Four-nothing. Then
Jacque Jones
doubled in the eighth to drive in the final two Cubs runs. And that was that. In the visitors clubhouse several hours before the game, the Cubs were so tense that reliever
Will Ohman
could barely concentrate on his crossword puzzle. Blame second baseman
Mark DeRosa
, who had a handful of teammates laughing at a fake batting stance and swing.

This is why we [play] -- this moment right now. But we're not done yet.
--Cubs SS Ryan Theriot
Closer
Ryan Dempster
was a nervous mess. On second thought, no he wasn't. He might be the first ballplayer to ever switch the clubhouse plasma to "The Golden Girls." Nothing says nail-biting playoff chase like Bea Arthur. Dempster was later seen playing cards with pitcher
Ted Lilly
. Come to think of it, none of the Cubs looked particularly freaked out about their situation. Two reasons for that: They began the night with the largest lead (two games) of any NL leader and … it could always be worse -- they could be the
New York Mets
, who were greeted Friday morning by this headline in one of the New York tabloids: "Paging Dr. Heimlich." The Cubs, who lost 96 games last season, aren't going to need anything dislodged from their throats, except maybe champagne corks. Now they try to do what the 2003 Cubs couldn't do. "When I took over here, the conversation was winning right away," Piniella said. "There was no grace period. Let's win now. I like those sort of situations. But I'll tell you this: It's been a tough journey." For now, the Cubs aren't micro-analyzing themselves. They're too busy celebrating. And thinking about what's next. "This is why we [play] -- this moment right now," said shortstop
Ryan Theriot
, as he peeled the foil off another bottle of Korbel. "But we're not done yet." We'll see. Like Wood said, anything can happen.
Gene Wojciechowski is the senior national columnist for ESPN.com. You can contact him at gene.wojciechowski@espn3.com. He co-authored Jerome Bettis' autobiography "The Bus: My Life In and Out of a Helmet," which is available now.
Columnist / College Football reporter
ESPN.com senior national columnist
Joined ESPN in 1998
Author of "The Last Great Game"
SPONSORED HEADLINES
ESPN TOP HEADLINES
MOST SENT STORIES ON ESPN.COM