Commentary
'Appropriate time' is now for Clemens to speak up
Uh, Roger, Mitchell report got your tongue?
Remember that cell phone TV commercial you did about not being able to hear your wife on the other end of the line? Well, that's what it's like as we wait for you to do more than issue statements denying allegations by your former personal trainer that he injected you with steroids and human growth hormone. Two paragraphs -- that's all we got Tuesday. And all 109 words were issued conveniently through one of your agents.
[+] Enlarge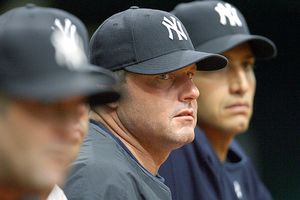 Doug Benc/Getty ImagesRoger Clemens is under more scrutiny now that Andy Pettitte has admitted using HGH.
Most of the statement repeats what your recently hired Houston attorney, Rusty Hardin, said when your name bubbled to the top of the Mitchell report surface: deny, deny, deny. The second part of the statement is the keeper, though. That's where you wonder why "25 years in public life" didn't earn you a Get Out Of Mitchell Report card, as if celebrity status exempted you from legitimate scrutiny. And then you said you planned to address questions "at the appropriate time in the appropriate way. "I only ask that in the meantime people not rush to judgment." Rush? Of course not. You take your time and let us know when it's good for you. We'll just sit here, maybe do a Sudoku, and wonder why the supposed greatest pitcher of our generation is taking so long to step in front of a microphone, look America in the eye, and answer every question anyone has about the allegations made by your former trainer, Brian McNamee. Interesting how this works out. You ask us not to be influenced by the accusations, and yet your legal mouthpiece made sure to carpet-bomb McNamee's credibility by calling him "a troubled man" who divulged your alleged involvement with performance enhancers "after being threatened with possible prison time." Yes, well, that's sort of how it works with the feds. They find pressure points and then push. Your mouthpiece knows that, and if he didn't then you need a new lawyer. McNamee talked to the feds. A lot. He talked about injecting you with Winstrol and HGH, and he talked about providing your buddy and teammate
Andy Pettitte
with HGH. Pettitte admitted two days later that he took the stuff. You? A lot of angry denials, but nothing else. It's been five days since the Mitchell report was released, five days since Hardin said you "vehemently" disputed the allegations and that you were "outraged" your name was included in the document. During that time, other Mitchell report alums -- Pettitte,
Brian Roberts
,
Fernando Vina
,
F.P. Santangelo
, Mark Carreon,
Gary Bennett
-- have stepped forward to admit that, yes, the allegations against them were essentially true. Meanwhile, the seven-time Cy Young winner and former stone-cold lock for the Hall of Fame still can't appear in public? You're so outraged that your lawyer has all but ruled out the possibility of suing Major League Baseball? So much doesn't make sense here. Hardin said you didn't know the specifics of McNamee's allegations until the Mitchell report was released last Thursday. He also said you have "no meaningful way to combat" the allegations. You're kidding, right? Former Senate Majority Leader George Mitchell said he invited every player named in the report to meet with him "so I could inform him of the evidence supporting the allegations and give him a chance to respond." Those explanations would be included in the report itself. Sorry, Roger, but you most definitely had an opportunity to combat McNamee's version of performance-enhancer history. You could have explained it then, denied it then, gone public then. Instead, silence.
Clemens vs. Bonds
Since turning 35, both Barry Bonds and Roger Clemens saw their numbers skyrocket:
| | | | |
| --- | --- | --- | --- |
| | Clemens | | Bonds |
| Turned 35 | 8/4/97 | Turned 35 | 7/24/99 |
| W-L | 146-69 | BA | .319 |
| ERA | 3.34 | RBI | 745 |
| K per 9 | 8.7 | AB per HR | 9.1 |
| ERA titles | 3 | HR titles | 1 |
| 20-win seasons | 3 | 40-HR seasons | 5 |
| Cy Youngs | 4 | NL MVP | 4 |
You weren't a victim. You
chose
not to confront the man who would have detailed the allegations against you. If you were blindsided by McNamee's testimony, then it was your own fault. Hardin also said you've never tested positive for the substances in question. Fine. I believe that. I also believe, as the Chicago Tribune's Phil Hersh noted recently, that Marion Jones never officially tested positive in 160 drug tests. So you'll pardon me if I remain suspicious about the testing process, especially given the gaping holes in Major League Baseball's previous policies. I spoke earlier this week with Sen. Jim Bunning (R-Ky.), the Hall of Fame pitcher who has followed the issue of performance-enhancing drugs -- and MLB's reaction to it -- with interest and deep concern. Your name came up. It was Bunning who offered Mitchell the assistance of a Senate committee (and the subpoena power that came with it), but Mitchell declined. "I have a copy of the letter," Bunning said. "I'm going to save it for posterity." And it is Bunning who said a House Government Reform Committee member should have pressed
Mark McGwire
for a straight answer during those March 2005 hearings. "Somebody should have pursued him on that committee [and said], 'I'm asking you point blank did you or did you not use steroids when you played baseball?'" Bunning said. But Bunning said McGwire, for all intents and purposes, took the Fifth Amendment. That doesn't mean one should assume guilt. "I don't think you should assume anything," Bunning said. But one can assume it was a very, very odd time to go quiet. Just like it's an odd time to hide behind lawyers and carefully worded statements. I asked Bunning, as a Hall of Fame inductee, if he'd welcome you, Roger, into the Cooperstown club. "I'm going to let the process work before I make a public utterance on that," he said. "If he is found guilty of cheating, no, I wouldn't welcome him. So let's wait and find out. I'm not going to judge him on that, other than the fact that I was shocked to see him in [the Mitchell report]." I also told Bunning about your lawyer's contention that you had no way to defend yourself against the allegations. I asked if a congressional hearing, where you (and others) could put your hand on a Bible, swear an oath and explain yourself to a baseball-loving nation, might be a feasible option. "I think baseball should do this and not the federal government," Bunning said. He said such a hearing would be "a last resort," adding that "baseball should be able to clean up its own house first." So that means your next option could be a meeting with MLB commissioner Bud Selig. Is that meaningful enough? "The shoe is on Bud Selig's foot," Bunning said. "He's the one who asked for the report. Now he's either going to abide by the findings of the report and give these people a chance to cleanse themselves, or not." But one of the shoes is on your foot, too, Roger. How long do we have to wait for the "appropriate" time for you to speak openly and directly to your baseball constituency? I've made it clear how I feel about the hitter's version of you --
Barry Bonds
. I think Bonds took performance enhancers and has lied about it. I think his numbers are fraudulent and he doesn't belong in the Hall of Fame. The book, "Game of Shadows," provided the prosecutorial road map and, if Bonds' case goes to trial, I think the federal case against him will provide the confirmation of his guilt. But any difference between your situation and Bonds' situation is evaporating quickly. Maybe some people gave you the benefit of the doubt over Bonds because of a likability factor. If they did, they should reconsider. This isn't about who's a "good" or a "bad" guy. The feds didn't go after Bonds because he's a narcissist. This is about compromising a game and its history, about choosing between moral high and low roads, about the simple act of cheating and lying. Brian McNamee has spoken. When will you?
Gene Wojciechowski is the senior national columnist for ESPN.com. You can contact him at gene.wojciechowski@espn3.com. He co-authored Jerome Bettis' autobiography, "The Bus: My Life In and Out of a Helmet," which is available now.
Columnist / College Football reporter
ESPN.com senior national columnist
Joined ESPN in 1998
Author of "The Last Great Game"
THE MITCHELL REPORT

On March 30, 2006, baseball commissioner Bud Selig asked former Sen. George Mitchell to investigate steroid use in baseball. Now, the report is out.
The Mitchell report
•
Mitchell delivers his report
|
Read it (pdf)
•
Players: Who's named in the report
•
Recommendations from the report
•
Report reaction: What they're saying
•
Drugs listed in report
|
The Dope On Steroids
•
Evidence may limit Selig's punishment choices
•
Mitchell defends naming stars in report
•
Owners praise Selig, support extended tenure
•
Seligs hopes to finish review by spring
Clemens news
•
Reports: New name surfaces in Clemens saga
•
Date set for Clemens, McNamee depositions
•
McNamee unlikely to get congressional immunity
•
Mitchell reportedly tried to contact Clemens twice
•
McNamee's attorney defends immunity request
•
Source: Clemens hedges on giving deposition
•
Report of Clemens abscess raises more questions
•
Astros unsure if Clemens to help at camp
•
Clemens' accuser meets with federal prosecutors
•
Rocket reps: McNamee 'avoiding' being served
•
Source: No immunity expected for Clemens
•
Laywer: McNamee 'avoiding' being served papers
•
Clemens denies steroid use in taped conversation
•
Trainer's lawyers alert Congress to second tape
Pettitte news
•
Pettitte undecided if he'll testify before Congress
•
Pettitte gets new lawyer for congressional hearing
•
Pettitte admits using HGH in 2002
Grimsley/Radomski documents
•
Unsealed documents:
Radomski
|
Grimsley
•
Federal agent Jeff Novitzky's sworn affidavit
•
Watson denies allegations in Grimsley affidavit
•
Hearst wants goverment. to explain conduct
Other News
•
Players, owners try to modify drug agreement
•
Fehr: Foreign players deserve equal drug penalties
•
Pujols bans TV station that erroneously named him
•
MLB establishes drug investigations unit
•
Report: Knoblauch ends silence on steroid report
•
Kent: Players should undergo blood testing
•
Rose investigator says Mitchell undermined report
•
Report: Congressional hearing postponed
•
MLB to crack down on clubhouse security
•
Congressman blasts Selig on steroids policy
•
Report: Players may still testify at hearing
•
Report: MLB players won't testify for Congress
•
Rose says users 'making a mockery' of game
•
Selig defends baseball's drug-testing program
•
Post-'03 cases face most MLB scrutiny
•
Congress calling new hearings on steroids, HGH
•
Report: Deal with feds led to McNamee testimony
•
Report: Roberts admits one-time steroid use
•
Nats prez: Team had no advance copy of report
•
Indians' Byrd discusses HGH use with MLB
•
Vina admits HGH use, but disputes steroid claims
•
MLB's man: Progress in urine test to detect HGH
•
O's respond to Mitchell findings
•
A-Rod's reply to Canseco: I never doped
•
Bush: MLB must take report seriously
•
Pujols sets record straight on inaccurate report
•
Reliever Donnelly 'sick' over inclusion in report
•
Former D-back Cabrera denies using steroids
•
Lowell calls for stronger steroid testing
Analysis
•
Munson: Delay means Congress serious
•
Wojciechowski: Rocket's logic fizzles
•
Assael: Clemens throws up and in at McNamee
•
Munson: Clemens' lawsuit is part propaganda
•
Olney: There's one thing Clemens can't change
•
Crasnick: A tale of two Rockets on "60 Minutes"
•
Neyer: Time to stop behaving like a child

•
Bryant: Odds are against Clemens in interview
•
Munson Q&A: Clemens, McNamee on the hot seat
•
Neyer: Investigate all players

•
Wojciechowski: Time for Clemens to speak up
•
Neyer: Does HGH enhance performance?

•
Hill: Pettitte's apology was a joke
•
Stark: Pettitte no different than Pats' Harrison
•
Stark: Clemens, Bonds tales similar, yet different
•
Bryant: Selig must address steroids era records
•
Santangelo admits HGH use; will 'face the music'
•
Helyar: Not good for short-term business
•
Fish: Baseball's steroids crisis management
•
Crasnick: Clemens' Hall of Fame chances?
•
Gammons: Drug culture quite slimy

•
Hall of Fame voters speak out on Clemens
•
Stark: Indelible impact on the game
•
Wojciechowski: Thaw needed in cold war
•
Bryant: Mitchell report flat without feds
•
Fainaru-Wada: Report sheds light on Bonds
•
Crasnick: Recently acquired players named
•
The man behind Clemens, Pettitte bombshells
•
Munson: Legal challenges troublesome
•
Fish: Congress reacts quickly to report
•
Helyar: Anti-doping experts don't agree on report
•
Nelson: Fehr, MLBPA kept in dark on report
•
Neyer: Non-surprising names

•
Neyer: Scout's telling take on Gagne

Video
•
Complete coverage
Audio
•
David Justice on The Herd
•
Best of Mike & Mike, on report's fallout
•
PTI discussion over report's release
•
Michael Kay Show
•
ESPN.com's Keith Law
SportsNation
•
SportsNation reacts to Mitchell report
•
What do you think of it?
•
Fan blogs: How fans are reacting
More
•
Mitchell investigation timeline
•
Kirk Radomski timeline
•
List of suspended MLB players
MOST SENT STORIES ON ESPN.COM