Commentary
Wallace should throw high and tight with Clemens interview
And so it comes to this: An 89-year-old "correspondent emeritus" who adores the New York Yankees, spends quality time in owner George Steinbrenner's stadium suite and considers latest interviewee Roger Clemens "my friend," becomes our best hope to arm wrestle the truth out of the accused pitcher.
No wonder Clemens' reps were hoping that Mike Wallace would be asking the questions for Sunday's "60 Minutes" segment. Clemens got a familiar face (Wallace first interviewed him in 2001), a self-admitted admirer and gobs of prep time for the make-or-break interview.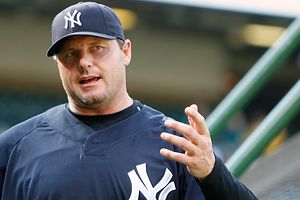 Gregory Shamus/Getty ImagesRoger Clemens will next talk to Mike Wallace in his first post-Mitchell report interview.
Now I get it. This is what Clemens meant when he said he'd talk "at the appropriate time in the appropriate way." In Clemens' damage-control world, that means his first interview will air a full 24 days after the Dec. 13 Mitchell report named him as a steroids and HGH user.
Not too much is at stake. Only Clemens' reputation, his baseball legacy, his place in the Hall of Fame, his records and his word. A 24-season body of often jaw-dropping major league work is under siege.
Through issued statements and a video on his Web site -- all conveniently done from his Texas bunker and without having to deal with any of those annoying reporters -- Clemens has denied the accusations made by former personal trainer Brian McNamee in the Mitchell report. The nutshell version of McNamee's claims: that he injected Clemens with steroids and/or HGH during the 1998, 2000 and 2001 seasons.
Now it's up to CBS's Wallace to try to separate fact from fiction. In essence, the interview becomes Clemens' personal anti-Mitchell report. But even then you have to question Clemens' actions: He declined to discuss the allegations with former Sen. George Mitchell, but he's more than willing to discuss them with Wallace? On national television? And afterward, he's scheduled to conduct a news conference with other reporters? Interesting.
I'm hoping for the best from the interview, which is to say I'm hoping for Wallace's best.
The man has won 21 Emmys and enough journalism awards and honorary degrees to fill half a Wal-Mart. He has a history of fearlessness, and his interview doctrine -- as described in his memoir, "Between You and Me" -- is direct and confrontational. Writes Wallace: "There is no such thing as an indiscreet question."
Wallace once dared to ask Louis Farrakhan if the Nation of Islam leader was responsible for the assassination of Malcolm X. He told Lyndon Johnson that "Vietnam f---ed you, Mr. President, and so, I'm afraid, you f---ed the country." He suggested to Menachem Begin that the Israeli prime minister had much in common with blood enemy Yasir Arafat of the Palestine Liberation Organization. Begin raged at the comparison.
Wallace had the nerve to tell the Ayatollah Khomeini that Egypt's Anwar Sadat described the Iranian cleric as "a lunatic." He has sat across from the likes of Panama dictator Manuel Noriega and Watergate dictator H.R. Haldeman. And in February 2005 he interviewed a one-time big league star who had sold his baseball soul for the narcissistic power of steroids.
His name was Jose Canseco.
The symmetry is unavoidable. Wallace and the whistle-blowing/mercenary Canseco in 2005 ... Wallace and the outraged Clemens defending himself against the likes of Canseco in 2008.
For the fans' sake, baseball's sake and even Clemens' sake, we need Wallace to be indiscreet in the interview. We need him to be unrelenting. We need him to park his friendship with the seven-time Cy Young winner at the front door.
What we don't need is a touchy-feely version of Oprah, or worse yet, The Chris Farley Show.
Wallace: "Remember that time in 1998, when you were pitching for the Toronto Blue Jays, and you started 6-6, and then all of a sudden you finished 14-0 for the rest of the season, and your ERA dropped from 3.27 to 2.29, and that guy McNamee was your trainer?"

Clemens: "Yeah. So what?"

Wallace: "That was awwwwwwsome."
Rocket numbers
A look at Roger Clemens' statistics, from 1993-96 (his last four seasons with the Boston Red Sox), and 1997-2005.
| | | |
| --- | --- | --- |
| | '93-'96 | '97-'05 |
| W-L | 40-39 | 149-61 |
| Win pct. | .506 | .710 |
| ERA | 3.76 | 3.22 |
| IP per season | 186.3 | 214.3 |
| K per season | 179.3 | 212.4 |
| K per 9 IP | 8.66 | 8.92 |
| WHIP | 1.29 | 1.19 |
Instead, it would be nice to see vintage Wallace on Sunday night. Not ruthless, but skeptical, dogged, willing to chip away at the outer shell of responses no doubt prepared for Clemens by his handlers.
I'd like to hear him ask why Clemens, if the pitcher has nothing to hide, refused to discuss the steroid and HGH allegations with Mitchell.
I'd like to know why Clemens thinks McNamee would supposedly lie about him in such damning and stunning detail, but tell investigators the absolute truth about Clemens' teammate and workout partner Andy Pettitte.
I'd like to know why Clemens once trusted McNamee so completely, but now lets his lawyer refer to the personal trainer as "a troubled man."
I'd like to know if he thinks Pettitte (and others who have admitted to using performance enhancers) is a cheater.
I'd like to hear Clemens explain what he would do if asked to testify under oath at an upcoming congressional hearing. Or why no lawsuit has been filed if, in fact, Canseco, McNamee or the MLB-commissioned Mitchell report defamed him. Or why Canseco, who has been outing steroid and performance-enhancer users for years, would lie about discussing steroids with Clemens 10 seasons ago.
And, of course, I'd like to know if his team of private investigators will also be working with O.J. Simpson's people.
"60 Minutes" wanted Clemens, and Clemens apparently wanted Wallace. Now that they have each other, let's hope we get something more than a Yankees group hug.
The truth would be a nice start.
Gene Wojciechowski is the senior national columnist for ESPN.com. You can contact him at gene.wojciechowski@espn3.com.
Columnist / College Football reporter
ESPN.com senior national columnist
Joined ESPN in 1998
Author of "The Last Great Game"
SPONSORED HEADLINES
ESPN TOP HEADLINES
MOST SENT STORIES ON ESPN.COM
THE MITCHELL REPORT

On March 30, 2006, baseball commissioner Bud Selig asked former Sen. George Mitchell to investigate steroid use in baseball. Now, the report is out.
The Mitchell report
•
Mitchell delivers his report
|
Read it (pdf)
•
Players: Who's named in the report
•
Recommendations from the report
•
Report reaction: What they're saying
•
Drugs listed in report
|
The Dope On Steroids
•
Evidence may limit Selig's punishment choices
•
Mitchell defends naming stars in report
•
Owners praise Selig, support extended tenure
•
Seligs hopes to finish review by spring
Clemens news
•
Reports: New name surfaces in Clemens saga
•
Date set for Clemens, McNamee depositions
•
McNamee unlikely to get congressional immunity
•
Mitchell reportedly tried to contact Clemens twice
•
McNamee's attorney defends immunity request
•
Source: Clemens hedges on giving deposition
•
Report of Clemens abscess raises more questions
•
Astros unsure if Clemens to help at camp
•
Clemens' accuser meets with federal prosecutors
•
Rocket reps: McNamee 'avoiding' being served
•
Source: No immunity expected for Clemens
•
Laywer: McNamee 'avoiding' being served papers
•
Clemens denies steroid use in taped conversation
•
Trainer's lawyers alert Congress to second tape
Pettitte news
•
Pettitte undecided if he'll testify before Congress
•
Pettitte gets new lawyer for congressional hearing
•
Pettitte admits using HGH in 2002
Grimsley/Radomski documents
•
Unsealed documents:
Radomski
|
Grimsley
•
Federal agent Jeff Novitzky's sworn affidavit
•
Watson denies allegations in Grimsley affidavit
•
Hearst wants goverment. to explain conduct
Other News
•
Players, owners try to modify drug agreement
•
Fehr: Foreign players deserve equal drug penalties
•
Pujols bans TV station that erroneously named him
•
MLB establishes drug investigations unit
•
Report: Knoblauch ends silence on steroid report
•
Kent: Players should undergo blood testing
•
Rose investigator says Mitchell undermined report
•
Report: Congressional hearing postponed
•
MLB to crack down on clubhouse security
•
Congressman blasts Selig on steroids policy
•
Report: Players may still testify at hearing
•
Report: MLB players won't testify for Congress
•
Rose says users 'making a mockery' of game
•
Selig defends baseball's drug-testing program
•
Post-'03 cases face most MLB scrutiny
•
Congress calling new hearings on steroids, HGH
•
Report: Deal with feds led to McNamee testimony
•
Report: Roberts admits one-time steroid use
•
Nats prez: Team had no advance copy of report
•
Indians' Byrd discusses HGH use with MLB
•
Vina admits HGH use, but disputes steroid claims
•
MLB's man: Progress in urine test to detect HGH
•
O's respond to Mitchell findings
•
A-Rod's reply to Canseco: I never doped
•
Bush: MLB must take report seriously
•
Pujols sets record straight on inaccurate report
•
Reliever Donnelly 'sick' over inclusion in report
•
Former D-back Cabrera denies using steroids
•
Lowell calls for stronger steroid testing
Analysis
•
Munson: Delay means Congress serious
•
Wojciechowski: Rocket's logic fizzles
•
Assael: Clemens throws up and in at McNamee
•
Munson: Clemens' lawsuit is part propaganda
•
Olney: There's one thing Clemens can't change
•
Crasnick: A tale of two Rockets on "60 Minutes"
•
Neyer: Time to stop behaving like a child

•
Bryant: Odds are against Clemens in interview
•
Munson Q&A: Clemens, McNamee on the hot seat
•
Neyer: Investigate all players

•
Wojciechowski: Time for Clemens to speak up
•
Neyer: Does HGH enhance performance?

•
Hill: Pettitte's apology was a joke
•
Stark: Pettitte no different than Pats' Harrison
•
Stark: Clemens, Bonds tales similar, yet different
•
Bryant: Selig must address steroids era records
•
Santangelo admits HGH use; will 'face the music'
•
Helyar: Not good for short-term business
•
Fish: Baseball's steroids crisis management
•
Crasnick: Clemens' Hall of Fame chances?
•
Gammons: Drug culture quite slimy

•
Hall of Fame voters speak out on Clemens
•
Stark: Indelible impact on the game
•
Wojciechowski: Thaw needed in cold war
•
Bryant: Mitchell report flat without feds
•
Fainaru-Wada: Report sheds light on Bonds
•
Crasnick: Recently acquired players named
•
The man behind Clemens, Pettitte bombshells
•
Munson: Legal challenges troublesome
•
Fish: Congress reacts quickly to report
•
Helyar: Anti-doping experts don't agree on report
•
Nelson: Fehr, MLBPA kept in dark on report
•
Neyer: Non-surprising names

•
Neyer: Scout's telling take on Gagne

Video
•
Complete coverage
Audio
•
David Justice on The Herd
•
Best of Mike & Mike, on report's fallout
•
PTI discussion over report's release
•
Michael Kay Show
•
ESPN.com's Keith Law
SportsNation
•
SportsNation reacts to Mitchell report
•
What do you think of it?
•
Fan blogs: How fans are reacting
More
•
Mitchell investigation timeline
•
Kirk Radomski timeline
•
List of suspended MLB players