Commentary
Miles, Tigers can 'let it out' after winning national title
NEW ORLEANS -- "Excuse me," said LSU coach Les Miles, pausing momentarily to, what -- compose himself? Cry? Lead the postgame news conference in prayer?
Instead …
"Wa-hooooo!" yelled Miles. A beat later, "Just kind of had to do that."
You'd yell, too, if you were Miles on Monday night at the Superdome. That's because Miles' damn strong football team won the Allstate BCS National Championship Game, beating No. 1-ranked (cough, cough) and supposedly more focused Ohio State, 38-24.
"I think he just wanted to let it out and scream," said Kathy Miles, who happily watched her husband from near the back of the room.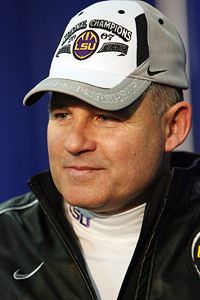 Nelson Chenault/US PresswireLes Miles couldn't put into words how he felt about winning his first title.
Can't blame any of the Miles family for whooping it up. About five weeks ago Miles was thigh-pad deep in job controversy. The Michigan job was open, and anybody who knows Miles and knows where he played and who he played for, was aware of his dream to one day return to the Big House as the Wolverines' head coach.
But from the rumors -- and the angry, theatrical denial from Miles that followed -- LSU managed to gather itself in time to win the SEC championship, then somehow squeezed into the second spot of the final BCS standings, and then held a Mardi Gras parade on Ohio State's national championship plans. That noise you heard at 4 a.m. was the nearby French Quarter begging for mercy from LSU fans.
The score didn't do the rout justice. The only thing LSU didn't do was dot the i in victory with one of the Buckeyes' sousaphone players.
It was just the way Miles thought it could be, maybe better. His team reflected its coach: defiant, geeked, relentless. The Tigers fell behind 10-0, and then scored the next 31 points. Ohio State never recovered.
"We played a lot tougher teams, mentally tougher," said safety Harry Coleman, who replaced injured all-American Craig Steltz during the game. "When they got down, they shut it down."
Miles and the Tigers kept cranking it up. This is the Miles way. When in doubt, be aggressive. Maybe that's why, with 1:50 left in the game and LSU ahead by 14, the Tigers threw a touchdown pass on a second-and-goal from the Ohio State 5-yard-line.
Because of something as innocent as luck and a series of weird circumstances that can shape a man's career, Miles stood on the Superdome field late Monday evening with the drop-dead gorgeous BCS championship crystal trophy in his hands. Somehow that dream of coaching Michigan didn't seem so important anymore.
"The Michigan thing, it really didn't compare," Miles said. "There will always be a wonderful place in my heart for Michigan, it's just that simple. It will never change. But there will also be an extremely warm spot in my heart for LSU. It's a very special season, a very special team."
Special for lots of reasons. LSU was the first two-loss team to play in and win a BCS National Championship Game. It overcame a pair of triple-overtime defeats. It overcame injuries. It overcame the rumors and reports that Miles was doing a slow dance with his alma mater.
But none of that mattered after the game when Miles called his team together to sing the LSU alma mater.
"I want Porter," he said, signaling for assistant head coach Larry Porter to join him at the front of the makeshift team choir.
Miles put an arm around Porter on his right, and an arm around senior running back Jacob Hester, who grinded out 86 yards and a touchdown against the Buckeyes, on his left.
"Maestro," said Miles, waiting for the LSU band to begin playing.
At the end of the song, Miles took his time as he belted out the final words: "And thy spirit dwell in us … forever L-S-U!"
Everybody celebrated. Miles waved to the crowd and held up his forefinger. Defensive tackle Marlon Favorite, with very little prodding from a TV crew, broke out his newest song, "We Rock, We Roll." My favorite line: "You better give LSU respect, like Aretha."
LSU earned respect and a national championship. USC and Georgia can make their arguments for No. 1, but LSU, even with those two losses, played like the best team in the nation.
[+] Enlarge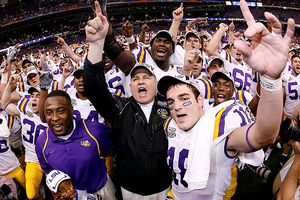 Chris Graythen/Getty ImagesLes Miles and the Tigers have plenty to scream and sing about after winning the title.
Of course, it helped to have Ohio State on the other side of the field. The Buckeyes are now 0-9 in bowl games against SEC teams, including the 41-14 loss to Florida in the BCS Championship Game a year ago, and now this mauling. That's 79 points allowed in two title games. So much for the power of The Sweater Vest.
Just think if Miles hadn't been here for this. Just think if the Michigan Man, and not West Virginia import Rich Rodriguez, had been offered the Wolverines' coaching job.
"I couldn't blame him for that," Favorite said. "I know it's a dream of his to coach at his old school."
Not anytime soon, it isn't.
"He's stuck here," Coleman said. "We got him a ring now."
Porter, who has been on Miles' staff for the past six years, said he was never especially worried about his boss ditching LSU. "No, because we talk," he said. "I knew where he wanted to be. I knew all along. The bottom line is that LSU made a commitment to him, and he made one to LSU. There's a marriage."
Until Michigan we part? Doesn't seem like it.
"I'm so fortunate to be the coach here," Miles said. "So fortunate to represent LSU."
As the rest of LSU Nation adjourned to The Quarter for adult beverages on Bourbon Street, Kathy Miles said there wouldn't be much of a family celebration.
"We'll take the kids out for ice cream or something," she said.
Here's an idea: a group "wa-hooooo!" You know, for the guy wearing the white LSU cap.
Gene Wojciechowski is the senior national columnist for ESPN.com. You can contact him at gene.wojciechowski@espn3.com.
Columnist / College Football reporter
ESPN.com senior national columnist
Joined ESPN in 1998
Author of "The Last Great Game"
2007 Bowl Season
College football's bowl season ended with the crowning of the LSU Tigers in the Allstate BCS National Championship Game, but not before Georgia and USC made convincing arguments on the field that they deserved to be the top team in the land. The good news? The 2008 season is mere months away.
BCS Title Game
Features
•
Maisel: What a way to geaux
•
Wojciechowski: Miles deserves a wa-hooooo
•
Forde: Ohio St. buckles under BCS pressure
•
Schlabach: Game analysis
Video
•
GameDay: Big Ten weak?

•
Forde/Schlabach: BCS analysis

•
Forde/Schlabach: Keys to the game

•
McShay: BCS breakdown

•
Postgame quotes: Jim Tressel

•
Postgame quotes: Glenn Dorsey

•
Postgame quotes: Les Miles

•
LSU celebrates win over Ohio State

BCS Title Game Preview
Features
•
Forde/Maisel: 10 reasons Ohio State/LSU will win
•
Forde: BCS title game important for more than football to New Orleans
•
Maisel: OSU's children of the scorn
•
Forde: Destiny's Team tag fits Tigers well
•
Wojciechowski: Don't believe the hype
•
Forde: Tale of the tape
•
Maisel: BCS QBs not stars, but leaders
•
Schlabach: 'Ironhead' Heyward's memory alive in son
•
Beanie carries the load for Bucks
•
Maisel: Healthy Dorsey ready to roll
•
Wojciechowski: Ohio State's motivational DVD
•
Maisel: Face of the Ohio State
•
Wojciechowski: Les is more
•
Schlabach: BCS notebook
•
Low: Steltz family ties
•
Low: Early bowls offer BCS game clues
•
Scouts' edge: LSU or Ohio State?

Video
•
Forde/Maisel: Breaking down the title game

•
Forde/Maisel: Hester, Laurinaitis define teams

•
Forde/Schlabach: X-Factors

•
Schlabach: Bucks' WRs key

•
Players expect electric atmosphere

•
GameDay: Which defense will prevail?

•
Forde/Maisel: LSU's D-Line vs. Ohio State's O-Line

•
Maisel/Schlabach: Title game intangibles

•
Forde/Schlabach: Pelini's impeding departure a factor?

•
McShay: BCS Championship preview

Fiesta Bowl
•
Forde: Stewart nails on-the-job interview
•
Forde: Scene of the crime
•
Forde: Mo' money, mo' problems
•
Forde: Picture worth 1,000 words
Rose Bowl
•
Schlabach: USC looks like nation's best team
•
Feldman: McKnight's impressive coming-out party
•
Schlabach: Illinois' offense as easy as 1-2-3
•
Feldman: USC defense starts, finishes up front
•
Schlabach: Rose coaches have similar stories
•
Feldman: Patience helps Booty weather storm
•
Schlabach: Leman's success mirrors Illini's rise
•
Feldman: USC still up despite 'down' year
•
Schlabach: Third year a charm for Zook, Illini
Sugar Bowl
•
Maisel: Seems like old times
•
Low: Howard hosts sack party
•
Maisel: Sweet smell of success
•
Schlabach: Richt takes a walk on the wild side
•
Dinich: Jones finds ohana in Hawaii
•
Low: Growth spurt helps Georgia come of age
•
Nielsen: 'Dread-Heads' Hawaii's unsung stars
Orange Bowl
•
Dinich: Kansas proved it belonged
•
Dinich: Kansas time share
•
Dinich: Virginia Tech makes two work
Other Bowl Coverage
•
Adelson: A final spin in the old Carr
•
Dinich: Texas Tech steals a bit of luck
•
Low: Liberty Bowl win caps MSU's season
•
Low: Croom's breakthrough season
•
Low: UCF's Smith running into record books
•
Feldman: Motivated Horns stampede Sun Devils
•
Maisel: Lone Star State QBs shining on bowls
•
Schlabach: Coaching transition game
•
Forde: Schnellenberger takes road less traveled
What To Watch
•
Pat Forde: Bowl-der Dash
•

Feldman's picks:
December
|
January
•
Flash Gallery: Chris Low's impact players
•
Heather Dinich: Bowling for the best gifts
BCS Selection Sunday
•
Pat Forde: The grateful duo
•
Ivan Maisel: Tigers, Bucks survive, advance
•
Gene Wojciechowski: Theater of the absurd
More Bowl Coverage
•
BCS:
Rose
|
Sugar
|
Fiesta
|
Orange
•
BCS National Championship Game
•
Bowl Overview
|
Bowl Schedule
|
Bowl Index
MOST SENT STORIES ON ESPN.COM