Commentary
No way the Chargers beat the Pats, right? Right?
The Chargers showed grit in beating the Colts but face even bigger odds next week against the Patriots, writes Gene Wojciechowski.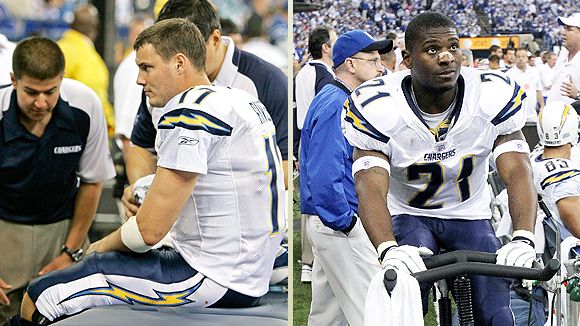 Ap Photo/Getty ImagesIt's never a good scene when your starting QB (Philip Rivers, left) and star running back (LaDainian Tomlinson) are sidelined, but the Chargers overcame those injuries to beat the Colts.
INDIANAPOLIS -- So, what do you think Mr. Stetson Cologne Boy and the rest of the
New England Patriots
were thinking as they watched Sunday's AFC divisional playoff game?
Dear God, anybody but the Ravens.
The San Diego Chargers? Didn't we already beat them by, like, 100?
We're going to the Super Bowl!
Nothing against the Chargers, who faced every adversity here Sunday except locusts, but beating the one-and-done Super Bowl champion Indianapolis Colts is several floors down from trying to beat Tom Brady and the undefeated Patriots in the AFC Championship Game ... at Gillette Stadium ... in late January, with forecasters calling for temperatures in the mid-teens, tops.
Still, if the Patriots are smart -- and they are -- they'll understand what happened at the RCA Dome. They'll understand because they know how difficult it is to beat a Tony Dungy-coached and Peyton Manning-quarterbacked team in a place so loud that your ears bleed. They'll also know this isn't the same Chargers team that lost to the Pats by 24 in Foxborough, Mass., nearly four months ago.
"The way we're playing now, nothing can stop us," Chargers defensive end Igor Olshansky said. "The way we overcome adversity and everything else. I guarantee you that [Patriots coach Bill] Belichick and everybody else over there are scratching their heads saying, 'Man, we better get ready.'"
That's one possibility. Another possibility is that the Patriots could be thinking the same thing that Manning and the rest of the Colts are thinking after San Diego's 28-24 win: How?
Chargers tight end Antonio Gates, who arrived at the stadium wearing a protective boot to cover his dislocated left big toe, tried to play but was good for just 28 yards' worth of catches.
Chargers running back LaDainian Tomlinson injured his left knee midway through the second quarter, returned briefly, and then spent more time on a stationary bike than Lance Armstrong. He finished with 28 yards on seven carries.
Chargers quarterback Philip Rivers appeared to hurt his right knee on the final play of the third quarter and didn't play again. But before he left, he threw three touchdowns.
And those were just the injuries. The Chargers were also flagged for 10 penalties, including a phantom holding call during a San Diego interception return that cost the visitors a touchdown and the lead going into halftime. There was also an interesting pass interference call early in the fourth quarter that almost caused Chargers coach Norv Turner's head to explode.
Rivers threw an interception deep in Colts territory. Nate Kaeding doinked a Chargers field goal attempt off the right upright. Right guard Mike Goff had two false starts on the same drive -- a career first, he said.
And yet, the Chargers won. They overcame four Colts leads, three crucial injuries, Manning's 402-yard, three-touchdown day and a Colts crowd so overpoweringly loud that San Diego players said they couldn't hear themselves talk on the sidelines or on the field.
Afterward, Colts owner Jim Irsay found Chargers president Dean Spanos just outside the San Diego locker room.
"Congratulations, buddy," Irsay said. "Good luck to you ... It was a great victory for you guys."
He's right. The Chargers were supposed to lose to the Colts. Now they're supposed to lose to the Patriots.
"This is nothing new," Spanos said later. "Anybody can beat anybody on any given Sunday. Nobody gave us much of a chance today."
A year ago, the Patriots beat the Chargers at San Diego in these same AFC divisional playoffs. Then they beat them, 38-14, in the second game of this season. By the end of September the Chargers were 1-3 and fans were openly chanting, "Mar-ty," as a way to mock Turner and San Diego management for firing Marty Schottenheimer.
But now the Chargers have won eight consecutive games. And nobody is making fun of Turner anymore.
"I'm really happy for Norv," Spanos said. "It was tough the first month or so, for all of us."
FYI, Patriots: Turner said these Chargers are the best team he's had as a head coach. And he also said he's well aware of his team's underdog status.
"I saw one of these polls -- I don't know how accurate they are -- but 82 percent of America thought [we'd lose] this game," Turner said.
What will it be against the Patriots? Ninety percent? Close to 100?
"It's going to be a tough game, probably our toughest game we've ever played," Tomlinson said. "I'm pretty sure we'll be huge underdogs, and rightfully so."
But Chargers safety Eric Weddle, who intercepted a Manning pass just short of the San Diego goal line, offered a small bit of advice: "We are definitely a lot better team than the first time we faced [the Patriots]."
Better. Deeper. More experienced. Looser. Much looser.
With 12:38 left to play and San Diego leading by four, the Chargers offense waited to huddle during a TV commercial break. As they waited, several Chargers -- mostly 6-7, 336-pound offensive tackle Marcus McNeill -- started swaying and dancing to the music being played during the TV timeout.
"That's how it's supposed to be," McNeill said. "It doesn't make no sense to be at crunch time and your butthole is all tight."
Yes, well, that's one way to look at it.
The point is, the Chargers have suffered just about every indignity and here they are, a victory away from a Super Bowl appearance. From preseason favorites to football punch lines ... from a 5-5 record on Nov. 18 to a 13-5 record on Jan. 13 ... from injuries and penalties galore to an unlikely win against the defending Super Bowl champions on the Colts' field.
"Whatever happens, I think we can handle," said Rivers, who, like Tomlinson, is questionable for the AFC Championship Game. "This team can handle.''
All that stands in their way, Rivers said, is "arguably one of the best teams that ever played ... Seventeen have tried and it hasn't happened yet. We believe it can happen. All you can ask for is an opportunity."
Ask? No way. The Chargers earned it.
Gene Wojciechowski is the senior national columnist for ESPN.com. You can contact him at gene.wojciechowski@espn3.com. He co-authored Jerome Bettis' autobiography, "The Bus: My Life In and Out of a Helmet," which is available now.
Columnist / College Football reporter
ESPN.com senior national columnist
Joined ESPN in 1998
Author of "The Last Great Game"
2007 PLAYOFFS

In a rematch of their Week 17 game, the unbeaten Patriots will play the red-hot Giants in Super Bowl XLII in Glendale, Ariz.
Super Bowl Central
Clayton: Eli's managing fine
Chadiha: Focused Giants
AccuScore simulation: Pats to prevail
Chadiha: First Look | Playoff schedule



Conference Championships (Jan. 20)
Patriots 21, Chargers 12
•
Merrill: Questions linger about Moss' postseason
•
Wojciechowski: Whatever it takes, Pats win
•
Pasquarelli: Patriots' offense grinds it out
•
Pasquarelli: Chargers squander opportunites
•
Pats make fourth SB in seven years
•
The Last Call: Mike Sando's observations, more
•
Zoom Gallery:
AFC title game
|
Pats' season
•
Playoff page
Giants 23, Packers 20
•
Clayton: Burress burns Harris, Packers
•
Chadiha: Bitter pill for Packers to swallow
•
Zoom Gallery: Giants edge Packers
•
The Last Call: Mike Sando's observations, more
•
Garber: Coughlin's personality makeover intact
•
Playoff page
Video
•
What is Tom Brady's legacy?
•
Eli and Burress lead Giants
•
Patriots avoid distractions on way to Super Bowl
•
Resilient Giants advance to SB
•
Red-zone efficiency fuels Patriots
Divisional Round (Jan. 12-13)
Packers 42, Seahawks 20
•
Recap
|
Playoff game page
•
Clayton: Ryan Grant sticks to the plan
•
Sando: Disastrous play at TE for Seattle
Patriots 31, Jaguars 20
•
Recap
|
Playoff game page
•
Pasquarelli: Patriots have too many weapons
Chargers 28, Colts 24
•
Recap
|
Playoff game page
•
Wojciechowski: Did Chargers get Pats' attention?
•
Clayton: Colts can't overcome mistakes
Giants 21, Cowboys 17
•
Recap
|
Playoff game page
•
Chadiha: Manning maturing at right time
More divisional playoffs
•
Saturday's Last Call: Pack, Pats advance
•
Sunday's Last Call: Giants, Chargers surprise
Commentary/Features
•
Pasquarelli: Tip Sheet
|
Notes

•
Smith: Special teams loom large
•
Scouts: Kryptonite for top four teams

•
Playoff upsets: By the numbers
•
Page 2: Handicapping the wild-card winners
Wild-Card Round (Jan. 5-6)
Seahawks 35, Redskins 14
•
Recap
|
Playoff game page
•
Clayton: Cool head Holmgren
•
Sando: Redskins inspired by Taylor
Jaguars 31, Steelers 29
•
Recap
|
Playoff game page
•
Chadiha: Jaguars pass character test
Giants 24, Bucs 14
•
Recap
|
Playoff game page
•
Pasquarelli: Manning delivers for Giants
•
Pasquarelli: Giants' D rises to occasion
Chargers 17, Titans 6
•
Recap
|
Playoff game page
•
Clayton: Turner, Rivers silence their critics
More Wild Card Weekend
•
Saturday's Last Call: Hawks, Jags escape
•
Sunday's Last Call: Giants, Chargers rule
•
ZOOM photos:
Saturday
|
Sunday
Commentary/Features
•
Sando: Controversial history of replay
•
Clayton: First and Goal, Wild Card
•
Sando: Playoff mantras
•
Numbers crunching: Wild-card weekend
•
Sunday Countdown
•
TMQ: Do the Pats need to run more?
•
Joyner: Steelers, Giants adjusting on the fly

•
Clayton: Handicapping possible Patriots foes
•
Clayton: Key playoff questions for the AFC
•
Pasquarelli: Key playoff questions for the NFC
Video
•
Chargers bolt past Titans, 17-6
•
Eli Manning silences his critics
•
Seattle's Hasselbeck is underrated
•
Phillips not concerned about late-season slide
Scouts Inc.
•
Ranking the playoff teams
•
Ranking the playoff coaches
•
Off. rankings:
Overall
|
QB
|
WR
|
RB
|
OL
•
Def. rankings:
Overall
|
DL
|
LB
|
DB
|
ST
•
Green: Smith's absence hurting Steelers
•
Williamson: Unknowns powering Bucs

MOST SENT STORIES ON ESPN.COM