Commentary
Pettitte wasn't in room, but his words carried much of the day
They were separated by about six feet. And by their starkly different and sometimes evolving versions of the truth.
Roger Clemens and one of his accusers, Brian McNamee, sat at the same table inside a Capitol Hill hearing room Wednesday, but they agreed on virtually nothing. Not on allegations of steroid and human growth hormone use by Clemens. Not on allegations of a key meeting at a pool party. Not on allegations of blood-stained jeans caused by those injections.
But there was one other accuser in that room. He wasn't physically there, but his words were read and repeated, even shown on a TV screen for all to see, especially for Clemens to see. They were the words of a trusted friend, former teammate and workout partner. And at times, those words left bruise marks on Clemens' credibility and his particular recollection of the truth.
Andy Pettitte is scheduled to report to the New York Yankees' spring training camp no later than Monday. He will do so as a man who either answered to his own conscience and to the god he prays to, or as a man who suffers from profound memory loss as it relates to conversations with Clemens.
Friend against friend. Teammate against teammate. That was the essence of what happened during Wednesday's historic, sometimes inane and occasionally extraordianary hearing conducted by the House Committee on Oversight and Government Reform. Distill those four hours and 40 minutes of time into its purest form and you're left with a single shotglass of truth:
Pettitte, in absentia, called Clemens, in so many words, a liar. In return, Clemens politely called Pettitte, in so many words, a nitwit who was mistaken about past conversations between them regarding performance-enhancing substances.
As major league ballplayers make their way to spring training camps this week, they would be wise to remember the lasting image of that confrontation. There was Clemens, struggling to reconcile the testimony not only of his former friend and personal trainer, McNamee, but of the testimony of Pettitte, a man whom Clemens says was his friend before, during and now after these most recent congressional proceedings.
In many ways Pettitte became the tipping point of these hearings. We didn't hear his voice or see his face (he was, for reasons still not entirely logical, excused from having to appear Wednesday), but we learned through his 103-page deposition that maybe it's Clemens who is suffering acute memory loss.
[+] Enlarge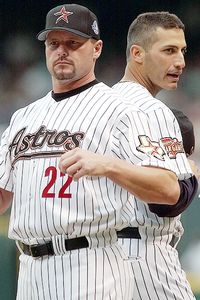 AP Photo/Tony GutierrezAndy Pettitte's deposition contradicted comments made by Roger Clemens on Wednesday.
Pettitte said that Clemens told him he had used HGH. He also said that McNamee had told him that Clemens had used steroids.
"He misheard ... misremembers," said Clemens.
Congressional lawyers repeatedly asked Pettitte during the deposition if his statements regarding Clemens and PED use were accurate, and Pettitte repeatedly confirmed those statements. There was no ambiguity in what he had heard and what he had remembered.
"Two things you ought to remember: Good people, whether it's Sen. [George] Mitchell, or whether it's Andy, can make mistakes," said Clemens' lawyer Rusty Hardin. "Andy heard one thing, Roger believes and knows another thing. And everybody else goes from there."
So, in review, when Pettitte says Clemens was on the juice, it's a case of a good guy who simply misheard and made an innocent mistake. But when McNamee alleges the same thing -- granted, in much greater volume and detail -- Team Clemens tries to kneecap the guy's credibility.
Fair enough. That's what you'd expect them to do.
But Clemens is still asking us to take a leap of faith longer than a first-base foul line. He wants, actually demands, that we believe everything he says, but to disregard anything McNamee says. In short: Clemens, good. McNamee, bad.
And McNamee is bad. His past is deeply pockmarked. His testimony to investigators has evolved, sometimes disturbingly so.
But despite the efforts of the monumentally fawning Rep. William Clay, D-Mo., who used part of his precious minutes to ask what uniform Clemens would wear for enshrinement in the National Baseball Hall of Fame (not so fast there, Sparky), or Rep. Eleanor Holmes Norton, D-D.C., who ordained that Clemens was going to heaven, there remain some McNamee landmines that still haven't been completely disarmed.
McNamee testified that he injected former major leaguer and former client Chuck Knoblauch with HGH. Knoblauch said McNamee told the truth.
McNamee testified that former client Pettitte used HGH. Pettitte said McNamee told the truth.
McNamee testified that he injected Clemens' wife, Debbie, with HGH. They weren't happy about it -- and they disputed the specific circumstances -- but Clemens and his wife confirmed that, yes, the pitcher's wife consented to an injection.
McNamee testified that he saw Clemens at a poolside barbecue at Jose Canseco's house in June 1998. It was there that McNamee alleges Clemens first discussed with Canseco the possibility of using steroids.
Clemens, Canseco and Canseco's wife, among others, disputed the testimony, but Clemens' nanny at the time appears to have confirmed portions of McNamee's version.
It could be entirely possible that both Clemens and McNamee are bad. Perhaps it isn't a case of who is telling more truths, but who is telling fewer lies.
"I don't know what to believe," Rep. Dan Burton, R-Ind., told McNamee. "I know one thing that I don't believe, and that's you."
You could almost feel the sweat form at McNamee's armpits.
But it was no better for Clemens, whose credibility was questioned pointedly by several congressmen, including Rep. Elijah Cummings, D-Md. Near hearing's end, Cummings said to Clemens, "All I'm saying is, it's hard to believe, it's hard to believe you, sir. I hate to say that, you're one of my heroes, but it's hard to believe you."
It wasn't as difficult to believe Pettitte. He had already admitted to his own HGH use. He had received the Clemens seal of approval ("I believe Andy to be a very honest fella," said Clemens). And his depositions made it clear when it absolutely needed to be clear that he considered Clemens a PED user.
Clemens refuses to budge from his position of innocence. McNamee refuses to budge from his position of knowing accuser. But Pettitte's testimony had no predisposition, no agenda. His only motive, he said, was "to tell you the truth."
What will Pettitte's teammates think of him when he arrives at Legends Field in Tampa, Fla.? That he betrayed a friend, or that he did his moral duty? Has he violated the clubhouse code of silence, or done the game a service?
Clemens absolved Pettitte of any supposed wrongdoing, but that doesn't mean he believes him. This is what it's come to. This is the worst-case scenario for any player who still considers PEDs a viable option.
Friend against friend. A nationally televised congressional hearing. Humiliation. Blunt trauma to reputations. A committee chairman angrily slamming a gavel while telling a seven-time Cy Young winner, "Excuse me, but this is not your time to argue with me."
If these hearings don't serve as a deterrent to would-be cheaters, then they deserve what McNamee and Clemens received Wednesday: harsh lights, harsh questions.
This was the loudest wake-up call for ballplayers. Now we find out if they'll sleep through it again.
Gene Wojciechowski is the senior national columnist for ESPN.com. You can contact him at gene.wojciechowski@espn3.com.
Columnist / College Football reporter
ESPN.com senior national columnist
Joined ESPN in 1998
Author of "The Last Great Game"
SPONSORED HEADLINES
ESPN TOP HEADLINES
MOST SENT STORIES ON ESPN.COM
CONGRESS CALLS FOR JUSTICE


The congressional committee that grilled Roger Clemens and Brian McNamee on allegations of performance-enhancing drug use in the Mitchell report has asked the U.S. Department of Justice to investigate whether Clemens committed perjury when he testified on Capitol Hill.
Perjury Probe
•
Clemens issues apology for personal 'mistakes'
•
Report: Clemens alleged to have had affair
•
Republican's report questions if Clemens lied
•
Report: Clemens probe expands to Houston clinic
•
Congressman asks FBI to drop Clemens inquiry
•
FBI opens probe of whether Clemens was truthful
•
Congress asks Justice to examine Clemens
•
Waxman: Seven contradictions (.pdf)
•
Rocket mum on Congress' investigation request
•
Text of committee's letter to Justice department
•
Fainaru-Wada: Damning analysis on Clemens
•
Wojciechowski: Clemens' inconsistent truth
•
Poll: Clemens lied, but should be voted into Hall
•
Astros owner might reconsider Clemens contract
After The Hearing
•
Radomski says new HGH receipt found under TV
•
Report: Receipts show HGH shipments to Clemens
•
U.S. GM: Clemens not welcome on Olympic team
•
Judge allows Clemens to keep Hardin in lawsuit
•
Lawyer talking with Clemens about dropping suit
•
McNamee's attorneys ask judge to remove Hardin
•
Investigator wants to talk to Canseco about Clemens
•
Report: McNamee selling off signed Clemens items
•
McNamee tells students to learn from his mistakes
•
Hardin makes case to represent Clemens
•
Reports: McNamee faints behind wheel, hits bus
•
McNamee's lawyers want Clemens' suit tossed
•
Report: McNamee nearly joined Mets as coach
•
Report: Photo exists of Clemens at party
•
Pettitte reports, apologizes
•
Report: Pettitte's HGH provided by ex-classmate
•
Posada: 'I believe Rocket' about steroid claims
The Hearing
•
Transcripts: McNamee attempted to warn Rocket
•
Report: Waxman wishes hearings didn't happen
•
Parties divide over Clemens' treatment at hearing
•
Stark's running blog
•
Clemens: Pettitte 'misremembered' him on HGH
•
Fish: Clemens' support breaks along party lines
•
Fish: Pettitte's role was clincher for Cummings
•
Pettitte says he also used HGH in 2004
•
Clemens statement: I never took steroids
•
McNamee statement: I told truth about Clemens
•
Statement on behalf of Andy Pettitte on affadavit
•
Debbie Clemens admits HGH use
Analysis
•
Munson: The Rusty Hardin effect on Rocket's lawsuit
•
Wojciechowski: Clemens feeds feds' case
•
Fainaru-Wada: Damning analysis on Clemens
•
Stark: Pettitte saga doesn't end here
•
Wojciechowski: Pettitte deals with past
•
Hill: Truth will set Andy free
•
Bryant: Clemens blames all but himself
•
Wojciechowski: Pettitte speaks loudest
•
ESPN experts: Who was more credible?
•
Munson Q&A on Wednesday's hearing
•
Drehs: Body language breakdown
•
Stark: Pettitte's shadow looms large
•
Neyer: What matters to Roger is Roger

Video
•
Complete coverage from the hearings

Committee Depositions/Interviews (pdf)
•
Andy Pettitte
|
Brian McNamee
•
Roger Clemens
|
Chuck Knoblauch
•
Clemens' nanny
The Mitchell report
•
Mitchell delivers his report
|
Read it (pdf)
•
Players: Who's named in the report
•
Recommendations from the report