Commentary
No matter what, Favre was always worth watching
It would have been nice if the final pass of his 17-season career hadn't been intercepted. Or if the final game of his football life hadn't been a loss in overtime. Or if the lingering memory of that Jan. 20 NFC Championship hadn't been of Brett Favre looking as though he'd just been removed from the frozen food section of your local grocery store.
But Favre has always defied logic. He played when his body begged him not to. He threw passes into slivers of daylight, or no light at all. And he retired when it seemed there was every reason for him to return for an 18th season. I don't blame him. The NFL ages you like dog years. Every game extracts a price not only from your body but also from your will. Favre can still throw a football through three sheets of drywall, but there's more to it than that. Favre has something left, but not enough. He can play, but he can't play like Favre anymore. Not every down and not every game. His heart -- and that's the body part that made Favre great -- isn't into it anymore.
Ron Wolf was the Green Bay Packers' general manager who traded for him in 1992. He heard about Favre's retirement from a neighbor.
"I was really surprised about that," Wolf said Tuesday evening. "Everything he did was with such great passion. But the more I thought about it, if he decided he didn't have that passion anymore, it was probably the best thing that he retired."
Wolf on The Herd

Former Green Bay general manager Ron Wolf, who brought Brett Favre to Green Bay 16 years ago, told Colin Cowherd he was surprised by the retirement announcement. Podcast

Favre could have quit a year ago and everyone would have understood. Instead, Favre returned to Green Bay and became 23 again. Otherwise, what was the point?
Half the fun of watching the Packers work their way to the conference championship game last season was watching Favre. That's what I'll miss. He played like he was still drawing plays in the dirt. He played like his hair wasn't gray and his bones didn't ache. Favre made his Packers debut in Game 3 of the 1992 season. He replaced an injured Don Majkowski, and on his first play called an audible that didn't exist. Then he was sacked and fumbled away the ball. He was a green and gold train wreck. Standing on the sideline was then-first-year Green Bay coach Mike Holmgren. He had lost his first two games, and in comes Favre calling imaginary plays. Years later, Holmgren distinctly recalled thinking, "I'm never going to win a game in this league." Then Favre put together a last-minute, game-winning drive that day against the
Cincinnati Bengals
. He even was the holder on the extra point, though go watch the video of it. So scared was Favre of getting his hand kicked that he did a Lucy, of Peanuts fame, and actually let go of the ball moments before the PAT attempt.
[+] Enlarge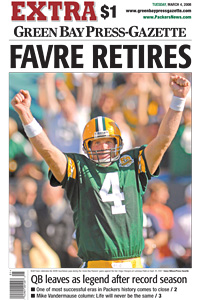 Green Bay Press-GazetteThe Green Bay Press-Gazette said it distributed 50,000 extra editions Tuesday for its Favre coverage, the newspaper's first extra edition since Sept. 11, 2001.
Favre was a throwback. He could have played in any football era. He would have played with or without a helmet. He would have gone face mask to face mask with Butkus. He was a football player, not a quarterback. Wolf thought Favre was the best player in the 1991 NFL draft, but Atlanta got to him first. Falcons coach Jerry Glanville couldn't see past Favre's immaturity, so he sent him to the Packers the next year. "Let's face it," Wolf said. "I put my career in Brett Favre's hands and he's not let me down … turns out he was the best player in the 1991 draft." Turns out he was one of the best players in any draft. Turns out he'll be a first-ballot Hall of Famer and -- sorry, Don Hutson -- go down as the greatest player in what Wolf calls "the citadel of pro football" -- Green Bay. ESPN did one of those sound track highlight reels with Favre one time. There he is telling a ref, "Take two weeks off and then quit." There he is unleashing a belch that lasts longer than the national anthem. There he is saying that just once he'd like to throw a ball left-handed. He wasn't the greatest quarterback ever to play the game. But I'd pay to see him. In fact, I did exactly that earlier this season. Took one of my daughters to Lambeau Field and sat in front of two drunks in orange deer-hunting gear who, to their credit, said before kickoff: "You know how there's always a couple of guys who are really obnoxious during a game, eh? That's us." Didn't matter. The Packers beat the
Carolina Panthers
. Favre threw three touchdowns. And one of the drunks spilled his freshly purchased beer on my shoes. Favre had the right idea about the NFL. He was a kid when he joined the league in 1991. He was a kid when he left it Tuesday. He knew if he stayed another season, it would quit being a game and become something without a soul. His passing records matter, but they don't define him. Favre wasn't about numbers, he was about letters: W or L. He played hurt. He played hard. He played in more snow than Iditarod dogs. By the time he was done, he had played in 253 consecutive regular-season games, 275 if you include the playoffs. I'll remember some of those victories, but mostly I'll remember his Lambeau Leaps, or how he slung wide receiver
Greg Jennings
across his shoulder pads after throwing his record-breaking 421st career touchdown pass. I'll remember his old-school sideline handshakes with teammates, when he'd tell them, "Put 'er in the ol' vise." Or how he'd fake a throw after a handoff. The NFL got a little less interesting Tuesday. You watched Favre for what he did and what he tried to do. You marveled at his complete and utter fearlessness. You shook your head in amazement when he made great plays and when he made bonehead plays. I wished he would have stayed one more year. But that's the selfishness talking. At some point, he had to leave. It was inevitable. There will be withdrawal pains -- for him, and for us. Favre played the game like he loved it. Maybe that's why he's leaving. He wanted to keep it that way.
Gene Wojciechowski is the senior national columnist for ESPN.com. You can contact him at gene.wojciechowski@espn3.com.
Columnist / College Football reporter
ESPN.com senior national columnist
Joined ESPN in 1998
Author of "The Last Great Game"
SPONSORED HEADLINES
ESPN TOP HEADLINES
MOST SENT STORIES ON ESPN.COM
BRETT FAVRE SAGA: OVER
After pushing and pushing to keep playing either in Green Bay or elsewhere, Brett Favre's storied career will continue in 2008. The unretired quarterback has been traded by the Packers to the Jets.
NFC North blog | AFC East blog
News
•
Favre on offseason saga: 'I knew I wanted to play'
•
Favre unlikely to play in Jets' preseason finale
•
Report: Pack's Favre deal included souvenirs, blog
•
On Day 5 with Jets, Favre says arm feels 'fatigued'
•
Favre finally arrives in New York, meets mayor
•
Rodgers: 'Still following Brett's legacy'
•
Jets introduce Favre in Cleveland
•
Favre era ends in Green Bay with trade to Jets
•
Favre leaves Green Bay, destination unknown
•
Favre: 'This probably isn't going to work'
•
Favre flying under radar in Green Bay
•
Favre: Reinstatement done, Green Bay flight set
•
Favre mulling offer; NFL ruling put off again
•
Favre actively weighing Packers' offer
•
Report: Packers mull dealing Favre in division
•
Team president meeting with Favre, agent
•
Source: Favre files for reinstatement
•
Rodgers takes over as starting QB
•
Favre signs reinstatement letter, waits to send
•
Favre won't report to Packers camp Sunday
•
Sources: Favre, Packers talk trade destinations
•
Favre support muted at shareholders meeting
•
Report: Favre doesn't have team-issued phone
•
Report: NFL security visits Vikings
•
Favre questions likely from shareholders
•
Packers reportedly weigh trade offers for Favre
•
Favre returns to Lambeau Field
•
Packers president supports GM, coach
•
What they're saying about Favre
•
Favre won't apply for reinstatement right away
•
Sources: Packers claim Vikings tampered
•
Favre may show up at camp
•
Favre 'clears it up' in interview with Fox
•
Few fans attend Favre rally in Milwaukee
•
Pack fans rally, calling for Favre reinstatement
•
Pack won't release Favre
•
Sources: Favre seeks unconditional release
•
Favre itching to return to field
Trade Commentary/Features
•
Clayton: History doesn't favor Favre, Jets
•
Chadiha: Packers will be fine without Favre
•
Wojciechowski: Divorce cause? Lack of trust
•
Clayton: Deal is a downer for Favre
•
Scouts Inc.: Jets now a playoff contender

•
Clayton: Questions, answers on Favre trade
•
Fantasy spin: Deal boosts value of many Jets
Other Commentary/Features
•
Clayton: 5 reasons Favre would start for Pack
•
Mosley: Favre is QB turned ringmaster
•
Wojciechowski: Favre and away the best solution
•
Clayton: Favre wins ugly duel
•
Clayton: It's a painful divorce
•
Chadiha: Rodgers unfazed by Favre circus
•
Yasinskas: Favre makes sense for Bucs
•
Wojciechowski: Packers can't win this game
•
Clayton: It's a delicate situation
•
Wright Thompson: Catching Favre's fastballs
•
Wojciechowski: What's the answer, Packers?
•
Williamson: Where could he end up?
•
Seifert: What happens after HOF QBs move on
•
Paolantonio: Favre is overhyped
•
Kiper: 2005 analysis of prospect Rodgers
•
Madden '09 cover boy Favre to stay retired
•
Thompson: Brett, we miss you already
•
Wojciechowski: Worth the price of admission
•
Price of signed Favre items to go up
•
Yasinskas: Rodgers ready to take the reins
•
FB Outsiders: Measuring Favre's greatness
•
Sando: Gunslinger mentality defined Favre
•
Yasinskas: Majkowski on Favre's legacy
•
Clayton: Questions surrounding Favre
•
Clayton: Packers will miss Favre's magic
•
Chadiha: Favre will regret decision
•
Keating: Favre just getting started
•
Hashmarks: Favre fun-loving guy
•
Burning Questions: Is Rodgers ready?
•
Experts: Is Favre the best, or among them?
•
Favre's top 10 moments
•
Forde: Favre's flair for dramatic started in college
•
Favre's rating in Mel Kiper's '91 draft guide
•
Favre's hometown quiet on day of his retirement
•
Sadness, shock envelops Green Bay
•
Wounded Army officer has last ball thrown
•
Around sports: What they're saying
•
Fantasy spin: Rodgers not top-20 QB
•
Scouts: Rodgers has talent to succeed

•
Packers local: Complete hometown coverage
Video
•
Favre traded to Jets for conditional pick
•
Jets GM on trade for Favre, imminent release of Pennington
•
Steve Young on Favre's Jets future
•
Cris Carter on what trade means to Jets?
•
Schlereth: Exciting news for Jets
•
Sal Pal on Favre's move to AFC
•
Rachel Nichols on Favre's pre-trade mindset
•
Favre interview: Part 3
|
2
|
1
SportsNation
•
How will Jets do with Favre behind center?
•
Fans react to Favre's retirement
Photo Galleries
•
Favre flashback
•
Top TD guns
•
Top TD targets