Commentary
Bruins have their share of flaws entering brutally tough Final Four
PHOENIX -- Ben Howland began buttoning his black, double-breasted suit with 11 seconds remaining in UCLA's blowout win against Xavier in the West Regional final. Howland knew the drill.
Final buzzer.
Shake hands with losing coach Sean Miller.
Report to the scorer's table, where CBS's Bill Raftery waited with a microphone and a handshake for the postgame interview.
This is the third consecutive year Howland has led the Bruins to a Final Four. The guy spends more time on aluminum ladders than your roofer. If he cuts down any more nets, UCLA ought to give him his very own pair of personalized scissors.
This time it was Xavier, the No. 3 seed with an attitude, that got Bruin-ized, 76-57. XU was so intense that when a flag-waving, UCLA cheerleader planted himself at halfcourt during the pregame warm-ups, Musketeers senior guard Stanley Burrell told him to get off the floor. When the cheerleader didn't budge, Burrell gave him a baby forearm shiver.
"He was cursing me," the cheerleader said. "Most disrespectful thing I've ever seen. But no big deal."
See, even UCLA's cheerleaders man up. Makes sense. If you want to be on the same court as Howland and the Bruins, you don't back down -- not even to the Atlantic-10 Conference Defensive Player of the Year.
UCLA won its 35th game of its extraordinary season, but does it have enough to win a Final Four semi and then a national championship?
Yes, but with a Barry Bonds-sized asterisk.
UCLA beat Xavier by 19, but the Musketeers don't reside in the same tony cul-de-sac as the two teams -- Texas and Memphis -- that played Sunday for the right to face the Bruins in San Antonio. Sorry, but it's true.
The same goes for the other two sides of the bracket. There's North Carolina and the winner of Sunday's Davidson-Kansas game (5:05 p.m. ET). In short, it will be a brutally tough Final Four.
"The best field of the Final Four in the last three years," Howland said.
[+] Enlarge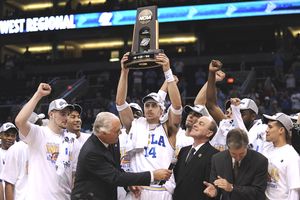 AP Photo/Mark J. TerrillUCLA has flirted with losses in half its games this month. But the Bruins are heading to their third straight Final Four.
Each of the remaining teams has some basketball acne. But UCLA might have the most need for a tube of Clearasil. That doesn't mean it can't or won't win a 12th national championship.
After all, Howland said that of the three Bruins teams he's taken to the Final Four, this one is the best, "by far."
But UCLA has been playing tag with inconsistency since March 2, when it beat Arizona by two points. Five of its past 10 games have been decided by three or fewer points.
The Bruins can be devastatingly effective (UCLA 70, Mississippi Valley State 29 in the first round) or dangerously vulnerable (UCLA 51, Texas A&M 49 in the second round). Even after 38 games, the Bruins remain a work in progress.
They are led by a true freshman, center Kevin Love.
They don't have much of a perimeter game.
Their most versatile and, in some ways, most valued player, Luc Richard Mbah a Moute, is still playing with a wrap on his left ankle.
Their former second-leading scorer, Josh Shipp, is averaging a grand total of two field goals in UCLA's four tournament wins.
Their point guard, Darren Collison, is one game removed from a performance of 1 made field goal, 1 assist, 4 turnovers and 5 fouls.
I'm just saying. And I'm not the only one.
Talk to coaches who watched Saturday's win against Xavier and they tell you the same thing: There's lots and lots to like about the Bruins, but there's also a handful of neon lights flashing, "Uh, oh."

I'm really pulling for them. I hope we lost to the national champion.
-- Xavier coach Sean Miller
Coaches go weak-kneed over Love. "So good it's absolutely scary," said one coach, who requested anonymity. "He's Carmelo Anthony at center. He can put a team on his back and carry you."
The same coach said he's now absolutely convinced that Love, who is expected to leave early, should be the No. 1 pick in the NBA draft. The coach was more serious than PBS programming.
Love had another in a long line of double-doubles, going for 19 points and 10 rebounds against Xavier. He gives UCLA what it lacked in its previous two Final Four appearances: a post presence.
So you sandwich him with a defender in the front and a defender in the back. Then you try to pressure Collison. Whenever possible, get the ball out of Collison's hands.
"I'd definitely make Mbah a Moute, Shipp and [Russell] Westbrook beat me," one coach said.
Texas, which beat UCLA about four months ago, zoned the Bruins to death. UCLA shot 16.7 percent from the 3-point line in the first half, 28.6 percent for the game.
Not to get too Telestrator on you, but Texas' guards, especially D.J. Augustin, proved the Bruins can be had with dribble penetration to the basket. Of course, it helps to have Augustin doing the dribbling.
Memphis matches up well against the Bruins, though you never know which version of Tigers center Joey Dorsey you're going to get. And just think if UCLA and North Carolina reach the title game.
Love vs. Tyler Hansbrough. Is that any good?
Xavier's Miller had it right when he gushed about UCLA's defense, its toughness and its experience. The Bruins' defense rarely phones it in.
"We prepared to beat UCLA," Miller said. "We thought we could beat them."
It was wishful thinking. The Bruins had too much of everything, beginning with Love and ending with four lasagna layers of defense.
"I'm really pulling for them," Miller said. "I hope we lost to the national champion."
So does UCLA, which is getting tired of Final Four cameo appearances. The Bruins want their own shining moment gig.
"It was a great win for us, and we are excited about the opportunity to advance to San Antonio," Howland said.
He said it in a near monotone. Howland knows what's next. A seat at the Final Four adults table. Xaviers out; Carolinas, etc., in.
Gene Wojciechowski is the senior national columnist for ESPN.com. You can contact him at gene.wojciechowski@espn3.com.
Columnist / College Football reporter
ESPN.com senior national columnist
Joined ESPN in 1998
Author of "The Last Great Game"
NCAA Tournament 2008

Get caught up with all the news, notes, insights and analysis from the 2008 NCAA tournament.
Tournament Index

Bracket
•
Updated Bracket
Analysis
•
ATR: Memphis makes freebies, four No. 1 seeds
•
Katz: Four unique stories shape Final Four
•
Forde: Kansas ends Davidson's feel-good story
•
Griffin: Memphis' athletes overwhelm Texas
•
ATR: L'ville's missed chances; how to stop Curry
•
Katz: Hansbrough carries UNC to Final Four
•
Gene Woj: Bruins have their flaws
•
O'Neil: Love is the difference for the Bruins
•
Whelliston: Curry deflects the Madness' glory
•
Griffin: Rose, Augustin battle for spot in Final Four
•
Forde: Pressure all on Kansas, Self vs. Davidson
•
ATR: Texas clamps down on Stanford
•
Griffin: Memphis dishes out big 'I told you so'
•
Forde: Witness the brilliance of Curry, Davidson
•
Katz: Roy, Rick CEOS of their powerhouses
•
O'Neil: UCLA OK with all the drama
•
ATR: Western Kentucky's Cinderella run ends
•
Gene Woj: Enjoy Kevin Love while you can
•
Low: Cards beat Vols at their own game
•
O'Neil: Xavier's "Fresh Prince" leads way
•
Katz: UNC one step closer to Final Four
•
Griffin: The free-throw woes of Memphis, Texas
•
Forde: CDR has an effective, old-man game
•
Forde: Life is beautiful for Davidson, McKillop
•
Experts: Sixteen questions for the Sweet 16
•
Katz: Washington State's unlikely duo
•
Katz: Padgett becomes unlikely vocal leader
•
O'Neil: Xavier determined to keep it Miller time
•
Gene Woj: UCLA's Howland among the best
•
Griffin: Ryan keeps on winning at Wisconsin
•
Glockner: What's in store for the Sweet 16?
•
Forde: Texas' All-American
•
O'Neil: WVU's Alexander learns post-up game
•
The Mag: Green overcomes family adversity
•
Bilas: First weekend was a thriller

•
Dinich: Thomas gives UNC another point
•
Katz: Sneak peek at Sweet 16
Video
•
Vitale: Breaking down Hansbrough's game

•
Analysis: Knight and Vitale on UNC's win

•
Analysis: Knight and Vitale on Xavier's win

•
Johnny Gilbert's Perfect Sweet 16

•
Lunardi breaks down Sweet 16

•
Bob Knight's impressions of Sweet 16

Audio
•
Podcast: Bilas breaks down Sweet 16 action

•
Knight: Sweet 16 preparation thoughts


•
Podcast: Bilas previews Thursday games

•
Podcast: Valvano on Louisville's chances

•
Podcast: Who has helped their draft stock?

•
Podcast: Katz predicts a big upset

•
Podcast: Gottlieb on first two rounds

Photos
•
Elite Eight Day 2 photo gallery
•
Elight Eight Day 1 photo gallery
•
Sweet 16 Day 2 photo gallery
•
Sweet 16 Day 1 photo gallery
•
Day 4 photo gallery
•
Day 3 photo gallery
•
Day 2 photo gallery
•
Day 1 photo gallery
More
•
Tournament Challenge
|
Bracket Master
•
Insider tourney guide

|
BracketCaster

MOST SENT STORIES ON ESPN.COM