Commentary
Immelman holds on as Woods lets one get away
AUGUSTA, Ga. -- Who said no women are members at Augusta National?
How about Mother Nature? She had the run of the place Sunday afternoon during the final round of the Masters, otherwise known as The Day
Tiger Woods
Wanted To Shriek. It was there for Woods. A fifth green jacket. A 14th major. Another chance to pour more cement around his golf legacy. Instead, he was done in by his own numerous mistakes, an even-par 72 that could have been strokes lower, and by the 35-mph gusts that had Augusta National's flags standing straight out from their flagsticks. Either that or someone kidnapped his putting stroke. "I just didn't quite have it this week," Woods said. There's no polite way of saying it: Woods yacked away his chances at a Masters that was absolutely his for the taking. And with it goes any more of his talk about a 2008 Grand Slam. "I learned my lesson there with the press," he said. "I'm not going to say anything." So South African
Trevor Immelman
won. Or maybe more accurately, he didn't lose. Sometimes they're one and the same, especially at this course. "It's the craziest thing I've ever heard of," said Immelman of a 12-month period that has seen him battle through an intestinal parasite and a cancer scare.
[+] Enlarge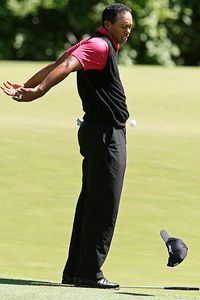 Timothy A. Clary/AFP/Getty ImagesTiger Woods was derailed by a balky putter all week long.
Then there are the non-health-related issues: a Tiger scare. "You know, the guy boggles my mind," Immelman said. "This guy is frightening." Immelman, 28, led from start to finish, becoming the first player since 1980 to lead or share the lead in every round. If he was worried about Woods, he didn't show it. No need. Afterward, in Butler Cabin, defending champion
Zach Johnson
helped Immelman slip his arms through the sleeves of the coveted green jacket. Immelman's new favorite piece of clothing came with some history attached to the lapels. Thirty years ago, Immelman's boyhood hero,
Gary Player
, won his third and final Masters title. Player left a voice message for Immelman on Saturday night, telling him, "I know you're going to win." Immelman put the message on speakerphone and played it for his entire family. "It gave me goose bumps," Immelman said. A jacket now belongs to Immelman, but you also could issue one to Augusta National and another to Mama Nature. They won this thing as much as Immelman did. Need proof? There were just two rounds in the 60s and only four rounds under par Sunday. None of those rounds belonged to the top seven players on the leaderboard. The strong, swirling winds toyed with everybody's mind, including Woods'. It's bad enough you have to deal with this muscle-bound layout of 7,445 yards and its mysterious greens. But to have to deal with the wind above as well is just plain cruel. "It was a day where you never felt comfortable," said
Brandt Snedeker
, who was paired with Immelman in the final group. The combination of Augusta National's foul mood and the foul [windwise] weather caused these guys to do strange things.
Phil Mickelson
changed putters for the final round. Club selection became an art form. Only Immelman was able to survive the day. Barely. But nothing was more shocking than Woods' collapse, if you can call a second consecutive second-place Masters finish a collapse. He never made a charge. Or a trot. Or anything. He was just sort of there. I figured he'd win this thing. Wrote it and felt good about it. Who knew he'd forget how to operate a putter?
[+] Enlarge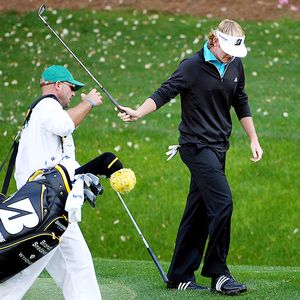 Andrew Redington/Getty ImagesBrandt Snedeker made nine bogeys en route to a 77.
The afternoon started with Immelman at 11 under, Snedeker at 9 under,
Steve Flesch
at 8 under,
Paul Casey
at 7 under and Woods at 5 under. Woods trailed by six and, strangely enough, was in perfect position to overtake four guys who, with the exception of Immelman, had never sniffed a major title. Everyone totally cooperated except Immelman. And Woods. Casey probably should have stayed in bed. He gave away six strokes in five front nine holes and bungee-jumped off the leaderboard. He finished with a 79. Flesch trailed by only two going into the par-3 12th. Then he splashed his iron shot into Rae's Creek, made double-bogey and was never heard from again. He finished with a 78. Snedeker tied Immelman on the second hole at 10 under, then gradually faded into the shadows. A 77 for the day, a 4 under for the tournament and a very respectable tie for third place with
Stewart Cink
. "I think I just put myself in a psychiatric ward," said Snedeker, who became a teary mess after the round. So Woods ended in front of everyone. Everyone but the stubborn Immelman, who overcame his handful of Depends moments with some Tiger-like magic. Augusta National and the weather slapped Immelman around, but it turns out he can take a punch. He did what Woods couldn't do -- made some key putts. And he did what Woods used to do -- put enough distance between himself and the rest of the field that it didn't matter. Immelman was up by six with four holes to play, which meant he still had some leaderboard elbow room after a double-bogey on the par-3 16th. "His resolve … was phenomenal," Snedeker said. "He definitely had a chance to buckle today." Instead, everyone else did. Tiger. Snedeker. Flesch. Casey… I can keep going. Woods missed short- to medium-length putts -- all makeable -- on Nos. 4, 13, 14, 15 and 16. When he sank a 10-footish birdie putt on No. 18, he dismissed the whole thing with a wave of the hand. All it did was give him sole possession of second place. "That's the way it is," he said. "Some weeks are like that. You have bad weeks and you have good weeks, and certainly this week was not one of the best." For him, it wasn't. For Immelman, it was a week he added to his sport-coat wardrobe. Thank you, Tiger.
Gene Wojciechowski is the senior national columnist for ESPN.com. You can contact him at gene.wojciechowski@espn3.com.
Columnist / College Football reporter
ESPN.com senior national columnist
Joined ESPN in 1998
Author of "The Last Great Game"
SPONSORED HEADLINES
ESPN TOP HEADLINES
MOST SENT STORIES ON ESPN.COM
2008 MASTERS TOURNAMENT


When: Thursday-Sunday, April 10-13
Where: Augusta National Golf Club
Yardage, Par: 7,445 yards; par 72
2007 champion: Zach Johnson
Details: Course | Field | Tee times
More: Past champs | Masters.org
More: Leaderboard | Complete video


Fourth round
•
Final-round recap
|
Photos
|
Podcast

•
Wojciechowski: Course wins final round
•
Harig: Immelman an underdog with some bite
•
Sirak: Another manic Masters Sunday
•
Snedeker's close call leaves him in tears
•
Sobel's final-round blog
•
ESPN sets cable golf ratings record
Video
•
Sunday Conversation: Trevor Immelman
•
Immelman gets his green jacket
•
Final-round highlights
|
North's analysis
•
Immelman
|
Woods
|
Snedeker
|
Mickelson
•
Golf goes worldwide
Third round
•
Third-round recap
|
Photos
|
Podcast

•
Harig: Unlikely final four
•
Wojciechowski: Keep a close eye on Tiger
•
Sobel: What the contenders need to do
•
Sirak: Mickelson's mental meltdown
•
Jason Sobel's third-round blog
Video
•
Third-round highlights
•
Woods' round
|
Post-round interview
•
Andy North's third-round analysis
Second round
•
Second-round recap
|
Photos
|
Podcast

•
Harig: Sunday's winner around Friday's lead
•
Wojciechowski: Immelman a battle-tested leader
•
Sirak: Tiger's seven back, but it's not impossible
•
Couples, Sabbatini among those missing cut
•
Jason Sobel's second-round blog
•
Harig: The man who's seen 'em all
Video
•
Second-round highlights
|
North's analysis
• Immelman:
Highlights
|
Press room
|
Interview
•
Woods reflects on second round
•
Snedeker one-shot out of lead
First round
•
Opening-round recap
|
Photo gallery
|
Podcast

•
Harig: As Woods knows, birdies tough to find
•
Jason Sobel's first-round blog
•
Harig: Poulter, aka 'No. 2', cards a '1'
•
Wojciechowski: Kuehne's unique ride
•
Sirak: Palmer's wonderful life on display again
Video
•
Rose and Immelman share lead
•
Andy North breaks down the first round
• News conferences:
Immelman
|
Rose
•
Woods shoots opening-round 72
•
Woods discusses his round
•
Poulter aces the 16th
Masters Preview
•
Sobel: Ranking the entire field
•
Amen Corner audio slide show
|
Harig
More coverage
•
GolfDigest.com's Masters Countdown
•
Golf World Masters preview edition
•
ESPNMag.com: Six words about Tiger
Golf Goes Worldwide
The Masters has an initiative to get people, especially kids, playing, watching and talking about golf. Send ideas.
English language version
•
French
|
Spanish
|
Chinese
|
Japanese
|
Korean