Commentary
Restless, ringless Garnett battles his inner A-Rod
BOSTON -- Just in case you're wondering how many pallet loads of pressure Kevin Garnett has on his Mass Pike-wide shoulders, turn to Page 5 of Sunday's Boston Globe sports section.
Buried deep, deep in his column, Globe resident hard-ass Dan Shaughnessy issued KG a chilling reminder of what happens if the best player on the best team in the NBA can't beat the worst team in the playoffs.
Wrote Shaughnessy: "As for Garnett, I have only two words of warning: Alex Rodriguez."
A-Rod? Did he really invoke the name of the ringless New York Yankees third baseman whose bat has a habit of appearing on the back of milk cartons during the postseason?
It wasn't personal; it was business. Shaughnessy, who has covered more Celtics games than there are parquet slats at the Garden, had it right about Garnett.
The big three is really the big one. Garnett would never say it (in fact, he goes out of his way never to say it), but Paul Pierce and Ray Allen aren't going to lead the Celtics to their own Duck Boat parade. They'll help -- a lot -- but Garnett is the guy.
Liner Notes
I lucked out. My third-row baseline seat at The Garden (sorry, the TD Banknorth Garden -- yeah, that really rolls off the tongue) was located about a mid-range jumper away from the Celtics bench.

Some things you just don't see on TV. Like Garnett in full pregame, hyper-intense focus. During the player introductions for Game 7 against the Hawks, Garnett sat with his head down, sweat dripping down from his shaved head to his nose to the floor. He didn't say a word, didn't even glance up when the other Celtics starters made their way to the court. Instead, he stretched his arm out for some no-look fist bumps.

Garnett didn't take his first shot until there was 5:40 left in the first quarter. You hear that stuff about, "Let the game come to you." That's Garnett. But when the game does get to him, he doesn't screw around. For the series, he averaged 21 points, 8.9 rebounds. And you have to watch him, really watch him for chunks of minutes to fully appreciate why he was the league's defensive player of the year.

When Rajon Rondo got the full rodeo takedown by Marvin Williams in the third quarter, Garnett was there all but challenging his woozy teammate to get up. That was the same quarter Garnett scored eight points, grabbed four rebounds, threw a couple of gorgeous no-looks passes (including one for a Rondo reverse lay-up), became a human dust mop as he dove on the floor for a loose ball, and layed out the Hawks' Zaza Pachulia on a pick (a bit of a cheap shot, but they have a history of chippiness).

By then the Celtics were up by 1,000. Before he was pulled from the game for good with 2:03 left in the third, Garnett had walked toward the baseline and said to the crowd, "Now it's over! It's over."

Afterward, Garnett did his postgame group interview and disappeared into a private room just past the pasta spread in the Celtics wood-paneled locker room. Teammates James Posey and P.J. Brown were the only ones left doing interviews.

The locker room grease board was mostly wiped clean. Before the game, a Celtics assistant coach had written on it, "Do What We've Done All Year."

As always, Garnett did his part.
-- Gene Wojciechowski
Garnett delivered the pizza in the Game 7 blowout of the Hawks (yawn -- another double-double), and he'll have to deliver it in Round 2, when the Celtics face the Cleveland LeBrons at the Garden, starting on Tuesday night. If he doesn't, the third-winningest season in Celtics history could become so much landfill.
The A-Rod comparison gives you some idea about the hoops anxiety level in this town. On a scale of Nervous, Scared and Wicked Scared, the Celtics and their fans were somewhere between Option 1 and 2. They're better now, but that can change if a rested LeBron James and the Cavaliers win the first game of this next series.
Boston doesn't hold a grudge. I mean, they forgave Billy Buckner. And all it took was 22 years.
Garnett and the Celtics could do without another come-to-Jesus series like the one they just had against the Hawks. The Hawks were supposed to be the playoff equivalent of collar dandruff -- just brush them away with a flick of the hand -- but it didn't work out that way.
Instead, Garnett, the 12-year veteran, worried himself sleepless the night before Sunday's clincher. This isn't a complete shocker. Under normal circumstances, Garnett is more fidgety than a lie detector needle. He plays as if he spent the pregame with his arm connected to an IV tube with cappuccino drip.
"I didn't know about his passion," marveled Hawks rookie Al Horford.
Even so, sleep isn't usually a problem for Garnett. Then again, neither are the Hawks.
"Been up for damn near 24 hours," said Garnett after the Celtics finally found a bottle of Head & Shoulders to use on the stubborn Hawks.
Garnett isn't anywhere near A-Rod territory yet, but he understands what's at stake as May moves toward June. The Celtics haven't won an NBA championship since the 1985-86 season. That's scary long. That's Greg Kite long.
Had the 37-win Hawks eliminated the 66-win Celtics, then you're talking Hickory High beating South Bend Central in "Hoosiers." And Garnett would have been blamed -- not that he isn't used to it. It happened in Minnesota too.
Garnett has never won a thing. He doesn't phone it in during the postseason (Garnett could end water droughts with his sweat levels), but he also has a ring finger doing nothing these days.
But Garnett isn't alone. The big three are the big zero when it comes to NBA championships, or even NBA Finals appearances. Pierce, who ended his media boycott Sunday (and all of our lives are richer because of it), and Allen have taken the career sombrero when it comes to title runs.
Celtics coach Doc Rivers, who has been coaching in this league nine years, finally won his first playoff series. Afterward, the team presented Rivers with the game ball. Even with the locker room door shut, you could almost hear the sigh of relief.
Nobody was more relieved than Garnett. Pierce might be the team captain, but this is Garnett's team, his time, and probably his best chance to win a championship.
Remember, this is a Celtics team that won more games than anyone this season, had the biggest one-year turnaround in league history (plus-42), and clinched its playoff spot two months ago. Anything less than at least a trip to the Finals is going to feel like a failure. And it should feel that way.
So Garnett tossed and turned. He beat himself up about the Game 6 loss at Atlanta. He played out the possible Game 7 scenarios.

He knows what's at stake. He knows that there are limited opportunities in this league that you're going to get to try to be a champion. That's what he dreams about. That's what he thinks about day and night.
-- P.J. Brown, on Kevin Garnett (pictured)
"I think that's who he is, that's how he's built," said 14-year veteran P.J. Brown, who spent part of his pregame sitting in front of his locker and eating a homemade peanut butter and jelly sandwich. "He knows what's at stake. He knows that there are limited opportunities in this league that you're going to get to try to be a champion. That's what he dreams about. That's what he thinks about day and night."
Rivers knew what was happening with Garnett. He'd done the sleepless thing when he was a player back in the day. As a coach, it's different.
"I slept 10 hours," Rivers said. "Took an Ambien and I was out like a rock."
Rivers pulled Garnett aside before the game. He did the same thing with a couple of other Celtics, but the words seemed to apply to Garnett the most.
"Just wanted everybody to know that we were going to win the game and that we're OK," Rivers said. "Don't try to do more than what you've done. Just play your role. Don't try to be Superman. Each teammate will get your back."
Garnett wasn't Superman, but he didn't have to be in the Celtics' 99-65 Game 7 win. Gino (don't ask -- just YouTube "Gino and Boston Celtics and dancing") could have beaten the Hawks Sunday.
So we now return to our regularly scheduled NBA playoffs, which means LeBron versus the People's (and networks') choice: the humbled, sleep-deprived and slightly embarrassed Celtics. It took about three games longer than anyone thought for the Celtics to get here, but at least they made it.
Don't figure on any 34-point blowouts against the Cavaliers. Garnett, Pierce and Rivers are already reminding everyone that the Cavs won the Eastern Conference last year. They do it out of respect, but maybe also to deflect some of the expectations placed on the No. 1-seeded Celtics.
As for Garnett, more sleepless nights might be on the way. But he survived the Hawks. He survived a Game 7.
For now, A-Rod is still on his own.
Gene Wojciechowski is the senior national columnist for ESPN.com. You can contact him at gene.wojciechowski@espn3.com.
Columnist / College Football reporter
ESPN.com senior national columnist
Joined ESPN in 1998
Author of "The Last Great Game"
2008 NBA PLAYOFFS Round 2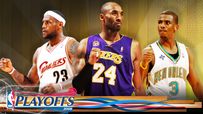 LeBron, Kobe and CP3 dominated Round 1 of the 2008 NBA playoffs, where the top four seeds in each conference advanced to the second round.
Playoff schedule | Playoff bracket | Playoff home
Daily Dime
•
Daily Dime: Lakers end Jazz season in Game 6
•
Daily Dime: Spurs dominate Hornets in Game 6
•
Daily Dime: Rondo gets C's rolling in Game 5
•
Daily Dime: Hornets one win from advancing
•
Daily Dime: Celtics with road woes
•
Daily Dime: Williams puts Utah on his back
•
Daily Dime: Cavs roll in Game 3 victory
•
Daily Dime: Boozer makes impact in Game 3
•
Daily Dime: Spurs keep head above water
•
Daily Dime: Kobe's most valuable promise
•
Daily Dime: Beauty is in eye of beholder
•
Daily Dime: CP3 making Spurs look old
•
Daily Dime: Kobe free to reign in Game 1
•
Daily Dime: Hornets sting the champs
Columns
•
Hollinger: Handing out some playoff awards
Cavaliers vs. Celtics
•
Windhorst: LeBron's chance to be Jordanesque
•
Sheridan: Legacies on the line for Celtics
•
Sheridan: Screwball finish to Game 6
•
Sheridan: Allen finds his range
•
Windhorst: Cavs search for offense
•
Windhorst: LeBron likes his chances
•
Scouts Inc.'s series breakdown
•
Wojciechowski: Rest easy, Celtics ... for now
•
Jackson: Do you still love the Celtics?
•
Series page: More coverage
Magic vs. Pistons
•
Magic eliminated, but won't disappear
•
Hollinger: Hunter dusts off rust
•
Hollinger: Pistons win without Billups
•
Scouts Inc.'s series breakdown
•
Series page: More coverage
Jazz vs. Lakers
•
Adande: Kobe plays supporting role
•
Adande: Jazz find Lakers out of tune
•
Wojciechowski: Miller won't listen on the Sabbath
•
Adande: A year to remember for Fisher
•
Scouts Inc.'s series breakdown
•
Series page: More coverage
Spurs vs. Hornets
•
Stein: Spurs knew Hornets were trouble
•
Neel: Enjoy Chris Paul while you can
•
Hollinger: Champs back to winning ways
•
Palmer: Birdman's redemption bittersweet
•
Adande: Chris Paul's mean streak
•
TrueHoop: Spurs stung twice by Hornets
•
Scouts Inc.'s series breakdown
•
Series page: More coverage
TrueHoop
•
Stat Geek Smackdown: 2008 playoffs
SportsNation
•
Which teams will advance to conference semis?
•
Rank the remaining eight playoff teams
MOST SENT STORIES ON ESPN.COM