Commentary
Cavs-Celtics can't play seven games like Game 1
BOSTON -- I don't know the voter who gave LeBron James his lone first-place vote in the NBA's MVP balloting, but I do know that person is slouching a little lower today.
King James couldn't hit the side of a castle in Tuesday night's meat grinder of a loss in Game 1 of the Eastern Conference semifinals. He couldn't hit much of anything against the
Boston Celtics
: castles, The Garden, 3-pointers, medium-rangers, finger rolls. He probably missed a belt loop when he got dressed afterward. Two-for-18. Put those numbers in your basketball crockpot and let them bubble awhile. That's what James shot in a
Cleveland Cavaliers
76-72 defeat that set modern basketball -- and a tiny portion of King's legacy -- back a bit. He wasn't alone. The Celtics'
Paul Pierce
, who was stapled to James' hip for large portions of the game, also suffered from offensive freezer burn. Pierce finished 2-for-14. So, yes, the Cavs
can
handle The Truth. Pierce's wingman,
Ray Allen
, took his first oh-fer since 1997. Four shots, four misses in 37:09 of playing time. James' point guard,
Delonte West
, went 2-for-10.
Wally Szczerbiak
missed his first five attempts. Parents shielded their children's eyes from the horror of the Cavs' 30.7 shooting percentage. It was grotesque. It was numbing. It was the kind of game you couldn't delete from your TiVo memory fast enough. But that's it. Anybody who expects this to happen in Thursday's Game 2, Saturday's Game 3, Monday's Game 4, etc., is going to be standing at the bus stop for a long, long time. "An aberration," said Allen. He was talking about his first scoreless game since Feb. 26, 1997, but he might as well been referring to the rest of this series. No way will all these guys forget how to shoot again. "[James] had a tough night," said Cavs coach Mike Brown. "He's definitely entitled to it. I'm not worried about him." Me, either. Look, I understand why
Kobe Bryant
won the MVP. When he isn't demanding a trade, or pouting, or generally just being a diva, he's an extraordinary player. But 82 of the available 126 total first-place votes extraordinary? James didn't play like it Tuesday night, but he deserved more than a single No. 1 vote. Bottom line: James finishing atop just one MVP ballot is like Marisa Miller not getting asked out because her lingerie is too pink. Before it's over, James will have to wear a truss and lug these Cavs through the postseason. He couldn't do it in Game 1 against the Celts and, well, that's mostly why they lost. Cleveland trailed by two with less than 10 seconds remaining when James squirmed free of
James Posey
near the free-throw line, then swept past
Kendrick Perkins
, then used his right hand to drop the ball toward the rim. He's made the same shot a zillion times. Except that it didn't drop. It tumbled off the iron and eventually into the hands of Posey, who got fouled and then made the clinching pair of free throws. Fittingly, James' final jumper also bruised the front of the rim. "I don't know," said James, "but if you combine our numbers -- 4-for-32 -- between me and Paul Pierce, with 16 turnovers, 0-for-9 from the 3-point line. I could keep going, I guess." Please don't. Haven't we suffered enough? As miserable as James and Pierce were, your MVP third-place finisher, the Celts'
Kevin Garnett
, didn't disappoint. He rarely does. Garnett stuffs a linescore like Thanksgiving turkey. Twenty-eight points. Eight rebounds. Three assists. Two steals. And yet, Garnett got just 15 first-place MVP votes. Does that sound right -- James and Garnett doing no better than a combined 16 first-place votes? Even more bizarre is that eight voters thought James was no better than the fifth-best MVP candidate. Another voter said the same of KG. Weird. Not because Kobe and
Chris Paul
finished ahead of Garnett and James, but because it wasn't closer. Don't these people get the NBA package on the dish? "I thank you for who voted for me," said the gracious Garnett, who gets it. Garnett is going to have a monster series. Short of duct-taping his wrists, the Cavs don't have an answer for him. Then again, Cavs center
Zydrunas Ilgauskas
scored 22 points, a few of them over Garnett's outstretched hands. Pierce isn't going to suffer through another night like this. To his credit, he didn't use guarding James as an excuse. He could have. It's hard to stay glued to the game's most physically talented player, but Pierce did it most of the time. "The coaching dilemma of coaching dilemmas," said Celtics coach Doc Rivers of trading Pierce's offense for defense. All that energy, and then all those missed shots. By James. By Pierce. By Allen. "I was looking at it like I can't play no worse than this, and we got a win," Pierce said. Game 2 will be different. It has to be. James hasn't forgotten how to make a shot. Allen is going to get more than four attempts. Pierce can't miss another 12 of 14, can he? Of course not. "It was just one of those nights," said Allen. But just one.
Gene Wojciechowski is the senior national columnist for ESPN.com. You can contact him at gene.wojciechowski@espn3.com.
Columnist / College Football reporter
ESPN.com senior national columnist
Joined ESPN in 1998
Author of "The Last Great Game"
2008 NBA PLAYOFFS Round 2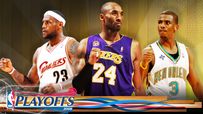 LeBron, Kobe and CP3 dominated Round 1 of the 2008 NBA playoffs, where the top four seeds in each conference advanced to the second round.
Playoff schedule | Playoff bracket | Playoff home
Daily Dime
•
Daily Dime: Lakers end Jazz season in Game 6
•
Daily Dime: Spurs dominate Hornets in Game 6
•
Daily Dime: Rondo gets C's rolling in Game 5
•
Daily Dime: Hornets one win from advancing
•
Daily Dime: Celtics with road woes
•
Daily Dime: Williams puts Utah on his back
•
Daily Dime: Cavs roll in Game 3 victory
•
Daily Dime: Boozer makes impact in Game 3
•
Daily Dime: Spurs keep head above water
•
Daily Dime: Kobe's most valuable promise
•
Daily Dime: Beauty is in eye of beholder
•
Daily Dime: CP3 making Spurs look old
•
Daily Dime: Kobe free to reign in Game 1
•
Daily Dime: Hornets sting the champs
Columns
•
Hollinger: Handing out some playoff awards
Cavaliers vs. Celtics
•
Windhorst: LeBron's chance to be Jordanesque
•
Sheridan: Legacies on the line for Celtics
•
Sheridan: Screwball finish to Game 6
•
Sheridan: Allen finds his range
•
Windhorst: Cavs search for offense
•
Windhorst: LeBron likes his chances
•
Scouts Inc.'s series breakdown
•
Wojciechowski: Rest easy, Celtics ... for now
•
Jackson: Do you still love the Celtics?
•
Series page: More coverage
Magic vs. Pistons
•
Magic eliminated, but won't disappear
•
Hollinger: Hunter dusts off rust
•
Hollinger: Pistons win without Billups
•
Scouts Inc.'s series breakdown
•
Series page: More coverage
Jazz vs. Lakers
•
Adande: Kobe plays supporting role
•
Adande: Jazz find Lakers out of tune
•
Wojciechowski: Miller won't listen on the Sabbath
•
Adande: A year to remember for Fisher
•
Scouts Inc.'s series breakdown
•
Series page: More coverage
Spurs vs. Hornets
•
Stein: Spurs knew Hornets were trouble
•
Neel: Enjoy Chris Paul while you can
•
Hollinger: Champs back to winning ways
•
Palmer: Birdman's redemption bittersweet
•
Adande: Chris Paul's mean streak
•
TrueHoop: Spurs stung twice by Hornets
•
Scouts Inc.'s series breakdown
•
Series page: More coverage
TrueHoop
•
Stat Geek Smackdown: 2008 playoffs
SportsNation
•
Which teams will advance to conference semis?
•
Rank the remaining eight playoff teams
MOST SENT STORIES ON ESPN.COM