Commentary
Can't quite warm up to cold-weather Super Bowl
The most terrifying news coming out of the NFL owners meeting had nothing to do with the league opting out of its collective bargaining agreement with the players union. Even Jessica Simpson and Gene Upshaw saw that one coming.
Seriously, don't worry about this CBA thing. What happened is that the owners and the previous commissioner weren't exactly Warren Buffett when it came to negotiating the 2006 labor agreement. They gave the players about 60 percent of the league's revenues. Now they want some of it back.
[+] Enlarge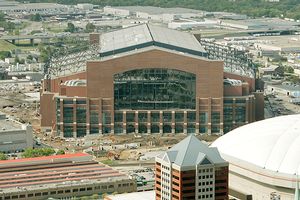 AP Photo/Darron CummingsIt'll be warm inside of Lucas Oil Stadium. But cold everywhere else.
This was my favorite quote from NFL commissioner Roger Goodell, who, by the way, worked with former commish Paul Tagliabue on the 2006 deal: "We are not in dire straits. We've never said that. But the agreement isn't working, and we're looking to get a more fair and equitable deal." So, to review, Goodell, overseer of a $6 billion-a-year industry, says the NFL is flush but isn't flush enough. Like you, my heart really goes out to Goodell and the owners. Look, if Goodell still is talking about this three years from now, we'll have a problem. Actually, we'll probably have a strike, and
Dallas Cowboys
owner Jerry Jones will be begging Plano High School to play in his almost-brand-new -- and very empty -- stadium in 2011. But until then, it's time to concentrate on the real news from the owners meeting in Atlanta. I found it buried deep in ESPN.com's story, and it literally sent a chill down my back. It read:
In other business at the league meetings, NFL owners voted to play the 2012 Super Bowl in Indianapolis, beating out Glendale, Ariz., and Houston."
Liner Notes
I always knew people in Indiana, and especially in Indianapolis, were super nice. In fact, after I wrote a column saying the NFL goofed by awarding the 2012 Super Bowl to another cold-weather city (Indianapolis), lots of people in the state started e-mailing me with wonderful offers.

Jordan from Mishawaka said he'd bring me "hot coco, a warm coat, and a walker with heated hand grips." I'd prefer one of those battery-powered carts you can ride at Target, but, OK, a walker it is.

Another reader asked, "Um, have we become a nation of pansies?" As if being a pansy was a negative.

And then there was Dr. Mercola, who e-mailed me this probing question: "Are you being controlled ... by corn?"

I haven't read all of the e-mails or comments, but, generally speaking, they break down into three distinct camps.

1) The Super Bowl should be played in every NFL city, from Buffalo to Seattle -- even if that means playing a game outdoors. And by the way, you suck, and you're weak and worthless.

2) Indianapolis has a long history of hosting world-class events. The city will do a great job with Super Bowl XLVI. And by the way, you suck, and you're weak and worthless.

3) The NFL should never have a Super Bowl in a cold-weather city. "For maybe the first time ever," wrote a reader, "I actually agree with Gene on this one."

As a matter of disclosure, Nos. 1 and 2 outnumbered No. 3 by about 100-1.

OK, so I struck a tiny Indianapolis/cold-weather city nerve. But is it so bad to want to go to a Super Bowl -- the sporting world's premiere event (World Cup fans are foaming at the jowls as they read those words) -- and actually enjoy the surroundings? If you're a fan, the highlight of the pre-Super Bowl week shouldn't be that there's covered pedestrian walkways to protect you from the cold.

Yes, I prefer a Super Bowl site with sun, pools, beaches, French Quarters, desert, warmth, golf, T-shirts, and outdoor bars to mittens, down coats, salted roads, daily wind-chill readings, walkways, and ice scrapers.

"Why not petition the league to do away with the Pro Bowl, and play the Super Bowl in Hawaii every year?" wrote a reader.

Where do I sign?
-- Gene Wojciechowski
Indianapolis? You mean, the Indianapolis in Indiana? The place where the low was 26 degrees with a trace of snow on Super Bowl Sunday this year? I don't get it. Playing in a Super Bowl is supposed to be a reward, not a reason to visit your local North Face outlet. And attending a Super Bowl as a fan is supposed to be the experience of a lifetime, a chance to break out multiple bottles of SPF 30. The only things you'll break out in Indy are space heaters. Didn't the NFL learn its lesson in 1982, when the Super Bowl was played in Pontiac, Mich. -- otherwise known as "Ice Station Zebra"? Or in 1992, when the game was played in Minneapolis? Or in 2006, when the only person happy to go to Detroit for Super Bowl XL was
Jerome Bettis
, who was born and raised there? The absolute, ironclad rule for awarding Super Bowls should be this: If the host city's game-time temperature is lower than the number of the Super Bowl, you can't have the game. Simple. For the Roman numeral-impaired, Indianapolis gets Super Bowl 46. The average February temperature in Indy: 28 degrees. Is it too late for a recount? That's another thing. The owners needed four secret votes to decide between Indianapolis, Houston and Glendale. Let's see: In Houston and Glendale, there's this orange orb called the sun. In Indianapolis, there's this white orb called a snowball. What was there to decide? Maybe the owners owed Colts owner Jim Irsay a favor. Maybe Irsay promised them a cameo in
Peyton Manning
's next cell phone commerical. Or maybe Mystery, Alaska, wasn't available. I've got nothing against Indianapolis. It's a lovely place to hold car races, a Final Four, even an NBA All-Star Game every few decades or so. Plus, you can never go wrong at that downtown Steak 'n Shake. But let's not go overboard here. It's still Indianapolis. It's freakin' cold, just like Pontiac, Minneapolis and Detroit. The owners should have told Irsay, "We let your old man load up the team in the middle of the night and move from Baltimore to Indy. And we gave you the NFL combine. So quit bothering us." But Irsay and the city wouldn't give up. The Indianapolis bid included a plan to build a three block-long "Super Bowl Village," complete with fire pits to warm visiting fans. Drunk fans and fire pits -- always a good combination. And according to The Indianapolis Star, the city's Super Bowl organizing committee has received $25 million in pledges to build, among other things, an east-side neighborhood athletic facility, which will be used by one of the teams during the week and then given to a city high school. The newspaper also reported that as part of the bid, the committee will provide each of the 32 NFL owners with "personal concierges" during Super Bowl week. That makes sense. The concierges will help arrange private dinner reservations, choose the proper evening parka and forage for firewood. I would have voted for New Orleans. I would have voted for Glendale. For San Diego. For Mexico City. I would have voted for anyplace where you can't buy a snowblower. Instead, we got Indianapolis. Congratulations. Here's hoping for an NFL labor strike in 2011.
Gene Wojciechowski is the senior national columnist for ESPN.com. You can contact him at gene.wojciechowski@espn3.com.
Columnist / College Football reporter
ESPN.com senior national columnist
Joined ESPN in 1998
Author of "The Last Great Game"